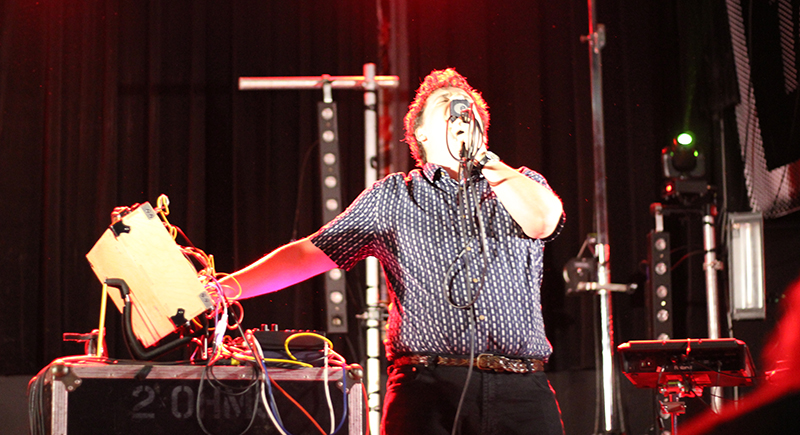 Finlay Shakespeare comes from Bristol, UK and he is a fully accomplished D.I.Y. modularist developing his own creations via his Future Sound Systems umbrella. His music is influenced by the experimental side of Synth Britannia and the groundbreaking electronica of earlier Warp Records, reminiscent of early Pop/New-Wave territories while sounding very contemporary.
His music appeals to our body, appetizing while offering food for thoughts.
Listening to the Session you will feel an urge to listen to it again and again and with each return will discover new delights.
Influenced by Industrial Culture, synth pop side of it one may think Fad Gadget, Severed Heads, or the early days of New Order… Would you agree to that?
To me you should be signed to Mute, did you ever talk to Daniel Miller?
I'm definitely influenced by those artists, for sure, and a lot of that comes from my parents' record collection. I was brought up listening to albums by The Human League, early Depeche Mode, Kraftwerk, Jarre, Vangelis, and of course, the internet has allowed me to pursue the stuff that passed my parents by at the time when they were in their teens.
Many thanks for your words re. Mute! I'm more than happy to be released by smaller labels though, even to be released at all! But yes, I've spoken to Daniel a fair bit as we've designed some modules based on his ideas at Future Sound Systems. His stories surrounding his use of the ARP 1601 are mindblowing!
You appeared signed to Editions Mego which had been related to Experimental/Noisier music for a couple of decades. Obviously Peter Rehberg had been after a certain diversity so how did you feel in there? Now that Peter has passed away, I reckon that Modulisme isn't your sole option to release your great music so what are your hopes/plans?
Peter came to me after I had been moaning about finding gigs here in the UK – I had started my "Housediet" project to try and get some tracks finished, and was unsure where to take things next. He asked to have a listen, and to my surprise, he was a big fan of what I was doing. It turned out that we both shared a huge love for all that late 70s / early 80s electronic stuff, and he asked if I wanted to do a record for Editions Mego.
Having followed Mego for a good few years prior to meeting Peter, it was quite a shock.
I'm honoured to have been included in a roster like Mego's. There aren't many days that go by that I don't think of Peter. I owe him, and the rest of the Mego crew, so so much.
There are releases in the works with other labels, but Mego will always be very dear to me.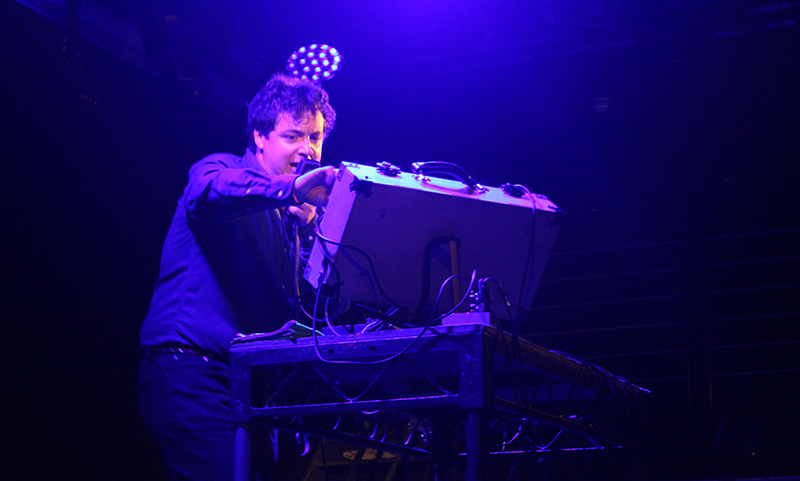 What have you been working on lately, and do you have any upcoming releases or performances?
There's an album working its way through the workings of the vinyl pressing world. Watch this space!
I know that you love to play live, how do you prepare your gigs? How do you differentiate studio and live, knowing that the audience may expect to hear some of your « hits »? What's the trick when you wouldn't want to reproduce?
I pretty much "re-write" all my songs for playing live – the Eurorack + Elektron rig I use for live stuff barely ever gets used in the studio. This gives me the opportunitiy to re-visit material that, on record, wouldn't necessarily suit a live environment. I want everything to come across as visceral as it can during a live performance. Big drums, huge bass, get the crowd moving!
Your lyrics are politically engaged, and even if you wouldn't call it « Protest songs » I assume it is of great importance to spread them over? Can you tell us what you like to denunciate, fight against?
It's quite easy to write with a political mindset in the UK right now – the last five years have been quite an upheaval here. However, I also try to write "open-mindedly" – I want the listener to take whatever they find from the music, and make their own experience. Nevertheless, I feel that I belong to a generation that is mainly being ignored by government and many of our seniors. People younger than me have it even worse. Music should also be about documenting the times that one lives in, and the things they experience. That's what I'm trying to do.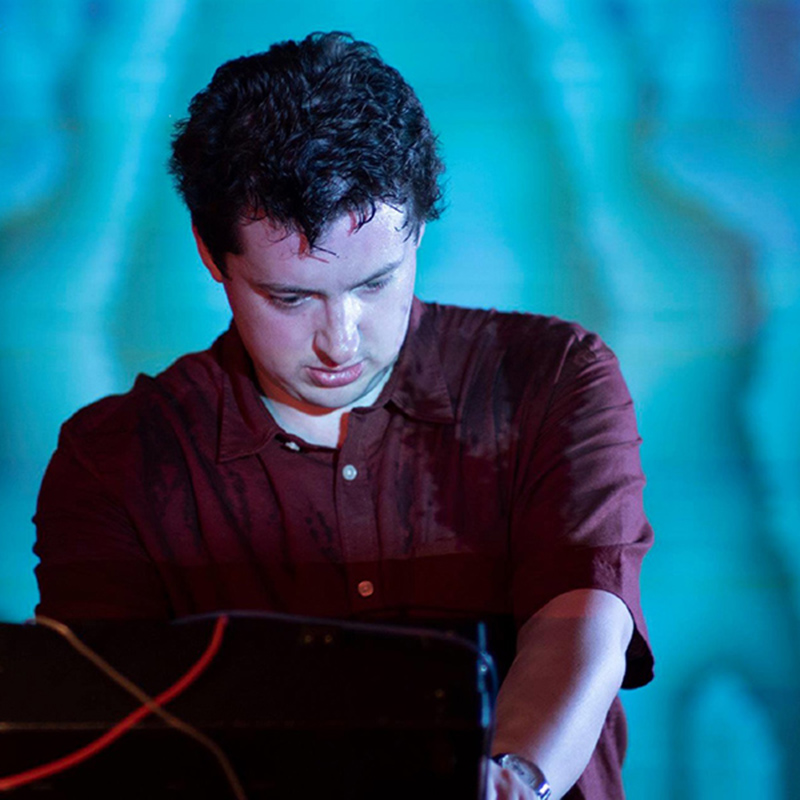 How were you first acquainted to Modular Synthesis? When did that happen and what did you think of it at the time?
How does it marry with your other « compositional tricks »?
I first came across modular synthesizers in my early teens. I was trying to build my own eqiupment to make music with, and trawling through synthesizer DIY websites and forums, it seemed that modular systems were quite popular amongst hobbyist builders. All of that was a bit too much for me at the time – I started out in electronics by circuit bending toys and making crude noise-making circuits. However, I built a MFOS SoundLab and could see why the "analogue sound" was so sought after. Towards the end of high-school, I had been building some 5U MOTM modules of my own designs and had a small setup to process other equipment I had. After offering some of these designs online, I bought a Eurorack chassis and started collecting a few Euro modules. At this time, brands such as The Harvestman, Make Noise and even Intellijel were just getting started, so it felt like things were accelerating in that format.
When did you buy your first system?  What was your first module or system?
How long did it take for you to become accustomed to patching your own synthesizer together out of its component parts?
I've never really bought an entire system in one hit. in fact, my ethos is that any system should be built module-by-module, and each module should be fully explored and understood before another module is added. As above, my first modular experiments were done in the 5U MOTM format, but I relatively quickly crossed over to the Eurorack standard. I believe the first Euro module I bought was a Doepfer A-145 LFO, as I used this to clock the Future Sound Systems Decade Counter I was developing at the time.
I found patching relatively easy as I had gained prior experience and understanding using software emulations, such as VAZ Modular, Arturia's Moog Modular and NI's Reaktor. However, every standard or format comes with its own complications, both technically and aesthetically.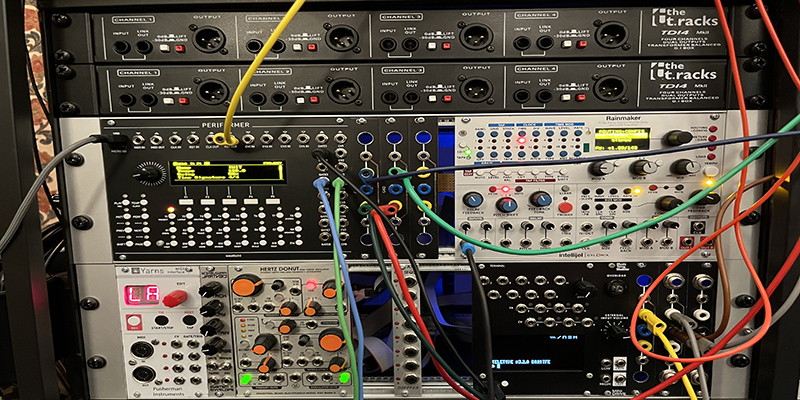 What was the effect of that discovery on your compositional process?
On your existence?
I've only ever looked upon the modular systems I use as more tools to use in composing – I rarely behave as a "purist", and in fact, these sessions for Modulisme may be as close to purism as I've got! However, having a system of chosen circuits and electronic designs that I know will behave in ways that I find interesting, both sonically and electronically, I think is really important, particularly for live use. Knowing what's behind the front panel really helps in pushing each module as far as it can go.
Quite often modularists are in need for more, their hunger for new modules is never satisfied? How do you explain that?
It's all to do with an artist's palette. The more modules an artist has at their disposal, the greater the number of colours they have from which to paint a picture. Of course, modules may be chained together to perform the function of other modules, just as colours may be mixed to form new ones, but the ease of having those colours accessible at the stroke of a brush is important to consider.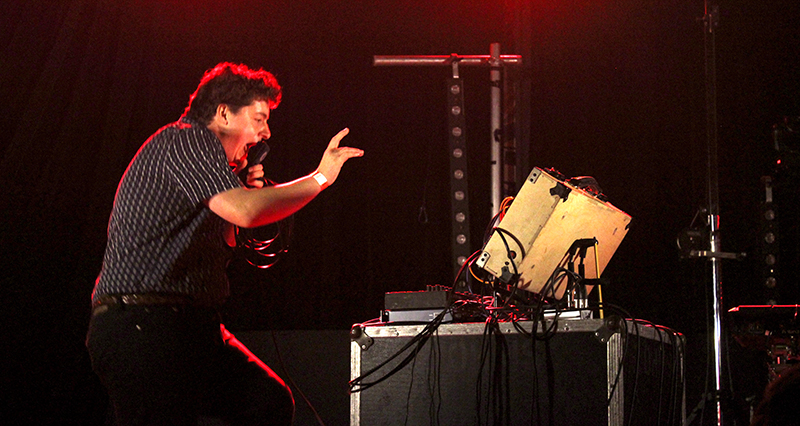 Instrument building may actually be quite compositional, defining your sonic palette, each new module enriching your vocabulary. Would you say that their choice and the way you build your systems can be an integral part of your compositional process? Or is this the other way round and you go after a new module because you want to be able to sound-design some of your ideas?
Do you prefer single-maker systems (for example, Buchla, Korg, Make Noise, Erica Synths, Roland, etc) or making your own modular synthesizer out of individual components form whatever manufacturer that match your needs?
I think the process is akin to a feedback loop – the tech informs the compositional process, which leaves the artist in the search for more or other tech. I would far rather build my own system from many different engineers' designs, and even at times a conglomerate system of different standards and formats, than be limited to the mindset of a single brand or engineer. This can be interesting to explore, but in my opinion, the artist should primarily be using their tools and instruments to develop their work, rather than their work being developed and directly informed by the tools themselves.
How has your system been evolving?
For these sessions in particular, I decided to use relatively newly acquired synthesizers – particularly Buchla and Serge equipment, driven by a recently built Westlicht Performer sequencer. The Buchla modules and Serge panels were built predominantly over the course of the Coronavirus lockdowns in 2020, so they haven't really been living in the studio for very long. Contrary to what I said above, the Buchla system was planned before the first module's construction was even finished, so it was very easy to see which modules worked well together. The Serge system also took a similar route, as each panel presents a fixed collection of individual modules. Coupling these systems with a pair of TTSH synthesizers, one of which also assembled during lockdown, gave me a rich collection of design aesthetics and sonic characteristics to employ in these tracks.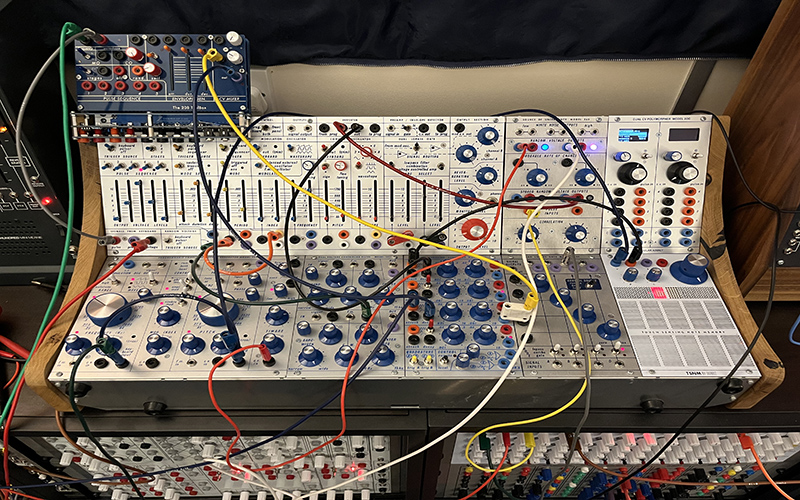 Do you tend to use pure modular systems, or do you bring in outside effect and devices when playing or recording?
I used quite a lot of external processing when recording these tracks, mainly in the form of pedals. Things like delay and chorus pedals can bring a huge richness to sounds that would otherwise be relatively dull. However, I ensured everything got tracked in real-time, i.e. there is no post-processing in the DAW other than some compression and basic EQ, using the DAW pretty much as a mixing console.
Would you please describe the system you used to create the music for us?
Can you outline how you patched and performed your Modulisme session?
As outlined above, for these sessions I used what I called the "Vittsjo rig" – this is only because it's built around an IKEA Vittsjo shelving unit! The rig currently consists of two TTSH ARP 2600 clones, a Buchla system, Serge panels and some Eurorack modules. A Yamaha SK30 joins the band on some of the tracks, employing a "modular breakout" panel for its monosynth section that I designed and built recently. The majority of tracks were driven from the Westlicht Performer Euroack sequencer – this was crucial in building patterns and then constructing songs from those patterns. Each track would pretty much be patched up, written and recorded in an afternoon. Each recording is one take – there are no overdubs, very limited editing (mostly topping and tailing), and no post-processing other than compression and EQ. The channels feeding into Ableton Live would typically be limited to around 10 mono inputs, and there would frequently be a couple of stereo sources in those 10 channels.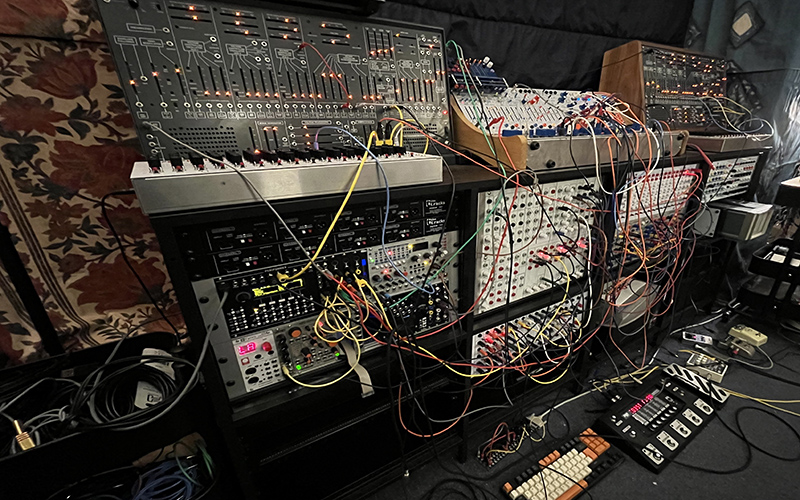 What do you think that can only be achieved by modular synthesis that other forms of electronic music cannot or makes harder to do?
The inter-connectivity and immediacy of patching is paramount to the modular workflow. I even tend to see my studio setup as a modular system, even when patching audio in and around my standalone synthesizers and effects processors. The more patching available, the better. To design and create digital systems with such complex patching capabilities as most modular systems, as well as having the physical interface with such immediacy, is extremely difficult, at least in my opinion.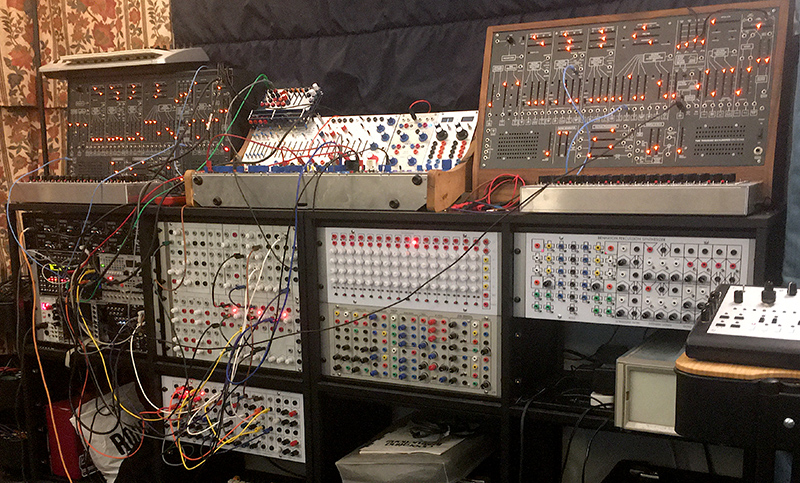 What would be the system you are dreaming of?
The preset recall function of the Buchla 200e catches my eye… and therefore so do the Mark III modules from Industrial Music Electronics. Otherwise, I'm busy designing some new synthesis tech for Future Sound Systems.
Are you feeling close to some other contemporary Modularists? 
Which ones?
Which pioneers in Modularism influenced you and why?
Russell Haswell's punk attitude to patching and live performance was a real influence when I started using a modular system at live shows. His commitment to using the bare minimum to get a huge sound I find pretty mesmerising. That's also true of Chris Carter's live material – he wrangles whole sets out of barely any modules. I'm also a big fan of what Nik Void's doing live – her live rig simply sounds brilliant and gets people moving.
Any advice you could share for those willing to start or develop their "Modulisme" ? 
Just jump in, whatever the means. Things like VCV Rack mean that anyone can get into making music by modular means with just a computer. I've seen some really amazing stuff done with just VCV Rack in fact. You don't need a huge amount of stuff to make really great music.