Early ElectroMIX is a series to document the history of experimental Electronic music from the 50s to the 80s, composers making use of electronic instruments, test equipment, generators of synthetic signals and sounds… to analog synthesizers…While our sessions document those who make it today my desire is to transmit some pioneering works which paved the way to what we try to create today.
Realizing that most of those seminal recordings were not available I decided to archive them in a contemporary way, DJing-mixing them and while most of the time running several sources together or in medleys I made sure to respect the original intent of each composers as I want to transmit their message rather than mine.
The only one I would dare deliver being that they should not be forgotten…
Philippe Petit / April 2021.
Recorded (on March 23/2021) for our series broadcasted on Modular-Station
https://modular-station.com
Tracklist:
Josef Anton Riedl – Studien für Elektronische Klänge, No. I-II & IV (1962) 00:00 > 10:41
Helmut Lachenmann – Scenario (1965) 05:24 > 17:08
Zanagoria – Insight Modulation (1971) 17:08 > 19:15
Egisto Macchi – I Futuribili (Medley) (1971) 19:04 > 25:08
Sven-Erik Bäck – In Principio (1973) 23:30 > 37:20
Alireza Mashayekhi – East-West, Op.45 (1979) 35:11 > 54:04
Henk Badings – Elektronische Muziek Klankvoorbeelden (1957) 53:22 > 01:00
Josef Anton Riedl – Studien für Elektronische Klänge, No. I-II & IV (1962 / Wergo)
Born in Munich he did pioneering work in the use of concrete and electronic sounds, joining Pierre Schaefer's Groupe de Recherche Musicale in 1953. In 1955 he worked in the electronic studio of NWDR in Cologne, and spent some time in 1959 in Scherchen's experimental studio in Gravesano. From 1959 until its closure in 1966 Riedl was director of the Siemens Studio for electronic music where he composed this influential piece.
Josef Anton Riedl also created mutimedia events after establishing the Musik/Film/Dia/Licht galerie in Munich in 1967, and then founded and directed Kultur Forums in Bonn (1974-82) and was involved in Bonner Tage Neuer Musik festival and Musica viva festival Munich.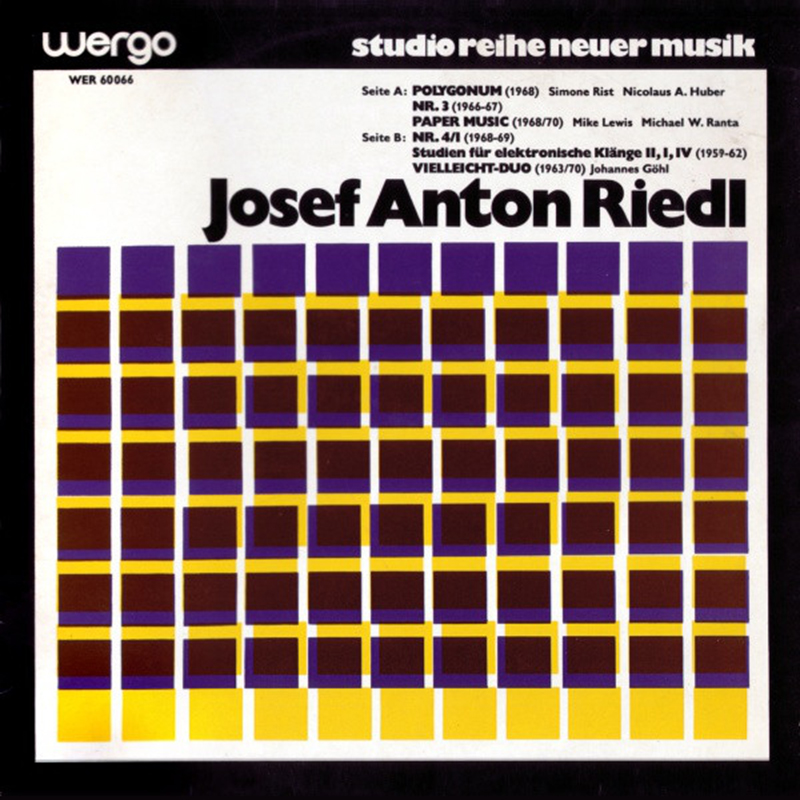 PS/Appendix: The Siemens Synthesiser or 'Siemens Studio For Electronic Music' was a German development similar to the RCA Synthesiser originally to compose live electronic music for Siemens's own promotional documentary films. It was the first programmable sound studio, and from 1956 to 1968 had a considerable influence on the development of electronic-electroacoustic music, synthesizers and recording technology. Pierre Boulez, Cage/Tudor, Henri Pousseur, Mauricio Kagel, Dieter Schnebel and many others worked there, and furthermore Boulez saw it as the actual impetus for his turn to electronic music.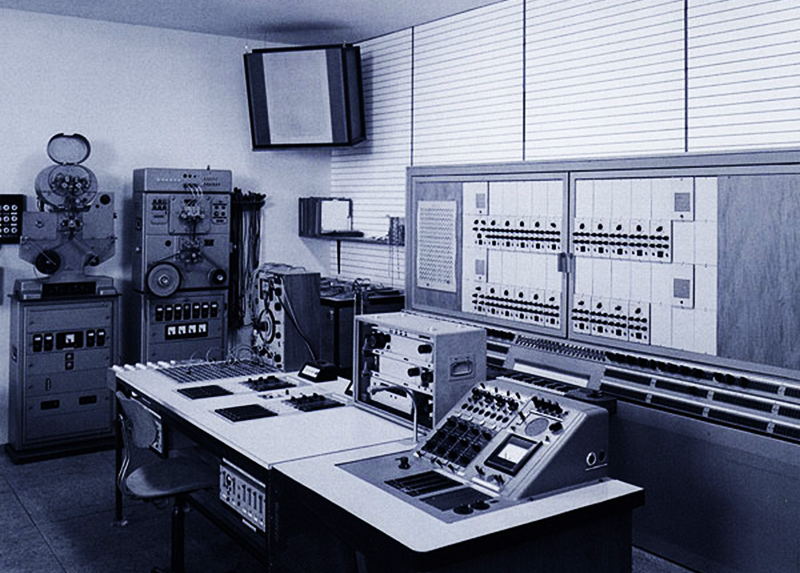 Helmut Lachenmann – Scenario (1965 / Metaphon)
Born in Stuttgart, Helmut Lachenmann studied composition first in Venice with Luigi Nono, then with Karlheinz Stockhausen.
His first works marked the beginning of his systematic exploration of the various modes of instrumental playing, electing as the very project of his oeuvre the noises produced during instrumental playing and the dynamic qualities of such sounds.
Lachenmann likes to describe it as "instrumental musique concrète". He is acknowledged as the leader of the "Klang Composition" school. This song was recorded at the (in)famous Institute For Psychoacoustics And Electronic Music (IPEM) from Ghent.
Zanagoria – Insight Modulation (1971 / Gemelli)
Amazing electronics from the Italian sound library scene – a record that's far darker and much more moody than other Italian albums of the time. Most of the work echoes The BBC Radiophonic Workshop or Pierre Henry's Cortical experiments. Little is known on who was behind the project originally released on the Gemelli label in 1972. It is said to be a studio project by organist and composer Giorgio Carnini.
Electro-acoustic soundscapes featuring treated voices and sound fx and dark jazzy grooves.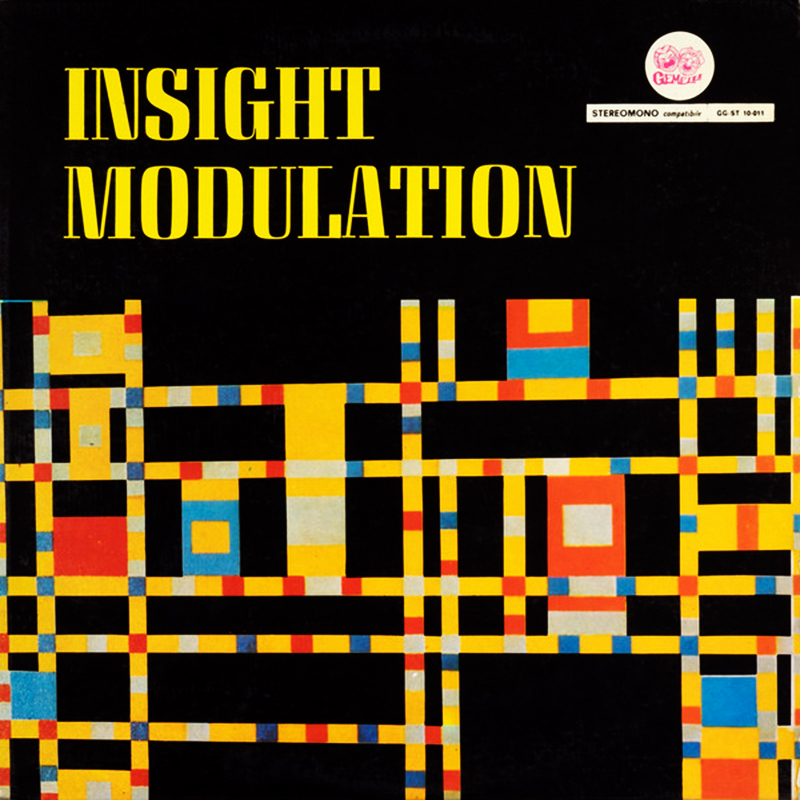 Egisto Macchi – I Futuribili (Medley) (1971 / Gemelli)
Egisto Macchi (1928-1992) has long existed in the shadow of his friend and famous collaborator Ennio Morricone. Founding member of the astounding 'Il Gruppo Di Improvvisazione Nuova Consonanza ' Macchi was a busy film and TV composer in late 1960s and 1970s Italy and France. Macchi also cut a number of highly desirable library LPs for the Gemelli, Sermi and other Italian labels in the 1970s. 'I Futuribili' is one of the greatest and most sought after, offering a stunning and powerful hybrid of haunting orchestral arrangements, jarring avant tones and dense electronic atmospheres made available by new tricks of magnetic tape and analog sounds read in reverse, with concrete and electronic sounds. Egisto Macchi investigated these new techniques composing unthinkable, futuristic and exciting atmospheres awakening, in our subconscious, a deep concern for an unknown civilization, or some horrific monsters, coming from intergalactic space.
We have an acknowledgment of the international validity and musical actuality of Maestro Egisto Macchi in these original songs produced in 1972, also by the fact that his song "Modulo lunare" has been inserted in the soundtrack of the movie "Ocean's Twelve", produced in 2004 by Warner Bros, which has been so successful in the U.S. and around the world for the unique choice of music. For this and more, we say that M ° Egisto Macchi, in 1972, was really one of "The futurable"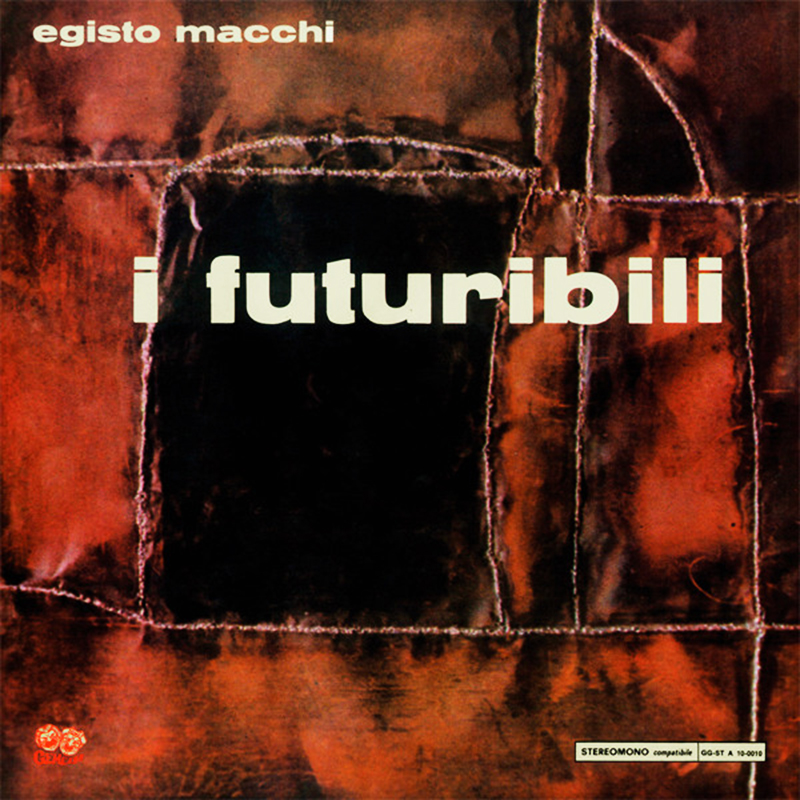 Sven-Erik Bäck – In Principio (1973 / Sveriges Radio)
Back to Sweden listening to another document from the illustrious Elektronmusikstudion and this time from the 4th installment in the series… Welcoming a composer of Classical music born in Stockholm. As of 1953 he was the leader of the chamber orchestra of the Swedish Radio Orchestra. He was also a member of string quartets – the Kyndel Quartet from 1940 to 1944 and the Barkel Quartet from 1944 to 1953. Bäck composed operas, works for ballet, many concertos, a number of works for chamber ensemble including at least four string quartets, an oratorio, cantatas, choral works, lieder and music for plays and film… In the 70s working at Fylkingen he proved how versatile and unique he could be. In Principio dates from 1970 and is his first electronic work and from then on Bäck produced many electronic as well as instrumental and vocal compositions. He also combined music with other media such as dance and visual art.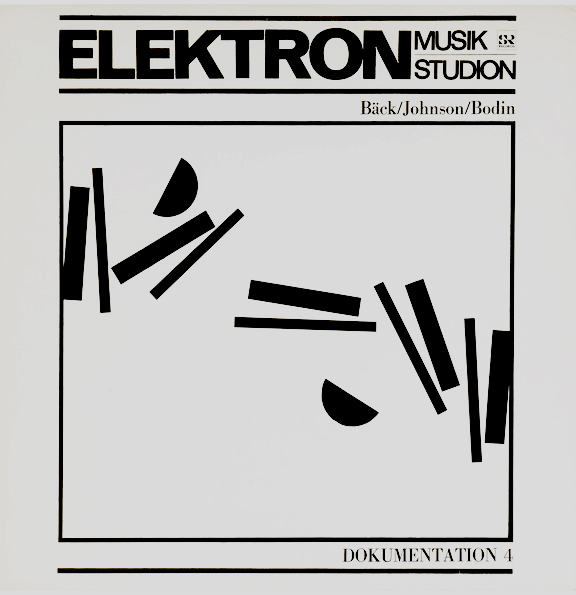 Alireza Mashayekhi – East-West, Op.45 (1979 / Sub rosa)
Once Persia was a leading country thus when Shah Mohammad Reza Pahlavi hosted grand festivities celebrating 2,500 years of the Persian empire, he commissioned an electronic composition from Iannis Xenakis that was played over 59 loudspeakers positioned throughout the ruins of Persepolis and accompanied by a parade and light show. It was perhaps the most ambitious music spectacle since Edgar Varèse's "Poème Electronique" broadcast from the 425 speakers of the Philips Pavilion at the 1958 World's Fair.
Alireza Mashayekhi was born in Tehran in 1940. Composer and conductor, he is one of the first representing avant-garde, modern and contemporary music in his country + he is also a pioneer of electroacoustic music. After graduating from the University of Music and Performing Arts, Vienna, he went to Utrecht, the Netherlands, to study electronic and computer music, and attended lectures by Gottfried Michael Koenig.
Mashayekhi's music circulates between a range of styles and genres, from classical compositions inspired by Persian rhythms and Iranian folk music that incorporate meditated repetition and polyphony, to atonal compositions, to works for tape and live electronics that combine traditional Iranian and Western instruments. Mashayekhi calls his compositional practice "Meta-X, referring to the sonic multiplicities present in his work (as contradictions of tonal/atonal, improvised/pre-defined, Persian/non-Persian) that unify within a single musical piece.
Henk Badings – Elektronische Muziek Klankvoorbeelden (1957 / Philips)
Badings was teacher and director at various Dutch conservatories from 1935 to 1945. From 1940 to 1945 he headed the conservatory in The Hague. In 1956 he founded the electronic music studio of Philips in Eindhoven. This single was given away with the Article in Philips Technical Review Vol. 19 (1957/58) No. 6. By way of illustration to the text, a gramophone record giving a selection of the sounds produced is included in the Review. These are examples of individual sounds introduced by a morse-code signal and even if this ain't a composition I find it very musical and emotive thanx to the vintage sound. You'll hear illustration of the effect of electronic sound treatments, each applied to the same traditional musical sound, viz. a pianoforte figure, recorded on magnetic tape and some combining of acoustic layers.