Early ElectroMIX is a series to document the history of experimental Electronic music from the 50s to the 80s, composers making use of electronic instruments, test equipment, generators of synthetic signals and sounds… to analog synthesizers…While our sessions document those who make it today my desire is to transmit some pioneering works which paved the way to what we try to create today.
Realizing that most of those seminal recordings were not available I decided to archive them in a contemporary way, DJing-mixing them and while most of the time running several sources together or in medleys I made sure to respect the original intent of each composers as I want to transmit their message rather than mine.
The only one I would dare deliver being that they should not be forgotten…
Philippe Petit / April 2021.
Recorded (on March 26/2021) for our series broadcasted on Modular-Station
https://modular-station.com
Tracklist:
Russ Garcia And His Orchestra – Monsters Of Jupiter (1958/Liberty) 00:00 > 03:05
Michel Magne – Mémoire dun Trou (Paris / 1959) 02:34 > 05:13
Jean Jaques Perrey – The Saturn Ambassador (1962 / Wah Wah) 05:01 > 06:22
Desmond Leslie – Music of the Voids of Outerspace (Medley) (1958 / Musique Concrète) 06:18 > 11:10
Herbert Brun – Anepigraphe (1958 / Amadeo) 10:59 > 18:43
Otto Luening – Gargoyles (1964 / Columbia Masterworks) 17:05 > 26:04
Bülent Arel – Stereo Electronic Music No. 1 (1964 / Columbia Masterworks) 24:58 > 35:20
Milton Babbitt – Composition for Synthesizer (1964 / Columbia Masterworks) 34:26 > 45:00
Allen Strange – Two X Two (1969 / Capra) 44:38 > 52:15
Jozef Malovec – Music To The Film Výhybka (1966 / Supraphon) 50:58 > 55:03
André Almuro – Va-et-vient (1966 / Disques Adès) 54:45 > 59:20
Cécil Leuter – Electro Sounds N° 6 (1969 / TVMusic) 58:15 > 59:48
Russ Garcia And His Orchestra – Monsters Of Jupiter (1958/Liberty)
A journey into Space… 5… 4… 3… 2… 1…
We are catapulted into the atmosphere – surrounded by the deafening roar of rockets which fade into nothingness and are enveloped by the silence of space and swallowed into a nebulous mist of weightlessness… Floating far and wide into Space. After hours of travel, a constant sensation of groping through the blackness envelops us, and without warning, the grotesque « Monsters Of Jupiter » appear. Plodding through the dense yellow and red clouds floating over its surface, shapeless blobs lumber through the mist. You remember the spooky fun house or the dark little ride in the tunnel at the carnival; but this is no laughing matter – if anything, it's too real. Is all of space filled with these unspeakable horrors?
"Fantastica" (1957) remains the gold standard by which all outer space exotica records are judged. It is an inno- vative musical suite of all outer space titles written by the imaginative composer/arranger Russ Garcia, who brilliantly orchestrated and conducted it using well-controlled unusual electronic effects. The effects were created by sound engineer Ted Keep, and include a sine wave generator that produces treble and bass tones of almost inhuman extremes. Russ Garcia hoped that his music would take listeners far, far from the earth… clear out of this world, and when he was returning to Earth Garcia was a composer and arranger who wrote a wide variety of music for screen, stage and broadcast, conducted the original scores for such films as George Pal's The Time Machine (1960) and Atlantis, the Lost Continent (1961). He also collaborated with many Hollywood musicians and celebrities…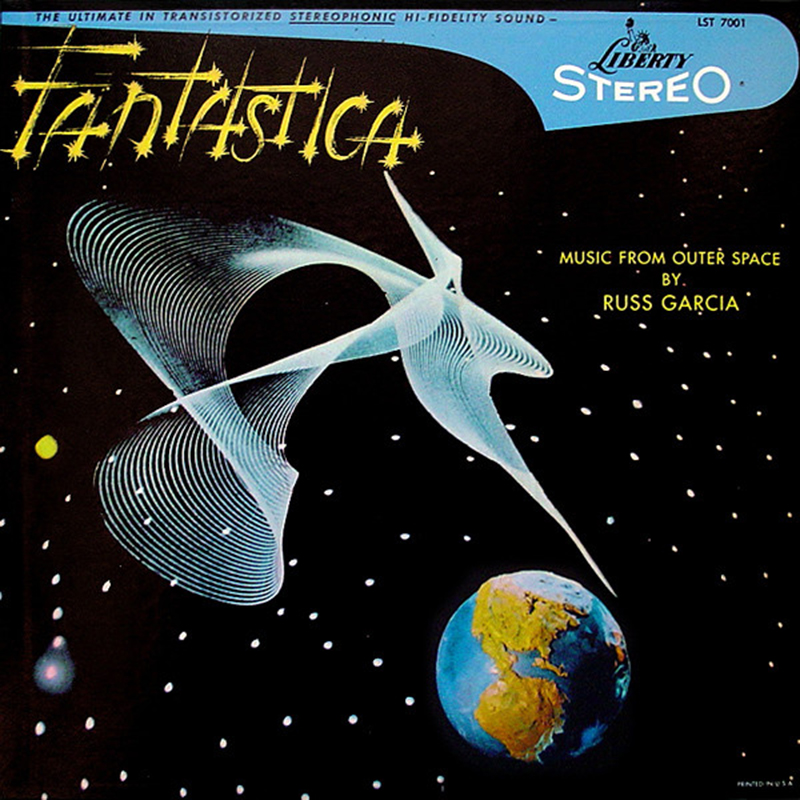 Michel Magne – Mémoire dun Trou (Paris / 1959)
Michel Magne's Musique Tachiste, originally released in 1959. French concept album: part radical manifesto, part pantomime. This anti-intellectual "physical" reaction to the burgeoning Musique Concrete movement combines found sounds and industrial noise with piano jazz alongside imposing avant-garde orchestral elements and I chose this song because of the Ondes Martenot making a perfect transition to come back from Jupiter and Magne himself hammering his cimbalom.
A well-respected pioneer of France's signature film score sound of the late '60s, collaborating with Jean-Claude Vannier, Martial Solal, and Artie Kaplan, as well as founding the French Strawberry Studio at Château d' Hérouville where French groups like Magma, Catherine Ribeiro, Brigitte Fontaine, and Ange shared a diary with Terry Riley and Pink Floyd. Musique Tachiste marks a stylistic cross roads where the likes of Egisto Macchi, Harry Partch, Rolf Liebermann, and Igor Wakhevitch meet.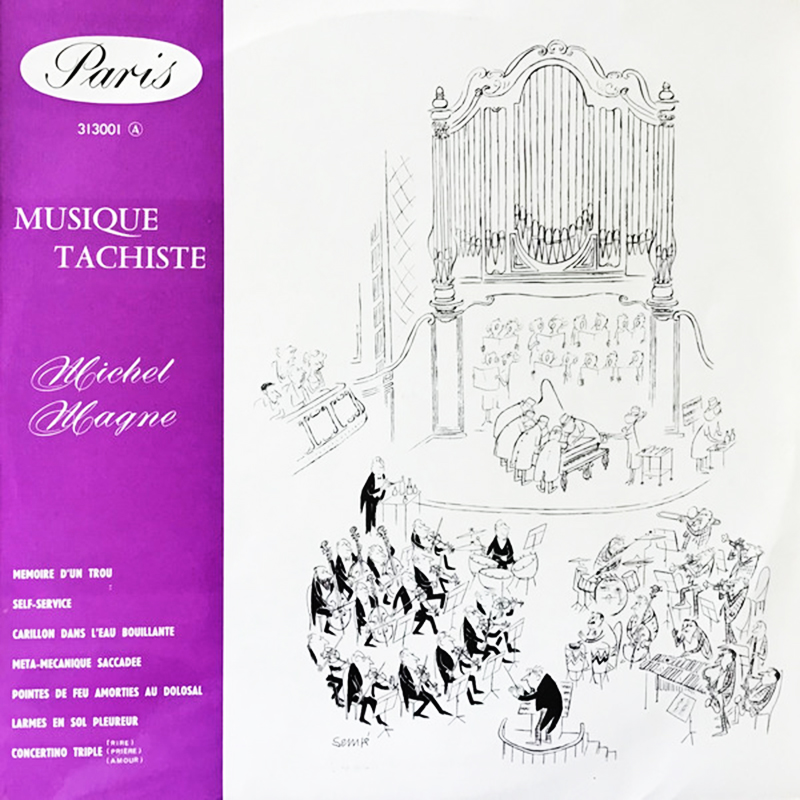 Jean Jaques Perrey – The Saturn Ambassador (1962 / Wah Wah)
Jean-Jacques Perrey has long been recognized as a pioneer of electronic music, having been the demo man for Georges Jenny's Ondioline, one of the very first proto-synthesizers. Along with his musical partner at the time, Gershon Kingsley, the duo recorded a landmark album: The In Sound From Way Out, which was released by Vanguard Records in 1966. Perrey went on to record over 24 more albums of electronic music during his lifetime and invites us to meet the Saturn ambassador…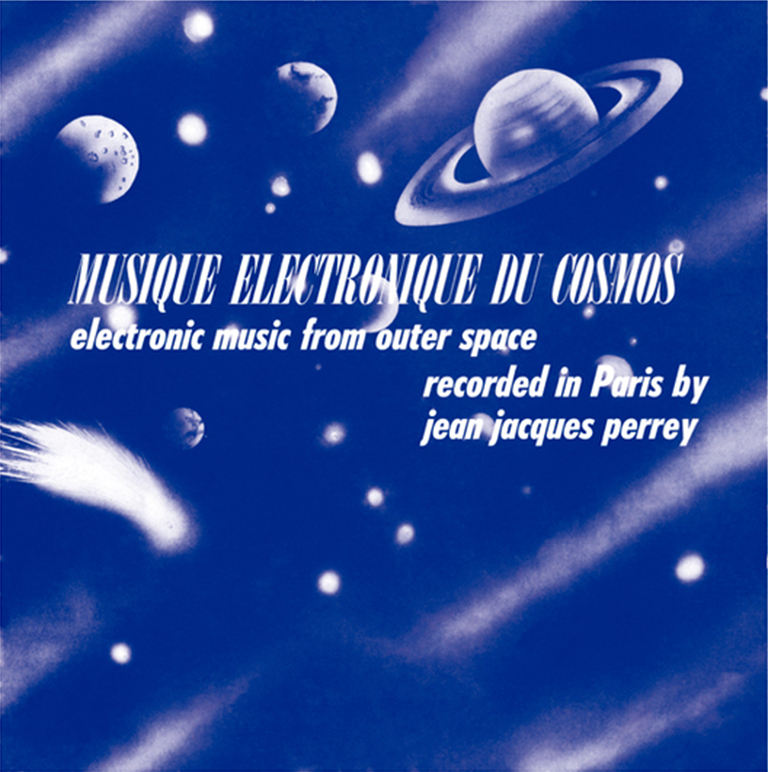 Desmond Leslie – Music of the Voids of Outerspace (Medley) (1958 / Musique Concrète)
Desmond Leslie developed an interest in electronics and musique concréte when the war ended, developing fragments of incredibly strange and forward-thinking music, using rather extreme ways like – for instance – throwing a large electric fan into a piano and recording the sound. On my wishlist is "Landing Of The Giant Flying Saucer » but as far as I know it isn't even for sale anywhere… Indeed his original « Musique Concrète » LPs are awfully rare so it was a pleasure to welcome a reissue from Trunk. Furthermore including all the rare music from the following: Music Of The Voids Of Outer Space, Sacrifice, B.C. 5,000, Death Of Satan + the theme Music From The Film: The Day The Sky Fell In which many never heard of though no worries as I decided to mix's all in a medley…
Schizoidally sacrificing your ears or bringing some aural delights?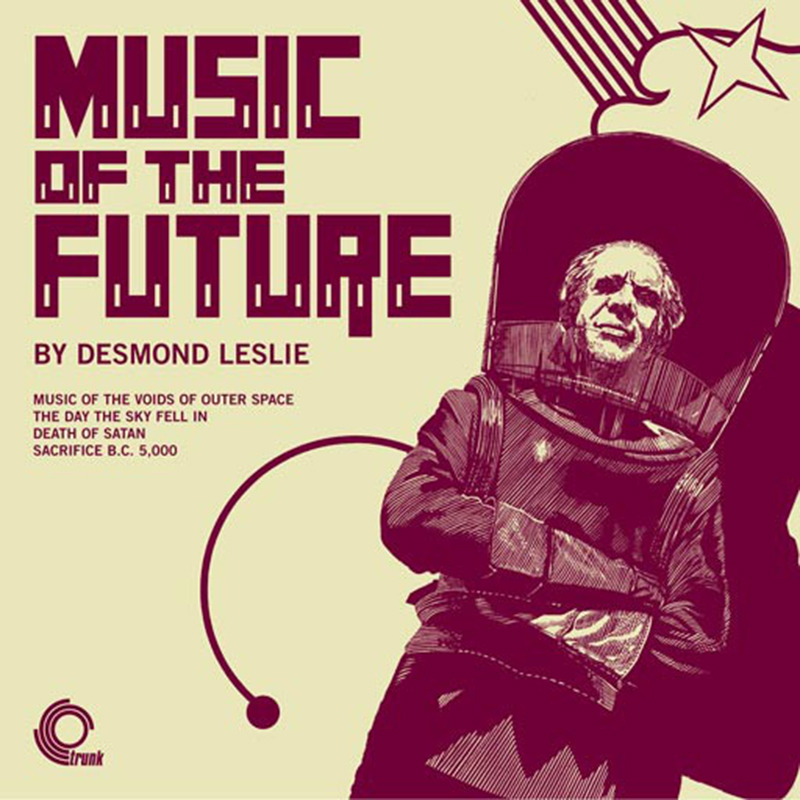 Herbert Brun – Anepigraphe (1958 / Amadeo)
German-American composer who studied composition with Stefan Wolpe and piano with Frank Pelleg. His work as an electronic-music composer began in Paris in the late 1950s, at the WDR studio in Cologne, and at the Siemens studio in Munich. During the 1950s, he also worked as composer and conductor of music for the theater, gave lectures and seminars emphasizing the function of music in society, and did a series of broadcasts on contemporary music.
After a lecture tour of the United States in 1962, he was invited by Lejaren Hiller to join the University of Illinois Center for Advanced Computation for 1963-64, at the conclusion of which he was asked to stay on as a member of the faculty and taught there until his death. During that period of his life he was very active in using computers for composition.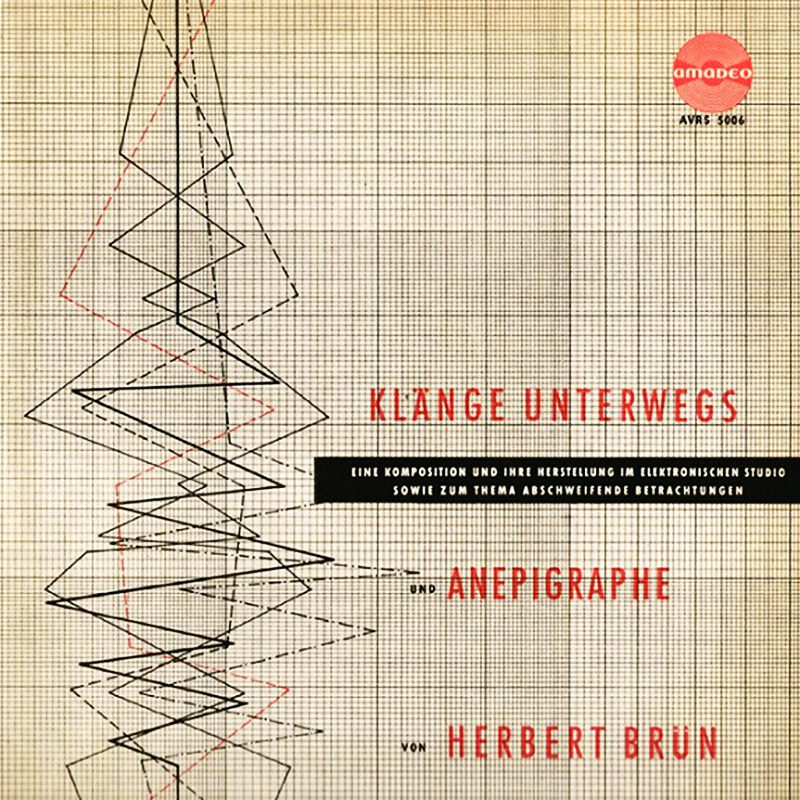 Otto Luening – Gargoyles (1964 / Columbia Masterworks)
My next 3 selections come from the excellent « Columbia-Princeton Electronic Music Center » compilation documenting works made in this principal centre for tape and electronic music in the United States.
American composer, conductor, composition teacher, and flutist. In the 1950s, Luening and fellow composer Vladimir Ussachevsky helped to establish the Columbia-Princeton Electronic Music Center where they created on a landmark series of collaborative compositions for magnetic tape and synthesizer, as well as works for acoustic instruments in combination with electronic sounds. This association resulted in twenty compositions, Luening's sole-authored works including Fantasy in Space for tape (1952), Gargoyles for violin and tape (1960), and Synthesis for orchestra and tape (1962).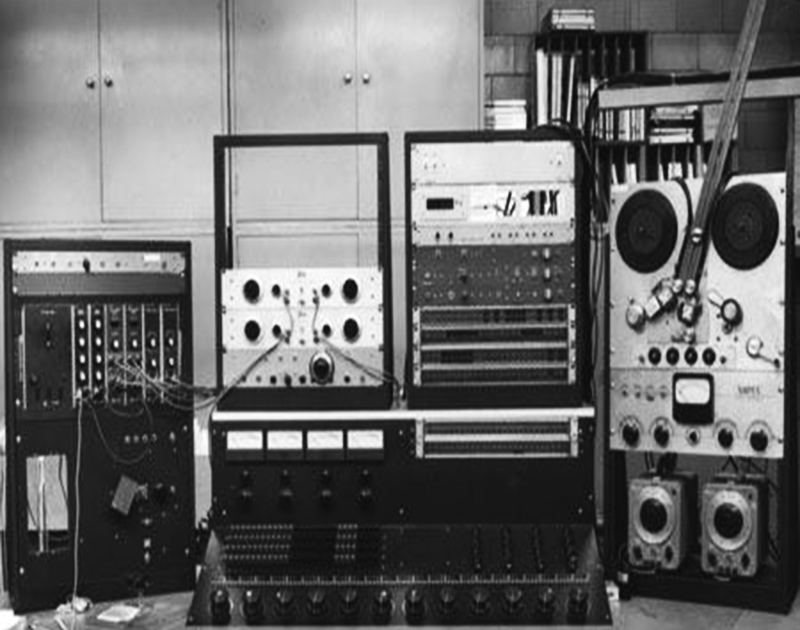 Bülent Arel – Stereo Electronic Music No. 1 (1964 / Columbia)
Bülent Arel was born in Istanbul and was a composer of contemporary classical music + electronic music. He studied composition at the Ankara Conservatory and sound engineering in Paris. In 1959 he was invited to work at the Columbia-Princeton Electronic Music Center. In 1962, he worked with Edgard Varèse on the electronic sections of Varèse's "Deserts". He also designed and installed the electronic music laboratory at Yale University, and he established the electronic music program at the State University of New York at Stony Brook, where he taught from 1971 until his retirement in 1989.
He invented the 'splicing tape dispenser', as well as other devices for tape handling. He was a pioneer of looping techniques.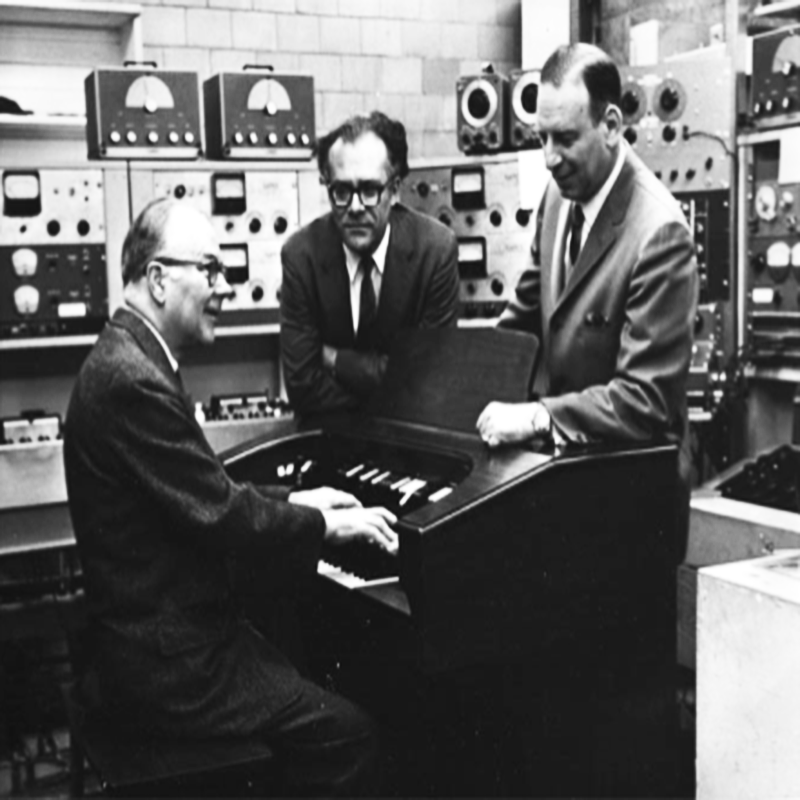 Milton Babbitt – Composition for Synthesizer (1964 / Columbia)
I had already featured his « Philomel » in Mix #16 as he was one of the foremost contributors to the Columbia-Princeton Electronic Music Center and even directed it.
American composer and theorist known as a leading proponent of total serialism—i.e., musical composition based on prior arrangements not only of all 12 pitches of the chromatic scale (as in 12-tone music) but also of dynamics, duration, timbre (tone colour), and register.
Babbitt was a member of the music faculty at Princeton from 1938 to 1984, and he joined the faculty of the Juilliard School in 1971. He also taught composition at the Berkshire Music Center (now Tanglewood Music Center) in Massachusetts and at the Darmstadt Music Festival in Germany.
His main electronic works are Vision and Prayer, Philomel (for voice and tape), Sounds and Words, Phonemena (for soprano and piano or tape), Composition for Synthesizer, Ensembles for Synthesizer.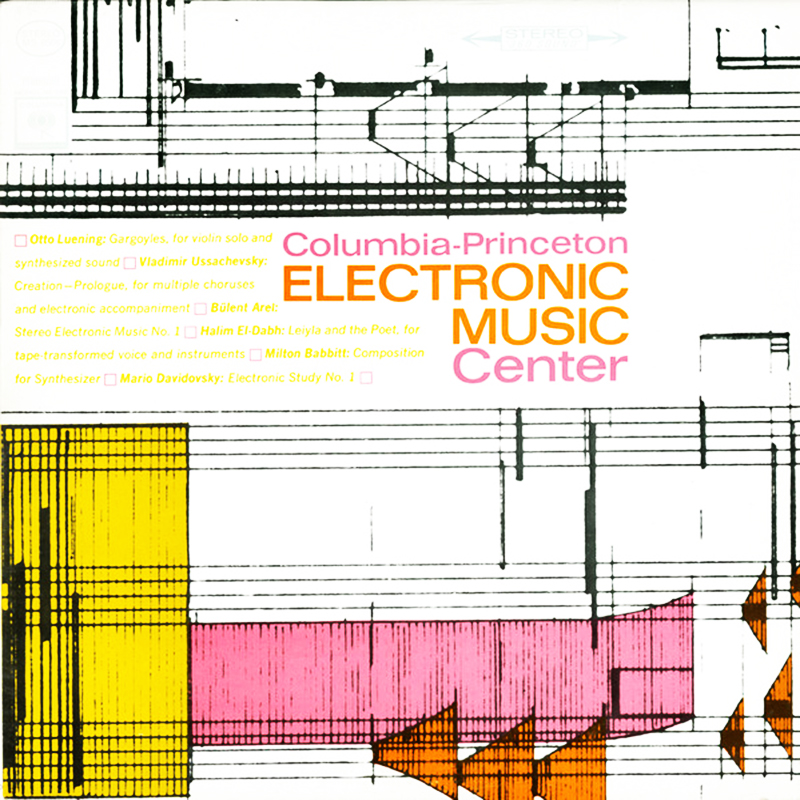 Allen Strange – Two X Two (1969 / Capra)
When I received my Buchla Easel K I started watching tutorials by Todd Barton and went through the patches that Allen Strange developed for his 1974 Easel manual: Programming and Metaprogramming in the Electro Organism, an operative directive for the Music Easel.
He was an American composer, electronic musician and violin player. A student of Pauline Oliveros at USCD, although active as a performer, little of his music was published on recordings. Among the ensembles he performed with were the group Biome and The Electric Weasel Ensemble.
Biome was composed of Allen and Patricia Strange along with Frank McCarty and Marilyn McCarty playing EMS synthesizers – one of the first touring electronic music groups. They were often joined by William Trimble.
The Electric Weasel Ensemble saw Allen in collaboration with synthesizer pioneer Donald Buchla among others and I felt proud to have released 2 of their songs in our Buchlaïsms sessions.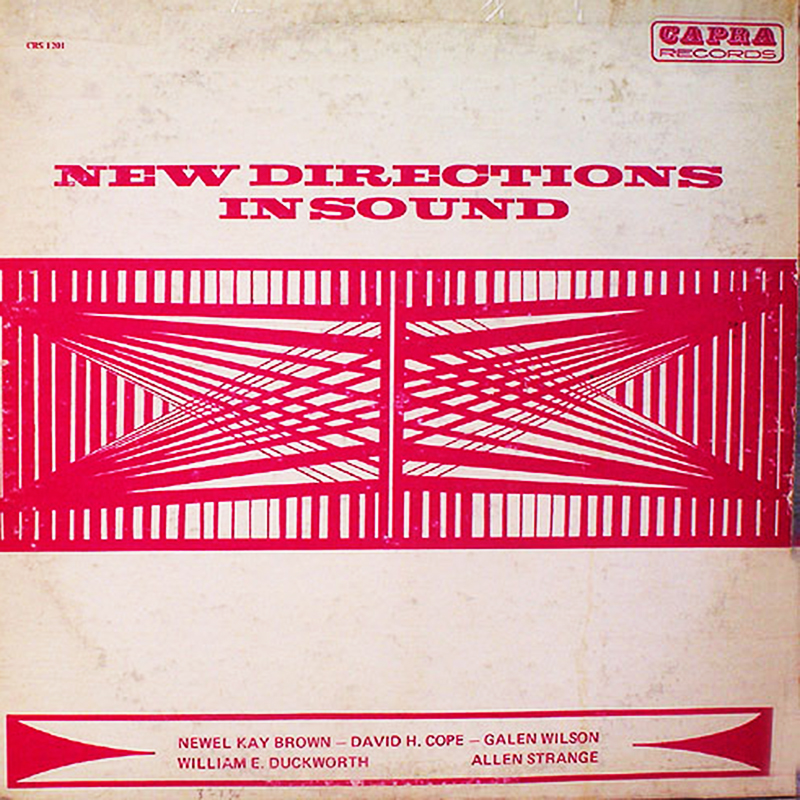 Jozef Malovec – Music To The Film Výhybka (1966 / Supraphon)
Born 1933 in Hurbanovo, Slovakia, he received private instruction in harmony, counterpoint, and musical form from Ján Zimmer before pursuing training with at the Bratislava Academy of Music and Drama (1952–54) and at the Prague Academy of Music (1954–57). In 1965 he attended the summer course in new music in Darmstadt. From 1957 to 1981 he was a program advisor and editor of the Czechoslovak Radio in Bratislava; in 1977-1981 he served as the head of its Electroacoustic Studio. His works articulate interplay between dodecaphony and tonality. He also composed soundtracks to the documentary and feature films including Obrazy starého sveta (dir. Dušan Hanák), Balada v dreve (dir. Martin Slivka), and animated films by Viktor Kubal.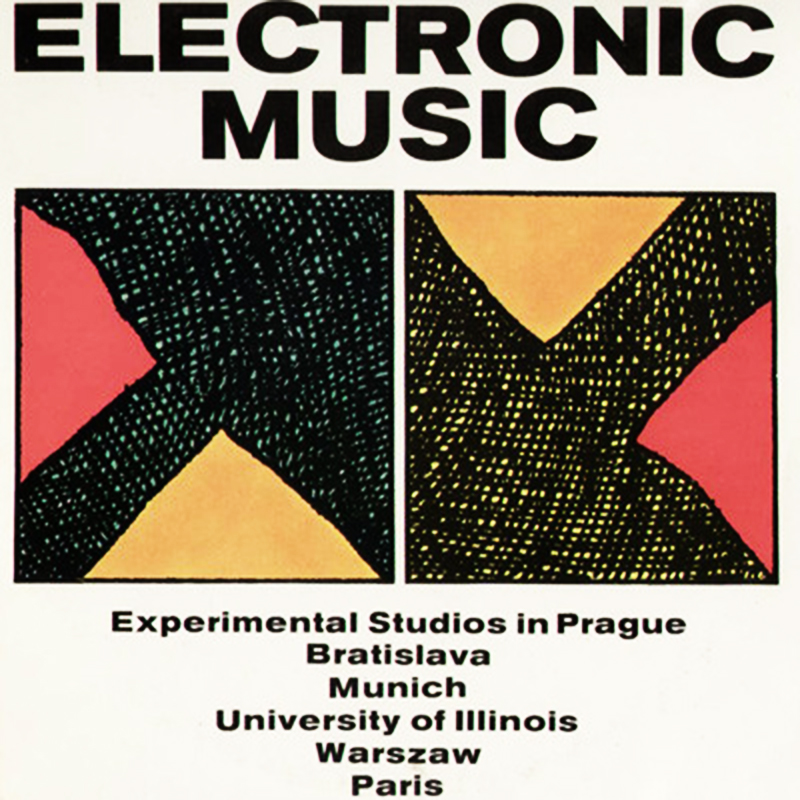 André Almuro – Va-et-vient (1966 / Disques Adès)
André Almuró was a French radio producer, composer, and film director
In 1946, influenced by Surrealism and René Daumal, he founded a literary journal titled Les Cahiers Sensationnistes.
In 1947, he joined Pierre Schaeffer's Club d'Essai on RTF (Radio Télévision Française) as a radio producer. During the 1950s, he produced many radio plays based on French writers, with a preference for Surrealists like André Breton, René Char, Jean Cocteau, Antonin Artaud, Julien Gracq.
When Schaeffer founded his Groupe de Recherches Musicales in 1958, Almuró joined as a member for several years, but soon launched his own, independent recording studio – in the early 1960s – where he produced incidental music and collaborations with other artists, like singer Colette Magny, with whom he published two LPs, Avec, 1966 and Bura Bura, 1967.
In 1973, Almuró became a teacher at Paris' Sorbonne University (UFR d'Arts Plastiques, Faculté Paris I Sorbonne) and founded the Son-Images-Corps performance group with students. His opera Close Up was premiered in Poitiers, France.
In 1978 he directed his first film, Cortège, with music by electroacoustic music composer and Almuró student, Philippe Jubard.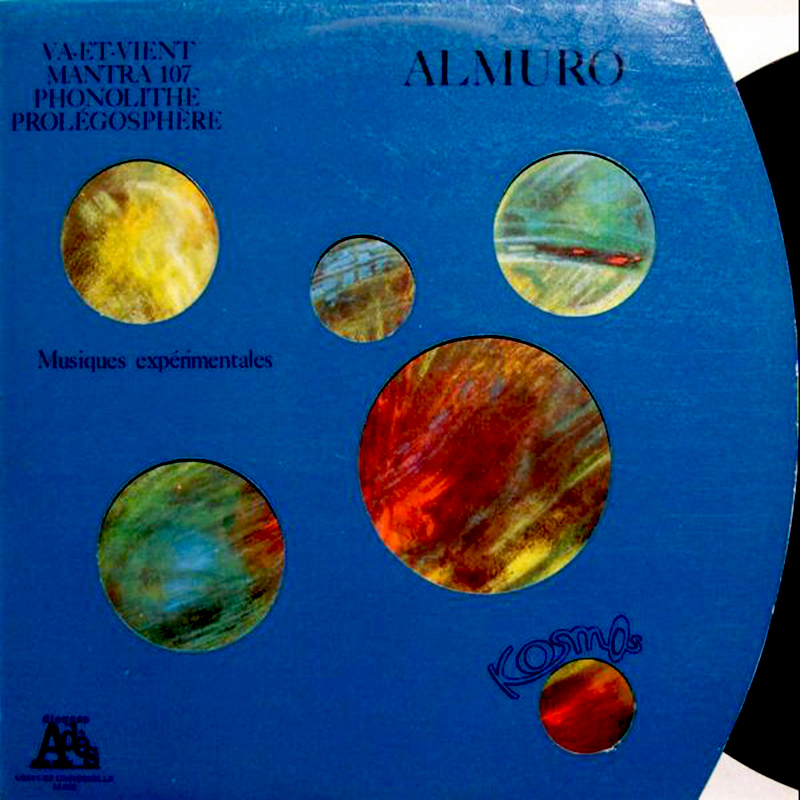 Cécil Leuter – Electro Sounds N° 6 (1969 / TVMusic)
Cecil Leuter aka Roger Roger is the pseudonym he used for his electronic productions. One of the first with Pierre Henry and Jean-Jacques Perrey to try out the Moog synth on his Pop Electronique album from 1969.
He was a French composer of Library music, light orchestral music and film scores, as well as a conductor and bandleader.
Aside being a pioneer in Electronic music he helped revive the musical Exotica genre with his album Jungle Obsession in 1971.
He began conducting at the age of 18 in music halls, and quickly moved into the world of broadcast music, and by the late 1930s he was composing for French feature films and documentaries even orchestrating the pantomime sections in Marcel Carné's acclaimed film Les Enfants du Paradis in 1945.
After the war, Roger Roger came to the attention of the London publishing house Chappell & Co, who signed him up as part of their drive to expand the Chappell Recorded Music Library, and through the library system (rather than from specially commissioned scores), Roger Roger's music is said to have been used for over 50 radio productions, nearly as many television productions, and in over 500 films.
He recorded over 20 albums of his own compositions for Chappell from the mid-1950s on.
In France he composed for famous artists such as Édith Piaf, Maurice Chevalier, Jean Sablon and Charles Trenet and was a frequent broadcaster on Radio Luxembourg, BBC Radio's Light Programme, France Inter radio, or a theme tune in the earliest days of French Television.
Comparing him to Raymond Scott and Esquivel, Neil Strauss in The New York Times called Roger Roger "quirky but never zany, melodic but never melodramatic", and "a composer who managed to give all-purpose music a purpose ».