Early ElectroMIX is a series to document the history of experimental Electronic music from the 50s to the 80s, composers making use of electronic instruments, test equipment, generators of synthetic signals and sounds… to analog synthesizers…While our sessions document those who make it today my desire is to transmit some pioneering works which paved the way to what we try to create today.
Realizing that most of those seminal recordings were not available I decided to archive them in a contemporary way, DJing-mixing them and while most of the time running several sources together or in medleys I made sure to respect the original intent of each composers as I want to transmit their message rather than mine.
The only one I would dare deliver being that they should not be forgotten…
Philippe Petit / April 2021.
Recorded (on March 27/2021) for our series broadcasted on Modular-Station
https://modular-station.com
Tracklist:
Matsuo Ono – Roots Of Electronic Sound (1975 / ALM) 00:00 > 13:07
Ralph Lundsten & Leo Nilsson – Aloha Arita (1966 / Sveriges Radio) 12:08 > 26:35
André Stordeur – Aphrodisiac (1979 / Igloo) 25:58 > 32:48
Daria Semegen – Electronic Composition No. 1 (1972 / Columbia) 32:00 > 37:46
Pauline Oliveros – Alien Bog (1967 / Pogus) 36:58 > 52:14
Alice Shields – Dance Piece No.3 (1970 / New World) 51:20 56:42
Menachem Zur – Chants, For Magnetic Tape (1974 / Columbia) 56:09 > 01:01
Matsuo Ono – Roots Of Electronic Sound (1975 / ALM)
Futuristic synthesizer specialist and sound designer Matsuo Ohno was responsible for the sound design of a broad range of film, television and radio soundtracks, most famously the animation series Astro Boy, which he began working on in 1963, together with his assistant, Takehisa Kosugi.
Influenced by the electronic abstractions of Karlheinz Stockhausen Ohno began immersing himself in the realm of sound effects while working with the Bungaku-za modernist theatre troupe and he performed a similar function at NHK, Japan's national broadcasting corporation, but became so frustrated by the rigidity of the restrictions imposed on him there that he quit his prestigious post at the broadcaster, although his skills were such that he remained in high demand as a freelancer, which allowed him to refine his sound effects techniques with evolving analogue synthesizers. I chose to mix several sources he recorded between 1963 and 1966; initially released on the ALM label in 1975 whose cover artwork fittingly representing Astro Boy, from which many of the audio interludes are taken.
Takehisa Kosugi is a Japanese composer and violinist associated with the Fluxus movement. Kosugi is probably best known for the extraordinary experimental music that he created between 1960-75, first in the early 1960s with the Tokyo-based seven member ensemble Group Ongaku and thereafter as a solo artist and with itinerant octet Taj Mahal Travellers (1969-75). Since 1978, Kosugi has served as music director for the Merce Cunningham Dance Company, and lives in New York.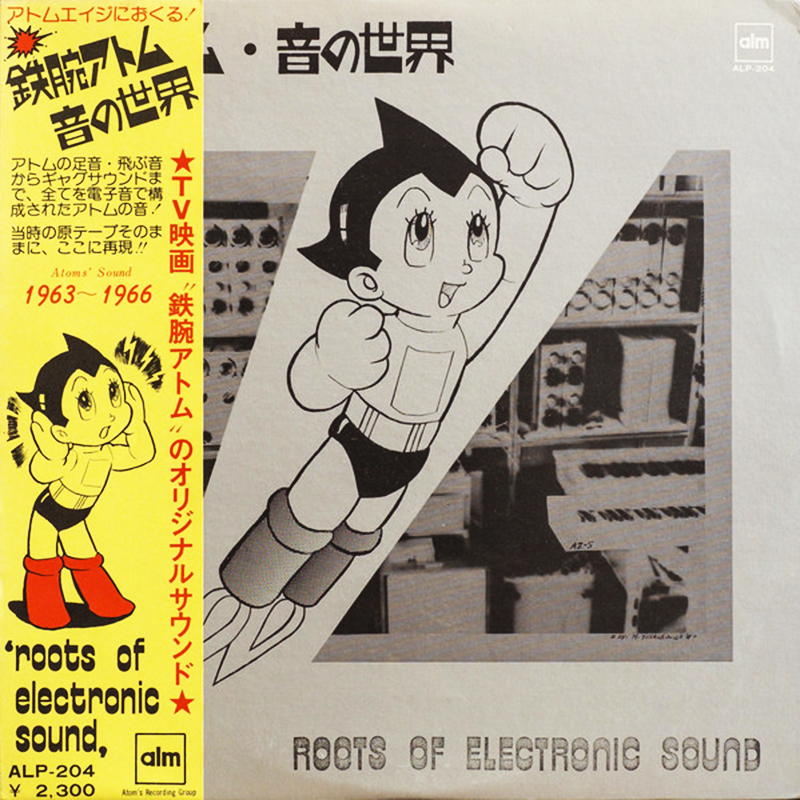 Ralph Lundsten & Leo Nilsson – Aloha Arita (1966 / Sveriges Radio)
Sweden's premier electronics/synth musician who has recorded at least 15 albums, but somehow remains hardly known outside his homeland. At the beginning of his career he used to work with Leo Nilsson and they produced some rugged electronics, bizarre, haunting that could have been the soundtrack for a horror film.
Leo Nilsson was borne in 1939, and studied at the State Academy of Music in Stockholm 1958-62, graduating as organist, soloist instructor and music teacher, then at the electronic music studio of Radio Télévision Française (RTF) in Paris.
He has been active as a composer, pianist, organist and chamber musician, and was one of the very first pioneers of electronic music in Sweden.
He has supplied integral electronic music for exhibitions in Paris, Milan, New York, Tokyo and elsewhere, as well as composing music for films, film strips, theatre, dance & television. composed mainly at Electronic Music Studio (EMS), Fylkingen, Studio Andromeda (with Ralph Lundsten) and more recently in his own Viarp.
He's been on the teaching board of the State College of Music in Stockholm from 1982 until he retired.
This work opened the Elektronmusikstudion Dokumentation series, appearing on its first volume and I had DJed the flip in our Mix #2, proving that I consider it ESSENTIAL !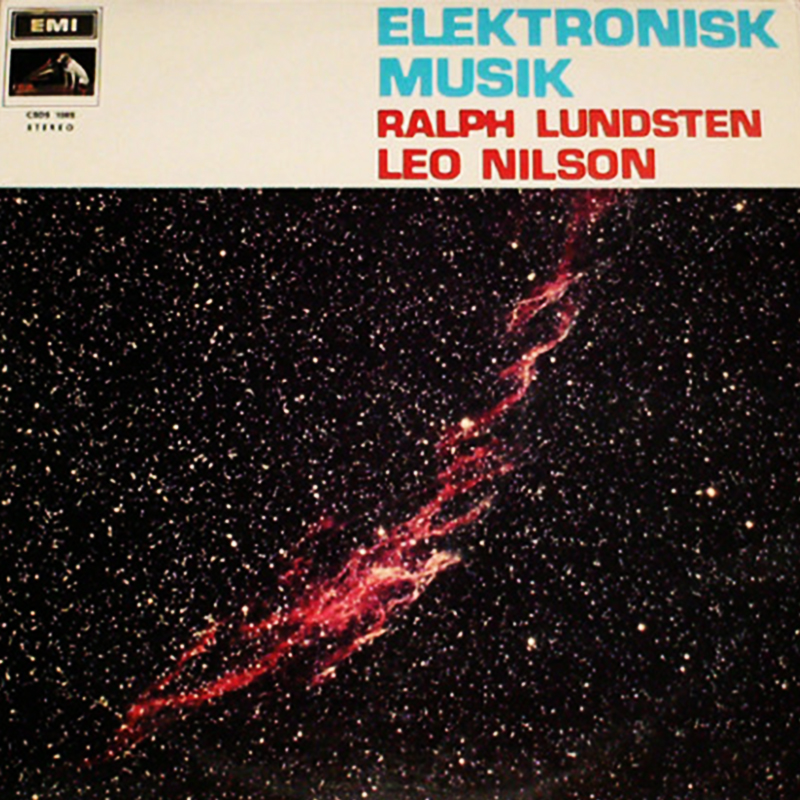 André Stordeur – Aphrodisiac (1979 / Igloo)
I take for granted that if you are reading this blurb you are well-aware of my respect for André Stordeur. Happy to have spent some time chatting/having fun face to face (even side by side in a car) with him and his son Mike + proud to have paid hommage to him in welcoming his session for Modulisme #23 offering 4 tracks : 1 hour of exclusive goodies, no less ! This one comes from his first album back when he was the strongest advocate for modular synthesis, starting his « Studio Synthèse » in 1973 in Brussels where he was teaching and experimenting, mostly on a Synthi AKS.
In 1979, he collaborated with Paul-Baudouin Michel on an electroacoustic music composition titled «Phraséologie », recorded at the Institut voor Psychoacustica en Elektronische Muziek studio, aka I.P.E.M., which had been the Ghent University electronic music studio since 1962. The same year, he published « 18 Days » featuring compositions using an EMS AKS and a modified 8 voice patchable Oberheim SEM1 system.
In the early 80s he started using a Serge synthesizer prototype which was especially built for him by Serge Tcherepnin himself. From 1981 on he was the Serge company consultant for Europe.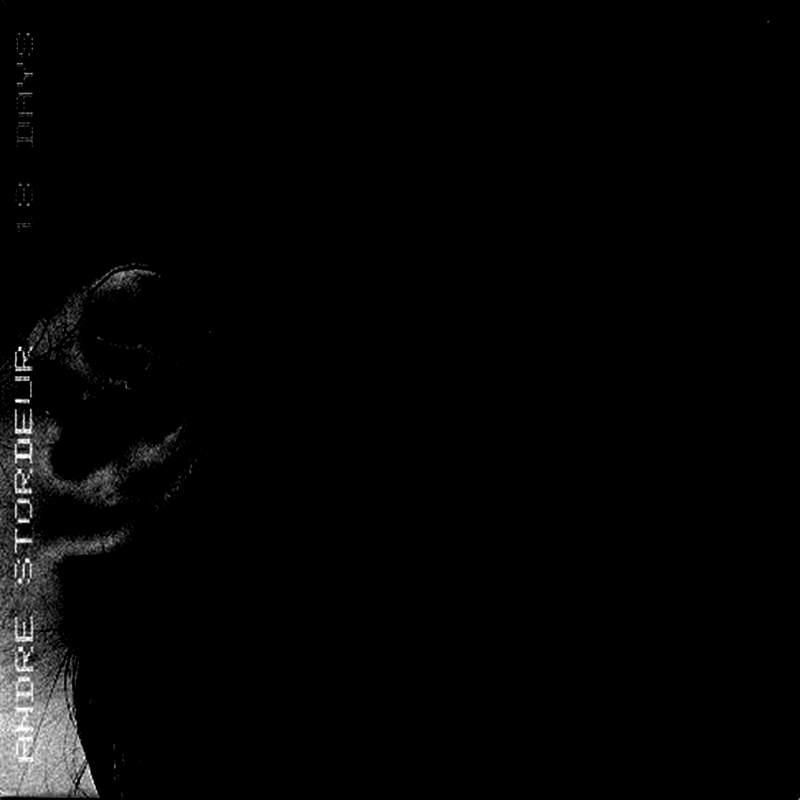 Daria Semegen – Electronic Composition No. 1 (1974 / Columbia)
Daria Semegen is a contemporary American composer of classical and electroacoustic music, born in Bamberg, West Germany. She studied composition under Bülent Arel and Alexander Goehr and later on taught at the Columbia-Princeton Electronic Music Center (1971–75). She is a figure on the academic side of the electronic music genre, connected with the conservatory and the university (like her older contemporary Karlheinz Stockhausen), rather than the more popular expression of the genre that followed upon the widespread availability of synthesizers and personal computers in the 1970s and after. Her writing covers a range of topics related to musical composition and has been the subject of studies by other scholars.
She is currently associate professor of composition, theory, and electronic music composition at Stony Brook University, and is director of its Electronic Music Studio.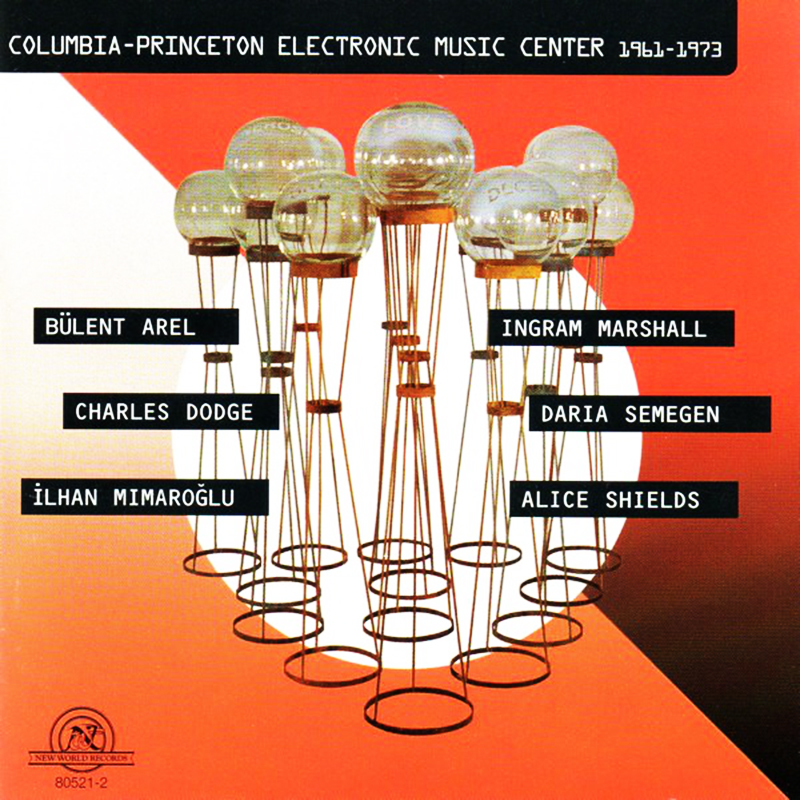 Pauline Oliveros – Alien Bog (1967 / Pogus)
In the early '60s, Pauline Oliveros, Morton Subotnick and Ramon Sender formed the San Francisco Tape Music Center, and, there, she began her pioneering work with electronics and tape. I had mixed « Beautiful Soup » in our Mix #3 and this is her second work with the original Buchla Box 100 series created for the Tape Music Center by Don Buchla.
"I was deeply impressed by the sounds from the frog pond outside the studio window at Mills. I loved the accompaniment as I worked on my pieces. Though I never recorded the frogs I was of course influenced by their music."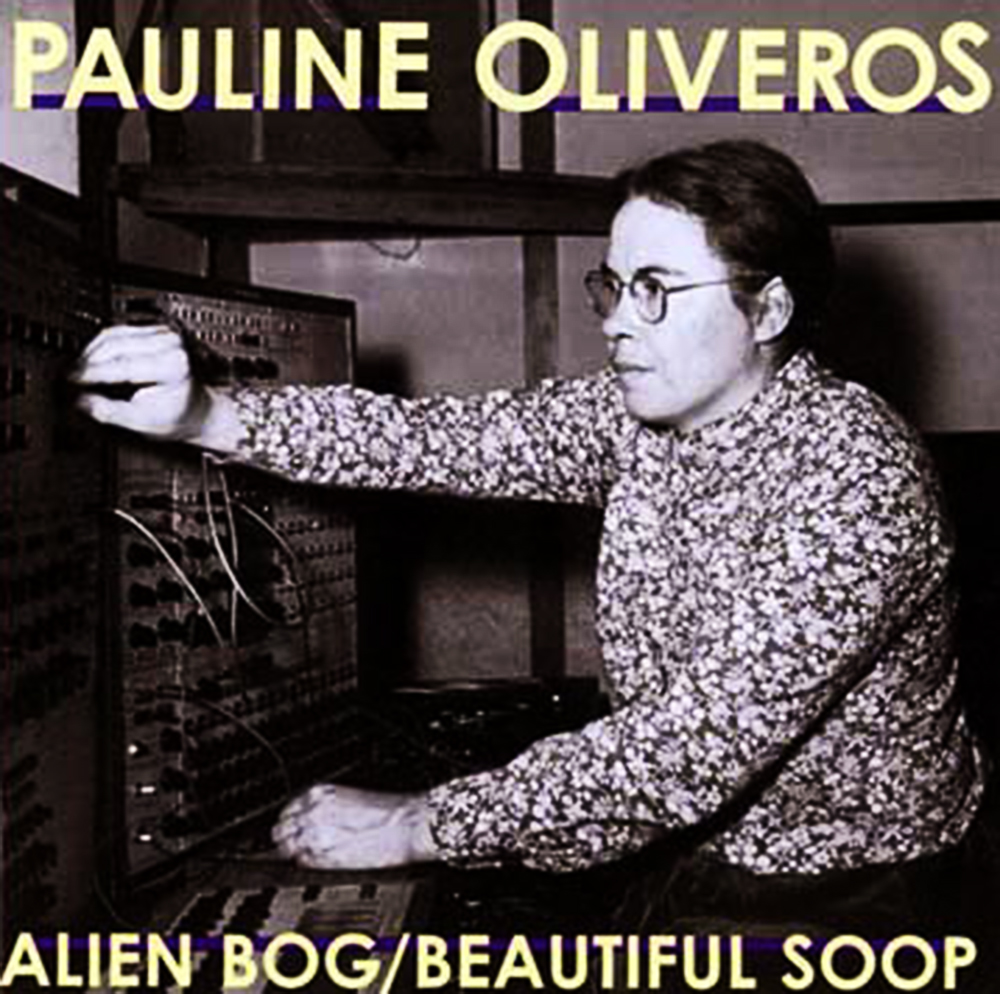 Alice Shields – Dance Piece No.3 (1970 / New World)
Respected electronic composer Alice Shields earned three degrees from Columbia University including the Doctor of Musical Arts in music composition, studying with Vladimir Ussachevsky, Jack Beeson, Otto Luening and Chou Wen-Chung. She served as Associate Director of the Columbia-Princeton Electronic Music Center and Director for Development of the Columbia University Computer Music Center.
She has taught the psychology of Music as Professor of Psychology at New York University and lectures on the psychology of music at institutions including the Santa Fe Opera, CUNY Center for Developmental Neuroscience, International Society for Research on Emotion, American Psychological Association and the National Association for the Advancement of Psychoanalysis.
As a performer, Shields has been a professional opera singer, performing both traditional and modern roles.
During the 1990s she intensively studied and performed South Indian Bharata Natyam dance-drama as a vocalist, performing nattuvangam, a form of South Indian rhythmic recitation with the Swati Bhise Bharata Natyam Dance Company, at venues including the United Nations, Asia Society and Wesleyan University.
All Shields' compositions since 2000 reflect her immersion in Indian classical music and drama.
Since 2016 Shields has been involved in the study of Noh theater.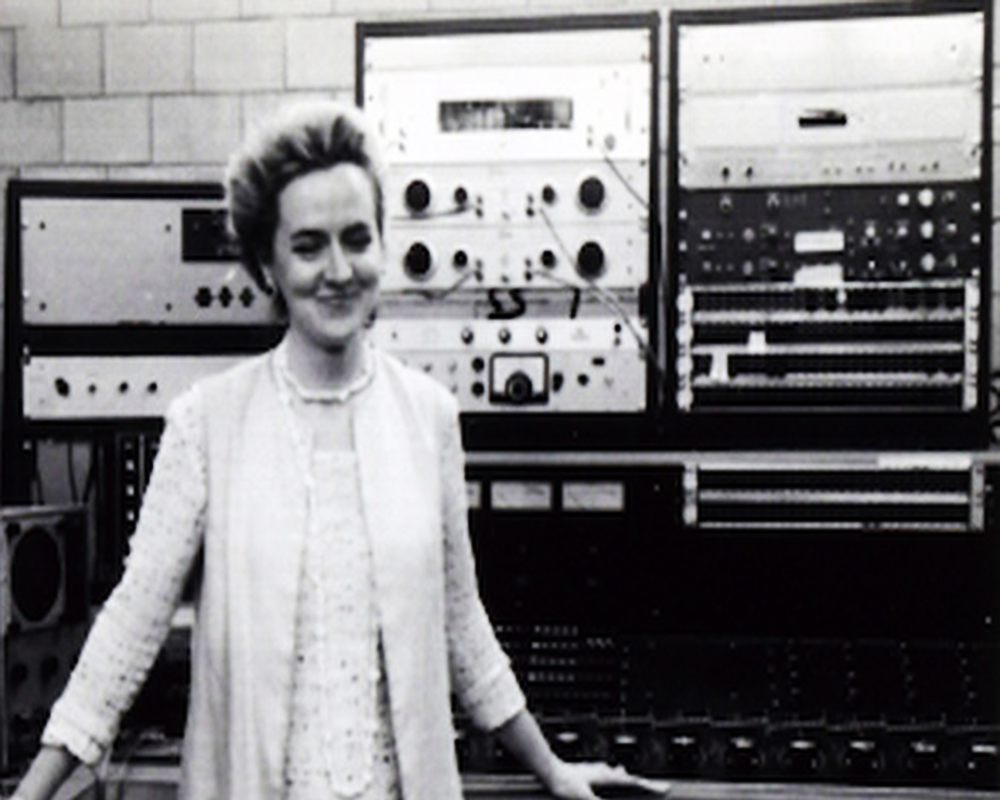 Menachem Zur – Chants, For Magnetic Tape (1974 / Columbia)
Menachem Zur, an Israeli-American composer, has composed over 100 works, including chamber, vocal, symphonic and electronic music, and one full-scale opera. In 2001 he was awarded the ACUM (Israeli ASCAP) prize for life-achievements and twice the Prime minister's prize for composition.
Menachem Zur is a professor emeritus at the Jerusalem Academy of Music and Dance. He has taught at Queens College, CUNY, and New York University. During the years '92-'94 and 2000-3 he served as the chairperson of the Israel League of Composers. He is a graduate of The Jerusalem Academy of Music and Dance, and studied in the United States at the Mannes College of Music, Sarah Lawrence College, and Columbia University, where he was awarded a D.M.A. in Composition in 1976.