Early ElectroMIX is a series to document the history of experimental Electronic music from the 50s to the 80s, composers making use of electronic instruments, test equipment, generators of synthetic signals and sounds… to analog synthesizers…While our sessions document those who make it today my desire is to transmit some pioneering works which paved the way to what we try to create today.
Realizing that most of those seminal recordings were not available I decided to archive them in a contemporary way, DJing-mixing them and while most of the time running several sources together or in medleys I made sure to respect the original intent of each composers as I want to transmit their message rather than mine.
The only one I would dare deliver being that they should not be forgotten…
Philippe Petit / April 2021.
Recorded (on 07/04/2021) for our series broadcasted on Modular-Station
https://modular-station.com
Tracklist:
Halim El-Dabh – Crossing Into The Electric Magnetic (Medley) (60/70s / Without Fear) 00:00 > 12:55
Steve Maxwell Von Braund – Shadowfax (1975 / Clear Light Of Jupiter) 12:02 > 22:01
Roland Kayn – Cybernetics III (1970 / Deutsche Grammophon) 18:53 > 41:35
Iannis Xenakis – Bohor (1970 / Nonesuch) 31:37 > 50:04
Jacob Druckman – Animus I (1967/Turnabout) 47:01 > 01:00
Halim El-Dabh – Crossing Into The Electric Magnetic (Medley) (60/70s / Without Fear)
Let's start with a medley-mix gathering several pieces by one of the pioneers of electronic and tape music Halim El-Dabh, who began experimenting with wire recorders in Egypt even before Pierre Schaeffer inaugurated the practice of Musique Concrete in France ('Wire Recorder Piece' in 1944) and is thus of great historical importance. Most of the other works were recorded in 1959 and evidence a remarkable body of work and experimentation. El-Dabh does not sound like his fellow Electronic Music brethren (he was working at The Columbia-Princeton Electronic Music Centre) but is more organic, physical and eccentric; more like Sun Ra than Mario Davidovsky. There is much use of objects and some instruments, as well as electronically generated tones and concrete techniques of tape manipulation and electronic processing. And very imaginative use of the human voice in the groundbreaking 'opera' 'Leiyla and the Poet'… Historical !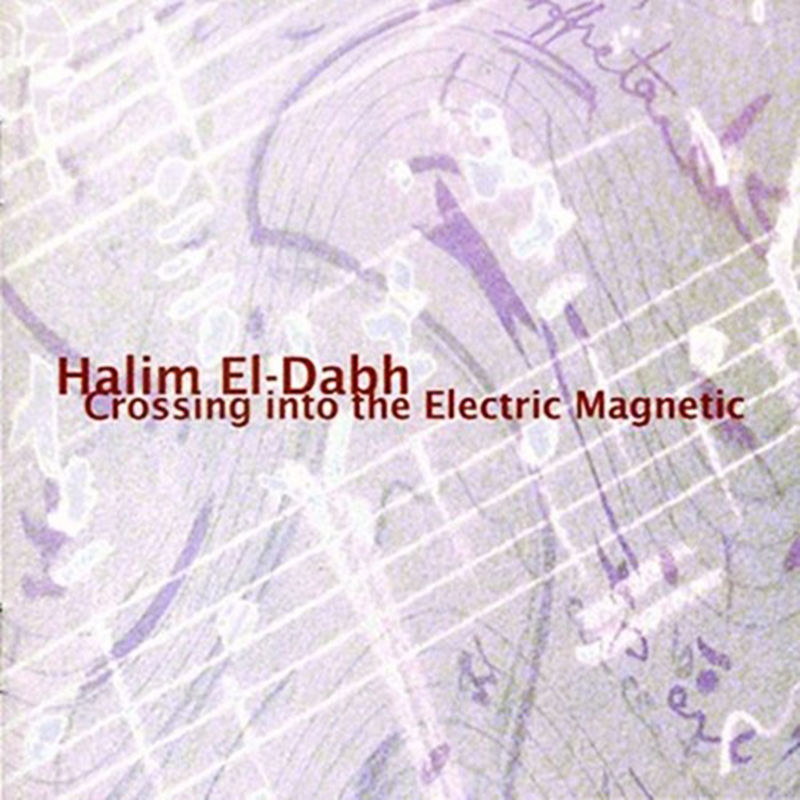 Steve Maxwell Von Braund – Shadowfax (1975 / Clear Light Of Jupiter)
Steve Maxwell Von Braund's released in 1975 « Monster Planet » a classic of Australian proto-electronica, a big blast of Kosmische dust, Korgs working overtime…Arguably, the first fully electronic Australian album, Monster Planet is a solo recording from one half of the infamous Australian electronic duo, Cybotron. Von Braund recorded this pre Cybotron album upon his 1973 return to Australia after soaking up the sounds of psychedelic 60s London where he mingled with Hawkwind, The Soft Machine and Graham Bond. Circling between that classic Krautrock motorik beat, and a different, almost jazz-y kind of fluidity, Von Braund combined his London experience with his love of German Head music such as Amon Duul, Popol Vuh and Ash Ra Temple, to create a mutant electronic masterpiece. Praised by Tangerine Dream, and lauded by legions of Krautrock collectors, Monster Planet is an early example of visionary Australian experimentation.
Note that it's recently been remastered from the original master tapes and reissued with liner notes and rare photos by Dual Planet Rds.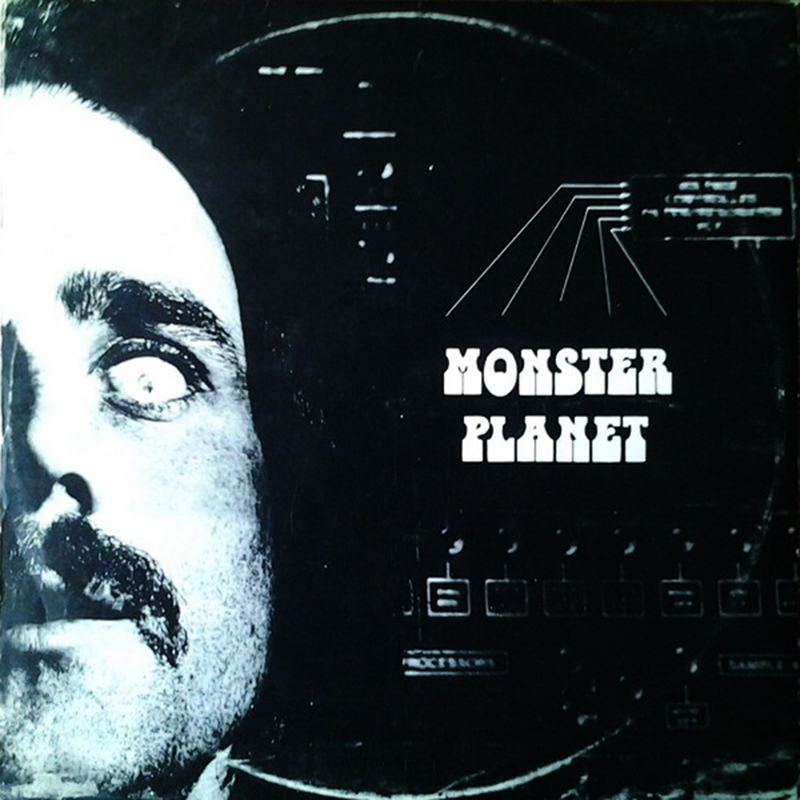 Roland Kayn – Cybernetics III (1970 / Deutsche Grammophon)
Roland Kayn was born in Germany in 1933 and started composing at an early age. He was just 20 years old when he won first prize at the festival of 20th century music in Karuizawa, Japan. Performances of his composition Aggregate (1959) resulted in him becoming persona non grata on the concert stage. Shortly after working in electronic studios in Poland, Germany and Italy, he joined the Gruppo Nuova Consonanza and this crucial detour into improvisation with Franco Evangelisti, Aldo Clementi and Ennio Morricone helped him find his definitive musical direction. Kayn decided to pursue his musical quest through composition with the intention, strange as it may seem, of excluding the composer as much as possible. He concentrated solely on electronic and electro-acoustic music from 1970 onwards and began using the term "cybernetics" to define his own music, in which complex networks of electronic devices follow the composer's instructions in the form of a system of signals and commands. Words such as "harmony", "melody" and "rhythm" no longer apply; the idea that a musical work should be defined in minute detail by its composer is anathema to Kayn, who insists that cybernetic music should be self-regulating, leaving behind both the narrative element and the psycho/emotional minutiae usually associated with the notions of "composer" and "art". Even the person behind the system cannot predict the final outcome, since the processes have no real epicentre, and each sound is of equal weight and importance in relation to the others. "Music is sound, and sound is self-sufficient," Kayn declares emphatically.
Since 1970 Kayn was based in the Netherlands, playing an active role of the cultural department of Amsterdam's Goethe Institute, developing artistic initiatives and important concerts of contemporary music.
https://kayn.n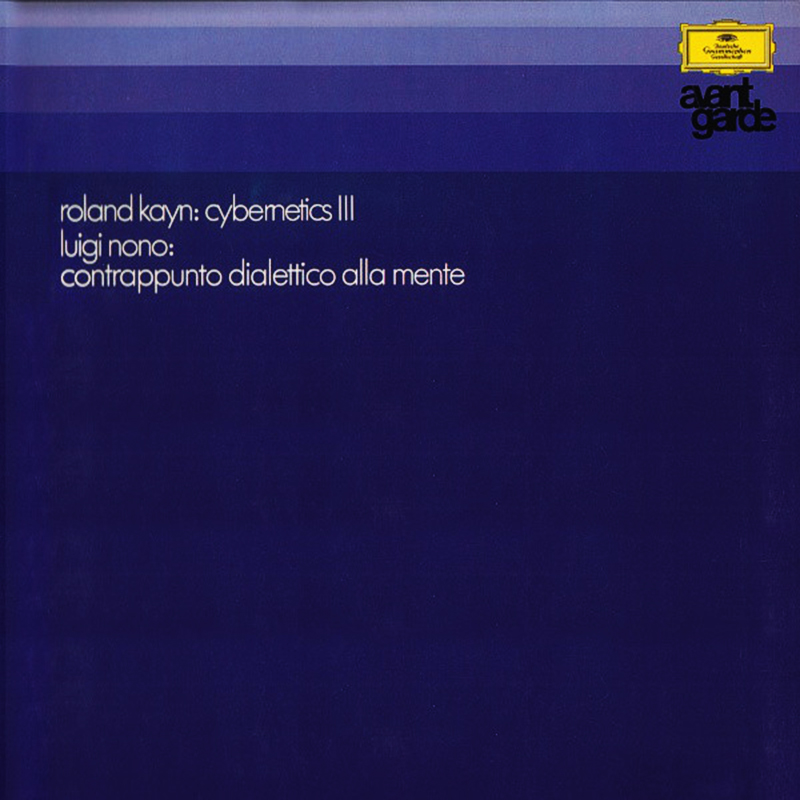 Iannis Xenakis – Bohor (1970 / Nonesuch)
Iannis Xenakis' Diamorphoses had appeared in Mix 12 and it is truly tough to chose from his seminal oeuvre.
Xenakis expressly stated that Bohor "needs space" in order to be heard properly and made careful speaker designations for each realization of Bohor, taking into consideration the dimensions and acoustics of its various performance spaces. He selected a diverse handful of sound sources for Bohor, which reflects the diversity of his influences at the time. The sketches for Bohor verify the two known sound sources already documented, the Laotian mouth organ and various "Oriental" bracelets. More notably, they also reveal two additional sources previously unknown: Byzantine chant and piano. Xenakis recorded sound samples of each of the four materials, and manipulated each by stretching, compressing, or assembling different fragments.
Molding a unique amalgam of sounds in this habitat, Xenakis creates an atmosphere that seems both profoundly sacred and industrial at the same time.
Romanian-born Greek-French composer, music theorist, architect and engineer who is regarded as one of the most radical and important composers of the twentieth century. He formulated a theory of stochastic music in the early 1950's, and in late 1954 he was accepted as a member of the Groupe De Recherche De Musique Concrète. He later joined Groupe De Recherches Musicales. He pioneered the use of computers for musical composition in 1961. As an architect, he worked with Le Corbusier and designed the Philips Pavilion for the Brussels World's Fair in 1958. In 1963, he published Musique Formelles, a collection of his articles relating music, architecture, and mathematics. In 1972, he founded CEMAMu (Centre d'Etudes de Mathématique et Automatique Musicales) in Issy-les-Moulineaux, just outside of Paris. He has composed around 150 works for orchestra, instruments, voices, stage, and electronics.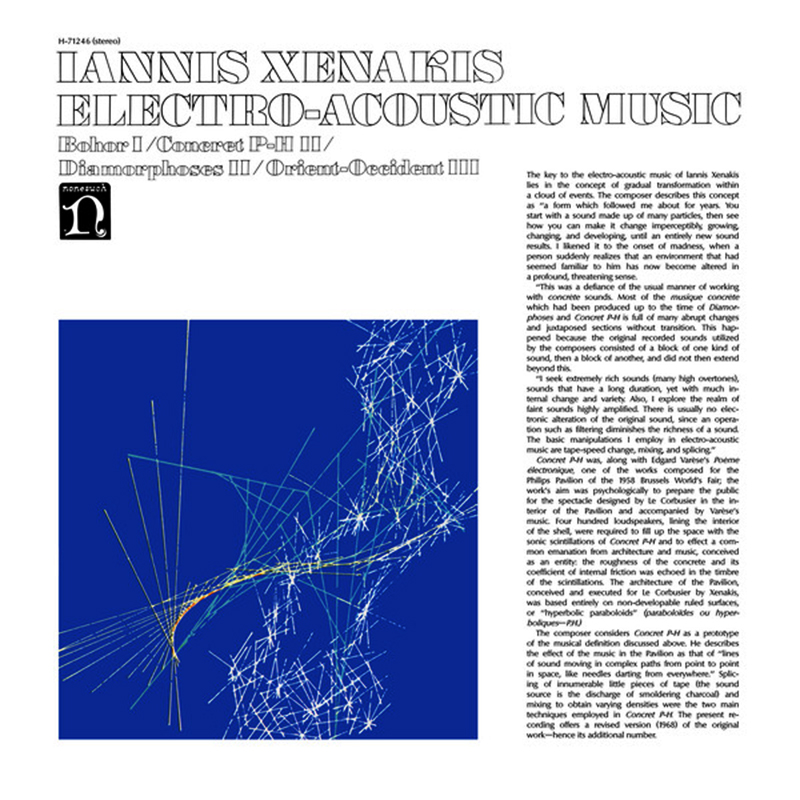 Jacob Druckman – Animus I (1967/Turnabout)
Animus I for trombone and tape was composed in 1966 at the Columbia-Princeton Electronic Music Center. The piece was written for Davies Schuman whose playing was processed and mixed among other electronic sounds. Animus I as well as other pieces by Jacob Druckman (Valentine, for double bass and Animus III, for clarinet) were used by G. Arpino and J. Limon for choreographic creations. The most important formal aspects of the work show the relationship between the player and the soundtrack: the man and the machine he created in his image. During the concert, the trombonist presents certain theatrical and dramatic elements. After a first introduction of the band and the dialogue which follows, the instrumentalist sits down because the scrolling band competes and becomes too fast for him. The man starts playing again with more aggressiveness and in an almost animal way, the band then resumes by imitating him but this time dominates him until he is chased off the stage. The band is exhausted, the man returns on stage, they end together in a delicate balance.
Jacob Raphael Druckman was an American composer born in Philadelphia. A graduate of the Juilliard School, in 1949 and 1950 he studied with Aaron Copland at Tanglewood and later continued his studies at the École Normale de Musique in Paris (1954–55). He worked extensively with electronic music, in addition to a number of works for orchestra or for small ensembles. In 1972 he won the Pulitzer Prize for his first large orchestral work, Windows. He was composer-in-residence of the New York Philharmonic from 1982 until 1985. Druckman taught at Juilliard until his retirement…