Early ElectroMIX is a series to document the history of experimental Electronic music from the 50s to the 80s, composers making use of electronic instruments, test equipment, generators of synthetic signals and sounds… to analog synthesizers…While our sessions document those who make it today my desire is to transmit some pioneering works which paved the way to what we try to create.
Realizing that most of those seminal recordings were not available I decided to archive them in a contemporary way, DJing-mixing them and while most of the time running several sources together or in medleys I made sure to respect the original intent of each composers as I want to transmit their message rather than mine.
The only one I would dare deliver being that they should not be forgotten…
Philippe Petit / April 2021.
Recorded (04/05/2021) for our series broadcasted on Modular-Station
https://modular-station.com
Tracklist:
Douglas Lilburn – Medley (1967 to 72 – Kiwi) 00:00 > 17:20
Douglas Leedy – Entropical Paradise (1968 / Seraphim) 15:58 > 43:02
Anestis Logothetis – Fantasmata (1960 / Musikalische Jugend Österreichs)37:38 > 57:19
Franco Evangelisti – Incontri Di Fasce Sonore (1957 / BV Haast) 56:40 > 01:00
Douglas Lilburn – Medley (1967 to 72 – Kiwi)
Douglas Gordon Lilburn was born in Wanganui, New Zealand, in 1915. In 1937 he began studying at the Royal College of Music, London. He was tutored in composition by Ralph Vaughan Williams and remained at the College until 1939.
He returned to New Zealand in 1940 and was guest conductor in Wellington for three months with the NBS String Orchestra. He shifted to Christchurch in 1941 and worked as a freelance composer and teacher until 1947. Between 1946 and 1949 and again in 1951, Lilburn was Composer-in-Residence at the Cambridge Summer Music Schools. In 1947 Douglas Lilburn shifted to Wellington to take up a position at Victoria University as part-time tutor in music. He was appointed full-time Lecturer in 1949 and Senior Lecturer in 1955. In 1963 he was made Associate Professor of Music and was appointed Professor with a personal chair in Music in 1970.
In 1966 Lilburn founded the Electronic Music Studio at the university and was its Director until 1979, a year before his retirement.
The Lilburn Trust was established by Douglas Lilburn in 1984. It is administered as a charitable trust under the Alexander Turnbull Library Endowment Trust and is well-known for funding the Lilburn Trust Student Composition and Performance Awards at five universities throughout New Zealand.
The Trust also makes awards to individuals who have given outstanding service to New Zealand music, as well as supporting many other projects in New Zealand music.
Douglas Lilburn, described as "the elder statesman of New Zealand music" and the "grandfather of New Zealand music," died peacefully at his home in Wellington on 6 June 2001.
I chose to mix a Medley from 4 songs which had been published on a compilation documenting Early Electronic Music from New Zealand released by Kiwi Records back in 1975. Summer Voices (1969), Poem In Time Of War (1967), Three Inscapes (1972), and Dance Sequence For Expo '70 (1970).
http://www.douglaslilburn.org/information.html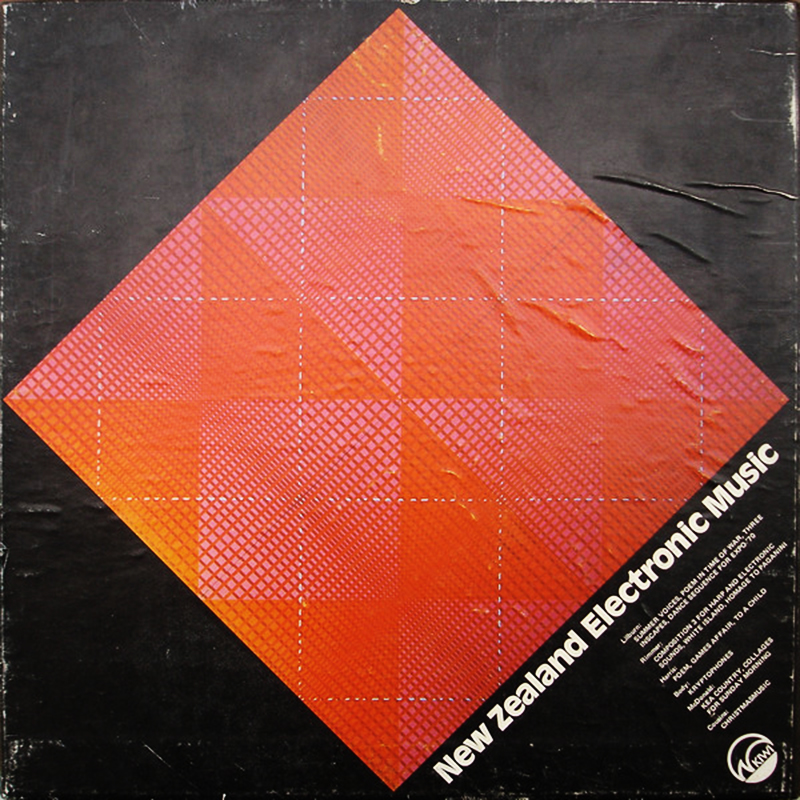 Douglas Leedy – Entropical Paradise (1968 / Seraphim)
Born in Portland, Oregon, Leedy studied with Karl Kohn at Pomona College and at the University of California, Berkeley, where he was in a composition seminar with La Monte Young and Terry Riley. An orchestral hornist, harpsichordist, and singer, he studied South Indian music in Madras with K. V. Narayanaswamy, North Indian vocal music with Pandit Pran Nath, and was first music director of the Portland Baroque Orchestra and the musical director of the 1985 Portland Handel Festival. He taught music at UCLA, the Centro Simon Bolivar (Caracas), and at Reed College. He founded the electronic music studio at UCLA, and his synthesized music was among the earliest commissioned album-length recordings of the Moog Synthesizer and Buchla Synthesizer. The triple album Entropical Paradise was both the first triple album of synthesized "musical environments" — perhaps the first recording of explicitly ambient music — and featured modular analog synthesizer patches that, once set, played without further intervention by the performer. Produced "Automatically" using Control Voltages assigned to the various functions – oscillator pitch, adsr envelopes, volume gating, stereo panning, etc… The exact opposite to what Subotnick / Carlos were achieving at the same time and consequently an alternative which shouldn't be understated. On the back of the box one could read:
  These audio environments, once programmed and set in motion on the Moog and Buchla electronic music systems, could theoretically run continuously but without repetition indefinitely. That is, the program are non-repetitive since certain random characteristics have been introduced. There are many analogies in nature to this type of programming, and in fact it is the programmation of nature after which these sound environments are patterned. One analogy is the breaking of waves upon an ocean shore: there is an endless succession of waves, and yet each wave is different, even unique. So constant repetition and constant change are one organic process.
Entropy is what life and art are said to be continually battling – the inexorable tendency of forces everywhere in the universe, including those within our own bodies, to grow uniform, to come to rest, to achieve a state of equilibrium, to reach the final perfect calm all things. A Paradise, but for whom?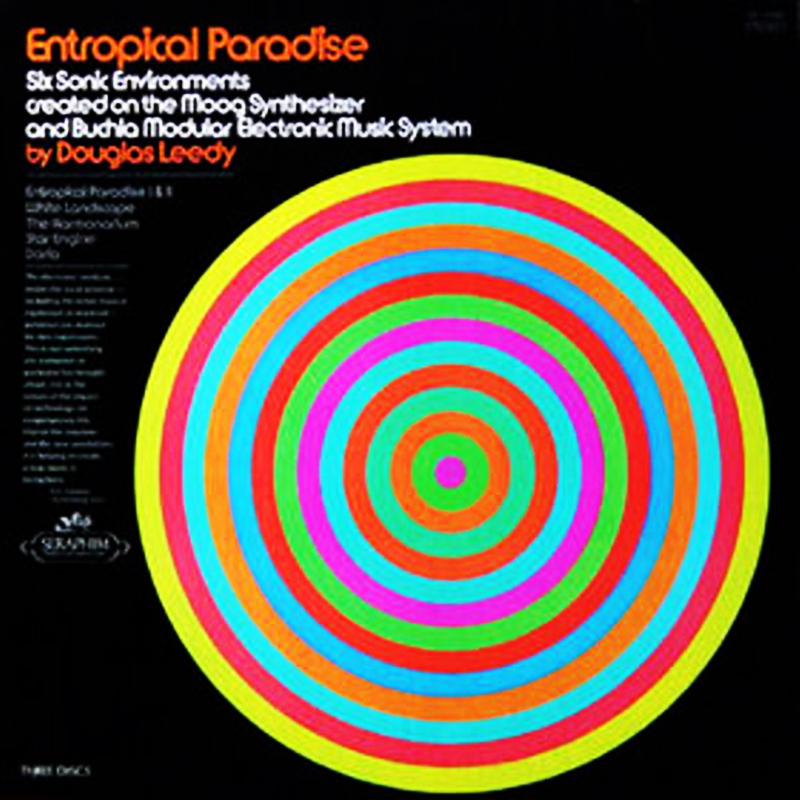 Anestis Logothetis – Fantasmata (1960 / Musikalische Jugend Österreichs)
The Greek avant-garde composer Anestis Logothetis was noted for his pioneering tape techniques as well as developing his own notation system for composition that incorporated visual symbols meant to be interpreted by the performers. After completing studies at the music academy of Vienna, in the 1950s Logothetis became enamored of 20th century composers like John Cage and Earle Brown, and moved away from traditional composition for orchestras and performers in favor of fully electronic composition in the late 50s. A groundbreaking composer and electronic musician who composed "Fantasmata 1960." in 1960 in the "Institut Für Elektroakustik Der Musikhochschule In Wien".
Fantasmata is a key word in the parlance of Western philosophy. Aristotle describes "fantasmata" as images that have their origin in the reminiscence of what has been perceived, and are created through the experience of the sensual perception of individual objects and occurrences. Logothetis thereby meets the core theme of electroacoustic music. Several years later, François Bayle describes acousmatic music as a music of fictional spaces and phantom figures – a world between real and imaginary causes. As sound material, Logothetis uses ecstatically shouting voices from Congo dances and several concretely recorded sounds. With the technical means of the 1960s (tempo variation, ring modulation) a work with a high inner tempo emerges, in which the listeners become groping characters in an unknown sound universe. This river of known and unknown sounds flows into a sounding stream, that of Trance – a raw, granularly circling soundscape that opens up an archaic world of tonal being.
Franco Evangelisti – Incontri Di Fasce Sonore (1957 / BV Haast)
Evangelisti studied composition with Daniele Paris in Rome and with Harald Genzmer at the Freiburg University of Music ; Between 1952 and 1960 he regularly took part in the Darmstadt International Summer Courses for New Music. At the invitation of Herbert Eimert, he worked in 1956 in the studio for electronic music of the WDR in Cologne where he composed « Incontri Di Fasce Sonore ». In 1957, the orchestral conductor Hermann Scherchen invited him to work in the Studio of Experimental Electroacoustics of UNESCO in Gravesano, where he became involved with biophysics and explored the possibility of directly translating brain impulses into sonic vibrations.
In 1958 he inaugurated the Experimental Studio of the Polish Radio in Warsaw together with Karlheinz Stockhausen and Luigi Nono, where he held seminars on electronic music the following year.
Together with Francesco Pennisi and Aldo Clementi , he founded the Nuova Consonanza association in Rome in 1960 , which organized concerts and festivals.
As a radical supporter of serialism , he was increasingly skeptical of post-serial composing, which he regarded as restorative. He therefore decided in 1962 to give up composing in favor of a more scientific work on a system of "syntactic and tonal redesign". In 1964 he also founded the improvisation ensemble Gruppo di Improvvisazione Nuova Consonanza with Ennio Morricone, Egisto Macchi and other composers. After working in Berlin , he was appointed to the Accademia Nazionale di Santa Cecilia in Rome as a lecturer.
Evangelisti's work as a composer comprises, apart from the collective improvisations, only a little more than a dozen compositions.
In 1980, after nearly twenty years' work, he finished his book Dal silenzio a un nuovo mondo sonoro (From Silence to a New Sonorous World), which has come to be regarded as "an important record of one of the most radical minds of the Italian postwar avant garde". He died in Rome on 28 January 1980.