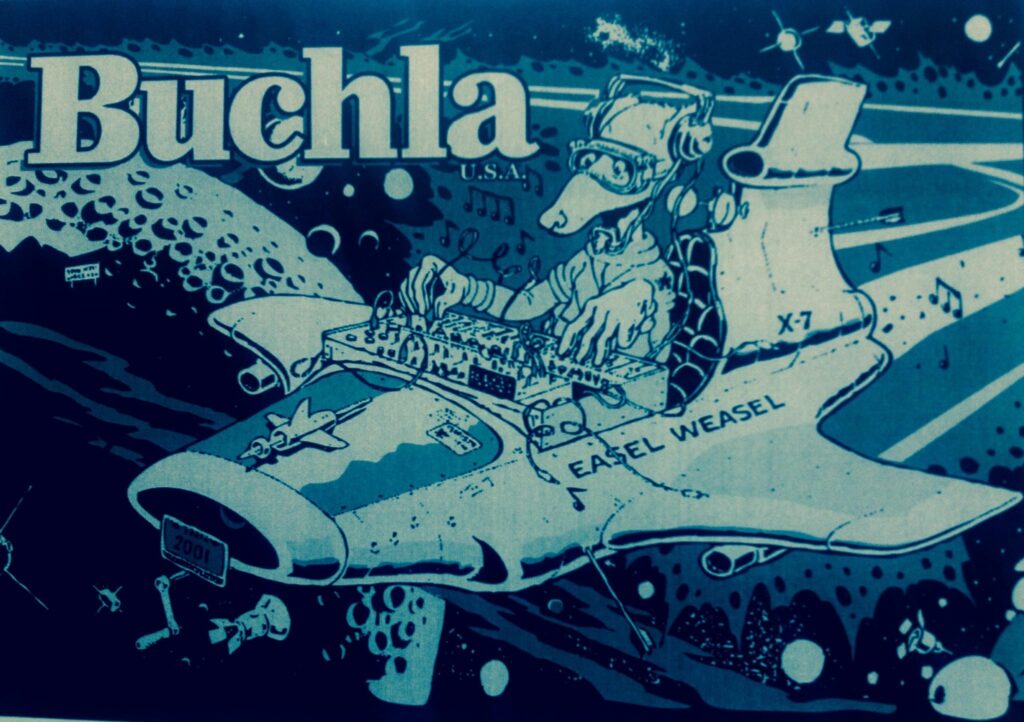 Buchlaïsms by Philippe Petit
Modulisme is on a mission to share-publish music from likeminded creative modularists and help'em get some more exposure… But one has to bear in mind that behind each sound-designer are those who invent, design machines or modules aimed at becoming our instruments. Those geniuses, essential in helping to free our creativity, motivated the launching of ITATIOM (Inventors Talking About Their Instruments Or Modules whose name was whispered to me by the great Serge Tcherepnin…).
When I decided to start a series of portraits dealing with those who are designing modular instruments, inventing what allows us to sculpt our « plastic sounds » my priority was BUCHLA because it is the brand which turned me on Modular Synthesis !!! Acquiring a System 200 opened some new ways of composing, new doors of perception, whereas my Easel K totally meets my approach to playing thanx to its immediacy being so close to the Turntablistic visceral approach I have been championning for decades.
A painter uses an easel to support the canvas on which he creates his works, thus the Buchla Easel is the ideal support to hold a canvas on which I want to create sound paintings.
For a long time Don Buchla would simply refuse to add a keyboard to his instruments. According to him, the synthesizer should be a tool for music and experimental musicians. A keyboard would have been an invitation to the conventional scale set… Buchla certainly deserves priority because of such thinking outside the box.
I wouldn't call anything that I've built a synthesizer. I first started designing members of the electronic family of instruments in 1962. My own interests are in moving away from any traditions. We're tradition bound. We have concepts of what music is, and what is and what is not music. We have virtuosity, that is performance technique, developed after years of study and centuries of tradition. We have instruments that have been refined and refined, generation after generation. So music as we know it is rooted in a great deal of tradition, and is resistant to change on many levels: the instrumental, the performance, and the listening levels.
I'm not well-rooted in any of the traditions and I'd like to investigate the sonic experience in a very general way.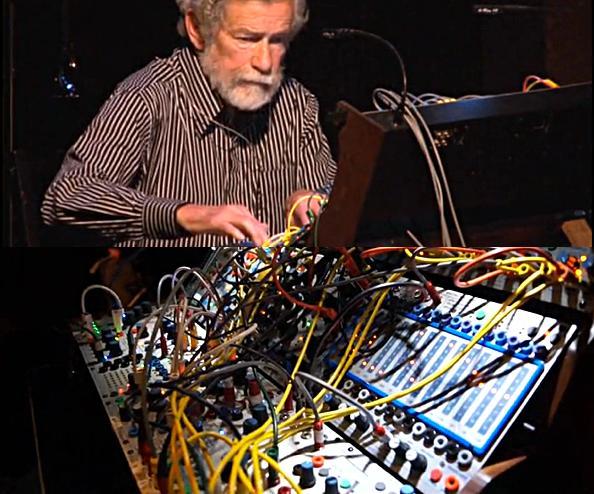 Donald Buchla used to invent electronic music instruments. And though those instruments resemble what we know as synthesizers, and work in much the same way, Buchla insisted that they are not synthesizers. Each of his devices are part of the larger electronic music instrument family. Electronic instruments are a family of instruments, he claimed, just like the wind family, the brass family, or members of the string family:
I like to regard an instrument as consisting of three major parts: an input structure that we contact physically, an output structure that generates the sound, and a connection between the two. The electronic family of instruments offers us the limitation, if we approach it traditionally, and the freedom if we approach it in a new way, of total independence between input and output. And in fact the necessity of some way of generating a connection between the two. Language becomes an important aspect in the electronic family of instruments, where it had played no part with all traditional acoustic instruments. The relationship between input and output is fixed with traditional instruments; it's totally flexible thanks to the routing of the patch cords established by human intelligence working through sophisticated electronics. Therein lies the exciting possibilities of electronic instruments: the instantaneous remapping of the relationship between input gesture and output response.
Don Buchla built his first instrument, the « Model 100 Series' Electronic Music System » in 1963 concentrating on the development of innovative sounds rather than the performance of traditional melodies.
He was at the San Francisco Tape Music Center and even if his name and instruments are not as widely known as those of Moog, Arp, or Prophet among those who know electronic instruments, the name Buchla is synonym of the highest quality. He's generally credited with arriving at the voltage control modular synthesizer at the same time as Robert Moog.
Moog geared his instruments towards a burgeoning popular market which he originated since his instruments were tailored to the expressed needs of traditional musicians whereas Buchla, on the other hand, was a self-proclaimed avant-gardist and experimentalist, and his instruments reflect those concerns. He spoke of music in terms of language, gesture orientation, and interactiveness ; didn't seek the touch-sensitivity of so many keyboard synthesists, but rather an almost cybernetic interface between the body, mind, and instrument.
My first instrument was a device that read the shape of the hand and interpreted it as a waveshape. It embodied the philosophy that the instrument had to be highly interactive with the human being who was playing it. It was a way of transcending the limitations of the instruments that I was acquainted with, which tended to be Hewlett-Packard oscillators, Ampex test equipment…
From its origin Buchla's 'voltage-controlled' synthesizer was a huge step forward that allowed composers to control sounds in real time, or even connect to external devices.
From then on to his last creation (Marimba Lumina : a self-contained instrument comprising sets of illuminated bars, pads and strips played using mallets. Inevitably, it had a few facilities not available on traditional marimbas, including an internal synth and the ability to recognise which of four types of mallet had struck any given bar, each having a different, programmable action upon the sound) Don Buchla kept innovating and consequently remains forever immortal thanx to the awesome sounds emitting from his glorious inventions.
Furthermore his legacy is still going on thanx to Eric Fox who now runs Buchla USA, and Joel Davel designing his marvelous inventions.
Joel Davel, a well-known percussionist exploring the field of adventurous music, writing or performing for dance, contemporary ensembles or other luminaries such as Paul Dresher, Terry Riley, Fred Frith, Alvin Curran as well as many younger composers or chamber group… Eric Fox and him have replied to our questions.
As an instrument builder, Davel is known as a technician and collaborator of over 20 years with the late electronic musical instrument pioneer, Don Buchla developing unique music controllers (such as Thunder, Lightning, Marimba Lumina, Piano Bar) and the 200e series modules. This also led to performance opportunities with Don Buchla.
Davel did all of Don's circuit board layout after 1995 and now keeps up the tradition under a new regime.
« I'll give you a "virtual Don" reply.  Disclaimer: Virtual Don is not Don.  It's the Don in Joel's head.  Some of these are quotes as I remember them, but not verbatim.  It's a clue to his thinking even if some of the answers are actually longer than his notoriously short responses to interview questions. »
— Joel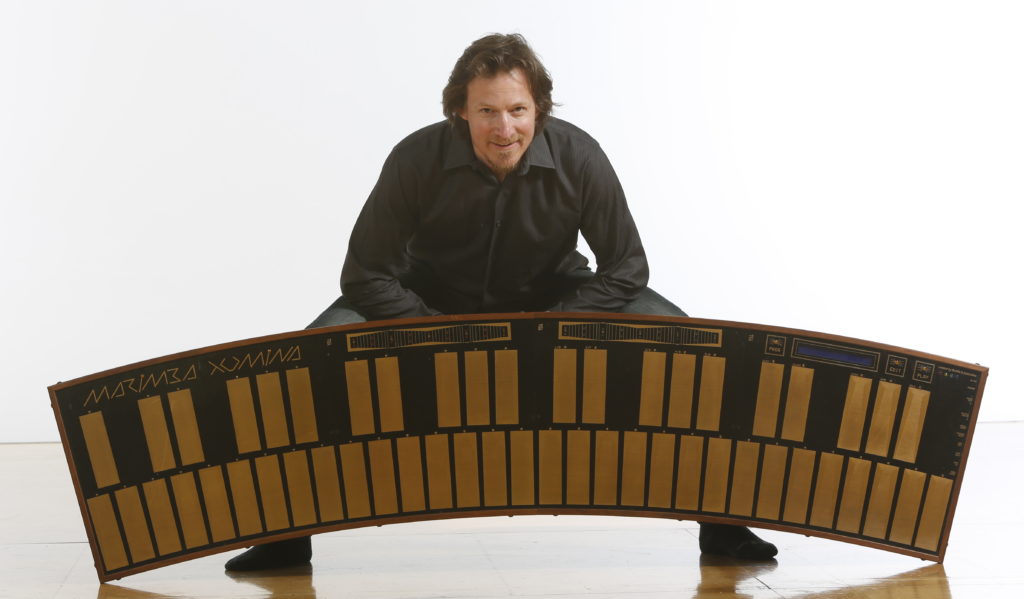 Where, when and how did you first become acquainted with modular synthesis?
virtual Don: Call it what you like, it doesn't matter much anymore, but I wasn't a fan of the word synthesis.  That suggested something synthetic — a bad imitation (suggesting the imitation of an acoustic instrument.). I created instruments made up of modules. 
How did you end up inventing/designing modules?
vD: Morton Subotnick asked and it sounded like an interesting idea…
When did that happen?
When did you build and/or design your first system?
vD: 1963-1965 ! 
Perhaps Bob Moog had an earlier module, I don't know.  But Bob told Mort I had the first full system. 
He hadn't thought of that yet.
What was the effect of that discovery on your life?
vD: In 1963 I kept designing other things such as the ORB, which was a mobility aid that stood for "Optical Ranging for the Blind."  I like devices that give people freedom to do what they want.  Hanging out with artists and people who were interested in human perception was more stimulating than anything else I could think of.
Do you compose or perform music — or don't you have time to do so?
vD: Yes. Whenever I could spare the time I'd create musical adventures with friends.
Quite often modularists are in need for more, their hunger for new modules is never satisfied? How do you explain that?
vD: Curiosity. Or maybe they don't know how to use what they have.
What has been your most popular design (or designs), and why do you think it (or they) became so successful?
vD: The 200 series. I'm a "designer." I could design your house.
Joel adds: So you are saying you were a complete designer and so they captivated people because the modules are functionally and visually thought out and work together as a system — a complete instrument, yes?
vD: You could say that.
Joel adds: And they were often sold to institutions like universities, so sometimes they were more successful in influencing young artists and composers than they were commercial successes, yes?
vD: That's probably true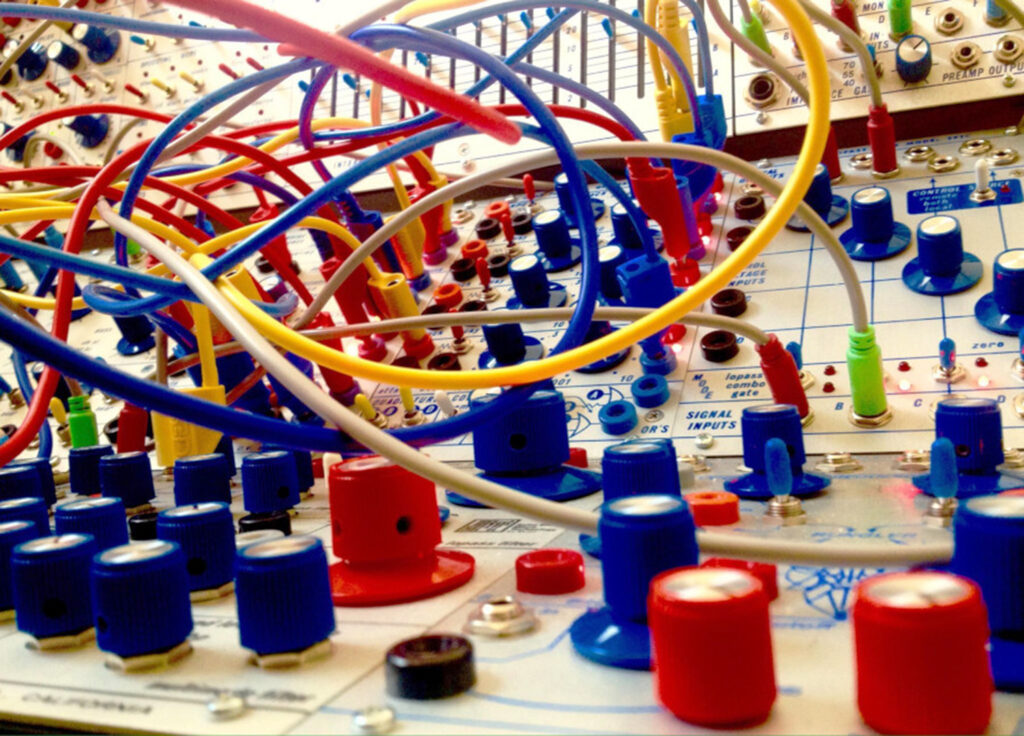 Which do you prefer for module design and / or use – analogue, digital or hybrid?
vD: Whatever works.  I prefer to give users more control, so that usually involves microcontrollers.
Joel adds: You were a pioneer in integrating digital components in your systems as early as the 1970's, so this integration has never really been an issue for you, no?
vD: No. But I suppose I wouldn't have to hire a programmer.
What system do you dream of building?
vD: A transducer that turns thought into action.
Which pioneers of modular synthesis influenced you, and why?
vD: Leon Theremin had a lot of good ideas.
Do you feel close to other makers and/or designers? If so, which ones?
vD: Bob's a friend. Though we are both gone now.
What have you been working on lately, and do you have any upcoming modules?
vD: You'll never know. But I'm definitely working on something wherever I am.
Could you please share a playlist of some of your favorite composers/albums using your instruments
vD: No.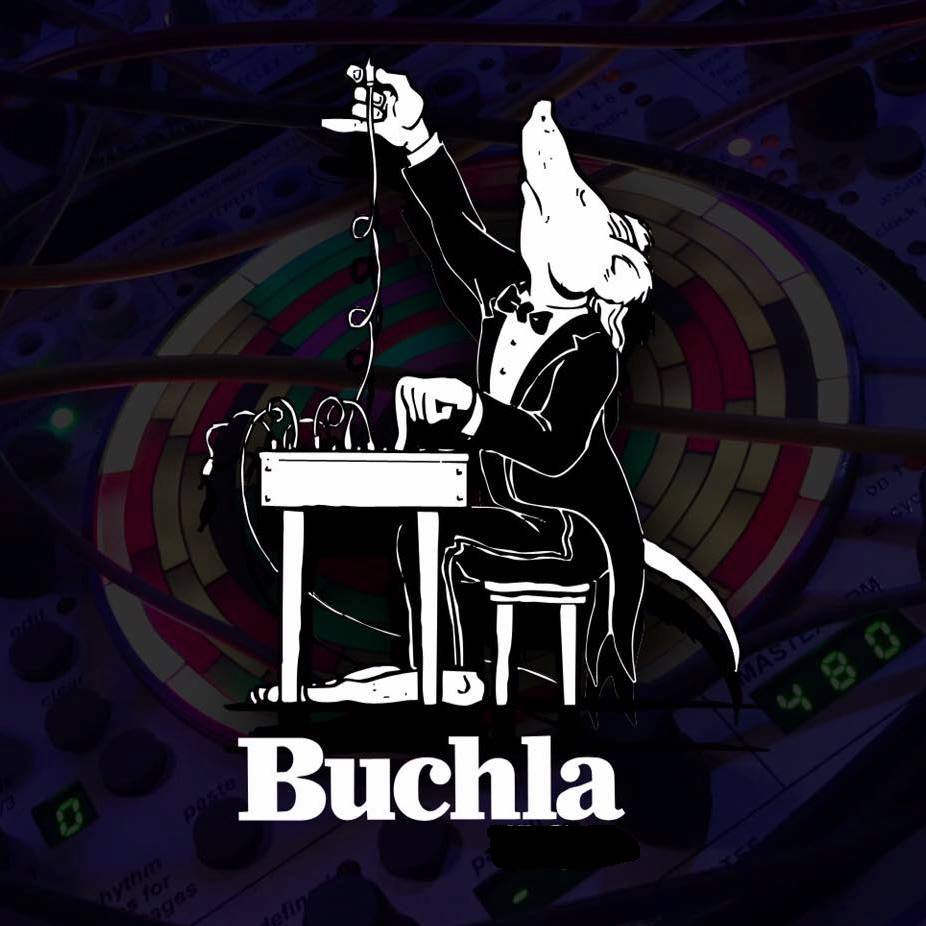 Eric you used to run Foxtone which was selling modules, how come that you decided to move on to distributing Buchla only?
Eric Fox: After having some success in the retail market with Foxtone, I started a sister company called Black Market where I would work with some brands behind the scenes to help them grow and get exposure along with some of my own products under the name. While that side started to also see success, I saw more and more retail stores start to pop up and I found myself really enjoying focusing my energy on product/brand development and working with the retailers over the hustle of fighting for customer dollars. In 2015 when my son was born, I knew I wanted to get away from working retail because it was requiring my attention nearly around the clock… and at that time I really wanted my evenings and weekends back so I could be a good husband and father. With the success of Black Market I started to phase out selling every brand that I wasn't a partner of. There however was one brand that I decided to keep even though I was merely a dealer. Buchla. I had become such a go-to guy for that brand that it felt like I actually was a part of it already. Around that same time there was some…let's say…disconnect within the infrastructure that had previously been working within Buchla. Since I was so entrenched with those guys on a personal level, I would see this and periodically bug them about how I felt how it could (and should) be made better. Of course my persistence paid off in 2017 and the opportunity came for me to be officially an owner, blow the whole thing up, and then get to work figuring out how to put the pieces back together and reclaim Buchla's place in history. No pressure 🙂
Could you tell us about the new Buchla USA? How many people work with you?
Eric Fox: While our lead designer Joel Davel (Don's right-hand-man since the early 90's) and most production is in the SF Bay area, my office is in Minneapolis where currently four of us work. Here is where the gear comes in from production and goes through final testing/packaging/shipping with the hilarious Marc Doty. We also handle repairs and tech support from an up-and-coming young woman named Ashley Puente. Additional designing/engineering/programming/mechanical with the talented Charles Seeholzer who just moved here last summer after being involved previously with Buchla under the wing of Joel and Don's programmer, Darren Gibbs.
So I guess there is about 5 of us at the moment involved day-to-day… but don't forget there are part-time programmers and developers we work or collaborate with like Dave from Catalyst Audio (eurorack), Jon from the Human Comparator (100 series re-issue), and many artists who consult and beta test like Todd Barton, Suzanne Ciani, Morton Subotnick or Kaitlyn Aurelia Smith. I'm very grateful for the outpouring of support and those who believe in what we're trying to accomplish.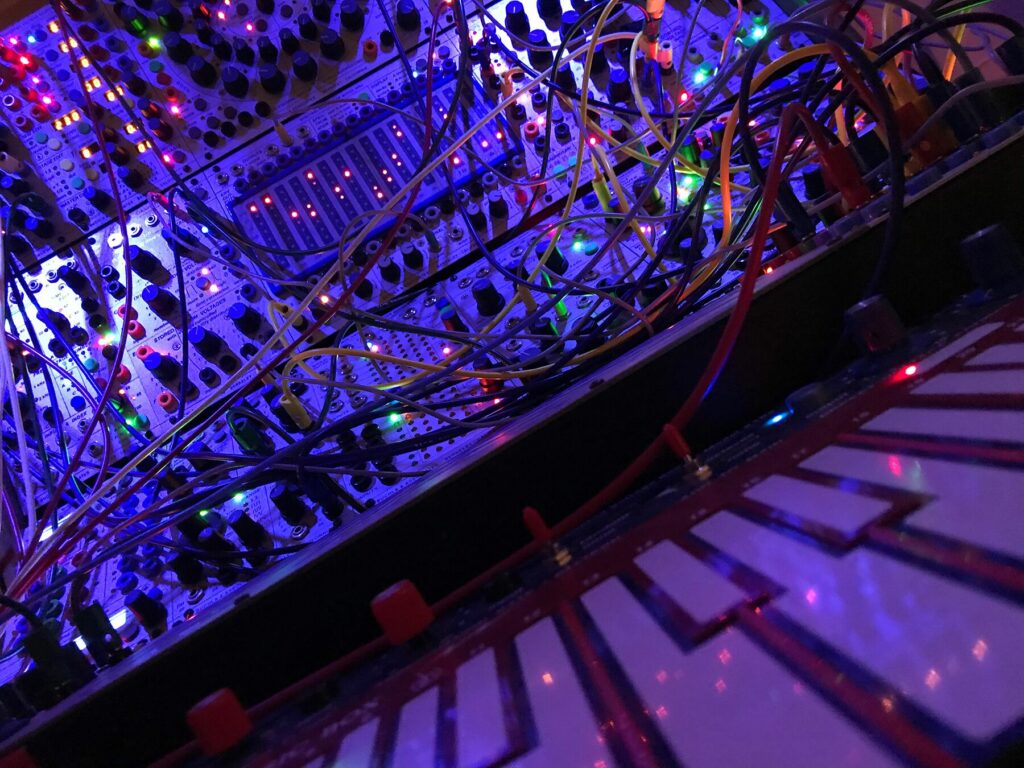 Do you plan to offer kits and or builds of classic modules from the 100 and 200 series?
Eric Fox: DIY is definitely planned for the 100 series re-issue with our partner in crime, The Human Comparator.
200 DIY is a little more difficult and up in the air. Many of those are very complex modules to build and It's most important to Buchla that users get the best experience possible when using our instruments!
What is the future of Buchla 200e modular systems? Can we expect new and exciting modules?
Eric Fox: 200e is absolutely still our flagship. While yes we are bringing back some classic instruments, we also understand that ultimately we're a company that has to look forward and continue to be innovative.
Are you designing new modules, new instruments? How do you manage to maintain Don Buchla's legacy…?
Eric Fox: We're always working on something! The exciting and terrifying thing is that we're working on a LOT right now. Of course the new 208C / Easel Command that Joel designed is about to start hitting the streets. Then we've got the 100 series re-issue that I hope to have shipping later this year along with starting on the 200 re-issue. While those are the things I can talk about, we're also working on some new things since it certainly just can't be about purely revisiting the past. We are in fact developing some new 200e modules! I can't talk any specifics, but now that Joel has finished up the 208C, he is going to start focusing on new modules…
Buchla has and always will ultimately be about innovation. One foot in the past and one foot in the future. A relatively well-known Buchla Associate told me after hearing about us planning on doing some re-issues to "Don't stop making weird shit". That's something I feel strongly about and I think he felt a sense of relief when I told him that I had no intention of breaking away from that attitude. While some of our offerings may have some mainstream appeal, it allows us to not worry about taking chances on a unique home-brew design we might only sell 25 of.
I think the best way I can help maintain Don's "legacy" (at least in regards to his designs) is to continue on the path I've created by surrounding myself as much as possible with those that were close to him. I'm so grateful to those who believe that my intentions are good and truly want to see his art live on. My focus is on respecting the musical instrument artwork of Buchla and continuing to move forward with the help of those who knew him best and truly embrace the ethos of what it was about. Even some of those most critical of the company moving forward have reached out and know they are free to share their thoughts. I take them seriously and Associates are always welcome and encouraged to bend my ear. I would never learn anything if everyone just told me things were perfect every day. As far as Don the person goes, those stories and projections about his life will not be coming from me and are best told by his friends and family. I'm just blessed to be a pseudo curator for his artwork so that others and future generations can appreciate it.
Looking to investigate further the Buchlian approach my favorite ressource is The M.E.M.S. Project whose focus is to preserve the old systems, reverse engineering modules and making period accurate replicas, from the ground up in hope to learn from it in a new way. The original boards being hand traced, scanned, and then retraced in CAD software to translate the board layouts to gerber files, so fabrication can be achieved. Period accurate parts are used when available to emulate the circuit to the best of their abilities so that it stays available.
When it comes to explaining the Buchlian synthesis or the Buchlidian paradigms Todd Barton is our very best ressource.
https://toddbarton.com/2014/12/don-buchla-musical-genius/
Highly interesting podcast devoted to promoting the brand…
https://sourceofuncertainty.podbean.com
For a few years Synth_Thomas has been operating in France, building or repairing synthesizers, designing custom circuit/kit and showing so much inventivity
https://www.instagram.com/p/CQI8qdMhEcW/?hl=fr
+
https://www.instagram.com/p/CPQvzwRB83W/?hl=fr
+
https://www.instagram.com/p/B-IC_cUq0rI/?hl=fr
and
https://www.instagram.com/p/B7BNoPbIueh/?hl=fr
Portabellabz is run by Constantin Papageorgiadis who has been offering the very best expansion possibilities to the Easel… My favorite being the VCS3 one with original EMS Synthi A and VCS3 circuits, A MUST HAVE !
http://www.portabellabz.be
1979 offers Buchla-format synthesizer modules.
https://1979.ws/modules/
I shall recommend the « Triple Sublime Assheater » module which Metasonix adapted to the Buchla format which is offering some very interesting possibilities to change/alter your typical "Buchla sound".
http://www.metasonix.com/index.php/4u-modules-new
Music speaks louder than words so here are 2 demos from yours truly…
https://soundcloud.com/philippepetit/turn-on-metasonix-defrost-the-world
+
https://soundcloud.com/philippepetit/buchlasonix-groove