Gino Robair chose to use Unpopular Electronics as a moniker… From time to time… He has played percussion nearly his entire life and began working with tape music and synths while in high school. As a composer, he has written concert works and music for television, radio, silent film, theater and dance. His opera, "I, Norton," is about a man who declared himself Emperor of the U.S. in the 19th century.
As a drummer/percussionist, he recorded albums with Tom Waits, Anthony Braxton, John Butcher, Derek Bailey, Otomo Yoshihide, Fred Frith and the ROVA Saxophone Quartet; and performed with Nina Hagen, John Zorn, Thurston Moore, the Thinking Fellers Union Local 282 and Wadada Leo Smith. He is also a founding member of the Splatter Trio and Pink Mountain. With the Club Foot Orchestra, he accompanies classic silent films. Currently, he plays in the trio Tender Buttons with Tom Djll and Tania Chen. His solo project, Unpopular Electronics, often includes Tom Djll as a special guest. 

How were you first acquainted to Modular Synthesis?
The first time I really wrapped my head around the concept of a modular synth was after reading a 1978 issue of Contemporary Keyboard magazine, the one with Gary Wright on the cover. I was 14 at the time, and had recently bought Tangerine Dream's double-live album, Encore. Up to that point, I had had some experience recording a friend's Micromoog and Elka string synth with my TEAC 4-track, reel-to-reel recorder, but I was never able to get that rich sound that Tangerine Dream had. Finally I realized that they were using systems with multiple oscillators, LFOs, a sequencer, and so forth, so I began looking for references and recordings featuring patchable systems.
A couple of years later, in 1981, I enrolled in the Intro to Electronic Music course at the University of Redlands and met my first modular synths—an ElectroComp EML 101, an EMS "Putney" (as the VCS 3 was called in the U.S.) and a Serge "paperface" system. The studio had two TEAC 1/4″ 4-track tape machines, a graphic EQ, and a mixer for tracking, editing and utilizing tape loops. There were no user manuals and no working keyboard controllers (the VCS 3's Cricklewood was inoperable), so there was a lot of trial and error going on, and the errors were often the best part.
What was the effect of that discovery on your compositional process?
I was already familiar with tape splicing and musique concrète, but with those three synths I was able to generate very complex sounds, as well as process other recordings through them. At the same time, I was in a free-improv group, the Anything Goes Orchestra, and the concepts we were using in the group influenced my approach to the synths. I also worked on creating and recording gestures with the synths by turning multiple knobs simultaneously, rather than setting up a patch and letting it percolate on its own. Improvising in this way gave me lots of unusual material to splice into compositions.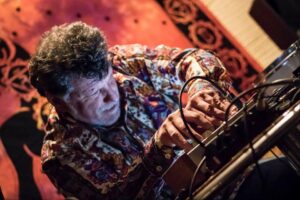 When did you buy your first system?
In 1986 I bought a handful of Buchla 200-series modules that David Rosenboom had used for his brainwave pieces. That kept me busy for a decade. Next, I assembled a Frac Rack system that I would use along with my percussion setup on improv gigs. From there, I moved into the Eurorack format in order to have a rig small enough to fly with, thanks to the Doepfer A-100 P6 portable case.
Around 2006 or so, I purchased a Blippoo Box from Rob Hordijk, which is far more portable and the configuration and shape of the knobs allow me to play gesturally in ways that a joystick doesn't allow. But in the last few years I've begun combining it with various module configurations, either a Bug Brand setup or Eurorack modules in a 4ms Pod 60 case.
Would you please describe the system you used to create the music for us?
As an improviser, my approach in performance is to build patches from scratch onstage during the performance. I see live-patching as an extension of my approach to improvisation as a percussionist. In both cases, I always bring something to the gig that I'm unfamiliar with, or leave something at home that I would normally need. This creates a level of uncertainty during an improvisation and intensifies the music making in a nice way.
For this recording, I had three modular systems that I patched as I went along. Each setup was plugged into my Mackie mixer so I could fade between systems or suddenly pop one in or out. So while one set of modules is being heard, I'm usually altering the patch of another that is muted. Not only am I surprised by the sound of each new patch as I bring it into the mix, I have to usually have to modify it in some way to find a space for it.
The Bug Brand setup included a Synth Voice, the Chirper and a DDSR controlled with a Joystick/Touch module. I used a Serge system based around a La Bestia II and a modern TKB. 
The Eurorack case includes modules by 4ms, Plan B, FrapTools, Synthesis Technology, Industrial Music Electronics, Mög, Make Noise, Evaton, Metasonix, Qu-Bit, Verbos, Rossum, Koma, and Malekko.
In addition, I used the Koma Field Kit's mixer and radio, with the Blippoo Box running into it (all of which was processed by the Alesis Bitrman pedal), as well as three shortwave radios (heard as a trio in the middle of the piece). Last but not least, a Suonoio, the portable sample/synth designed by Alessandro Cortini and Scott Jaeger (of IME), was patched into a Metasonix Scrotum Smasher and into the Mackie. I had an open mic in the studio, and at one point you can hear the Suonoio's speaker playing a beat.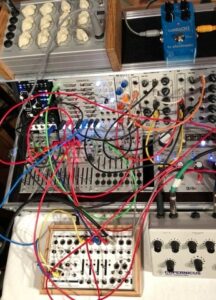 Quite often modularists are in need for more, their hunger for new modules is never satisfied? How do you explain that?
It is very easy to get seduced by the flavor of the month. Because Eurorack modules are relatively inexpensive, people snap up the hot new item, mess around with it until they get bored, then sell or trade it. I have no problem with that. It's one reason why the Eurorack eco-system remains strong.
I am a firm believer in the therapeutic value of a musical instrument, and a modular synth is one of the best in this regard because it doesn't require any traditional musical skills. Anyone can create new sounds and enjoy the process of learning how various modules work. Grant Richter once referred to the Wiard synthesizer he developed as "an amusement park for electrons." I like that analogy.
If someone has the means to regularly buy modules and wants to patch up sounds for the sheer pleasure of it, more power to them. There is no rule that says you have to earn the right to own a modular synth, or that you have to make and release records with them. If wiggling gives you a good feeling, do it.
What would be the system you are dreaming of?
I would love to have a VCS 3 or an ElectroComp 101 because the sound of those instruments imprinted on me in my youth, but I'm unable to pay collector's prices. 
However, I feel satisfied with the gear I have now. There is always a new module that sounds really interesting to me, but at the moment I am focusing on getting deeper into the ones I have—particularly within an improvisational setting and with a focus on gestural control.
Which pioneers in Modularisme influenced you and why?
The first songs I remember hearing that I could identify as having a synth were "Pop Corn" by Gershon Kingsley and "Baroque Hoedown" by Kingsley and Jean-Jacques Perrey (the latter of which I heard while watching the Electrical Parade at Disneyland every summer). Reading about the meticulous way that Wendy Carlos altered the timbre of a set of notes within a phrase has always stuck with me. And I love the way Tomita and Larry Fast use timbre in their orchestrations.
In regards to "playing" a synth, Eric Drew Feldman's use of the Serge is an education, as is the way Allen Ravenstine integrated synths into Pere Ubu's music. I learned a lot by listening to Sun Ra, of course, as well as Tim Blake's work in Gong. Nearly every artist that used a synth from the late '60s through the '70s made an impression on me: Herbie Hancock, Chick Corea, Rick Wakeman…
Are you feeling close to some other contemporary Modularists?
Thomas Lehn and the late Charles Cohen influenced how I approach improvising with a synthesizer. I'm also a big fan of Richard Scott, Joker Nies, Phil Durrant, Doug Lynner, Ashley M. Puente, Kaori Suzuki, Palle Dahlstedt and Per Anders Nilsson; and, of course, Tom Djll, with whom I often play, both in Unpopular Electronics as well as in Tender Buttons with pianist Tania Chen.
Any advice you could share for those willing to start or develop their "Modulisme"?
Don't let the trolls on the synth lists influence what you do. If you enjoy patching up a modular system and exploring new modules for their own sake, don't let anyone take that joy away from you. 
If you are interested in performing and recording with a modular, practice with it on a daily basis, as if you were learning an acoustic instrument. Dig into the intricacies of each module—read the manual, watch videos of others who use it. Sometimes it takes weeks to discover new and unusual ways you can patch something as basic as an envelope or filter. And whenever possible, meet with other modular users and just make sounds together. That's often the best way to learn skills or figure out a new approach to the instrument.