Rodent is sculpting soundscapes which defy categorization, in a way Post Industrial, IDMish, melodic vs. Dark cinematic but above all those labelling facilities his music is subtle, entertaining-moving, very organic.
Eric Cheslak has been playing a significant part in the modular explosion we are experiencing now, working for Make Noise a brand designing some of the most innovative modules, also co-founding with Bana Haffar Modular On the Spot in Los Angeles: "It started off as a small gathering of fellow synthesists on the LA river. We brought our systems, a generator, and a PA. The idea was to create a third space (not the studio and not a music venue) in which to gather, perform for one another, and exchange ideas. The event has now grown to many cities across the US through local initiatives.
How were you first acquainted to Modular Synthesis?
I first saw photos of Moog modulars back in the 90s, I didn't think anything of them because they were inaccessible. In 2011 I was playing shows with desktop gear and analog synths in Raleigh NC, some friends asked me if I had seen any of the eurorack modular that was coming out. I hadn't and started to research it, I was blown away. A couple months later I was in NYC at a Modular Solstice event and saw Drew Mcdowall play live with a Doepfer monster case full of Eurorack, it was pretty influential. A shop called Main Drag Music had some eurorack in the store and it was my first hands on play with eurorack. I started to build my eurorack system in 2012 while living in Long Beach Ca. 
What was the effect of that discovery on your compositional process? On your existence?
My compositional process before modular was very linear and structured. Eurorack and modules like Rene changed that very quickly and completely. My view of what music is completely changed. After I got into eurorack I started creating pieces with the modular on a daily basis. Learning, growing, creating, and progressing every day. New techniques, new ideas and new inspiration came from the modular interface. It was my main focus even though at that time I had a career as a photographer. Looking back now I see that it has put some of the most amazing people I have ever known into my life. 
Quite often modularists are in need for more, their hunger for new modules is never satisfied? How do you explain that?
There are many tools(modules) that never existed in hardware form that are now in eurorack with an amazing user interface. This has changed the sound of electronic music, and it continues to progress. I don't view loading up on these tools as a negative thing. If they help me or anyone create the art we always wanted to make then that is great and what we are here for in the first place. I don't see a problem with having lots of them to combine and make the now, the new, the unheard sound.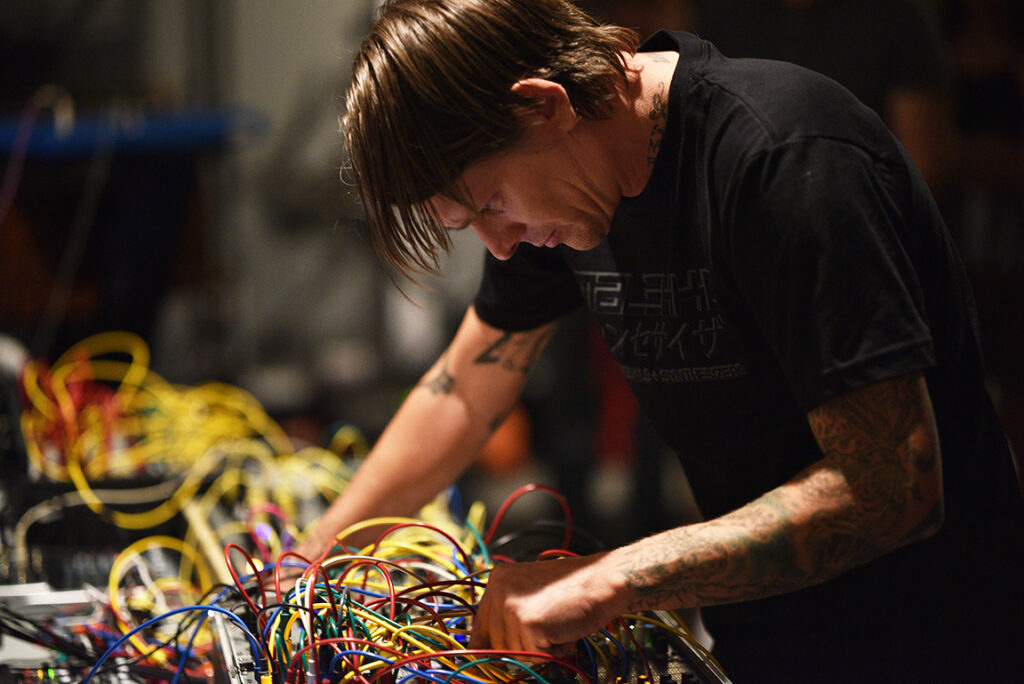 Would you please describe the system you used to create the music for us? What would be the system you are dreaming of?
A large eurorack system mostly Make Noise, and then some 4ms, Industrial Music Electronics, Noise Engineering, Qubit, 2HP, Malekko, Expert Sleepers, ALM, Audio Damage, Sputnik, Toppobrillo, Hexinverter, WMD, Verbos, and lots of other random bits. I have the system I always dreamed of and I continue to upgrade many aspects of it. I am so grateful to the many brands I have worked with over the years that has allowed me to build such a system.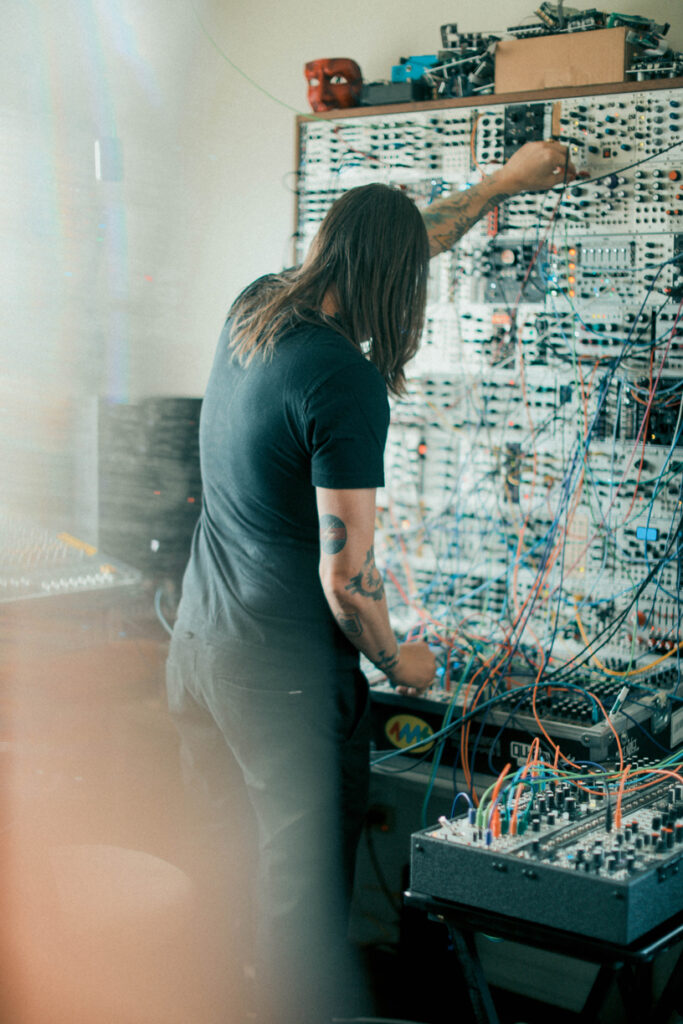 Are you feeling close to some other contemporary Modularists? Which ones? Which pioneers in Modularism influenced you and why?
Yes very close, this is my community, my family, there's a massive list. My modular sensei's have always been Cyrus Rex and Robert AA Lowe. I am forever grateful for their time, wisdom, help, and inspiration. Other contemporaries I completely respect are Baseck, Bon Harris, Rhys Fulber, Drew McDowall, Bana Haffar, Richard Devine, Jamie Lidell, Anthony Baldino, Mike Dobler, Joseph Fraioli, Bryan Noll, Ged Gengras, Tom Hall, Walker Farrell, Pete Speer, Jake Pugh, Kri Johnson, Hiro Kone, Addam Duncan, Sky King, POB, Scanner, Cristian Vogel, MOTS LA fam, Caterina Barbieri, so many I could go on and on. 
The other contemporaries I wish to mention who I am in contact with are the visionaries behind all these instruments, what they have created cannot go unmentioned. Without them I would not be here. To me they are Tony Rolando, Tom Erbe, Scott Jaeger, Stephen McCaul, Dann Green, Andrew Ikenberry, Jason Lim, Dave Rossum, Josh Holley, Roman Fillipov, Mark Verbos, William Mathewson, Chris Randall, Andrew Osler, Koma team, Josh Thomas, Stacy Hexinverter, and so many more in eurorack, without forgetting Dieter Doepfer, Serge T, Bob Moog, and Don Buchla. 
Any advice you could share for those willing to start or develop their "Modulisme"?
Do what feels right. Be open minded for the unknown can be the best gift. I was always told everything into everything, there are no mistakes in modular. Explore as much as you want. Play live and share with your friends. RTFM!!