Shiro Fujioka was born and raised in Los Angeles, where he's been experimenting and recording music since he was 12.
«My humble beginnings were making tape loops with my mom's record collection we called them "Pause Tapes" in HipHop culture. From there I played clarinet and drums for the school marching band, many years later I acquired an Akai MPC60II and a 4 track cassette recorder and that was the setup that took me from being a bedroom producer to recording in studios and producing music for local artist and radio stations. In the past 10 years, I've been dedicated to modular synthesis. I'm known for experimental synth compositions and I also gave birth to a genre called Modbap. A blend of modular synth compositions and Boombap HipHop. the phrase was coined by Cory "BBoytechreport" Banks.
We have a small collective of modular synth artists that are pushing this artform forward and 1000's of people contributing to the movement from all over the world. #modbap on Instagram.»
What have you been working on lately, and do you have any upcoming releases or performances?
I'm really into creating music in several different genres, I see it as the auditory equivalent of being multi-lingual.
I have 3 projects that will be released in the first quarter of 2020, The Sun Gave Birth To Shadows 2, A Moment of Clarity and Modbaptism 3. The first album is a collection of experimental/ambient compositions and the other ones will feature more HipHop inspired modular synth compositions to raise awareness to our Modbap movement.
I also produced a Modular Synth Rock project under the name Smog Monster that will be released on vinyl.
How were you first acquainted to Modular Synthesis?
The first time I discovered modular synthesis was in the early '90s. I was a Hip Hop beatmaker at the time and used to sample records. I wondered into the experimental/electronic music section and found Switched on Bach and Switched on Rock and got my mind blown, a month or so later I found Silver Apples of The Moon. At the time HipHop producers were sampling Jazz, Funk, and Soul… Me being a black sheep by nature I went against the grain and started sampling modular synth records.
But now that I think of it, my Grandma introduced me to Jazz as a child and I remember hearing Herbie Hancock Sextant LP and I always loved the spacey sounds on that album. I didn't find out that Herbie was using an ARP 2600 and Moog on that album until I was a teen.
When did that happen? When did you buy your first system?
Between 1991-92, I didn't buy my first modular until 2009, I would have never imagined buying a modular or any kind of synth in the '90s, I was still a teen and just got an Akai MPC60II with all my attention on HipHop.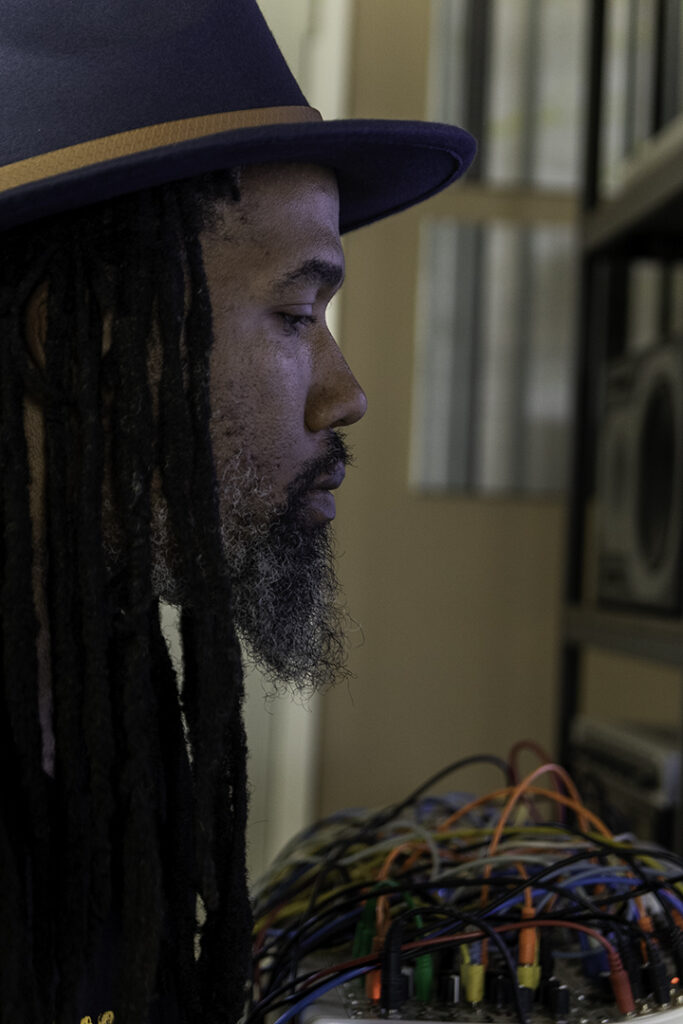 What was the effect of that discovery on your compositional process? On your existence?
When I put together my first modular, I was still making HipHop beats but I was starting to get bored of the repetitive nature of the music and wanted to explore a more experimental approach to HipHop production. I tend to jump all the way in once something holds my attention.
I started experimenting with the modular by itself, I wasn't trying to produce any particular style of music, I just wanted to sonically color outside the lines and learn some new techniques. My mind was blown, and I put making beats on the back burner for a few months so I could focus on building my modular synth patching vocabulary. I fell in love with just making sounds and exploring FM patching techniques and wavetable synthesis. Given my HipHop background of beat-driven music on the grid… exploring modular synths felt like someone handed me an auditory lock picking kit to free me from the confines of the 4/4 time signature prison I was living in for so many years. It was a very magical experience for me because I was about to stop producing music before I found the modular. I was a chef/counselor at a healing retreat at the time.
Quite often modularists are in need for more, their hunger for new modules is never satisfied? How do you explain that?
I'm cut from the cloth of moving in the opposite direction of the crowd… it's my gift and challenge. In the first 7 years, my modular case did not change.
I started with a 6u eurorack case and added another 12u a few months later.
Once I learned the end and outs and spent time with my instrument, I honestly didn't need to add new modules. The more I experimented, I ended up downsizing to only using the 6u case because I'm more interested in mastering my instrument than acquiring the sonic flavor of the month.
More creating, less consuming, and also society is kind of infatuated with machines. I'm interested in the humans giving the machines life.
Would you please describe the system you used to create the music for us?
Can you outline how you patched and performed your Modulisme session?
This set is a collection of 10 live improvised modular synth compositions recorded in one take, I only allow myself 3 or 4 takes to pick from, so the music stays spontaneous and fresh. Most of the compositions are made with my TipTop Audio 6u modular + Intellijel Pallete case, 3 or 4 oscillators, filters, lowpass gates, lfo's, envelopes, and effects. I keep it simple. A few compositions also feature the Elektron Digitone, Octatrack MK2, and Machinedrum. I'm really into west coast style synth patching, I'm a student of the Morton Subotnick school of thought. I do a lot of generative patches and wave folding, FM techniques. I have a sampling module that I use more like a voltage-controlled tape recorder for Musique concrète inspired work. My approach is less is more, I keep my system small and focused, and I add the complexity via my patching techniques.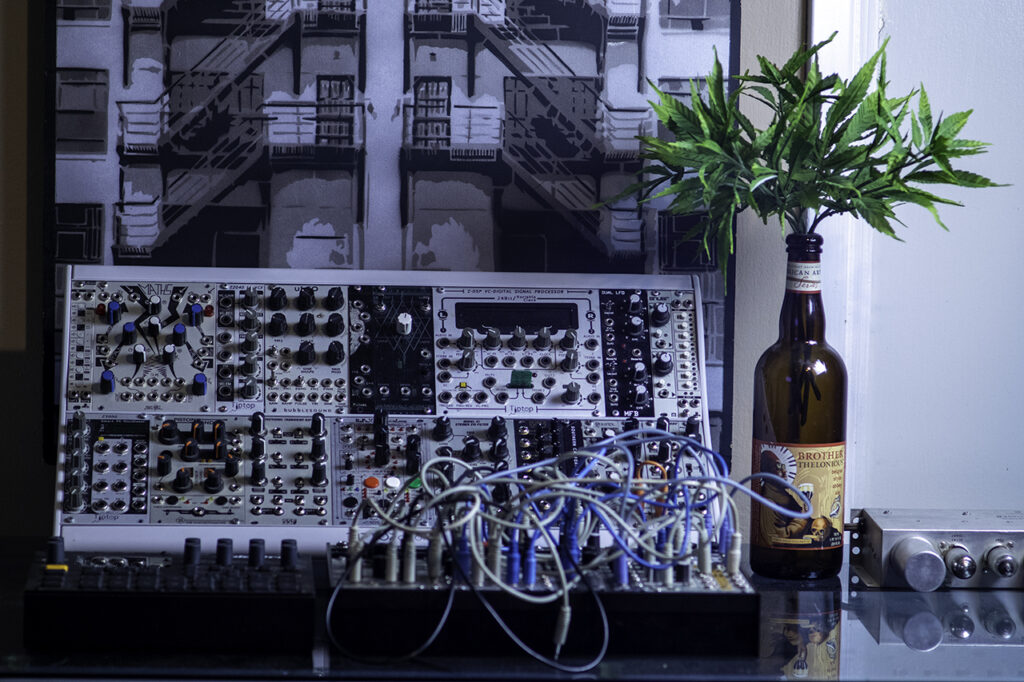 What would be the system you are dreaming of?
I've always been intrigued by the Buchla 200e for a few reasons, sonically it's amazing and patch recall is sweeter than a bee's knees.
Are you feeling close to some other contemporary Modularists?
Which ones?
I'm inspired by a lot of modular synth composers… I got to perform a few shows with Doug Lynner and Peter Grenader under the name 3rd Ear. That was an inspirational learning experience. Robert A.A. Lowe's work is also very inspirational.
Which pioneers in Modularism influenced you and why?
Oddly enough two of my mentors/fellow synth wizards you featured… Doug Lynner and Todd Barton. Doug's a great person on and off the synthesizer and his approach and dedication to his instrument are very inspirational. Todd is another sonic master craftsman that I'm always inspired by, his sonic signature is heard on any synth he patches. Morton Subotnick is a huge inspiration, listening to his music gave me the courage to color outside the lines of traditional song structure. Peter Grenader is one of my favorite complex waveforms, his work has a lot of emotion and complexity, kind of like a sonic reflection of his personality. Herbie Hancock isn't known as a modular synth artist but I love what he did with the ARP 2600 and MOOG from a Jazz perspective.
Any advice you could share for those willing to start or develop their "Modulisme"?
Build your system slow, I only purchased 2 or 3 modules at a time, learn them in and out then add what you need to complete your system. Once you have your system complete, live with it for a few months, practice and treat it like any other instrument. I'm inspired by the practice habits of artist like Coltrane, Hendrix and Miles.