Bana Haffar found her way into modular synthesis in 2014.
She has since released three excellent records; "Alif" on VENT (Turkey), "Matiere" on Make Noise Records (US) + the live album "Genera" and "intimaa" on Touch (UK).
She (in cooperation w/ Eric Cheslak, aka RODENT) also co-founded Modular On the Spot in Los Angeles: "It started off as a small gathering of fellow synthesists on the LA river. We brought our systems, a generator, and a PA. The idea was to create a third space (not the studio and not a music venue) in which to gather, perform for one another, and exchange ideas. The event has now grown to many cities across the US through local initiatives.
Currently based in Montreal, she loves researching non-musical systems, sequencers of all kinds, and pocket microscopes.
How were you first acquainted to Modular Synthesis?
I found out about the modular by way of of my first keyed synthesizer. I bought my first synthesizer, a Moog Voyager, late in my bass playing years (around 2014). I started tinkering with it and quickly found that the synthesis part was much more interesting to me than the keyboard bit. I told a friend about this and he recommended I check out modular synths and alternate (non-keyboard) controllers. I started researching Buchla and Eurorack and eventually invested in a small modular system that same year. This separation of sound design from functional harmony tied to the black and white keyboard was monumental for me. It was a chance to begin again and re-define what I wanted out of sound and music.
What was the effect of that discovery on your compositional process? On your existence?
My compositional practice was non existent prior to acquiring my first modular system. I was working as a full time session bass player, a mercenary, playing everyone's music but my own.
The modular opened the door to composition. It provided a set of tools that opened up my creative spirit without the baggage of formal education, the pressure of performance, the limitation of repertoire, and the paralysis of expectation. I was able to configure my own instrument and arrange sounds in ways that were previously inaccessible. Anything was now possible and I felt totally free to explore sound and more importantly re-discover it. I started questioning what music was and began listening to more avant garde work. I returned to an almost germinal state of interaction with sound and music. It was a total phase shift.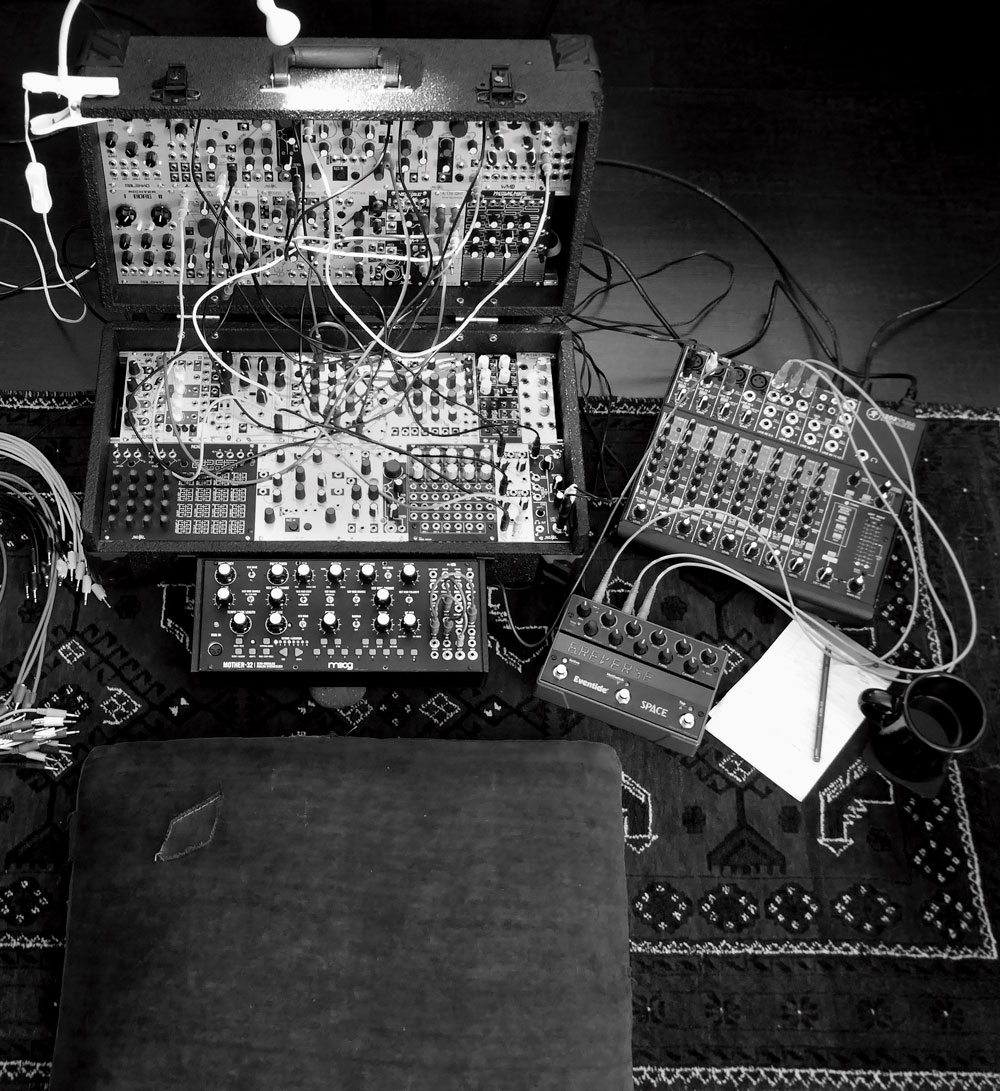 Quite often modularists are in need for more, their hunger for new modules is never satisfied? How do you explain that?
The term "modulariste / modularisme" is interesting to me. "Isms" imply movements, which I guess this whole second wave eurorack modular thing might be. I just haven't thought of it that way yet.
But, to answer you question, yes, a lot of modular fanatics are constantly feeding on new gear. The world of modular certainly has a dark consumeristic side to it. Manufacturers are also guilty of releasing redundant products and marketing them as new, further congesting the market. I don't agree with this side of the instrument and try to participate as little as possible with fetishizing new gear. Instead, I try to focus on gaining a deeper understanding of the gear I have.
Would you please describe the system you used to create the music for us? What would be the system you are dreaming of?
I reconfigure my system for each composition rather than working with a single, static monolith of a synth. I like to create compact, focused systems built specific pieces. Some are mostly effects, some are sample oriented, some are stacked with oscillators, some have no oscillators. It just depends.
Ideally, I'd like to distill my collection into a compact system that offers the maximum number of permutations for whatever musical idea I'm trying to actualize.
Are you feeling close to some other contemporary Modularists? Which ones? Which pioneers in Modularism influenced you and why?
M. Geddes Gengras, Eric "Rodent" Cheslak, Robert Aiki Aubrey Lowe, Keith Fullerton Whitman, and Mike Dobler. I was exposed to and impacted by their work very early on in my journey. They are all master modular performers with a deep understanding of their instrument and a unique ability to create totally immersive sonic environments.
Any advice you could share for those willing to start or develop their "Modulisme" ?
Start anywhere. Buy used. Go slow. Be open.
Also, connect with and explore new modules on your own before jumping into YouTube. Each module is a small world of it's own, walk around in it with your owncompass before taking the guided tour.