CRAY is Ross Healy.
Ross has been heavily involved with electronic music since the mid 90's. Releasing recordings for labels in Australia, Germany, France, United Kingdom, Ireland and the U.S under many different names (This Digital Ocean, Amnesia,Siko Spunji, Roland Oberheim, Ryou Oonishi, 56k, Oskar T Oram and Cray) covering many styles of electronic music, Avant improv electronics, Experimental computer music, Noise, Industrial, Techno, Ambient, IDM and Drum n Bass.
As well as his lust for electronic music making , Ross has also co-run Global Warming (nightclub), written for Digital magazine, remixed (demixed) artists work, designed web page sounds, had his music used in TV shows and commercials and has performed live around the globe.
Ross is also the founding member of VICMOD, co-owner of VICMOD Records and a member of the VICMOD Ensemble.
Would you please give a resumé of your musical activities?
I played Drums from age 6 until age 17, I then played Bass for an album for the first band I was in called Eden. Just prior to that I bought a Casio FZ1sampler and sampled door knobs turning them into sonar bleeps etc I loved that machine and its filter. I also had a Sequential Circuits Drumtrax and use to use the Drumtracks as a sequencer to sequence the FZ1.
I then started my own band called This Digital Ocean where I wrote most of the music using an Atari 1040ste, Kurzweil K2500, Oberheim Xpander and Roland Jupiter 8. We got a record deal in Germany and released 2 albums Digital Mysticism and Trinity 3000, that was with Simon Bowley and Tristan Upton. I also wrote all the lyrics and sang. It was Industrial in style. I soon grew tired of traditional song formats and released an album of abstract Drum n Bass under the band name 56k with Simon Bowley. At the same time I had released a Techno/ IDM album as Amnesia (A Brief History of Amnesia 2056 -2068) and a Drum n Bass/ Breakbeat ep on S.O.U.R records in the UK.
I then became Cray in 1999 and released abstract electronic/ glitch albums around the globe since then. I have also recorded under the name Ryou Oonishi, Roland Oberheim, Oscar T Oram, Siko Spunji and have also recorded with the VICmod Ensemble, DeElevator with Simon Birds and also an improv modular album with Don Hassler.
I am pretty sure I have now reached 28 albums released of my music. Had the odd track used on ads in Japan and on TV in Australia.
Cray is the name I use most and have had most releases by. It was named after the Cray Super Computer and I think the first Cray release was on your BiP_HOp label Philippe.
What have you been working on lately, and do you have any upcoming releases or performances?
I have been working on a few new Cray releases: Dark Buchla which uses Tibetan Singing Bowls, Gongs and my Buchla system. I've also written 2 other albums which are nearly complete and wrote 2 Dub tracks for fun today.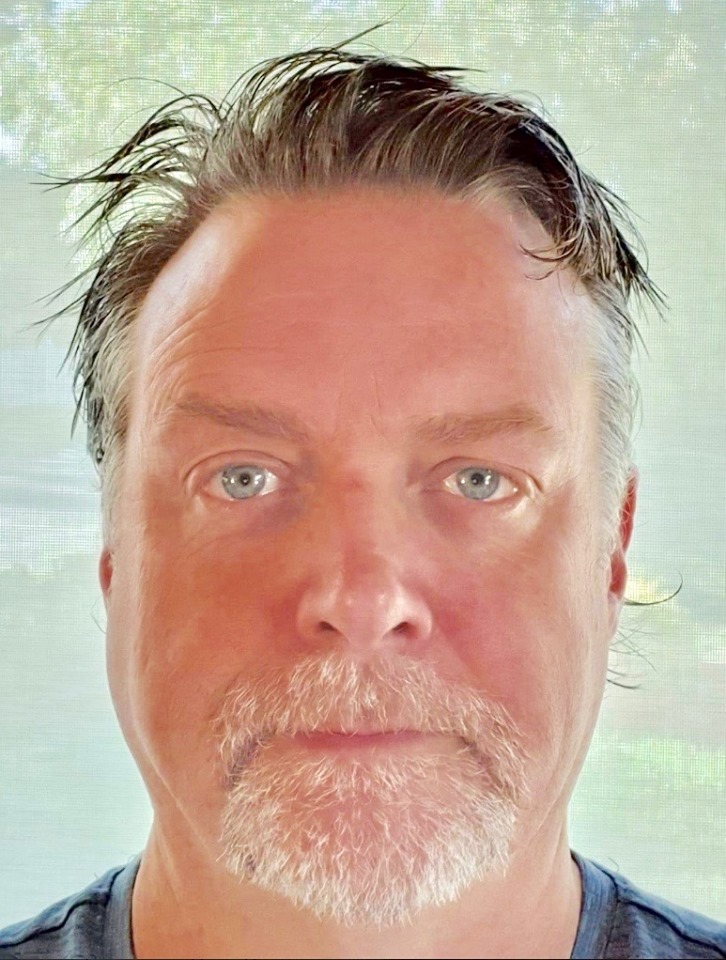 How were you first acquainted to Modular Synthesis?>
I have been into synths / synthesis since I was 15 and remember seeing Modular Synths in Music Technology magazine etc… They just looked so scientific and alien. After 2 decades of using traditional synthesizers I wanted a new way of creating sound and saw a used Serge Modular for sale and sold my Jupiter 8 to buy it. I am not one for reading manuals but I love hunting out any information about music gear that I am interested in, so I grabbed anything I could online and created a huge folder on the Serge Modular.
When did that happen? When did you buy your first system?
In 2009 when I bought the Serge system I also started to get into Euro modular, back then there were only maybe 5 companies making modular, Doepfer, Plan B, Livewire, Analog Solutions and Analog Systems.
I became totally addicted to patching up the strangest sounds I could make. I wasnt interested in making basslines, drum sounds etc I had done that to death for 2 decades prior.
What was the effect of that discovery on your compositional process?
I had released Ambient, Techno, Drum n Bass, Industrial music around the world up until 1999 then I got more interested in non beat music making, I pretty much went back to being experimental in sound design and composition. Every hour was a joy of making new sounds and learning the machines. Over time I started to think of modular patching a bit like Chess. I liked the idea of not knowing the end result of what I was doing. I was never not happy with the sounds I made.
What was the effect of that discovery on your existence?
Modular patching became a major way of life for me. I started VICmod in 2009, got people interested in modular to meet every third Sunday of the month and it is still going strong today although as I have moved to the country I have let Guy Wolf Page Taylor take control until comes a time when I can get more involved again. I also started VICmod Records and the VICmod Ensemble.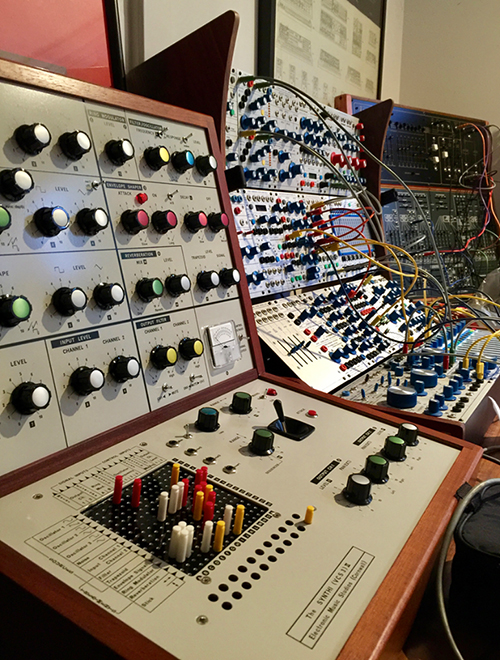 Quite often modularists are in need for more, their hunger for new modules is never satisfied? How do you explain that?
People like us are usually addicted to things easily and luckily its a healthy addiction as long as you can pay for modules and food. Sometimes I did miss a meal or two to get a module. Most of us went from collecting music to music gear (synthesizers) to modular. I have been lucky in the last few years that I havent had much money so could not keep up with everything that is coming out, it was easier when there were only 5 companies, now there are over 200! I have kind of moved into collecting stomp boxes/ effects as I have built the modular systems that I have wanted.
Instrument building is actually quite compositional, as you're defining your sonic palette?
Yes it is creation as much as creating music.
Would you please describe the system you used to create the music for us?
First off I am not a modular artist. I am a sound/synth artist, as I use anything to make sound. In the music I have made for you it is actually from 80 CDs full of electronic compositions that I have made since 1999. I have had 28 electronic music albums released as well, these are just compositions that I haven't thought to release as of yet. So you will be hearing my Buchla, EMS VCS3, EMS Synthi, Serge, Euro, Lorre Mill, Audiomulch, KYMA, TB303, SH101, MC202 etc… etc… The TB303 track is actually sounding more like a piano as I fed it through the modular and an Eventide H9. I try not to be obvious with my sounds.
Can you outline how you patched and performed your Modulisme session?
I never write anything down and never remember how I make my sounds. I just create and record.
I listen back to most of my music and 95% of the time I have no idea what I did to get the sounds. I just get into the zone and go for hours and hours.
What would be the system you are dreaming of?
I have my dream system now. Its my 24wls Buchla system and my Euro system in the Amalgamod case.
I have less gear now than I used to own, only 2 modulars and a 303/101/202, Lorre Mill, Elektron A4/Octatrak and loads of pedals and imagination.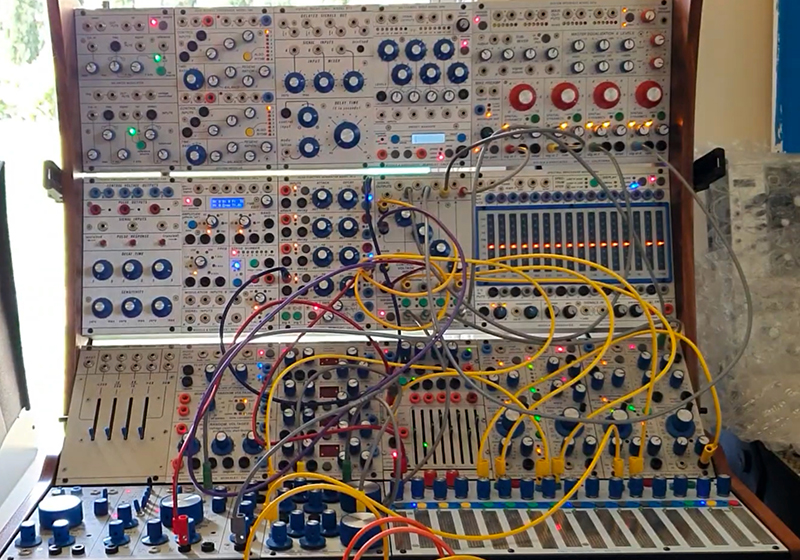 Are you feeling close to some other contemporary Modularists?
The artists I feel closest to are pretty much on Vicmod Records.
Which pioneers in Modularism influenced you and why?
I love Stockhausen, Tod Dockstader, Morton Subotnick, John Cage, David Tudor, Pierre Henry, Bernard Parmegiani, Suzanne Ciani, Sun Ra, Miles Davis, early Electronic Music and Music Concrete the list could go on for hours… Basically anything that is unique and interesting to my ears.
Some of these people used modular gear, some didnt.
Any advice you could share for those willing to start or develop their "Modulisme" ?
I do get asked this quite a lot, on what to buy. The first thing is to know what style of music you want to make. Dance artists will want quantisers, sequencers, drum modules whereas I have only a few oscillators and loads of LFOs, Just looking at my euro system I have most of it filled with various LFO/shapers.