Laurent Perrier started playing music at the age of 15 as a drummer / singer in some local Punk bands. In1986 he joined the French industrial rock band Nox + started a label called Odd Size records (with releases of P16D4, Illusion Of Safety, Marcus Schmickler, POL, Asmus Tietchens, Thomas Dimuzio,…). In 1990 Odd Size became a record store specializing in industrial, noise, ambient, deviant rock, new music, rock in opposition, experimental… As well as a mail-order catalog and the main source in France for those of us willing to follow those scenes.
In parallel Laurent was releasing solo using various aliases: Cape Fear, Zonk't, Heal, Pylône. Around 2000, he started working for dance, theater, performance, contemporary art and sound design and today he also teaches Modular Synthesis…
What have you been working on lately, and do you have any upcoming releases or performances?
I did a few concerts with David Fenech (modular, voice and guitar). We have an album "Plateforme 3". I'm also working on a new album with my Zonk't project, and a brand new project bringing together musicians (voice, Rhodes piano, guitar, bass, drums, piano) around my modular systems.
How were you first acquainted to Modular Synthesis?
I discovered the modular synth during a sound design internship at CIFAP in 2013, where I teach sound synthesis today. It was my neighbor who sat next to me who told me in a conversation about the equipment he used to make music : a 5U modular synthesizer.
When I told him that I had never heard of it, I saw his more than enthusiastic eyes fill with blood. He never let go of me for a month with that, sending me Youtube links every day. Although what I heard there was not really convincing musically, I very quickly felt that it was an instrument for me. Without admitting it, I was getting bored with the computer, favoring the practical side, using 1000 plugins that you keep or throw away like a simple plastic bottle, finally having a dedicated instrument, going back to physical interaction with my instrument.
At that time, I had a poor knowledge of electronic equipment, of the history of the synthesizer. I owned a DX7 and an RX11 (Yamaha drum machine) when they first appeared. Previously I had acquired an MS-20, a TB-303 not to do techno…
Afterwards I found myself in a small apartment in Paris with very few room for equipment and no money at all to buy it. The midi and audio computer was therefore perfect for this situation. For 3000 frcs (400 €) I could have a mac and a sound card with pro studio quality. I therefore concealed so as not to be frustrated what happened in the history of the synthesizer between 1986 and 2013.
When did that happen? When did you buy your first system?
After talking and talking to this neighbor for a month, I was overcome by modular fever I had some savings that I thought I would spend on audio equipment. I visited in September at Modular Square that this neighbor had indicated to me to be the Mecca in France of the modular synth and anyway the only place where I could find it.
So I went there and explained my position to the seller who very quickly guided me to a basic Doepfer system. I registered on the only French site dedicated to the modular synth and started devouring the classified ads.
You should know that at that time I knew absolutely nothing about sound synthesis. That I saw ring mod, fm, env., VCA on synths but that I had never wondered about their real meanings. There was a knob above and I just turned it around, my ear being the sole judge of whether it was interesting or not. I was also a bit of a refractory user guide. I touch, I play, I have fun, then we'll see…
What was the effect of that discovery on your compositional process? On your existence?
So I quickly realized that one could have fun right away with a modular synth, play it without knowing anything but that i had to go and dive into theory if I wanted to move forward.
And the theory started to fascinate me, perhaps because there was an immediate musical response.
I was a little withdrawn on myself socially as if I was resuming my studies, I was like a kid with his Christmas toys, with the difference that this one did not excite me just a day or two, that I was completely taken by fever. I think it's the most exciting thing I've ever faced in my life.
I was thirsty for knowledge and spent my days reading comments, asking questions, learning.
I did almost nothing composed for 3 years, concentrating on experimenting, learning, and I quickly had a dislike for the computer which was only used as a recording and mixing studio.
But I had finally found MY unique instrument with which I was going to do everything.
This one gave me considerable energy, literally woke me up.
With the computer, the sound research part was rather boring. Find a sound on one of my 300 plugins or on one of the 200 virtual synthesizers that I had and throw it away after use. Then bringing all these sounds together, trying to marry them and making a composition, became more interesting, exciting.
With the modular synthesizer, the creation and research part immediately became fascinating. Making your own way, creating accidents, making your own sound, having a physical relationship with the all-changing instrument.
From a professional point of view it also changed everything. If I had stayed on a computer, I would be a dead, unemployed composer today. With such a machine you suddenly become more attractive, sexier, we consider you more seriously.
It also allowed me to set up this modular synth and sound synthesis internship at the CIFAP training center in Montreuil, near Paris, which became a significant part of my income and allowed me to discover teaching, sharing and meet a multitude of very interesting people.
Socially, it has also changed a lot. It is a network where I have met (sometimes virtually) a multitude of very interesting, very enriching people. Some of these people are now very close friends.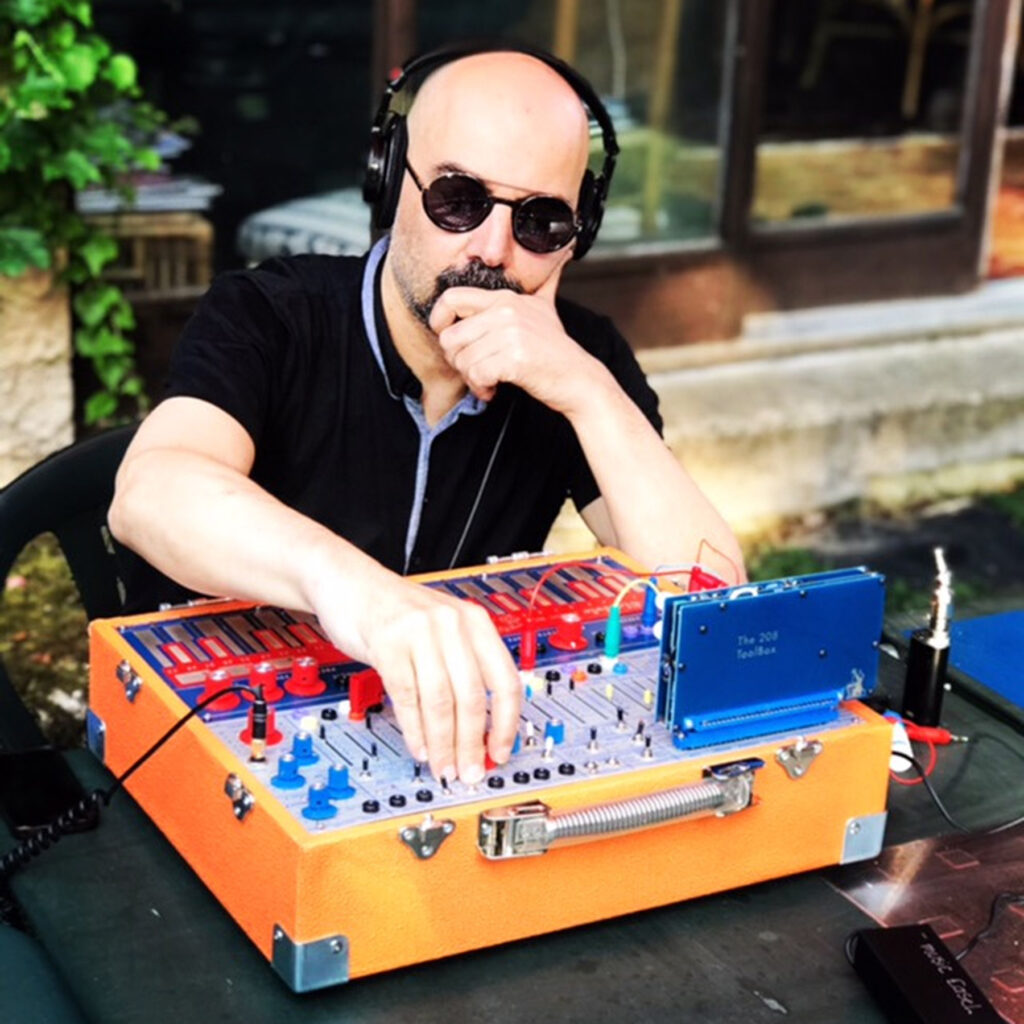 Quite often modularists are in need for more, their hunger for new modules is never satisfied? How do you explain that?
Yes, we all go there! Modular thirst. For 3 years, I spent all my savings, as well as 75% of my monthly salary. During those years, I no longer went to the movies, to shows, to restaurants, on vacation. I no longer calculated in euros but in modules. You become like a kid in a toy store, you want everything. It's a period that makes you mad but happy. We become a junkie, and addicted. It becomes passionate, so we spend our time looking at what comes out, if we are not held back financially it is very difficult to resist, because even if some modules are alike, there will always be a difference. This obsessive thing also with the holes in the case which become unbearable. And when you're done filling it up, you only think about buying a new one.
When we start, we discover, we are wrong, we do not always understand the identity of a module, so we sell to buy and so on.
The problem also for some is that they launch into the modular without having a precise idea of their musical project, so they go there blindly buy the modules on recommendation, resell, buy back, etc …
I am often very surprised by these posts on the modular synthe networks or someone post the image of its modulargrid asking if it is ok, if something is missing without ever specifying the musical project. Only you know if your system suits you. There are no rules, no obligations.
Some also do it for the wrong reasons. Because it's flashing everywhere, it's fashionable, and having a modular synth is going to sound like a serious musician.
As far as I'm concerned, fortunately all of this has stabilized, I haven't bought new modules for more than a year and a half, because although there are a lot of interesting new modules none does answer my question: will this module bring something new to my musical creation?
Instrument building is actually quite compositional, as you're defining your sonic palette?
When I first started, I sometimes randomly bought a second-hand module, not knowing what it was doing specifically. It allowed me to discover, to understand, knowing that I could always sell it for the same price.
This is no longer the case today. But anyway, even if the choice of a new module is no longer hazardous, and I have a clear idea of what I want to do with it, and if it may interact with my other modules and have an interesting influence on my all system.
Would you please describe the system you used to create the music for us? Can you outline how you patched and performed your Modulisme session?
I only used my Buchla e system composed of 206e / 281e / 256e / 292e / 292e / 259 / 261e / 256e / 223e / 250e to create the music for Modulism. I created it over a period of 6 months, therefore it is very difficult for me to remember in an exhaustive way how to patch and to proceed. When I listened to it again, I even asked myself how I had made certain parts. This is also what I like in the modular synth, the side here and now, a cable, a pach by driving another, not knowing in the end what was the basic idea. So I recorded several sessions, with which I then composed, cut, mixed with the computer.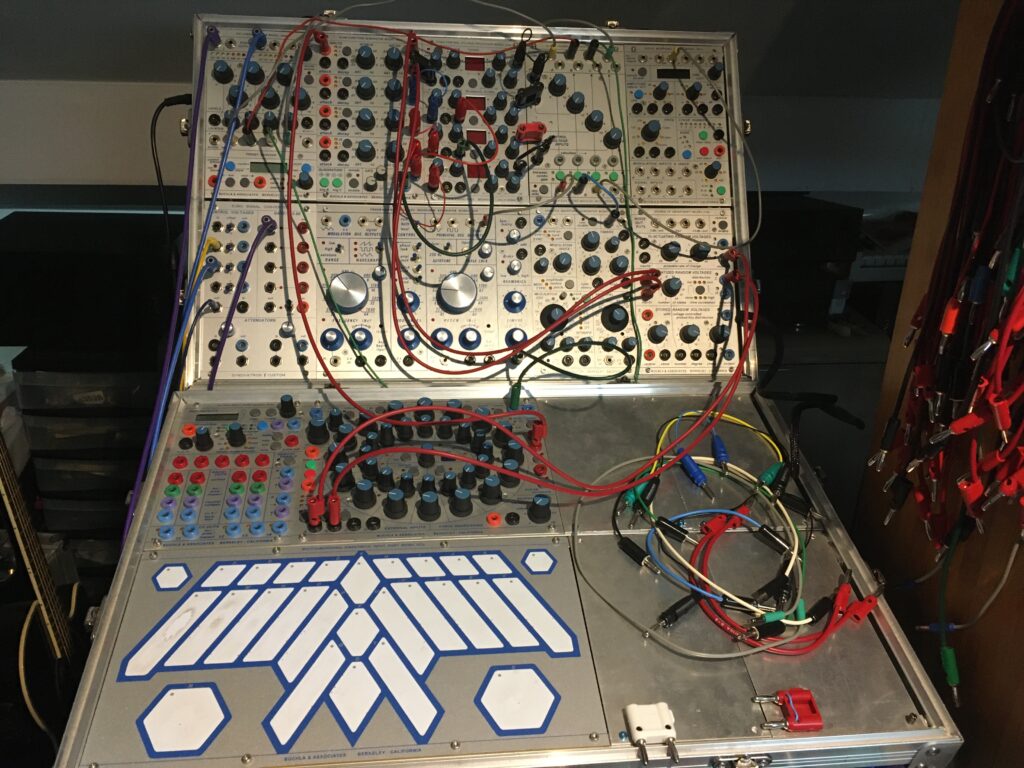 What would be the system you are dreaming of?
Those i have. A 18U eurorack system, a Buchla serie E, a Buchla Music Easel and a complete Serge system in eurorack format. The only instrument I don't have wich makes me dream is the EMS Synthi.
I also have some other eurorack cases (about 40U), tidy, that i never use, and open only for my modular synth courses.
Are you feeling close to some other contemporary Modularists? Which ones? Which pioneers in Modularism influenced you and why?
It's hard to get a good sense of your music. Spontaneously like that, not particularly, at least those I could think of do not necessarily use a modular synth, if at all. It is not the use of a particular instrument that will influence me but just the music regardless of the instrument used. The one for whom I have great admiration is Morton Subotnick. I also have a great fascination for Eliane Radigue's album "CHRY-PTUS" produced with Buchla.
Any advice you could share for those willing to start or develop their "Modulisme"?
You open a Pandora's box. It's both wonderful and dangerous. Know where you are going because you will get lost anyway. Forums are your friends and the best thing is to be able to touch, feel in shops, festivals,… and also something that the modern world tends to make us forget: Patience. You are going to rediscover it and have to adopt it.
You can have a first instinctive approach to the instrument, but it will then be necessary to acquire notions of sound synthesis. You can spend a lifetime experimenting with a modular system. Why not, but the advice I will have to give is to set a goal. Being offered a concert and being left with only 1 month to practice the instrument, think of a structure, a beginning, a middle and an end was the key for me to progress.