Serge-O-Voxes / voices for the Serge I
Serge-O-Voxes :: Voices For The Serge is bursting out as a companion to the second installment in our I.T.A.T.I.O.M. series dealing with Inventors Talking About Their Instruments Or Modules.
Gathering Serge Users willing to celebrate Serge Modular designs this collection was curated by Doug Lynner and I, Philippe Petit, under the guidance of Serge Tcherepnin.
Adopting such a title became obvious when Serge Tcherepnin told me:
Searching for names for my synth back in '72, "Serge-O-Vox" and "Tcherepnin Synthesizer" came up. Then, thanks to the way I funded purchasing the parts, panels, PCBs for the first 20 synth, we came up with the name "People's Synthesizer".
The serge was the first crowd-funded DIY synth. Anyone with $600 was able to obtain a kit.
In order to make your listening easier to digest I have chosen to divide « Serge-O-Voxes » into 4 sessions.
Here's the first one:
01. Jill Fraser – Wonton Soup at Siam (06:23)
Jill Fraser is a composer and electronic music pioneer.
She was mentored by Morton Subotnick, studied with Mel Powell and Earle Brown at CalArts and attended master classes with, among others John Cage and Lou Harrison. After finishing her master's degree in composition she worked at Serge Modular in Hollywood and took her modular synths into the Hollywood studios to score films as well as hundreds of TV commercials. She has won 3 Clios for original music and is a voting member of the Academy of Television Arts and Sciences.
The shop in Hollywood really was an incubator for so many of us starting out. I took as little in hourly wages as I could, instead taking as much payment as I could in modules as did many of the people who worked there. So many of us were fresh out of CalArts, we met interesting people who would come into the shop and we talked about music all day long every day. We played in bands at night and took time off to do film sessions in Hollywood. Serge was completely supportive of our musical lives, of course being a musician himself, his shop was an extremely creative crazy place. In addition to building systems for other people, we built the machines that launched our careers and spent every day completely immersed in music. Serge created that environment and it was wonderful.
http://www.jillfrasermusic.com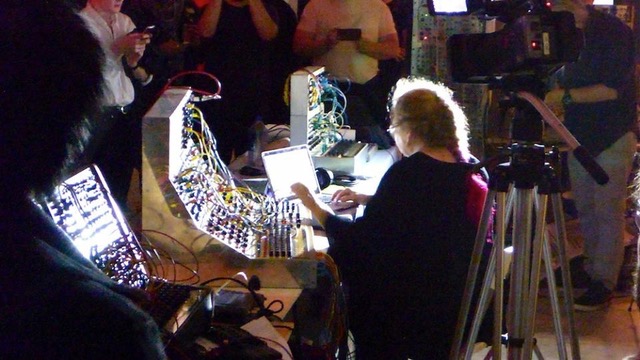 02. Batchas: Chūu (03:45)
Batchas plays synths since the eighties and the Serge Modular System is his favorite.
I really enjoy its multi-functionality and its amazing sound. The first time I heard the VCFQ being pinged, it acted like a revelation! When I decided I should get a Serge system, we were lucky to already have CGS and Ken Stone with his inestimable know-how about Serge circuits, but I didn't feel skilled or competent enough to build a system by myself and the DIY scene was far to be as developed as today. I was dreaming of having a paperface system, but never could afford it. What I found was either in a very bad shape, or way too expensive for my budget. So I saved enough money and bought a new system from STS, the only source I knew to get this magnificent analog modular system. I never regretted it.
A few years later, I got a paperface system from 1978 and a dream came true.
Chūu was recorded during an improvisation session on the Serge STS system.
03. Coil – I Am The Green Child (Alternate Version) (13:46)
Coil were an experimental music group, founded in 1982 in London, England and concluded in 2005. Initially envisioned as a solo project by musician John Balance (of the band Psychic TV), Coil evolved into a full-time project with the addition of his partner Peter Christopherson (formerly of pioneering industrial music group Throbbing Gristle). Balance and Christopherson were the only constant members; some members joined in including Thighpaulsandra playing the Serge on our recording.
04. Eazy Teeth – The FIre This Time (09:52)
Paul M. Young spent the late 70's and early 80's playing the Serge live in the Punk Clubs and Art Galleries of Los Angeles and San Francisco under the name Eazy Teeth, a name given to him by Captain Beefheart as he was smiling a lot. He collaborated with many artists including Johanna Went, Z'ev, Jed Spear and many more. At the same time, he was building Serge Modular systems, road managing Captain Beefheart, managing Snakefinger, working with the Residents on The Mole Show…
Looking back at my life during the Serge Modular years in Los Angeles and San Francisco is certainly not easy after 40 years. As I previously mentioned in my "Easy Teeth" interview for a Modulisme session, I first became aware of Serge in 1977. At that time, I was making my living selling hi-fi at various audio retail stores in Los Angeles. My first system was a 6-panel paper-face system. When I started working at Serge in 1978, my first job was stuffing PC boards. Eventually I was running production. The shop was originally located in Hollywood at the corner of Santa Monica Boulevard and Western Avenue in Hollywood. It always felt like an adventure ascending the stairway to the shop. Serge attracted quite a diverse group of artists that all worked there at some point in their careers including Jill Fraser, Gary Chang, Kevin Braheny Fortune, Chas Smith, Scott Gresham-Lancaster, Anne Graham, and Darrel Johansen who was the general manager.
When Serge relocated to San Francisco on 1980, Darrel convinced me to relocate with them. At first, I said I would go for a year and then come back to Los Angeles. Well, one year ending up turning into three. After the last Captain Beefheart tour in January 1981, I asked band member Eric Drew Feldman to come up to San Francisco to join Snakefinger. Eventually Eric came to work at Serge as did composer Richard Marriott. I am sure there are many others who passed through the halls at Serge Modular and my apologies if I don't remember them all at this time.
To save money on rent, I was living in the back of the San Francisco shop in what was once the dining room and kitchen. I had my system set up to do demos for our customers. During that time, I rebuilt my system to its current configuration as described in my session. Living in the shop allowed me the added gift of time and access to change and adapt my system to fit my own creative needs.
As always when you are in the middle doing something you love and working with incredible people, you have no idea of what the future may have in store. Looking back, I now know that the Serge era was truly an incredible time for all of us. I was so very fortunate to participate in this adventure.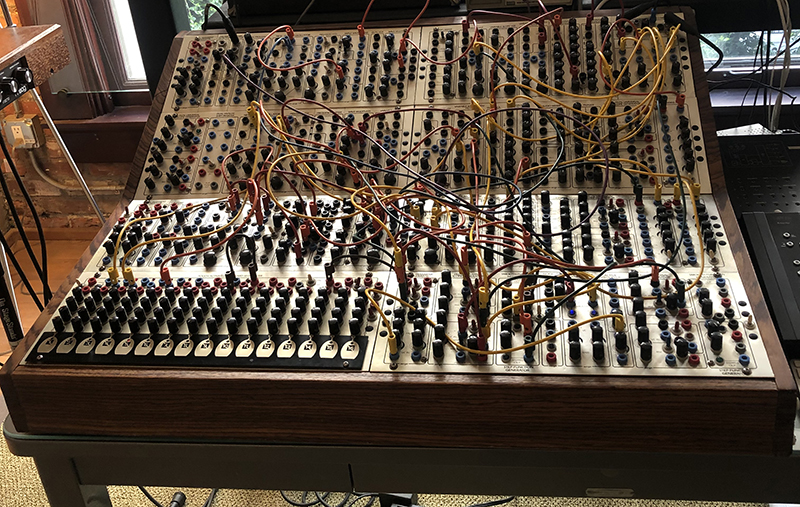 05. Benge – A Serge Study (05:18)
Benge is the artist name of Ben Edwards, an English musician and record producer based in London, England. Since the mid 90s the main focus of his work has been within the experimental electronic music field.
I first became acquainted with the Serge modular system in the late 1990s when I managed to pick up a pair of very early 'paper face' sequencer modules which were being sold on eBay. I subsequently added various other panels over the years, all but one of which were from the same era (early/mid-70s) and one STS era panel (early '80s). Later on I built a sloping wooden cabinet to house them all in, with a new power supply. I put the dual sequencer panels at the bottom and the other 6 panels rising upwards from them. There is something so enjoyable and rewarding in patching the Serge, mainly due to the use of banana cables all through the system regardless of type of signal (either control or signal). It allows for utterly complex and unconventional sound and composition creation. In fact, the way it works, especially with a large system, is that it intertwines the practice of creating sounds and composing music with those sounds into one homogenous process, more so than any other system I know of.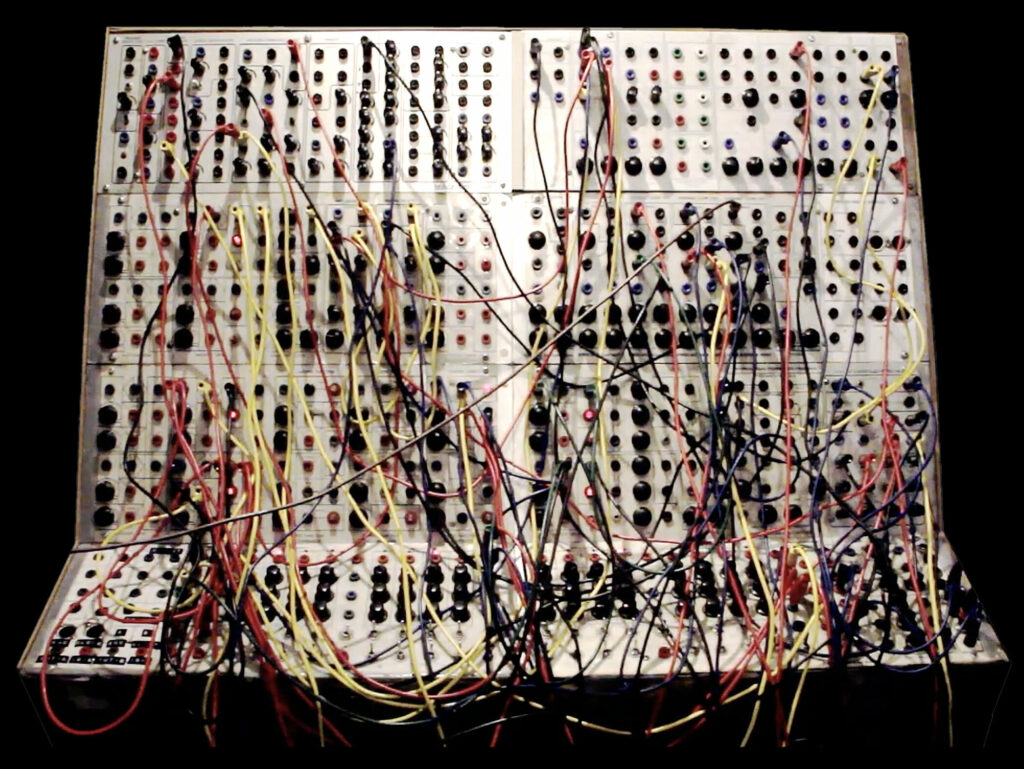 06. Tom Djll: They're getting away! (02:48)
Tom Djll studied electronic music with Stephen Scott at the Colorado College, working with the EMS Synthi 100. He spent 1981-1993 working with the Serge Modular Music System (SERGE WORKS published by Other Minds' Modern Hits netlabel, 2018) before enrolling in Mills College Contemporary Music Program, where he extended his quest to develop and integrate an idiosyncratic trumpet language into electronic sound worlds. He resides in California.
These three pieces are all very recent, and are the result of improvisational approaches to a new instrument I put together over the last year or so. It is a 3-tiered XL-boat Serge system built mostly from Random Source components, including a TKB, a Mantra, and an Edelweiss Mk 1. Also heard are Hordijk and Bug Brand instruments. "Krell 1" has the live addition of vibraphone sounds. All pieces are single-track stereo takes.
I am of one mind with Serge when it comes to 'letting the circuits speak for themselves,' rather than putting together Bach preludes or visionary math-rock or whatever, although my open-ended, polyrhythmic sound constructions might suggest a kind of electronic free jazz.
07. Tom Hamilton: Serge Study III (02:20)
Tom Hamilton has composed and performed electronic music for over 50 years. His music references the 1970s era of analog electronics, and contrasts structure with improvisation and textural electronics with acoustic instruments. He employs "aural scores" to connect performers to a changing context of electronic sound.
Serge built a small system for me around 1978, capable of forming 2 linear FM voices, each that could act independently or be partially correlated to the other. The « Serge Study III » is my first exploration of that technique. I was very happy that day! Eventually I formed a generalized patch for this via multipin telco connectors so that I could configure the instrument in about 10 seconds.
http://www.lovely.com/hamilton/hamilton-home.html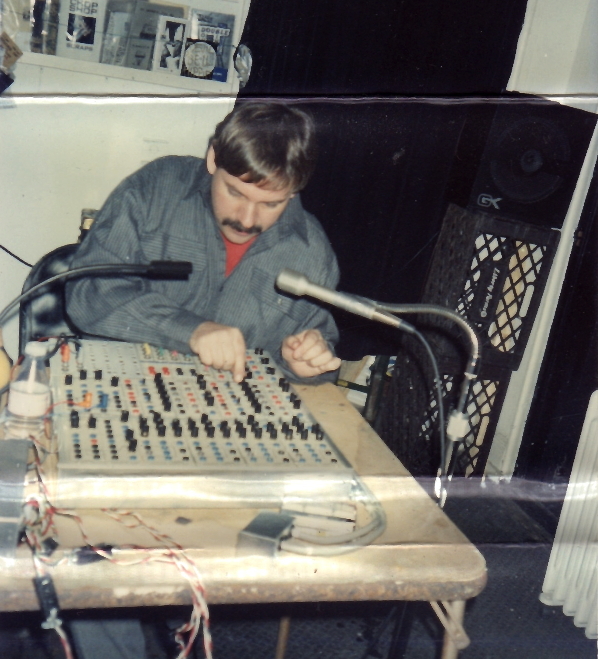 08. Ian Boddy – Serge Krell (04:48)
Ian Boddy is a UK musician who first got into electronic music in the late 1970s. Since 1999 he has run the well respected Electronica label DiN releasing over 90 albums as well as more recently curating the Tone Science series. He has also composed many library music albums as well as being a much sought after sound designer.
I first got into Serge after working with Greek musician Bakis Sirros aka Parallel Worlds on their 2011 album Exit Strategy (DiN37). He used a lot of Serge soundscapes on this project and I was drawn to the analogue, organic tones of that system. Within a short period of time I built up a 6 panel STS system which I find a total joy to use. It has such a logical, consistent interface that I can take it in any direction from experimental to structured and melodic. What appeals to me most though is the pure analogue sound which with my musical heritage is very important to me. It simply sounds like nothing else I have ever used.
09. Tom Djll: Krell 1 (07:30)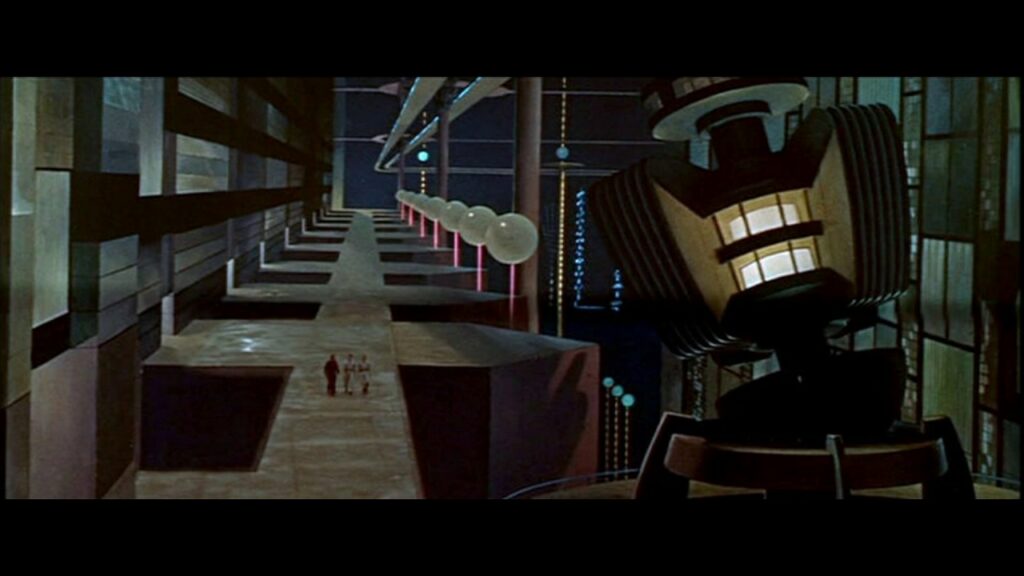 10. Andrew Raffo Dewar: Autonomic Phrase Miniature I (02:26)
11. Andrew Raffo Dewar: Autonomic Phrase Miniature II (02:32)
Andrew Raffo Dewar is a composer, soprano saxophonist, electronic musician and ethnomusicologist whose work has been performed or installed throughout North America, Southeast Asia, and Europe. He appears on nearly two dozen recordings, including study and work with experimental music innovators Anthony Braxton, Bill Dixon, Steve Lacy, and Alvin Lucier. His music spans the spectrum of through-composed chamber music, aleatoric composition, electroacoustic music, open improvisation, sound installation, and interdisciplinary artistic investigations that have included biofeedback, data sonification, oral history and ethnography, graphic music notation, and tactile performance scores.
Dewar is Professor of Interdisciplinary Arts in New College and the School of Music at the University of Alabama in the US.
http://www.freemovementarts.com
12. Michael White – Broken Wasp (07:51)
Michael White is a Canadian musician and composer. As a trumpet player he has been active in avant-garde concert music, jazz and rock. As a composer he's been writing and producing music scores for national Radio, Netflix series, a number of documentaries and the feature "Hevn" by up-coming Norwegian director Kjersti Steinsbø.
Michael White's attraction to modular synthesis began when his work as a session trumpet player expanded into film. His use of live electronics with trumpet was becoming more of a focus of his musical identity and somehow felt a modular was the next step. In the early 2000's ordering a Modcan A series and then a STS Serge system from his buddy Rex Probe. He never looked back!
https://mwtoronto.bandcamp.com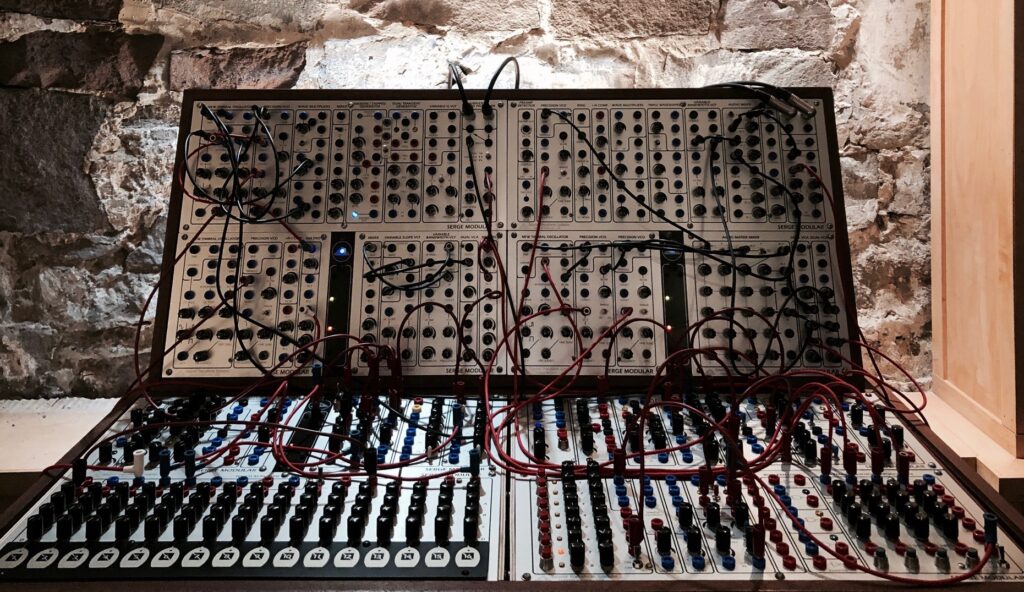 13. Jonas Broberg: Punky Serge (04:42)
Jonas Broberg has been composing electroacoustic music since the late 80s. He works with synthesizers and sound processors to obtain material ranging from chaotic to meditative. « Punky Serge » is an improvisation using the serge system at Elektronmusikstudion in Stockholm.
I used the TKB sequencer for the pulsating rhythm. The Wilson analog delay modulated by an adsr provides the tuned resonance. It was about tweaking and reacting during the recording process.
14. Warren Burt – French Fried Minds of Walruses and Caterpillars (19:35)
Warren Burt went to the State University of New York at Albany, and the University of California, San Diego before moving to Australia and setting up the electronic music studios at La Trobe University and helping found the Clifton Hill Community Music Centre. 20 years of freelance work followed, followed by a return to academia in the early 2000s. He's been involved with the development of new electronic music systems since the late 60s. Currently he's coordinating the Master's Degree programs at Box Hill Institute, Melbourne as well as composing and putting material on his website:
http://www.warrenburt.com
Harmonia Mundane (The Serge-o-vox Studies) was a collection of pieces made at UC San Diego on our newly completed Serge and Daisy system in 1974. French Fried Minds of Walruses and Caterpillars was a piece in 3 sections. Part 1 was a Serge Patch full of glissandi and subharmonic pitch relations. Part 2 was a noise study made with the Daisy Sysetem, solo. Part 3 was a tone cluster in 18 tone equal temperament made on a Scalatron Microtonal Organ processed through the Serge. There's a tiny coda of almost inaudible waves at Lake St Mary's, Arizona at the very end of the piece.
15. Illusion of Safety – Ample Time (19:30)
Illusion of Safety is the musical project of Dan Burke who had recorded our Serge piece back in 2014 and only edited and reverb-added in 2020.
I gravitated to unusual music since my encounter with 2001: A Space Odyssey and Morton Subotnick's Silver Apples of The Moon when I was around 11 years old. Somewhere along the line I discovered that there was Serge Modular in San Francisco and on a trip there in 1982 I stopped in to the Haight street location and had a tour of a very huge system, I bet it was at least 24 panels. Unfortunately I did not buy it or any modular synths until 2011. I was fortunate to get some panels in 2013 from Muffwiggler forum Buy/Sell marketplace for a good deal, including a Modcan A system & Modcan 58B double sequencer fitted with Banana jacks. A perfect match for the serge with modules that are missing in the serge system, like quad LFO, Flanger, Scanner, digital delay. I call it the SergeCan System, and If I use the Low-Gain Audio UTL-1, a passive 10 channel bi-directional Banana Jack <=> 1/8″ format jumbler, it's the SergeUeroCan System. The Serge is great to work with, I love the workflow & simple industrial layout and it sounds great. The headroom is something to respect, my ears often ring for days after.
http://www.illusionofsafety.net/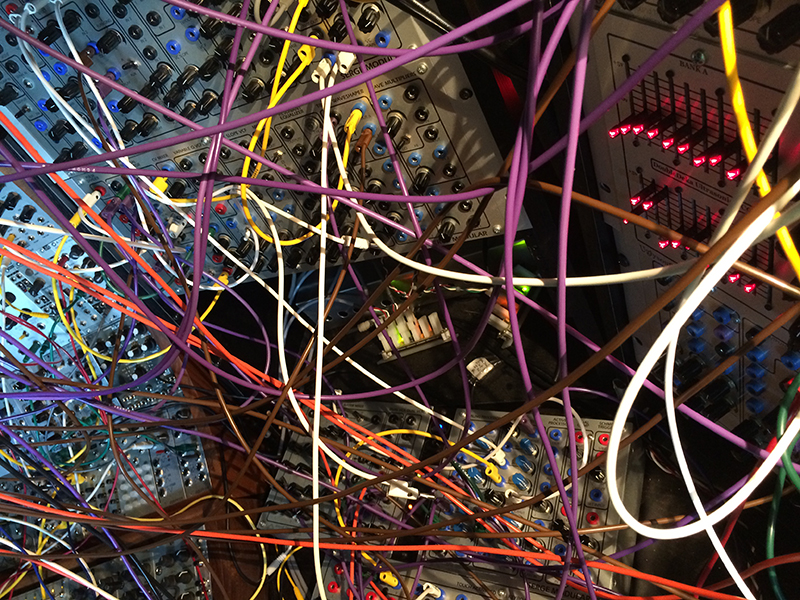 16. Gary Chang – Forgotten Memories (08:53)
Gary Chang is an American composer of scores for film and television.
He was studying at CalArts, mentored by Morton Subotnick and attended master classes with John Cage…
Working primarily in the action and thriller genres, he has composed the scores to over seventy films, including « Under Siege », « Sniper », and « The Island of Dr. Moreau ».
He is also a long-time collaborator of directors John Frankenheimer and Craig R. Baxley…
Forgotten Memories dates back from 1978 and was written for the Electronic Explorations Concert. Originally composed for live performances on my 1976 Serge system, this particular realization was the first piece that I realized on my Random Source EuroSerge, July 13, 2018.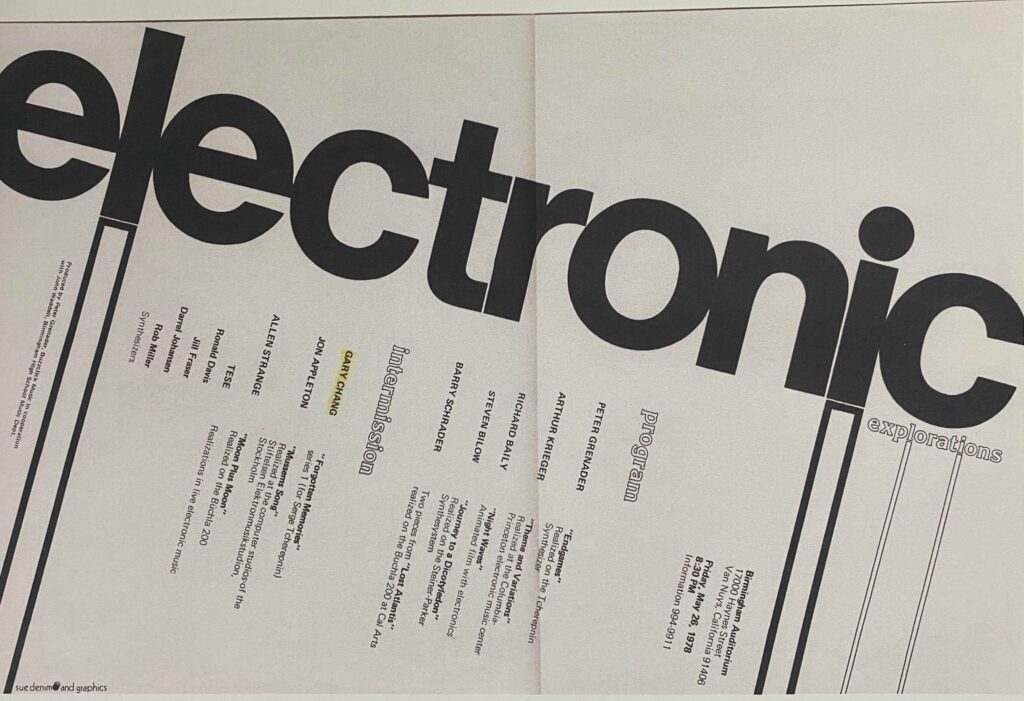 17. Slope114 – Ambient#63_F#Major (02:56)
Slope114 is Dmitri Ponce + Elise Gargalikis, co founders of the Church Of The Super Serge who had organized the serge 40th reunion concert in San Francisco. Dmitri has built many custom serge panels & together slope114 has traveled the world performing their own brand of House & Ambient music.
Recorded 2019 all synthesizer sounds are the Super Serge mostly assembled in 1978. Vocals by Elise.
18. Matthias Herrmann – Nocturne (05:06)
Having a classic music education Matthias Herrmann came to electronic music when seeing Laurie Anderson's first public appearance in German TV in the mid 80ies. Fascinated by her out-of-the-box-approach he bought his first synthesizer and never stopped creating music since then. But it was not until 2005 that he was able to buy his first synthesizer modules from Doepfer. Very soon he started to build his own modules and to sell PCBs for those interested in DIY. It was then when Ralf Hoffman invited him to collaborate and make the Serge modular synthesizer more easily available that Random*Source was born, and today Matthias works together with Ralf Hoffmann and Serge Tcherepnin himself to bring back this iconic and unique synthesizer in an improved and more contemporary form.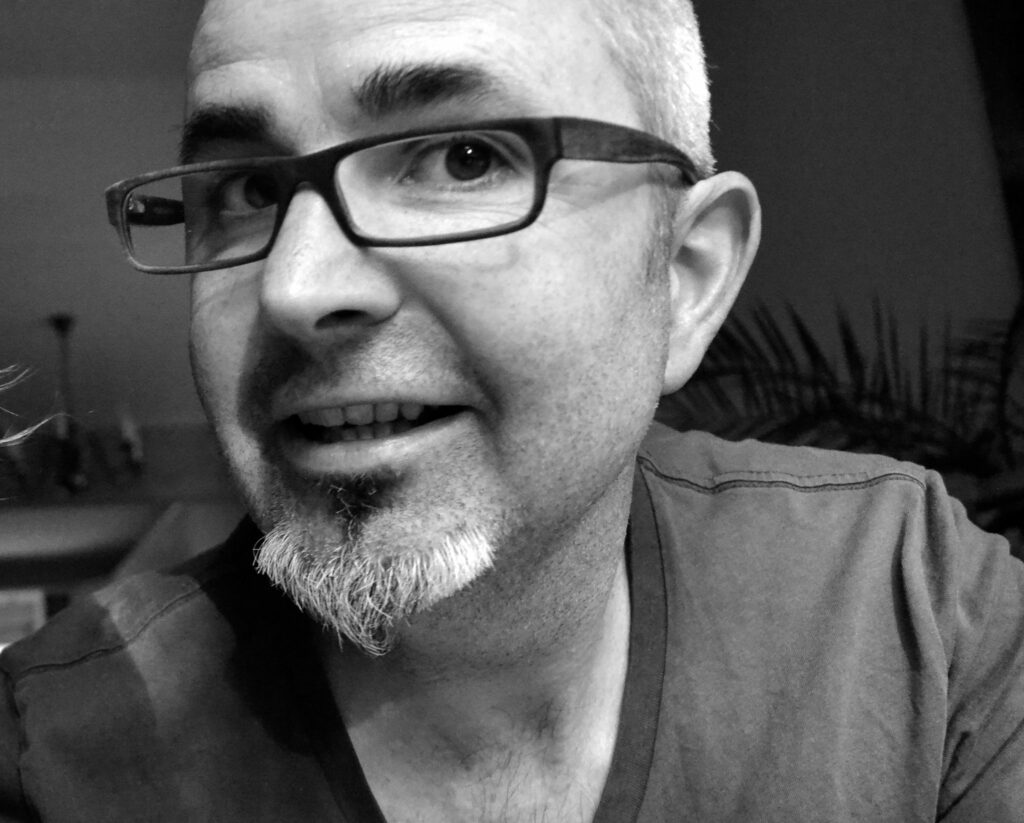 19. PRFRK – Oblivion (09:00)
Geek and passionate about all musics PRFRK (aka Yan Proefrock) likes to think outside the box. Video director and editor specialised on live music shows for the french television he learned classical piano quite young and started buying gear in the 80's. He discovered modular synthesiser in 2016 and became totally addicted to it…
In 2020 he started the very first radio devoted to the genre: Modular Station.
Eurorack was a starting point, I dived into DIY and circuit designs. Meeting Serge Tcherepnin and discovering the Serge system has been revolutioning the way I think and make music. I like to describe himself as an ever-growing noob and more as an « artistic tech guy » than a real musician.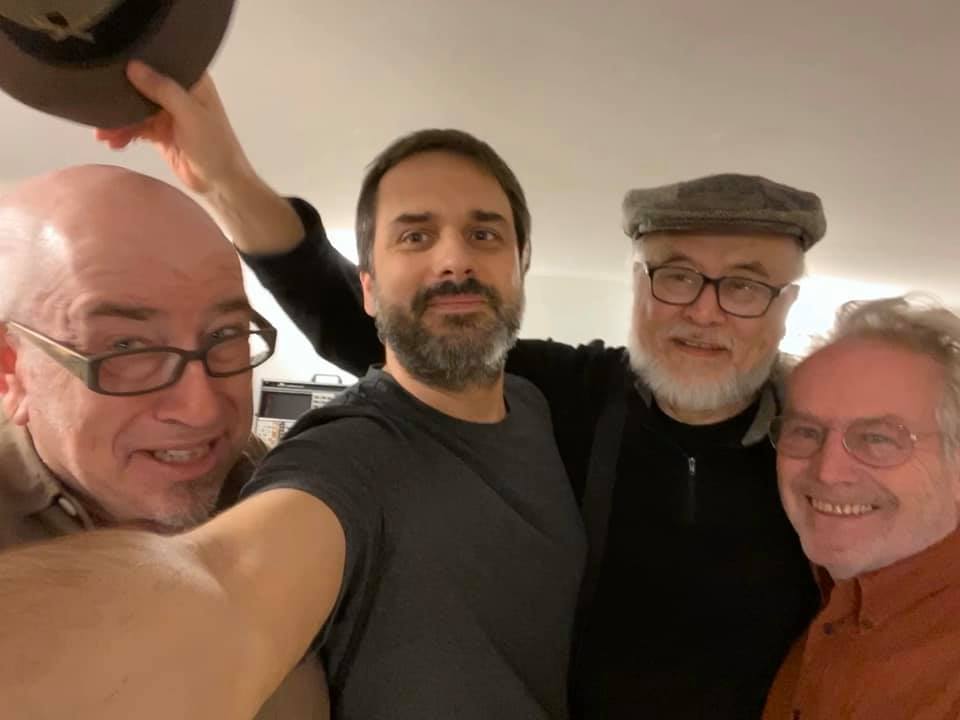 20. Todd Barton: For Serge (08:54)
Todd Barton is a composer, sound designer, multimedia performer, sonic adventurer and analog synthesist specializing in Buchla, Serge and Hordijk instruments. « For Serge » was composed and performed in San Francisco for the 40 Year Reunion of the Haight-Ashbury Serge team and also to celebrate Serge's 74th birthday.
I met Serge at that Haight-Ashbury collective, it was a magical time, a magical place. The Serge Modular Music System that I performed on was the one that the Serge team built for me in 1979.