Serge-O-Voxes // voices for the Serge II
« Serge-O-Voxes – voices for the Serge» is bursting out as a companion to the second installment in our I.T.A.T.I.O.M. series dealing with Inventors Talking About Their Instruments Or Modules.
Gathering 80 compositions to celebrate « the Serge synth » this mammoth of a collection was curated by Doug Lynner and I, under the guidance of Serge Tcherepnin.
Adopting such a title became obvious when Serge Tcherepnin told me:
Searching for names for my synth back in '72, "Serge-O-Vox" and "Tcherepnin Synthesizer" came up. Then, thanks to the way I funded purchasing the parts, panels, PCBs for the first 20 synth, we came up with the name "People's Synthesizer". The serge was the first crowd-funded DIY synth. Anyone with $600 was able to obtain a kit.
In order to make your listening easier to digest I have chosen to divide « Serge-O-Voxes » into 4 sessions.
Here's the second one:
01. Sergei Tcherepnin – Rainbow Beat (04:06)
Sergei Tcherepnin is an artist operating at the intersections of sound, sculpture, photography and theater. Attaching synthesizers, computers and amplifiers to small surface transducers (devices that convert electrical signals into vibrations) he orchestrates complex multi-channel compositions in which objects are transformed into speakers.
Rainbow Beat was initially intended to play through bits of cardboard and scrap metal via surface transducers as part of my 2012 performance "Giving Rein".
Recent performances and exhibitions have been held at the Museum of Modern Art Moscow, Len Lye Institute, New Plymouth, and Company Gallery, New York.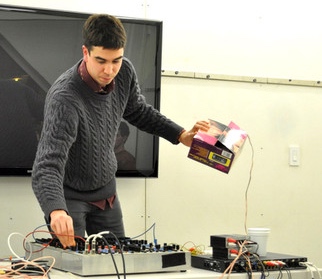 02. Stefan Tcherepnin – Flabbergasted Guest (10:12)
Stefan Tcherepnin is a composer, improviser, musician and mixed media artist living and working in Kingston, NY. He has held residencies at the Theremin Center, Moscow and EMS, Stockholm. He has had solo exhibitions at the Stedelijk Museum, Amsterdam; Kunsthalle Zürich, Switzerland; Galerie Francesca Pia, Zürich; Freedman Fitzpatrick, Los Angeles; Real Fine Arts, NYC. Upcoming exhibitions at Fitzpatrick Gallery, Paris (2021) and Le Consortium, Dijon (2021). Musically, he has collaborated with Sergei Tcherepnin, Ezra Buchla, Brian Chase, Lewis Wallace Blanchard III, Peter Evans, and others. He was a member of the microtonal, electro-acoustic folk cult rock band, The Gongs, alongside instrument builder Peter Blasser and composer Clara Latham. Currently, he plays guitar and Sonica (a portable instrument with electronics by Serge) in the NYC-based band Afuma (alongside musician and artist Taketo Shimada) and Stockholm-based duo, PSST (with drummer Paul Sigerhall). His critically acclaimed recording of the late composer and visionary Maryanne Amacher's Petra for Two Pianos (alongside pianist Marianne Schroeder) was released on Blank Forms Editions in 2019. He is a 2020 recipient of the IASPIS grant in Stockholm.
I grew up in a musical laboratory. My father, Ivan Tcherepnin, was a composer, musician, educator and electronic music pioneer. Some of my earliest memories involve strange and unidentifiable sounds emanating from my father's home studio. As a child, I would often sit in his studio with the lights turned out, surrounded by blinking LED's and electronic apparatuses producing layers upon layers of weird and extraordinary noises, and imagine that I was at the control panel of an interdimensional vessel. At the heart of this seemingly boundless console was a colossal serge modular system. Whenever I turned a knob on the serge, my ship would change course and end up in an entirely unknown sonic universe.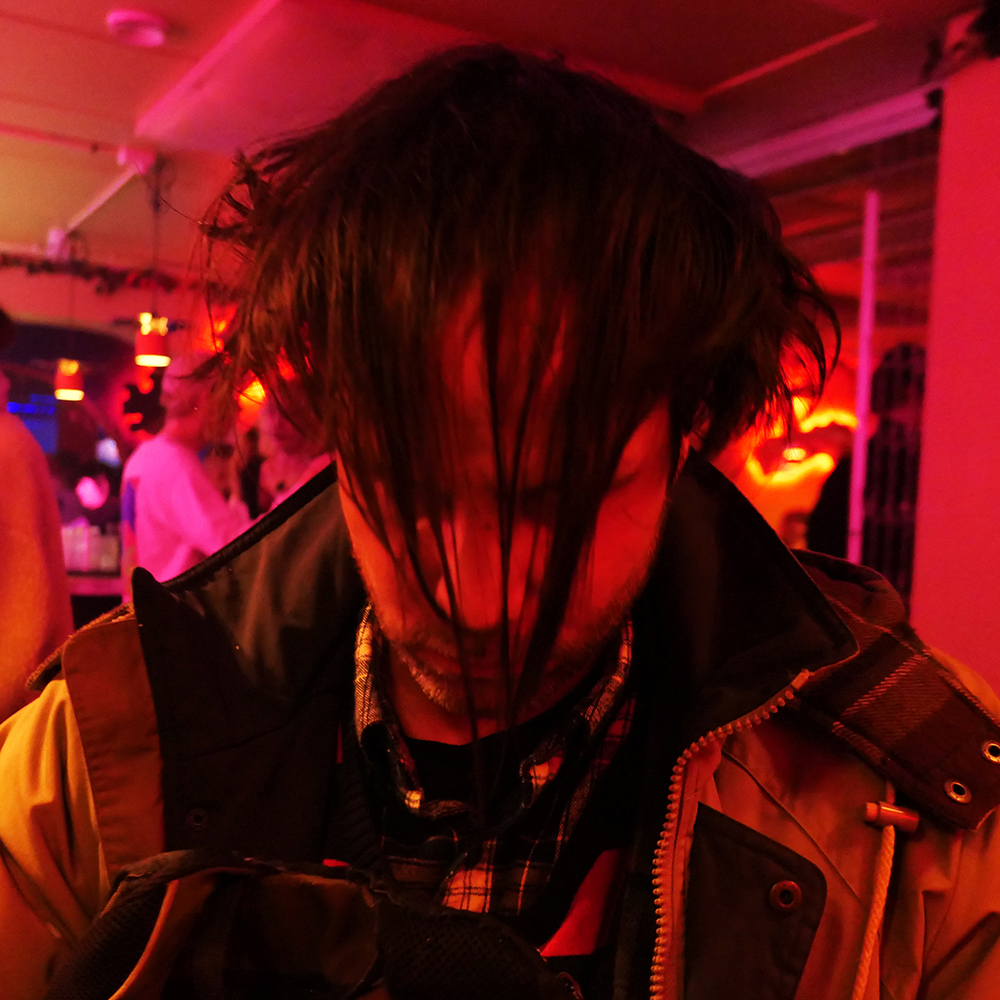 03. Överklassen: Bevis att Napoleon aldrig existerat (03:14)
Oeverklassen is Martin Eriksson on modular + Håkan Strandhag on Trumpet.
Playing Serge is like talking to a friend. You try to articulate something but you get something else in return. An answer that you want to challenge and there it goes. A dialogue. Adding trumpet makes it even more interesting.
https://oeverklassen.bandcamp.com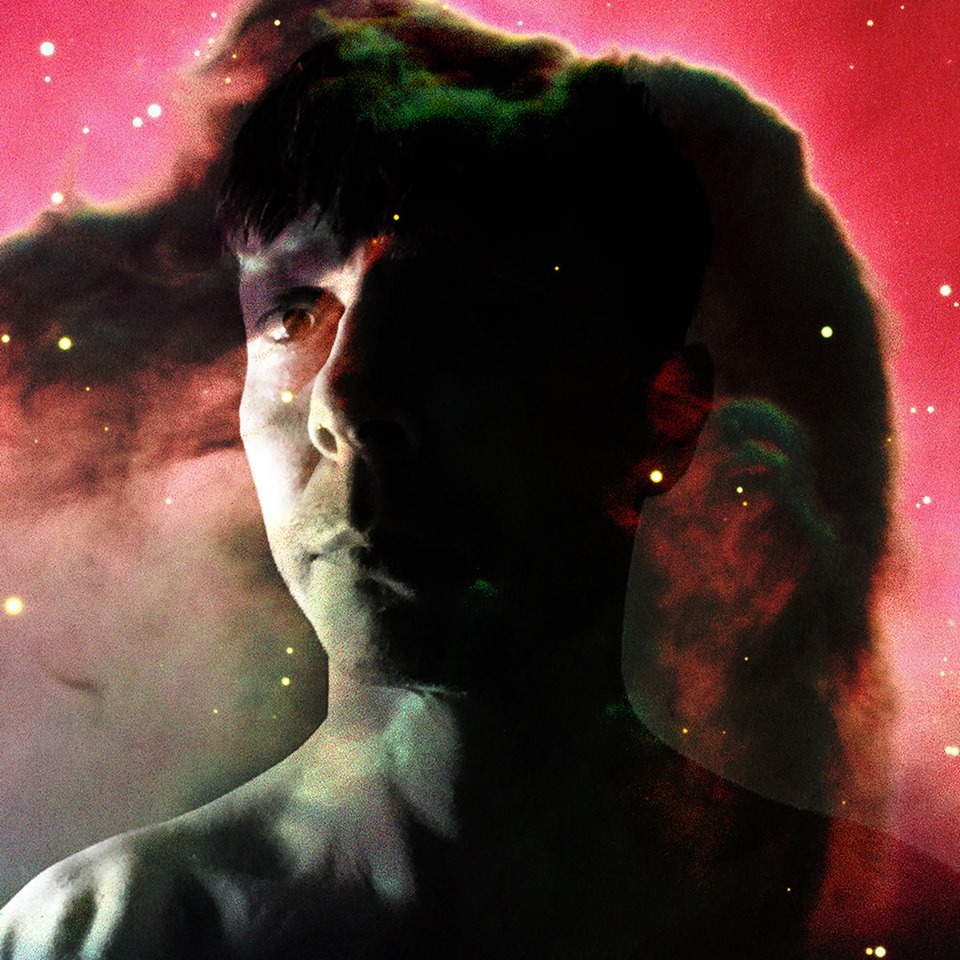 04. Warren Burt – You want, maybe, something a little intense diatonic (02:01)
Warren Burt is sharing a piece from 1982, and a nice story from 1984 :
I was working for Serge in the Haight Street house, and living in the back two rooms behind the factory. I had my Serge and my AIM-65 single board micro set up in the bedroom. I remember working out a patch where the AIM read its memory to make waveforms, and these noisy timbres were fed into the Serge for processing and the resulting sounds were sent back into the AIM to modulate the sounds, the whole thing controlled by the Touch Keyboard module. I had many hours of fun playing this system, and would then wander out to the used Bookshops in Haight Street, to buy things like Jacob Needleman's anthology "Spiritual Tradition and Present Need." And taking the streetcar a little further towards the sea, where there was a cafe that sold a very delicious warm cherry cider, before actually going into the Sunset district to walk along the sea, or row in the lakes of Lake Merced Park. A nice time.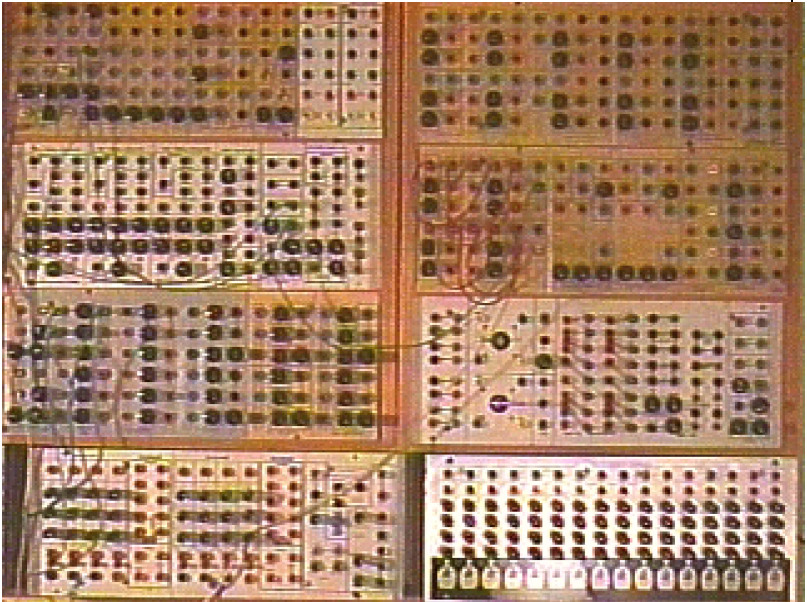 05. Miguel Frasconi – Serge Time, May 19, 2010 (10:39)
Miguel Frasconi is a composer and improvisor whose instrumentarium includes glass objects, modular electronics, and instruments of his own design. His glass instruments are struck, blown, stroked, smashed and otherwise coaxed into vibration, while his unique approach to modular synthesis takes a similar approach, yet solely in the sonic domain. He has composed numerous operas, chamber works, dance scores and performs in a number of NYC-based improvisation ensembles, including NewBorn Trio and Implicit Arches. Miguel has worked closely with composers John Cage, Morton Subotnick, Pauline Oliveros, James Tenney, Joan La Barbara, and Jon Hassell.
Between 2009 and 2014 I taught Ableton Live at the Bard College Electronic Music Studios in New York State. In 2010, I was able to spend some time with their three-panel Serge system. This was the first time I had the opportunity to work with a Serge and was also the first time in 30 years I had worked with a modular synthesizer. The present recording, recorded May 19, 2010, was my third session with this beautifully designed machine.
06. Francisco Meirino – To Bring Out The Shame (11:32)
Spanish born in 1975, Francisco Meirino is active since 1994 (as phroq until 2009) in experimental music and live performance. His music explores the tension between programmable material and the potential for its failure, he is primarily interested in the idea of recording what is not supposed to be: gear failures, the death of PA systems, magnetic fields, and electro-static noises, and in how he can use them and hear them radically out of context. He mainly works with the computer, modular synthesizer, tape echo, reel-to-reel tape recorders, magnetic field detectors, piezo transducers, field recorders, and various home-made electronics.
I like the Serge Modular Synths/modules, because it's a very open tool which is capable of producing the purest sinewaves and the most unpredictable noises at the same time. The first time I played the system at EMS Stockholm, it became straight away an extension to the sonic ideas I had in mind.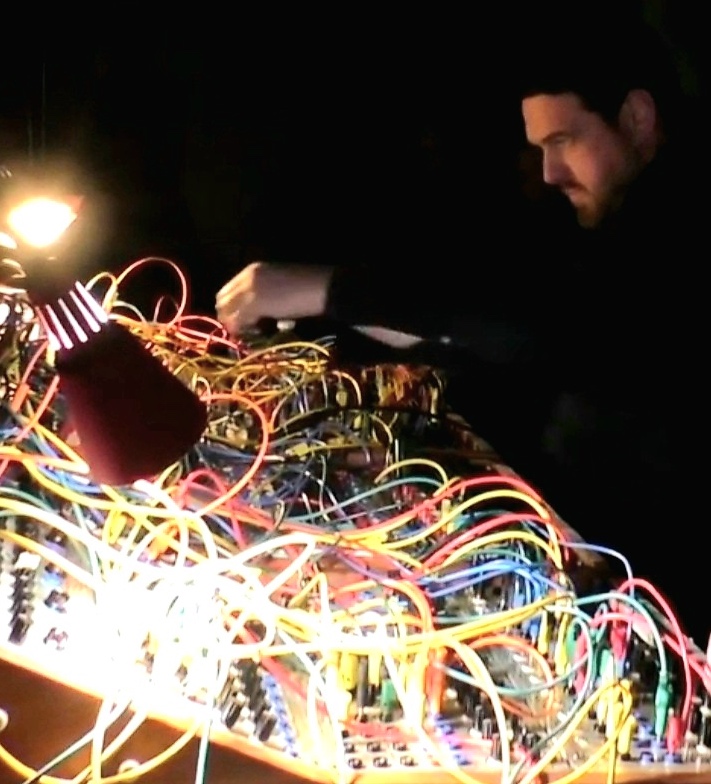 07. Richard Scott -Explode to Survive (09:00)
It all started back in the 80s when Richard Scott played a synthesiser and sang in little post punk bands, then spent 15 years playing saxophone before deciding that real instruments aren't quite his thing « or at least that I didn't feel I had enough conviction to bring to them to scratch the creative itch I wanted to scratch. » For the last few years he has been heavily focussed on the limitless possibilities of analogue modular synthesis, has released a lot of albums since it is very important for him to document his work and he operates his own Sound Anatomy web-label imprint.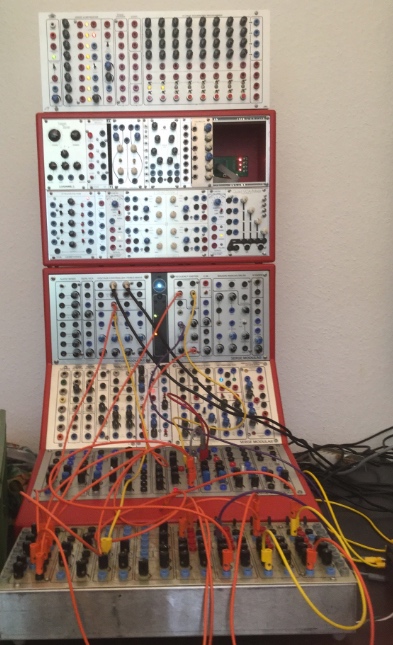 08. Jonas Broberg: Serge TKB1 (15:37)
Jonas Broberg has been composing electroacoustic music since the late 80s. He works with synthesizers and sound processors to obtain material ranging from chaotic to meditative. « Punky Serge » is an improvisation using the serge system at Elektronmusikstudion in Stockholm.
I used the TKB sequencer for the pulsating rhythm. The Wilson analog delay modulated by an adsr provides the tuned resonance. It was about tweaking and reacting during the recording process. »
« Serge TKB » was made at the same session. « I wanted the TKB to modulate various parameters… I think I used two sequencers running in parallel but with different lengths.
09. Larry Heyl – Armillary (02:40)
10. Larry Heyl – Italian Sketchbook (02:31)
My name is Larry Heyl, and I was born in Philadelphia, Pennsylvania, U.S.A., in 1954. I've enjoyed making electronic music with a variety of means over the years. The pieces here are representative and fall into three very approximate categories or period, I guess. Armillary (1985) was realized with a Serge Modular, a black panel kitten-on-the-keys system that, for a four panel Serge, had a lot of different modules, some of which Serge kindly recycled from my first paper front panels. I conceived the piece as something of a view of the night sky, but my friend Tom Adams said it seemed to him a perfectly leisurely walk in the autumn woods. Italian Sketchbook (1985) had its start as a cassette from one of the classes I took in conversational Italian, and I copied various sequences on to several tracks and then processed them with the Serge.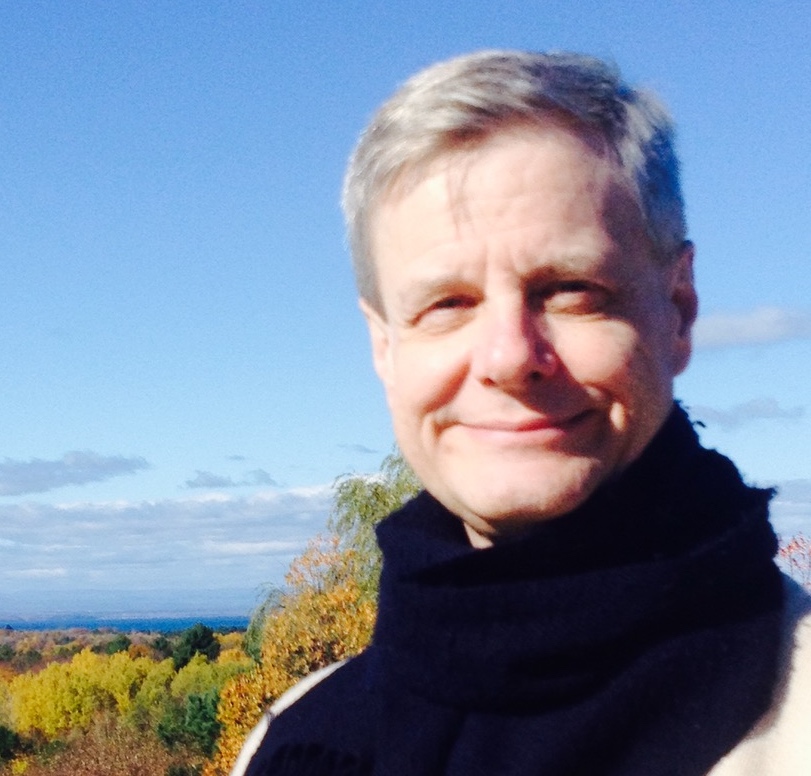 11. Floris Vanhoof – Squeak (03:29)
Floris Vanhoof combines homemade musical circuits and abandoned projection technologies for installations, expanded cinema performances, films and music releases.
Translating the one medium to the other to find how our perception operates and which new perspectives appear.
Around 2006 I was making 16mm films in the lab of Worm Filmwerkplaats in Rotterdam. Once developing is complete the film needs to dry for hours. While waiting I found out a music studio in the same building. The large Serge system immediately got my attention. I already had a tiny Doepfer set-up and a heavy restored DIY Elektor Formant modular in my bedroom, but this Serge seemed more complex. James, the studio technician, explained how you could patch-program the Dual Universal Slope Generator and this became my favorite programing language ever since. These multi function modules could make my live set up very powerful and still portable. So I contacted Ken Stone from whom I already build a few CGS modules, and slowly the ball got rolling. I built two DIY CGS Serge panels with a lot of custom extra's into a suitcase and updated this every year.
Wherever there was time, I would spend sleepless days at Worm in Rotterdam, making analog film during the day, and at night, while my 16mm pellicule was drying from a clothesline, making music on the Serge.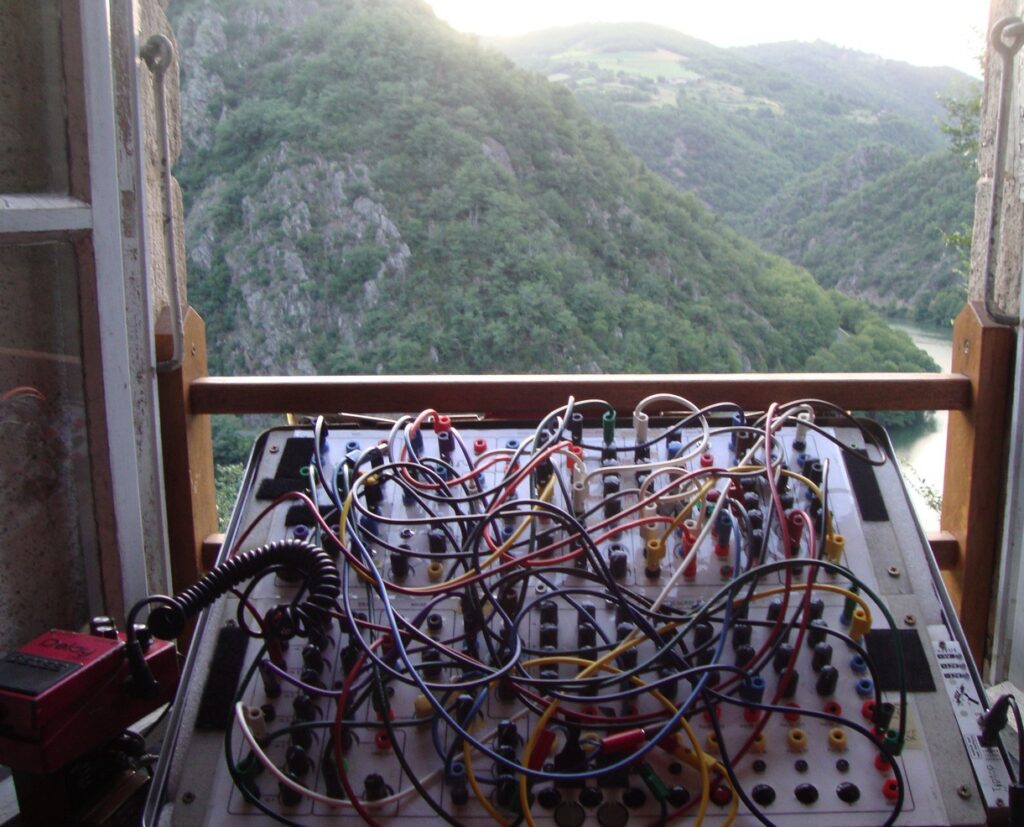 12. Jean Philippe Gross – Assemblage (05:09)
Originally a drummer Jean-Philippe Gross has played in the field of electronics, experimental and improved music since 2001. Recent works included music for theater, dance and performances, as well as playing with Stéphane Garin (Dénombrement), Jean-Luc Guionnet (Angle), Jérôme Noetinger, Axel Dörner, Clare Cooper (Nevers).
From october 2001 to june 2009 he was engaged as a music program curator for Fragment (Metz, France).
In 2019, he started the record label Eich.
I started working with a Serge modular system in 2005. I was looking for an alternative of mixing board feedback, that I was using to generate sounds at that time. The versatily, the grain, the dynamic and the precision of the serge modules seduced me straight away. Their allow to go from subtle, detailed and organic sounds to very raw and powerful ones.
https://jeanphilippegross.com/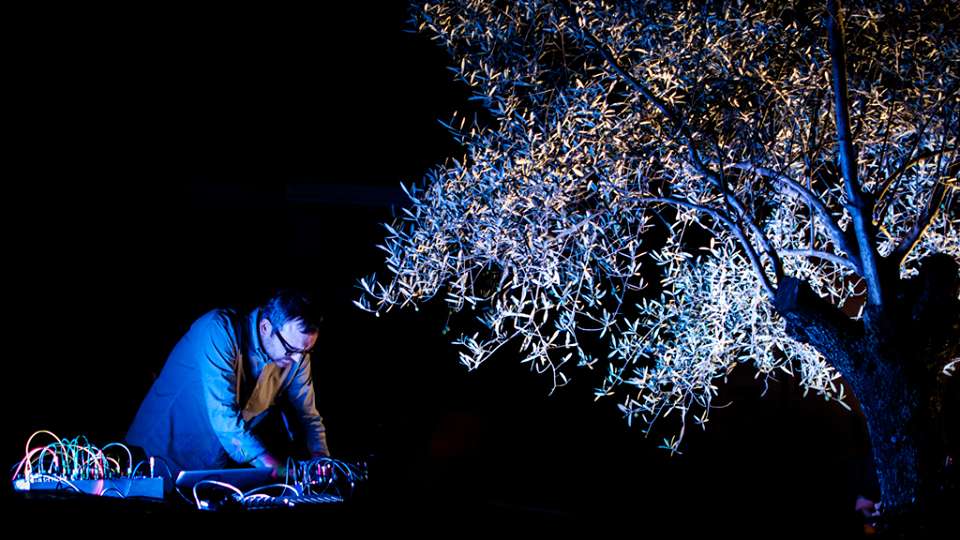 13. Julien Boudart – Some forms of life (04:14)
Julien Boudart has been performing and composing on electronic music instruments since the mid 90's. He made his first musical experiments on crude DIY circuits, a modded Radioshack toy organ and a pair of cassette decks. Since 1996, the Korg MS20 has long been his main instrument as a performer. Often improvising live with acoustic musicians. Aside his solo works, he is involved in a handful of regular bands, works for theater, radio and multimedia performances.
When I first played a Serge system in 2015, I fell immediately attracted by the peculiar conception of the modules and of the whole system. At the same time quite esoteric and very open to many uses and abuses. This is a very generous design, which naturally encourages to try adventurous combinations. I found this very stimulating and the instrument naturally took a central position in my music. "Some forms of life" is plain Serge.
14. Thomas Ankersmit – Skovsholm 0620 + Liegnitz 0920 (27:10)
Thomas Ankersmit is a musician based in Berlin, focussing on the Serge Modular synthesizer since 2006, both live and in the studio. His music is released on the Shelter Press, PAN, and Touch labels. Acoustic phenomena such as infrasound and otoacoustic emissions (sounds emanating from inside the head, generated by the ears themselves) play an important role in his work, as does a deliberate, creative misuse of the equipment.
I sought out the Serge at the recommendation of Maryanne Amacher in the early 2000s, and was invited to experiment with the "Black Serge" at CalArts in 2005 by Mark Trayle. That opportunity convinced me to get my own system. The Serge is, for me, the greatest analog synthesizer I can imagine. It's a cliché, but the more time I spend with the instrument, the more I'm convinced there's more to discover. It's very precise when you want it to be, but also capable of very severe sound mangling. I love the open design in which all the signal processing is available to any signal, and not just hardwired into the oscillators for example. I also love banana cables; to me they expand outwards from linear thinking (1st module > 2nd module > 3rd module), inviting a more complex web of signals instead. I tend to use Serge sounds only, no other synths or processing, but I do edit and layer my sounds usually. Having no keyboard skills, and coming more from a noise/free improv/musique concrète background, I never felt I needed a keyboard. To me all the dials and switches are the interface, in combination with some primitive patching interfaces I've built myself. It also lends itself well to traveling and playing live I think, the modules being so compact and versatile. If you pack them tight, four panels can fit into airplane cabin luggage size!
This piece is Serge only, recorded in Bornholm and Berlin, June and September 2020.
https://thomasankersmit.net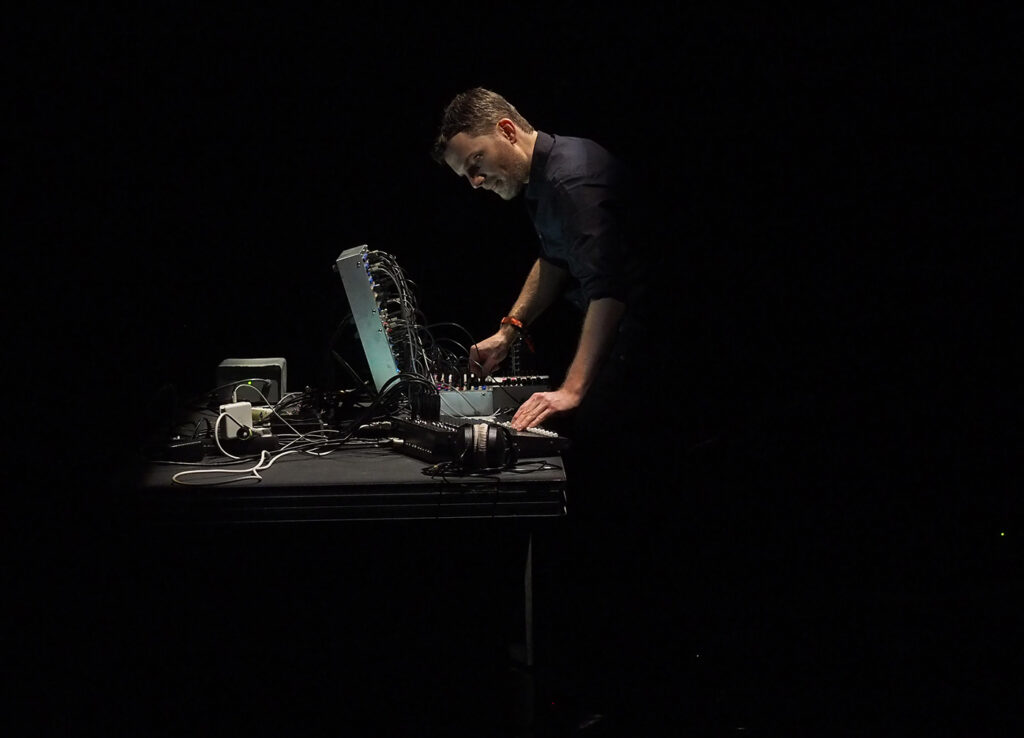 15. Yvan Etienne – Des métèores à venir (10:18)
Yvan Etienne develops a work that takes the form of sound installations, performances / concerts, video projections, lights and editions: « Music-things, that is to say protean and non-doctrinal forms, I am more an experimental artist than a musician and my approach is more sculptural / poetic than musical ». His compositions are designed as spaces, moments to experiment, generally related to contexts, climates induced by the specificities of the sites and / or the invested media. Using acoustic, electronic and phonographic instruments, his arrangements probe processes and states of perception…
After trying a few analog synthesizers like the EMS Synthi A or ARP 2600, I had access to a Serge system during a residency at EMS in Stockholm. A very intuitive synthesizer, with a strange logic, very "organic" and incredibly precise in sound, chiseled + offering great possibilities of processing any external signal meeting my expectations and that I'm not getting tired of discovering.
16. Mark Lentczner – Dark Matter (13:00)
Mark Lentczner is a composer and performer of electronic and computer music. He studied electronic music with composer Ivan Tcherepnin, and spent time at CCRMA and at Serge Modular in S.F. Mark's current music practice is focused on the interplay of rhythmic structures and timbres from electronics and field recordings. His work mixes developing and sharing open tools for electronic music, with the creation of musical works in live performances, both solo and in collaboration.
http://electric.kitchen/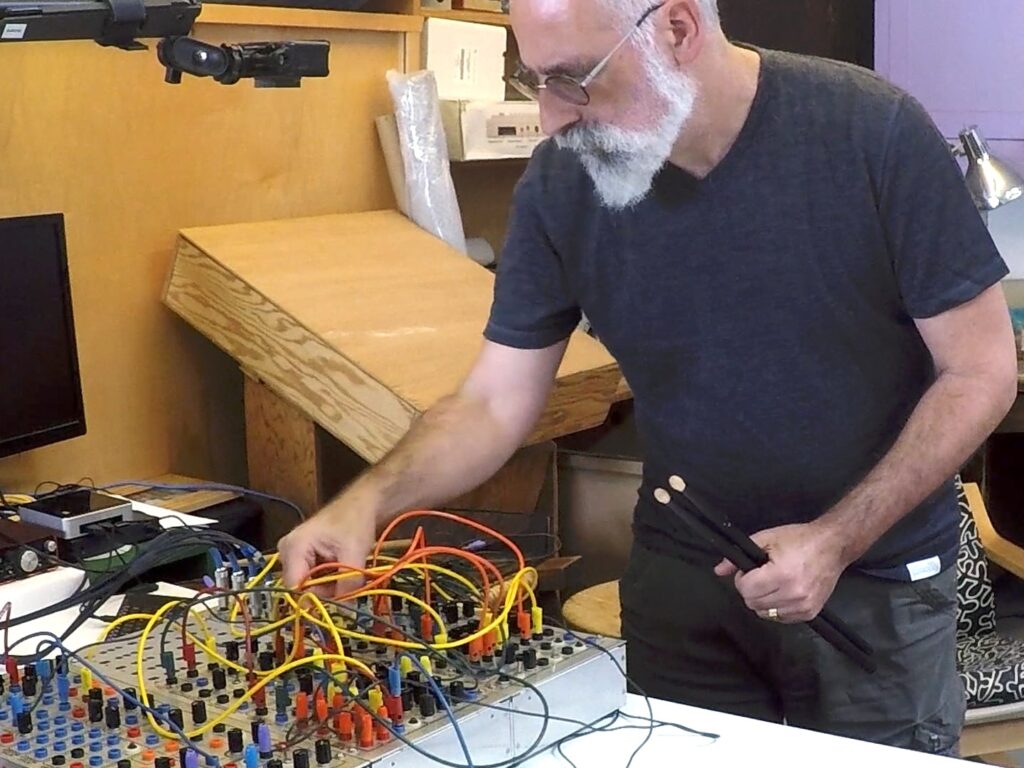 17. Eliad Wagner – stereo music for synthesizer and springs pt. 1 (05:34)
18. Eliad Wagner – stereo music for synthesizer and springs pt. 2 (06:50)
Eliad Wagner is a composer, performer, sound artist and lecturer. A classically trained musician, holding academic degrees in physics and music, his activities explore the meeting point of composition and improvisation while addressing a variety of ideas such as autonomous processes, extended scores, the vocabulary of electronic music and people's natural relationship with technology. In 2012 Wagner relocated to Berlin, where he quickly became an active member of the city's experimental music scene as a performer of live electronic music (playing the modular synthesizer). Since 2015, He is the head of the Electronic Music Production and Performance degree programme at the Catalyst Institute for Creative Arts and Technology in Berlin.
As a player of modular synthesizers I often design patches that will feel constructive and interesting to interact with. The patch needs to contain many points of self driven behavior to interact with and explore while also offering artefacts that are within my range of aesthetic taste. As a musician that works mostly with Eurorack format, I found Serge designs to be some of the best tools for achieving just that. While I have been familiar with Serge systems for about 15 years, it is only since 2 years that I've been using them in my own system, and find them exceptionally valuable tools for sound design, playability and movement. Stereo Music for Serge synthesizer and Springs explores feedback patches within a minimal system of serge modules (SSG, DUSG and TWS) and 2 spring reverb tanks.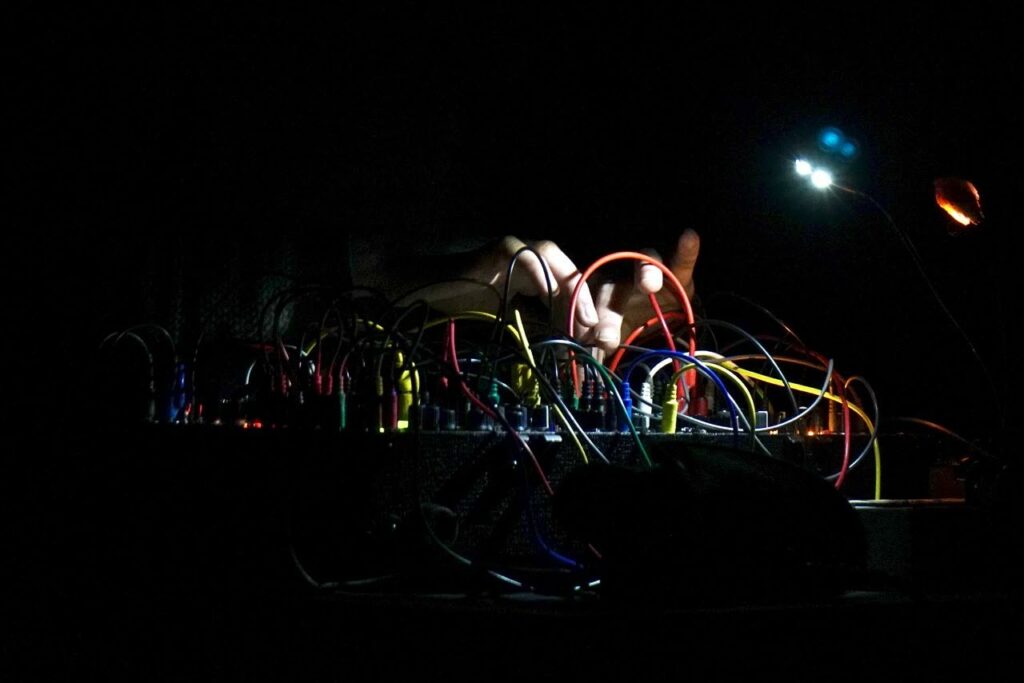 19. David Chesworth – Alternative Views (02:32)
With a background in post-punk and experimental music, David Chesworth creates large-scale sound and video artworks made with Sonia Leber that are featured in galleries and festivals including the Venice and Sydney Biennales. David's own performances include the Bang on a Can Marathon in New York, the Paris Autumn Festival & Ars Electronica.
David's Serge works date from his early student days when Warren Burt introduced him to the large paper face Serge that was once installed at LaTrobe University in Melbourne. It has only recently been restored and now resides at Melbourne Electronic Sound Studios (MESS). For David, the Serge is a compositional tool where simple elements can be patched to derive novel evolving structures that reveal the Serge's inhuman humour, pathos and logic.
www.leberandchesworth.com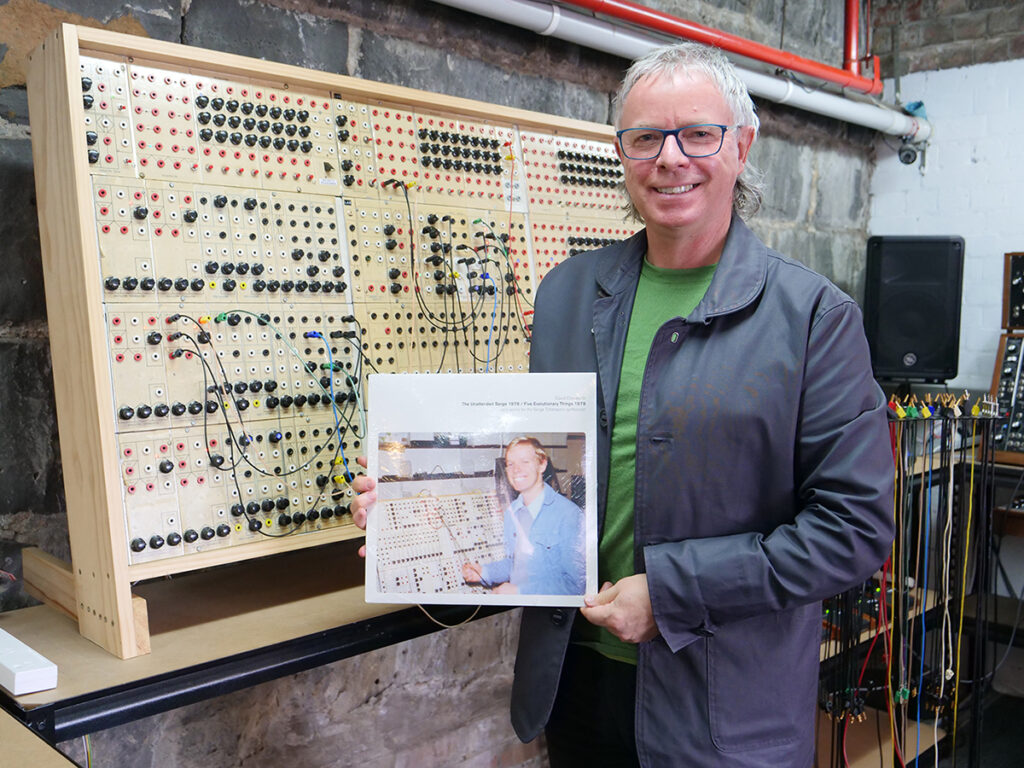 20. Doug Lynner – 24 to 1 (09:44)
Doug Lynner began his friendship with Serge Tcherepnin, and his association with the Serge Modular Music System, in the early 1970s at the California Institute of the Arts where he was a composition student.
He owns the first commercial Serge, the Mystery Serge, and was the company's demo artist in its early days.
Doug continues to contribute to the Serge world through free video tutorials and private instruction, and recording
regularly on the Mystery Serge and aiding in the development of the Elby Serge variant.
This piece, 24-to-1, explores a single octave of 24 equal semitones hand tuned on a sequencer. Three voices sample the semitone voltages to create the audible content and use their post-VCA outputs as cross-modulators. It is performed on the Elby 3u Serge.