Serge-O-Voxes /// voices for the Serge III
Serge-O-Voxes :: Voices For The Serge is bursting out as a companion to the second installment in our I.T.A.T.I.O.M. series dealing with Inventors Talking About Their Instruments Or Modules.
Gathering Serge Users willing to celebrate Serge Modular designs this collection was curated by Doug Lynner and I, Philippe Petit, under the guidance of Serge Tcherepnin.
Adopting such a title became obvious when Serge Tcherepnin told me:
Searching for names for my synth back in '72, "Serge-O-Vox" and "Tcherepnin Synthesizer" came up. Then, thanks to the way I funded purchasing the parts, panels, PCBs for the first 20 synth, we came up with the name "People's Synthesizer".
The serge was the first crowd-funded DIY synth. Anyone with $600 was able to obtain a kit.
In order to make your listening easier to digest I have chosen to divide « Serge-O-Voxes » into 4 sessions.
Here's the third one:
01. Ivan Tcherepnin – Santur (Live) (04:00)
The other day Serge Tcherepnin was telling me how surprised he was that very few composers be using Enveloppe Followers… A module which follows the loudness contour of a sound, and outputs a voltage that corresponds to how that loudness changes. As far as I am concerned, I send the sound of my Cymbalom or a piezo-amplified wooden tablet into my envelope follower, the output voltage jump to a level that corresponds to the loudness of the note and allow to play/control my Buchla 200 system. In the « Serge world » the best example of such use may be found listening to the wonderful « Santur Opera » from Ivan Tcherepnin. The Santur is a Persian hammered dulcimer whose timbres produced by hammers striking strings are innately orchestral. Ivan Tcherepnin explained that:
Each scale degree of the Santur sounds on four free-vibrating strings and the resultant tone has a glowing, evolving quality which lends itself to electronic processing such as filtering, phasing, digital delay, gating and various types of modulation
Having conceived the Opera as a solo work, the composer had to figure out a way to simultaneously play the Santur and control the electronics. Serge worked on a module allowing the strike of the hammer to send the signal to the system…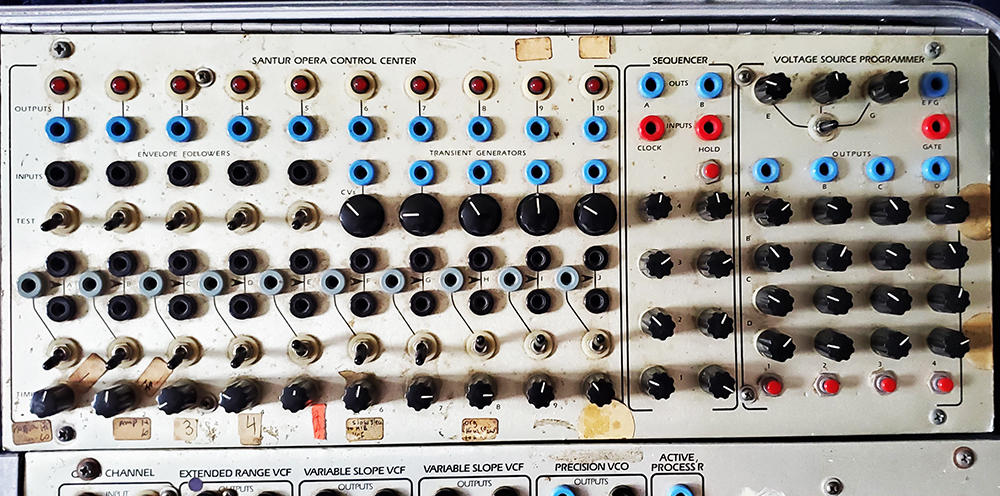 Ivan Tcherepnin was born in Paris, France on February 5, 1943. Grandson of composer-conductor Nikolai Tcherepnin, and son of the celebrated Alexander Tcherepnin and the noted pianist and pedagogue Ming Tcherepnin, Ivan won international recognition as a composer, as had his grandfather and father before him. In the 60s he entered the Harvard University to complete a degree in music, studying principally with Leon Kirchner. Like several other gifted composers of his generation, young Tcherepnin developed an expertise in electronic music media that at times reversed the pupil-teacher relationship. When Kirchner's unfinished opera Lily was scheduled by the New York City Opera, Tcherepnin's guidance and assistance in realizing the electronic and taped portions proved invaluable in bringing the piece to the stage. (It may be noted that his elder brother Serge had provided similar assistance to their father in the production of an electronic radio-drama score, and later developed the Serge synthesizer, which Ivan frequently used in his electronic pieces.)
Concurrently with his work at Harvard, Tcherepnin studied in Europe with Pierre Boulez and Karlheinz Stockhausen. After holding teaching positions at the San Francisco Conservatory of Music and Stanford University, Tcherepnin joined the music faculty of Harvard University in 1972, where he also served as Director of the Harvard Electronic Music Studio.
He composed strings, orchestras… For the Merce Cunningham Dance Company in New York, redrawing the too-often artificial boundaries between art and reality, he found a kindred spirit in John Cage, who became a close friend, and took a lively interest in Tcherepnin's music. When Cage gave Harvard's Norton Lectures he was Tcherepnin's house guest, and on their frequent mushrooming excursions together Cage shared his exhaustive knowledge of mycological lore. Contemplation of the Cageian mysteries of indeterminacy further widened the scope of Ivan's art.
In Tcherepnin's work literally dozens of musics—traditional and revolutionary, old and new, instrumental and electronic—co-exist and cross-pollinate. One of his primary artistic goals was to keep the ear-mind connection open and free of artificial constraints. He believed this connection was the most important avenue for communication and development available to humans. Reveling in the interaction between performance and composition, Ivan prized his mastery of Western technological instruments (the piano and synthesizer) while also delighting in such traditional "low tech" instruments as the psaltery and the Persian santur, and allowing the worlds to interpenetrate in a manner that sometimes obliterated the distinction between "live" and "electronic." This marriage of east and west, old and new informed his ambitious Santur Opera (1977), for santur, electronics, and projections, which was staged in 1981 by Peter Sellars at the Paris Festival d'Automne and won the Grand Prize of the 1982 Ars Electronica Festival in Linz. I feel proud to feature a selection of such seminal work and pay homage to a man who left far too soon, died in 1998. R.I.P.
http://www.tcherepnin.com/ivan/bio_ivan.htm
02. Sergei Tcherepnin – Q3 (01:21)
03. Sergei Tcherepnin – Q4 (02:00)
04. Sergei Tcherepnin – Q5 (01:13)
Sergei Tcherepnin is an artist operating at the intersections of sound, sculpture, photography and theater. Attaching synthesizers, computers and amplifiers to small surface transducers (devices that convert electrical signals into vibrations) he orchestrates complex multi-channel compositions in which objects are transformed into speakers. Recent performances and exhibitions have been held at the Museum of Modern Art Moscow, Len Lye Institute, New Plymouth, and Company Gallery, New York.
These three short pieces come from a longer series I composed in 2013 called "In Search of Queer Sound." For this series I first ripped a selection of podcasts from Savage Love, made by American sex advice columnist Dan Savage. In this podcast, (mostly queer) people call in for advice about sex. I listened many times to the questions, then replaced Dan Savage's responses with my own musical compositions on the Serge synth.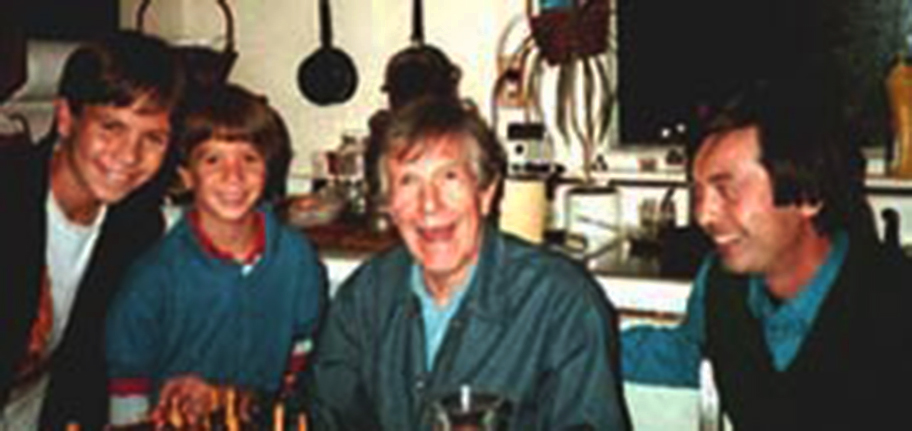 05. Stefan Tcherepnin – Existential Ghost Injection (14:14)
(selected from a longer performance & assembled by Philippe Petit)
Stefan Tcherepnin is a composer, improviser, musician and mixed media artist living and working in Kingston, NY and Stockholm, Sweden. He has held residencies at the Theremin Center, Moscow and EMS, Stockholm. He has had solo exhibitions at the Stedelijk Museum, Amsterdam; Kunsthalle Zürich, Switzerland; Galerie Francesca Pia, Zürich; Freedman Fitzpatrick, Los Angeles; Real Fine Arts, NYC. Upcoming exhibitions at Fitzpatrick Gallery, Paris (2021) and Le Consortium, Dijon (2021). Musically, he has collaborated with Sergei Tcherepnin, Ezra Buchla, Brian Chase, Lewis Wallace Blanchard III, Peter Evans, and others. He was a member of the microtonal, electro-acoustic folk cult rock band, The Gongs, alongside instrument builder Peter Blasser and composer Clara Latham. Currently, he plays guitar and Sonica (a portable instrument with electronics by Serge) in the NYC-based band Afuma (alongside musician and artist Taketo Shimada) and Stockholm-based duo, PSST (with drummer Paul Sigerhall). His critically acclaimed recording of the late composer and visionary Maryanne Amacher's Petra for Two Pianos (alongside pianist Marianne Schroeder) was released on Blank Forms Editions in 2019. He is a 2020 recipient of the IASPIS grant in Stockholm.
I grew up in a musical laboratory. My father, Ivan Tcherepnin, was a composer, musician, educator and electronic music pioneer. Some of my earliest memories involve strange and unidentifiable sounds emanating from my father's home studio. As a child, I would often sit in his studio with the lights turned out, surrounded by blinking LED's and electronic apparatuses producing layers upon layers of weird and extraordinary noises, and imagine that I was at the control panel of an interdimensional vessel. At the heart of this seemingly boundless console was a colossal serge modular system. Whenever I turned a knob on the serge, my ship would change course and end up in an entirely unknown sonic universe.
06. Alvin Curran – The Works (alternate edit) (14:29)
Alvin Curran is an American composer, performer, improviser, sound artist, and writer. A genuine pioneer who – in the mid 60s – was the co-founder, with Frederic Rzewski and Richard Teitelbaum, of Musica Elettronica Viva using Synthi AKS and Serge system from the early 70s. Curran's music often makes use of electronics and environmental found sounds. He was a professor of music at Mills College in California until 2006 and now teaches privately in Rome.
Since the early 1980's the main focus of my work was using sampled sounds and /or diskklavier, all the while, composing for voices, and acoustic instruments…the radio and natural sounds in situ… The Works is a solo composition for Piano, voice and Electronics (made entirely on the Serge in the 70s). A melody in infinite permutations and masses of regenerated Serge modular synth sequences become the foreground and the background of a musically which initially joins my voice in an impassioned dialogue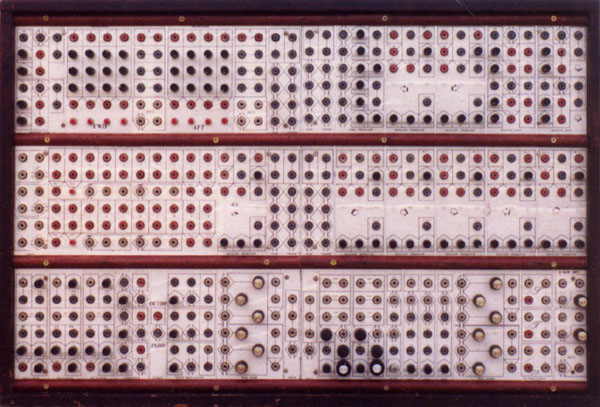 07. Earl Howard – Naked Charm (17:36)
Earl Howard has been performing his compositions in the United States and Europe for over fifty years. His recent compositions include music for live electronics, electronic tape music as well as music for electronics and instruments. Earl Howard's method of creating orchestrated sounds with electronics and adding live, improvisational performance creates a unique, densely layered composition.
Naked Charm is a live recorded in StJohn the Divine Cathedral in NY that was commissioned in 1985 by Sound Foundation for the Airworks radio series and never published before.
Produced by Ray Gallon and Brian Flahive. Executive producer, Julia Lee Prospero.
https://www.earlhowardmusic.com
08. Liz Phillips: In Relative Fields (Feat. Joseph Kress on Trumpet) (07:28)
Combining audio and visual forms with new technologies to create an interactive experience Liz Phillips has been making multi-media installations for the past 50 years, and has exhibited at numerous art museums, alternative spaces, festivals, and public spaces. Phillips has also collaborated with the Merce Cunningham Dance Company and Nam June Paik, Simone Forti, Alison Knowles, Yoshimasa Wada, Heidi Howard, Earl Howard, Cynthia Koppe and Nitin Mukul…
I first met Serge at Cal Arts, the first year in Burbank California, 1970. He was building his prototype synthesizer in a. trailer. Nam June Paik and Allan Kaprow had invited me out for my work term from Bennington College. I was one of many artists in residence. I lived in a house in Hollywood with Alison Knowles, Peter Van Riper, Simone Forti, Shuya Abe and Serge. I was 19, a sculpture student. I came with my capacitance field to voltage circuits and hoped to work them with an analog synthesizer there. That is when Serge and I began working together. He built many special circuits for my interactive sound work and we continued to work together well into the 1980's. I bought many of Serge's wonderful synthesizer modules to make open systems that each ran at an installation for months! This last one ran from 2018-2020 at the Queens Museum. It also used four seasons, hours of recordings on six cards into separate systems and two light sensors mounted on eye spectacles mounted on the wall. In this atrium the sun changed the voice, character and location of binaural recordings of bees and birds spinning thru the speakers located in the atrium.
Notes on this work:
Trumpet Improvisation by Joseph Kress, "In Relative Fields", Queens Museum, NYC on February 11, 2020. A light sensitive Installation by Heidi Howard and Liz Phillips 100 foot-long by 24-foot-high wall painting by Heidi Howard with 22 channels of sound through objects; chairs, ceramic, bamboo and wood.
Joseph Kress is a multi-instrumentalist, improviser, composer, and engineer from New York City. He is the bandleader of Augustine's Velo Club and the founder of Sandbox Fight Records.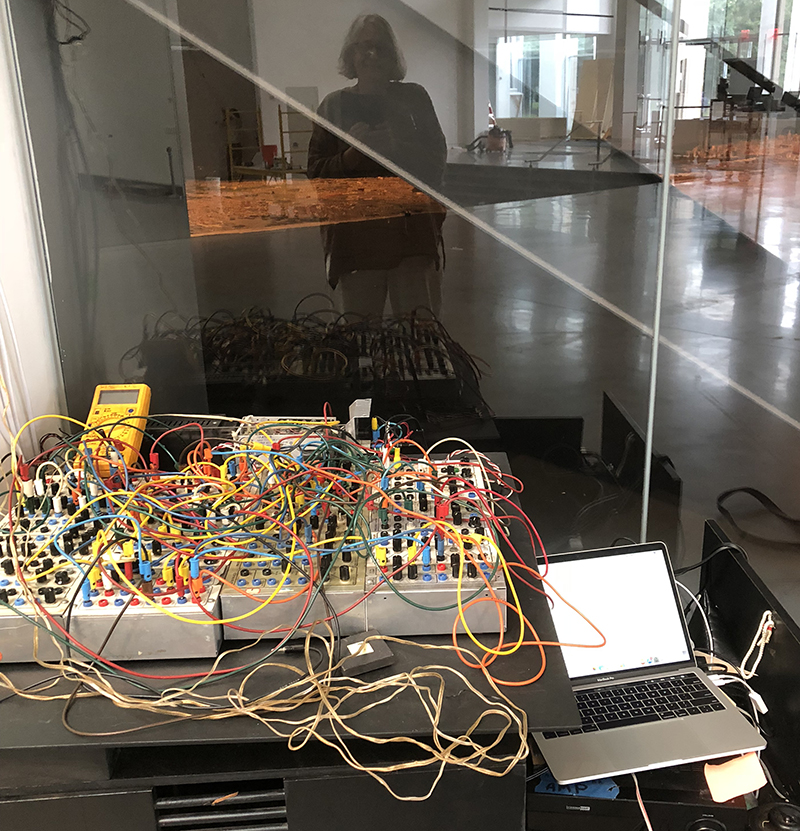 09. Ed Herrmann – The Case Against Reason (12:00)
Ed Herrmann studied music composition and electronic music with Thomas McKenney at the University of Missouri, where he learned analog synthesis on an EMS synthi and Emu modular. Later, a three panel Serge system became his primary instrument; much later adding eurorack, Moog, and acoustic instruments. Equally at home with free improvisation, analog electronics, and invented instruments, Ed Herrmann has performed throughout the US and in Berlin and Zagreb. He has composed music for dance, theater, and broadcast; created site specific sound installations; produced and hosted radio, podcasts, and audio tours.
In college I became fascinated with the possibilities of analog modular synthesis. Chaos theory was popular at the time, and I thought of modular patches as chaotic systems, based on waves interacting with waves, in which the smallest change could produce large consequences. The Serge system, with nearly every module able to send and receive control voltages, is perfect for this approach. I don't remember how I heard about Serge, but in 1983 I wrote to him on Haight Street in San Francisco. He sent me a catalog of modules and over the course of our correspondence we came up with a three panel system that became my main instrument for the next 30 years. The first piece I made was a sinister bass line that was the theme for a radio production of Orwell's 1984.
I love the spontaneity and non-repeatability of the Serge in live performances. I sometimes recorded, but almost never took notes on patches, instead preferring to immerse myself in the moment, trying to understand everything that is happening in a patch and remembering it. Someone once asked why I never used delays or reverb or other signal processing. I said, "The Serge doesn't need external signal processing. The Serge is signal processing.
10. Rastko Lazic – Mae Hong Son Dream (07:00)
Rastko Lazić started being active in the electronic music scene in 2000, discovering modular systems and ultimately the Serge. The flexibility of the instrument and its sound won him over, discovering new paths every time he plays with it.
It is his main instrument for live performances and improvisations, easy to patch and fast + its incredible multi functionality of the elements makes it essential.
https://rastko.bandcamp.com/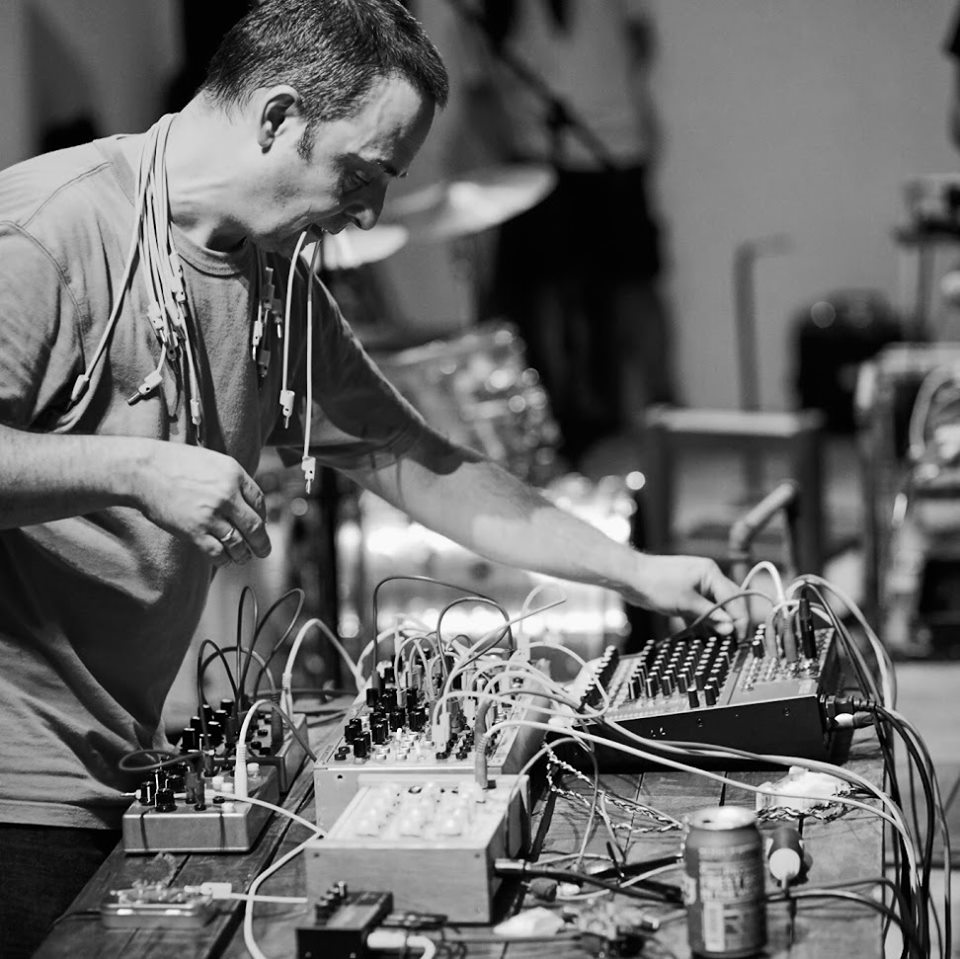 11. Robin Fox – Dream Sequence for Serge Resonant Filter (12:06)
Robin Fox holds a PhD in composition from Monash University and an MA in musicology. The latter documents the history of experimental music in Melbourne 1975-1979. He is an internationally recognised audio-visual artist working across live performance, exhibitions, public art and composition for contemporary dance. His laser works, which synchronize sound & visual electricity in hyper-amplified 3D space have been performed in over 60 cities worldwide. In 2016 he became the founding director of MESS (Melbourne Electronic Sound Studio) a not for profit organisation dedicated to giving everyone access to the entire history of electronic musical instruments, hosting a massive vintage Serge system on which our track was recorded.
https://robinfox.com.au/
12. Michael White – Fanfare (04:51)
Michael White is a Canadian musician and composer. As a trumpet player he has been active in avant-garde concert music, jazz and rock. As a composer he's been writing and producing music scores for national Radio, Netflix series, a number of documentaries and the feature "Hevn" by up-coming Norwegian director Kjersti Steinsbø.
Michael White's attraction to modular synthesis began when his work as a session trumpet player expanded into film. His use of live electronics with trumpet was becoming more of a focus of his musical identity and somehow felt a modular was the next step. In the early 2000's ordering a Modcan A series and then a STS Serge system from his buddy Rex Probe.
He never looked back!
https://www.imdb.com/name/nm1821610/?ref_=fn_al_nm_1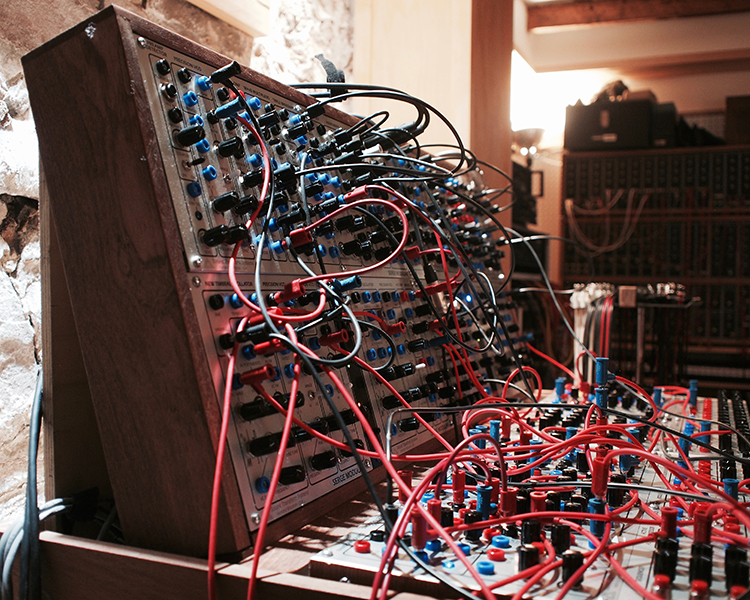 13. Onyx Zones – Poly Serge (06:30)
Alexander Green aka 'Onyx Zones' started writing and releasing music in the late 90's.He has had recognition/success within electronic music under the names Instra:mental and Boddika. Over the past 6 years his interest in analogue modular synthesis has grown into obsession. At this moment in time, he is writing music using Serge and Cwejman modular systems.
I've used many different synths throughout my career. When I got into modular I realised how much more there is to sound. Ive become especially obsessed with the sound of Serge,and hope to continue growing my system. The tone of the Serge System really hit me, I love it. This particular piece Ive written called 'Poly Serge', is the sound of four NTO's.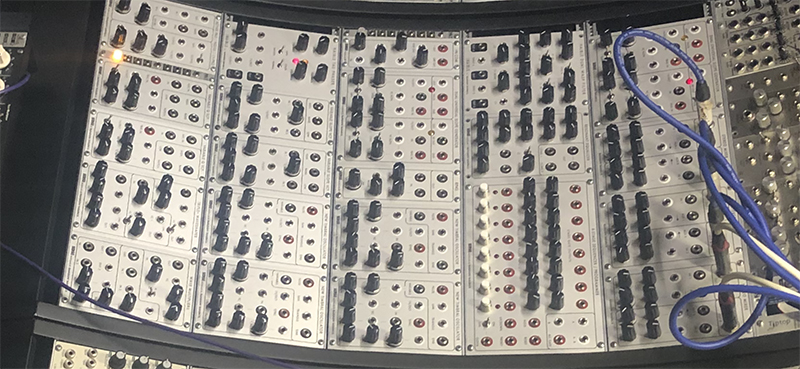 14. Esqueleto – Nostromo (10:33)
Esqueleto is the moniker chosen by Ottavio Berbakow who lives in Santiago de Chile, runs EMA Records.
In 2008, he finally managed to purchase – from STS's Rex Probe – a Creature module and a Quadslope module, and more recently a R*S Res Eq module.
My interaction with this synth has always been exploratory, i've managed to quite mastered it and master its functions, but it still suprises me a lot, specially when we get to feedback patching territory. Quality is outstanding, as well as its headroom even with high output gains. It is my intention to further expand this synth, with more modules and functions, when possible. The use for the serge usually in my tracks is to provide sound fx, percussion and processing. For this track, i wanted to show a different perspective on the instrument and change the sound generation approach, with the Quadslope as a pad generator, by tuning each one of the USG in different notes, to create chords, and sequence them using the volt/oct input. I found out that the pads generated are a little buzzy and mellow, but completely warm, so i managed to create shifting sequences with them, and process them on the Res eq before going to the mixer and the Antelope Interface. On the DAW, i used some verbs and some eqs and created an evolving pad atmosphere along with some very subtle percussion, created on the Creature.
15. Matthias Herrmann – Repetition (04:10)
Having a classic music education Matthias Herrmann came to electronic music when seeing Laurie Anderson's first public appearance in German TV in the mid 80ies. Fascinated by her out-of-the-box-approach he bought his first synthesizer and never stopped creating music since then. But it was not until 2005 that he was able to buy his first synthesizer modules from Doepfer. Very soon he started to build his own modules and to sell PCBs for those interested in DIY. It was then when Ralf Hoffman invited him to collaborate and make the Serge modular synthesizer more easily available that Random*Source was born, and today Matthias works together with Ralf Hoffmann and Serge Tcherepnin himself to bring back this iconic and unique synthesizer in an improved and more contemporary form.
16. Warren Burt – 4 Voice Just Intonation Canon, Aug 7 / 78 (06:31)
Warren Burt went to the State University of New York at Albany, and the University of California, San Diego before moving to Australia and setting up the electronic music studios at La Trobe University and helping found the Clifton Hill Community Music Centre. 20 years of freelance work followed, followed by a return to academia in the early 2000s. He's been involved with the development of new electronic music systems since the late 60s. Currently he's coordinating the Master's Degree programs at Box Hill Institute, Melbourne as well as composing and putting material on his website:
www.warrenburt.com
4 Voice Just Intonation Canon" was made in August 1978 at home with my homemade synthesizers Aardvarks IV, Aardvarks VII and my Serge System. This was one of the first outings of Aardvarks VII, which was a box of frequency dividers/counters, gates and unity gain mixers. These were patched in various sequences that would divide a very high oscillator, producing sequences of subharmonically related tones. If one sequence was used to drive a second sequence, then the results could be quite complex semi-repeating sequences of selected subharmonic tones down to the 81st subharmonic. If several sequences like this were set up, each in a slightly different tempo, the result would be a canon in just intonation. This was set in motion, and then mixed in real time, making this piece.
This idea was then later expanded upon to make the main patches in Aardvarks VII: Le Grand Ni.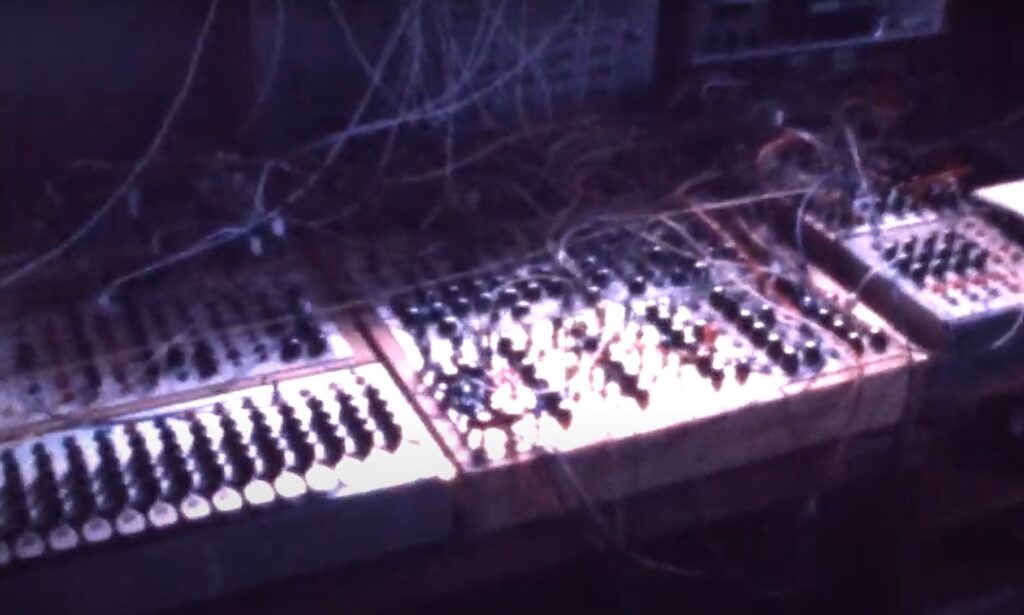 17. R. Luke DuBois – August 13, 2020. Brooklyn, NY. (29:12)
R. Luke DuBois is a composer, artist, and performer who explores the temporal, verbal, and visual structures of cultural and personal ephemera.
DuBois has lived for the last twenty-seven years in New York City. An active visual and musical collaborator, DuBois is the co-author of Jitter, a software suite for the real-time manipulation of matrix data developed by San Francisco-based software company Cycling'74. He appears on nearly twenty-five albums both individually and as part of the avant-garde electronic group The Freight Elevator Quartet. He is the co-director of the program in Integrated Digital Media at the NYU Tandon School of Engineering, and is on the Board of Directors of the ISSUE Project Room and Eyebeam.
His records are available on Caipirinha/Sire, Liquid Sky, C74, and Cantaloupe Music. His artwork is represented by bitforms gallery in New York City.
I started working on Serge (and Buchla) synthesizers while a student at the Electronic Music Center at Columbia University in 1993, and worked on restoring and integrating them into computer-controlled systems as the center transformed into a facility for computer music research in 1995. From 1996 – 2003 I recorded and toured regularly with the Columbia Serge synthesizers while performing in the Freight Elevator Quartet.
Two years ago, I began collaborating with Patch Point in Berlin to build a "something old, something new" analog studio at NYU Tandon, where I serve as research director of the IDM program. We have a lab which teaches engineering and design students about the beauty of working with sound.
One of the things I always loved about the Serge system was Tcherepnin's avoidance of boxed-in, normative musical vocabulary and his adherence in module design to the idea that the circuits should speak for themselves. This frees the composer / performer to choose from an infinite palette of possibilities for how to interconnect any set of modules.
There is no "wrong answer" with Serge systems… if it lets you express your musical ideas with the sounds you want, you're using the system correctly.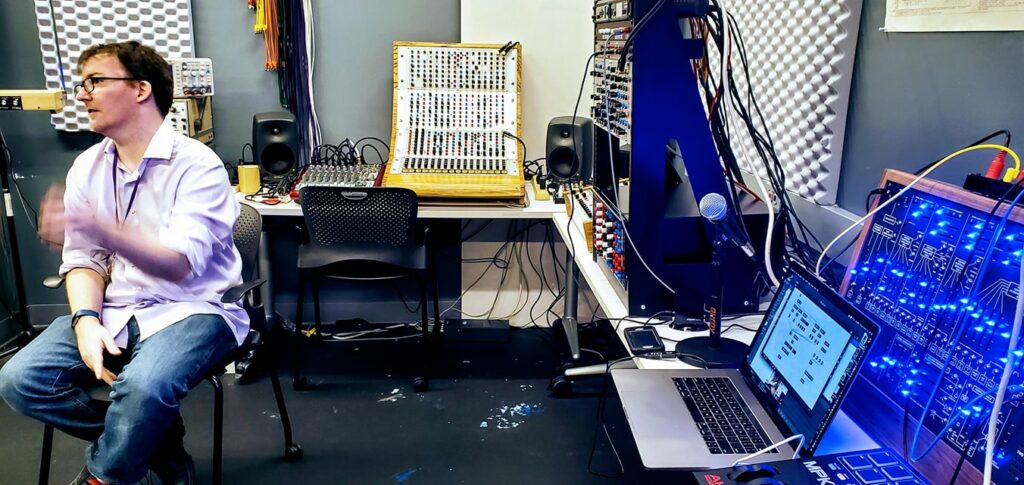 18. PRFRK – Among Us (04:15)
PRFRK (aka Yan Proefrock) likes to think outside the box. Video director and editor specialised on live music shows for the french television he learned classical piano quite young and discovered modular synthesiser in 2016 and became totally addicted to it…
I made this piece by layering several sources of my Euro Serge System : 2 x pinged VCFQ & 3 FMing NTO's into Res EQ with a Buchla 100 Enveloppe and LPG addition, an analog Delay from Pittsburgh Modular and a bit of digital Reverb. These modular voices meeting up with some concrete prepaired piano material which I had played and recorded into a Make Noise Morphagene. Having in mind a lot of creatures and characters interacting and chatting with each other in a weird growling symphony, creeping into our human and concrete everyday life.
This was played and recorded live, layer by layer, DAWless and without any editing on BLACKBOX & BLUEBOX by 1010 Music. 
19. Ze-Ka: Murmures (03:20)
Ze-Ka is Jean-Philippe Feiss.
A french musician, who plays cello and electronics. He plays in Sibiel, and is the main composer of this band. He did several projects involving video, dance and visuel arts. Besides that, he plays with famous french jazzmen like Emmanuel Bex, or Louis Sclavis. He also wrote music for several short films, and he works since 2016 with the israelian artist Sigalit Landau.
20. Kevin Braheny Fortune – Changeling (10:12)
Kevin Braheny Fortune is a Grammy-winning musician, Space Music pioneer, multi-instrumentalist, recording engineer, and composer.
Changeling » is an all-Serge piece performed live on the Mighty Serge. There are no overdubs, samples, other instruments, or outside processing. I did add some reverb but all other processing is Serge. I used the EWI that I built with Nyle Steiner as a controller-only for the Serge. This was recorded live in my studio.
I met Serge in '75. I was working with Malcolm Cecil as part of TONTO's Expanding Headband. Rex Probe introduced Serge Tcherepnin to Malcolm who was looking for an oscillator that would track well and stay in tune. Those didn't really exist on Moog or ARP synths at the time. I prototyped it for Serge and continued to proto and build things for Serge after that. I built my first 3-panel Serge in '76, enough to get an idea of what I wanted to do. I built the "Mighty Serge" in 1977. I've used it on nearly all my recordings in some fashion. The things I innovated and modified on my instrument wound up being standard features on the newer systems after that. I've continued to hold the flame for Serge synthesizers over the years by restoring and modifying these systems.
www.kevinbrahenyfortune.com/serge-restoration