Richard Scott has been one of the most active synthesist who helped initiate two editions of the Sines & Squares festival at Manchester University which focussed on modular and analogue synthesis and he also helped found several concert series in Berlin: Basic Electricity, AUXXX, Klangkeller and Sound Anatomy.
It all started back in the 80s when he played a synthesiser and sang in little post punk bands, then spent 15 years playing saxophone before deciding that real instruments aren't quite his thing « or at least that I didn't feel I had enough conviction to bring to them to scratch the creative itch I wanted to scratch. I was introduced to free improvisation in the 1980s by John Stevens, studied saxophone with Elton Dean and Steve Lacy, and later electroacoustic composition with David Berezan and Ricardo Climent. After exploring midi and controllers, including the Buchla Thunder and an instrument of my own devising, The WiGI, based upon a heavily hacked Buchla Lighting, I eventually returned to analogue synthesis. Now I divide my time between solo electronic composition and performing, normally improvising in groups with mostly acoustic instrumentalists -including Axel Dörner, Jon Rose, Audrey Chen, Clive Bell, Kazuhisa Uchihashi, Michael Vorfeld, Shelley Hirsch, Frank Gratkowski and the Lightning Ensemble – For the last few years I have been heavily focussed on the limitless possibilities of analogue modular synthesis – and now also running a Master's degree in Berlin. »
He has released a lot of albums, for example with Grutronic and Evan Parker for PSI records, a solo double LP, Several Circles, and an album with Twinkle3 and Sidsel Endresen. It is very important for him to document his work and he operates his own Sound Anatomy web-label imprint :
How were you first acquainted to Modular Synthesis?
I managed to buy a Korg MS20 when I was a teenager which had a patch-bay and which I kept as my only synthesiser for many years. But I never really understood the potential of patchable synthesis in any depth in those days. Much later I bought a Clavia Nord Micromodular and joined the Nord Modular mailing list – which at that time was an extraordinary resource full of much cleverer people than me. That is really when I started to learn, but to be honest even then I was not very fast.
When did that happen? When did you buy your first system?
I bought the Korg in 1980, and the Nord 20 years later. Shortly after I then picked up a DIY Analogue Systems/Analogue Solutions with a dodgy power supply which was for sale ridiculously cheap – this was a few years before the modular scene started reviving in the rather unexpected way that it has. But again I was reaching out in the dark mostly – I hadn't played or even seen a true analogue modular synthesiser before and so I had no real idea what I had or what to do with it. At the time I thought it was all a bit crappy and unstable to be honest, but that later turned out to be due the unsuitable DIY power supply, but also due to me not really knowing what I was trying to do. I eventually added a new power supply and got hold of all the Plan B modules and Cwejman modules I could find, some of which also turned out to be quite problematic, but some of which I still like and use.
I became aware of Rob Hordijk's work and must be one of the first to have bought a Blippoo Box from him, closely followed by a Benjolin. He seemed to apply a way of thinking to analogue that was closely related to the Nord Modular (which he also helped develop) and which still makes a lot of sense to me. Without Rob's influence and knowledge I am not sure I would have stayed in analogue at all because I was quite pissed off with it all at that point. After a couple of years my system got too big and uncoordinated and I started to actually dislike it so I got rid of most of the euro-rack and went with Rob's stuff, Serge and Bugbrand for a while. And if Rob's stuff showed me the potential, it was the Serge that finally taught me the basics about synthesis. The Synthi A came only a couple of years ago, one if the last handful of Synthis to be made by Robin Wood in Cornwall. I waited eight years on the EMS list for it but it was rather a nice surprise in the end because to be honest I barely remembered putting myself on the list. Luckily, after eight years I still had the same email address, if that had changed Robin probably wouldn't have been able to recontact me and I wouldn't have this remarkable instrument today.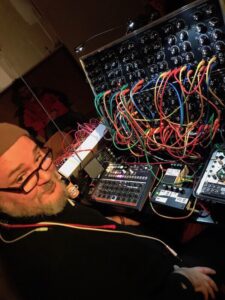 What was the effect of that discovery on your compositional process?
On your existence?
Huge. Between these different systems and frustrations I realised at some point that I had actually "found my instrument" and was my way at last and I without any real regrets I eventually gave up performing with controllers and sold my entire midi studio and saxophones. I could not know it at the time, but it turns out these other instruments were just stepping stones to get to where I am now. Playing in bands and my study of the saxophone gave me a strong basis in playing music and in improvising but it didn't quite give me the freedom to explore sound that I was looking for, and working with a computer definitely doesn't either. My entire creative flow as both a composer and improviser is now very much based around various applications and contexts of these modular instruments.
Quite often modularists are in need for more, their hunger for new modules is never satisfied? How do you explain that?
Buying stuff is of course addictive and some people also like to build their own little private world in a room, like a toy train set or a teapot collection or a recording studio. I am not innocent of that either but I am keen to stress that for me making music is a completely separate question from that desire to collect gear or to build a modular as a hobby. But it is not as simple as just saying "I am an artist and the gear doesn't matter at all". Firstly no musicians believes that and with a modular especially because you do have to build your instrument in a way that a saxophonist doesn't – and it is hard to do that without a certain level of knowledge and obsession. In my case, talking to people about gear, researching modules on the internet and buying stuff that I didn't know whether or not I needed were all important parts of this process. But that is mostly in the past now, I have other things to think about.
But it is not just addiction: sometimes the desire to collect is based on a "real" need; there is a certain minimum amount of functionality you need for a modular to feel productive in the beginning. And I can attest that the myth that finding the exact right "missing" module with the exact right functions that can open things on both a system and compositional level can in fact be true – but this is maybe more about understanding what functions you need than gear lust. And these "magic" functions may not be the same for me as they are for you. Then later you get more clued in and begin to refine what you personally need, which may have little to do with what you want to buy, and may have nothing at all to do with that desire to collect. It took me a long time to understand what I wanted from all this – as it does for almost everyone and that is why I went through at least 6 or 7 different setups before finding my way. So when I hear people talking crap about modulars, which they do all the time, I try to be a little bit patient as I can remember quite clearly that I was talking similar crap only a few years ago. It is a field in which anyone who is serious about getting somewhere artistically is simply bound to have some miscomprehensions and make some mistakes. It is inevitable because there is no manual or guidebook; we are pioneers, even the people who invent this stuff don't necessarily know what it is musically for.
Would you please describe the system you used to create the music for us?
The main instruments I use are Hordijk Modular, some Hordijk Blippoo boxes, EMS Synthi A, Oberheim Matrix A and a bunch of different eurorack stuff, although most of what I use regularly on stage fits in a small two and half row suitcase. I also have small Serge, which used to be much larger. I learned more from the Serge than from any other system so I have kept an STS Creature and Quad Slope more or less for old times' sake – and also as a kind of mark of respect. In truth I hardly ever use them these days so they will probably go one day, probably when I decide to expand my Hordijk.
Some comments on the pieces:
Syncro 1 and 2 are raw improvisations created via "played" self-generative patterning on the Hordijk Modular. No sequencer is used. I hear these as two slightly crazy little dances, which connect in my ear to my love for King Sunny Ade, James Brown, Lee "Scratch" Perry and Ornette Coleman: four artists so essential to my musical imagination that I can hardly imagine my musical life without having heard them. If I thought of these as compositions I would no doubt edit the hell out of them, but as it is they are presented here as immediate performances, warts and all, that level of refinement doesn't seem necessary.
Very different in mood and method are Unsync 1 and 2 which are examples of what I call "laminate" compositions. I think of them as both as free improvisations and as compositions. The process is this: I improvise a layer, then without listening back or monitoring what I just recorded I record another layer and then another, working only from my memory and perhaps a dim sense of what I just played. I find this process tunes the concentration nicely – playing as part of an orchestra that I am remembering or imagining but not actually hearing. I don't think of these layers so much as three improvisations as one improvisation extended in time and in a special kind of compositional dialogue with itself. Such an approach is deeply serendipitous and might be expected to create a lot of crap, and indeed sometimes it does. But I find great freedom, new concepts of groove and new musical ideas in this way of working and in these kinds of pieces; and also a surprising and quite convincing sense of organic form. In fact I find I sometimes prefer them to pieces I spend months editing and agonising over. These pieces have a little volume automaton at some points (modulars can be unruly) but otherwise they are exactly as I played them. The instruments used are my gigging eurorack suitcase (which is basically Buchla/Serge/Plan B/Hordijk in orientation) plus a Hordijk Blippoo box and an EMS Synthi A; which in these pieces are patched together forming a single, and just about playable multi-layered noise factory.
The middle piece Glen Orchy is named after a Highland glen spanning Argyll and Bute in Scotland or more pointedly, a perfectly drinkable Scotch whisky from Lidl. The piece is in several senses something-between and it reflects an approach I often take both in electroacoustic composition and in solo concerts. Again this is something between composition and improvisation as I am here improvising (on the EMS Synthi A and an Oberheim Matrix) alongside a composed pre-recording including recordings derived from short wave radio and Max MSP-processed acoustic percussion. It is extracted from a longer piece and as a composition I might well one day define it more precisely. But as it stands it suits the less formal intention of this collection and I think it is an intriguing enough sound-world to live in for a few minutes.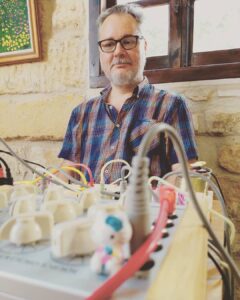 Are you feeling close to some other contemporary Modularists?
Which ones?
Which pioneers in Modularism influenced you and why?
It is hard to avoid the impact of Morton Subotnick; his work was decades ahead of its time. I do really like a lot of early electronic music too, like Todd Dockstader and Jan Boerman, Bernard Parmegiani, François Bayle, Éliane Radigue and Beatriz Ferreyra – but most of that is not modular really. For me pre-1983 Cabaret Voltaire and Lee Scratch Perry were the biggest influences, followed by Ornette Coleman and then by English free improvising musicians such as Evan Parker, John Stevens, Paul Rutherford, Maggie Nicols and Derek Bailey. Sonically what a lot of acoustic musicians who are influenced by electronics, can is more interesting than electronics itself. That embrace between the acoustic and electronic thing is still a very potent and interesting thing.
This is the first moment when more than a handful of people really get to work with these tools and so I think most of the musical history has yet to be written. It is early days for many people playing modulars, and it is easy enough to hear that. I am curious to see where we will be in ten years' time and what that will mean musically. I think I am responding very much to the instruments themselves rather than to the history or what other people did with them. That was in fact one reason to leave the saxophone behind – that weight of history. The modular synthesiser seems almost innocent and free of history by comparison.
I have a lot of friends who play modulars and other electronics. I occasionally play duets, for example, with Thomas Lehn, Eliad Wagner, Cao Thanh Lan, Gino Robair, Richard Barrett, Joker Nies, Marta Zapparolli and Rastko Lazic. These are always great and intense learning experiences. I also learnt a lot from talking to Navs, with whom I ran the Basic Electricity series – who is a great patcher and a font of knowledge. I also learned a huge amount from Rob Hordijk. Rob is a goldmine of information about all forms of synthesis, has a deep love of science and is a highly original designer.
Any advice you could share for those willing to start or develop their "Modulisme" ?
The instrument is still young, most players are still finding their way and there is no set path to do that. You have to make you own path and what you want to get out of it is all very personal. One misconception is that a modular is an instrument. But it isn't really, unless you patch it to be one, and so there is really no such thing as "a system" and definitely not a "complete" system. It is all just a collection of electronic functions which can be as musically or unmusically useful as you like. The gear is just a container for these functions. I think of it is a tool for composition and improvisation, rather than an instrument. My real advice is to try to learn what these functions have to teach you. Learning patching is necessary but in the end it is just learning a language, that doesn't mean you have something to say. Being capable of having a conversation together is far more interesting than you or I thinking we have something to say. Well, then what does the machine itself have to say? Most importantly; keep listening. The real skill and artistry is all in the listening but when you are sitting there in front of an audience staring at 100 patch cables wondering what the hell is going on, remembering to listen isn't always the easiest thing to do.