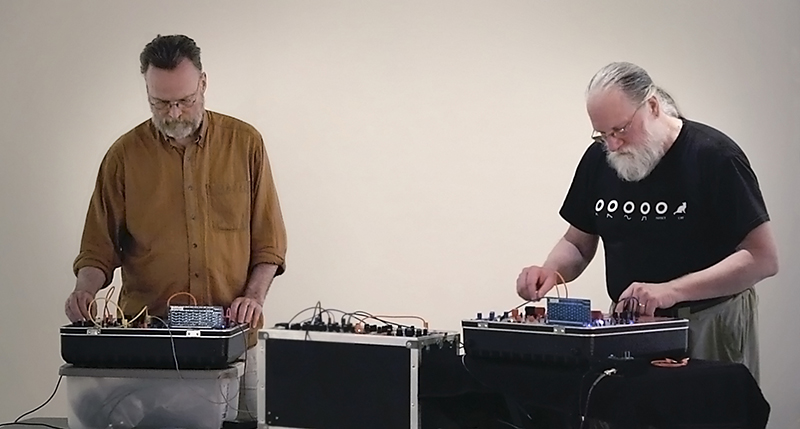 I wanted to foster a collaborative attitude by implementing Reciprocess : a series featuring the work(s) of two or more sound-designers and documenting the process of musical reciprocality between them.
Control Voltage Therapy is a collaboration between Todd Barton & Bruce Bayard
"Music for Easels" was recorded on 7/3/20
Bruce and I began exploring Easels together about 8 years ago. We eventually did a lot of quadraphonic performances for years at the local art museum.
Most Saturdays we would jam at my studio with our Easels.  
Eventually we began to fondly refer to these sessions as Control Voltage Therapy since we always felt better and ready for the day after an hour or two of these sonic dialog/listening sessions. It eventually became our group name.
When we had to sequester in place beginning in early March, 2020 we began to look for ways to continue our Saturday sessions remotely and discovered the SoundJack software which let us jam in real time.
We could hear and respond to each other with remarkably minimal latency. 
Additionally, we each recorded our individual performance to our computers then shared these files, lined them up in a DAW and rendered our "live" performance as you will hear.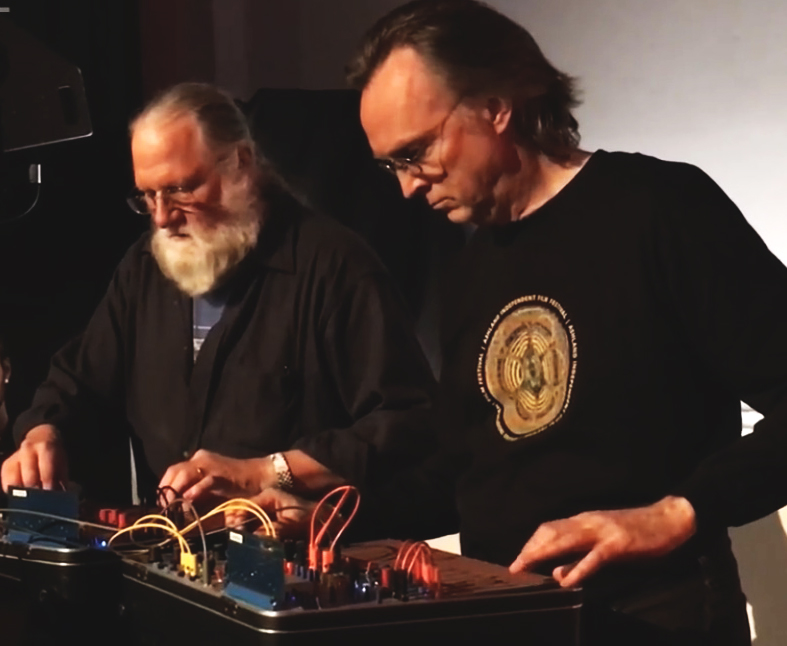 Todd Barton is obsessed with sound…
Continually exploring new sonic universes and sharing his discoveries from the worlds of analog modular instruments: especially Buchla, Serge and Hordijk.
After decades composing music for theater, radio, orchestras, string quartets and film he has devoted the past eight years to sculpting electrons with solo performances on the Buchla Music Easel both here in the States and throughout Europe.
He also teaches, guides and consults through his Skype/FaceTime/Zoom tutoring.
His recent solo album « Multum In Parvo » was released by Blue Tapes + his studio album « Spaces » was released by Flag Day Recordings.
He's also been a featured artist throughout Modulisme and enjoyed a recent rerelease CD with Curtis Roads.
Follow the sound… Feel the electrons… Listen !  
Bruce Bayard approaches sound as a visual artist, creating video and image sequences with electronic soundtracks. His background is in painting, and in 2000 he began creating art primarily on the computer.
In addition to presenting exhibits of digital image composites in galleries and museums throughout the Pacific Coast, he has more recently produced multimedia events in Ashland, Oregon with Todd Barton and other musicians, vj's, poets, vocalists, dancers and martial artists.
He appears on an album of four Buchla Easel musicians recorded live at the Schneider Museum of Art and he participated with Todd as Control Voltage Therapy at the Don Buchla memorial concert in San Francisco.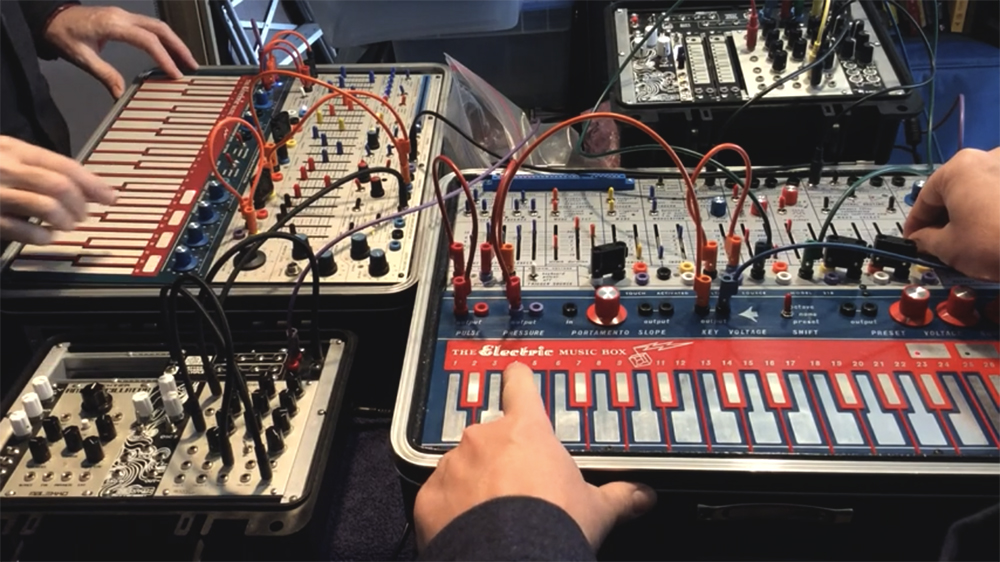 Reciprocess is documenting the process of reciprocity !
A new series based on collaborations. Some of us collaborating with other from our Modulisme community…
Giving a new life to the series initiated in the early 2000s on my defunct label BiP_HOp, in collaboration with Fällt Publishing.
https://www.discogs.com/label/568-BiP_HOp
Bas Mantel is in charge of designing cover artworks… See his page please: