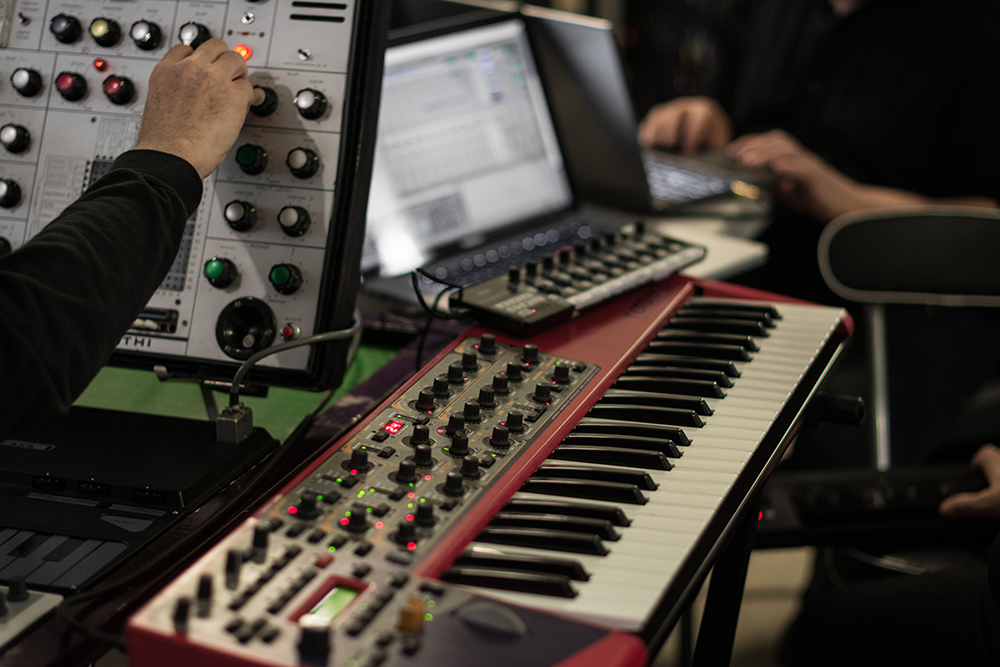 The Canadian Electronic Ensemble was founded in 1971. It is the oldest continuous live-electronic group in the world.
The CEE first toured Canada in 1975. Their first European tour was in 1979. In the years since, the group has toured extensively throughout North America and Europe. Beginning in 1974 the CEE has presented Toronto concerts that have become a major venue for new electroacoustic works by artists from every province in Canada, as well as international artists from Argentina, Australia, Austria, Belgium, Denmark, England, France, Italy, Japan, Mexico, New Zealand, Norway, Sweden, and the United States.
Celebrating fifty years of activism, the CEE is still at the forefront of live electronic music. Using old (and new) analog instruments, laptop computers, standard instruments, found sound, field recordings, and in fact anything electronic, they continue to cut a sonic swath through the ears of the world.
Rose Bolton: in addition to her work with the CEE is an in-demand scorer for video and film. Her compositions for mixed-media and traditional instruments are performed across Canada and internationally. She is an advocate, having initiated the Women in Electronic Music project with the Canadian Music Centre.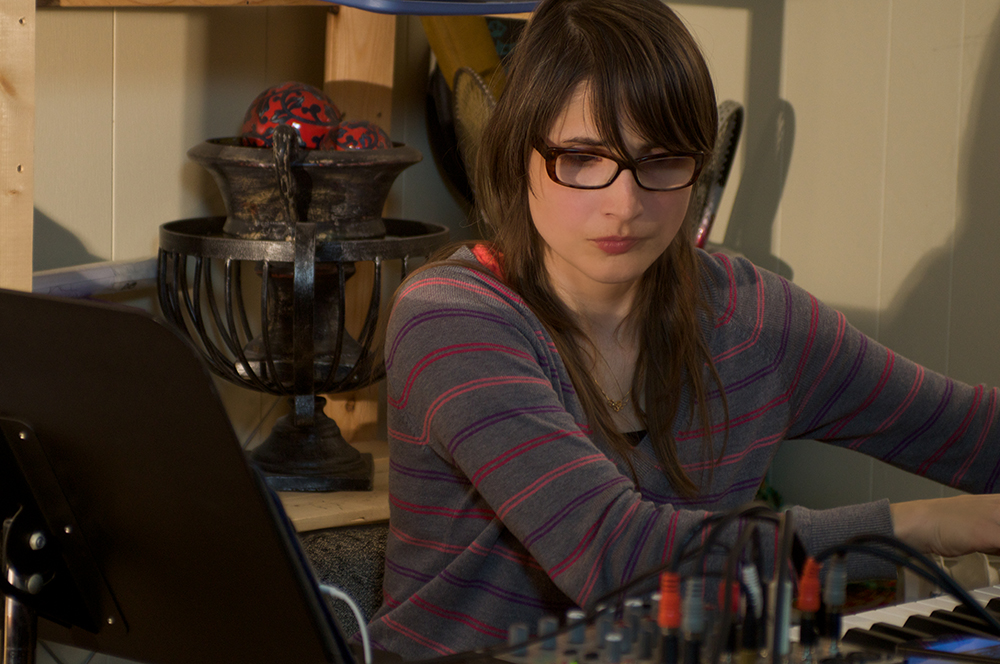 David Jaeger: a founding member of the CEE, has had a profound effect on the development of new music in Canada. His forty-plus-year career with the CBC touched on every aspect of new music making, from commissions to performance to recording to broadcast. He remains a highly sought-after record producer and continues to compose across many media.
Jim Montgomery: in addition to his work with the CEE, has spent time in arts admin (New Music Concerts, Toronto; Music Gallery, Toronto), arts advocacy (CLC/LCC, CNMN/RCMN) and composes for mixed media and traditional instruments.
Paul Stillwell: a CEE member since 1995, is a community builder with Frequency Freaks, a monthly open forum and the Toronto Sound Festival.  He is a bit of a polymath, producing innovative work in video and audio signal-processing with his own company, Intrepita, and working regularly as a consultant in Internet security.
David Sutherrland is the newest member of the CEE, but has been involved with electronic music since the '70's. Upon retirement as an IT administrator at the University of Toronto, he acts as a mentor to the younger community, and continues his own musical studies with James Linderman. In addition to playing with the CEE he explores songwriting and new solo electronic music as Simple Sineman and as Not Your Average Worker Bees, a project with Paul Stillwell.
John Kameel Farah: his work embraces aspects of baroque and early music, experimental, contemporary classical, improvisation, middle-eastern music and forms of electronic music. His current work largely focuses on live solo concerts, surrounding the piano with synthesizers and computer-assisted processing. His music draws upon an interest in astronomy, history, mythology and painting.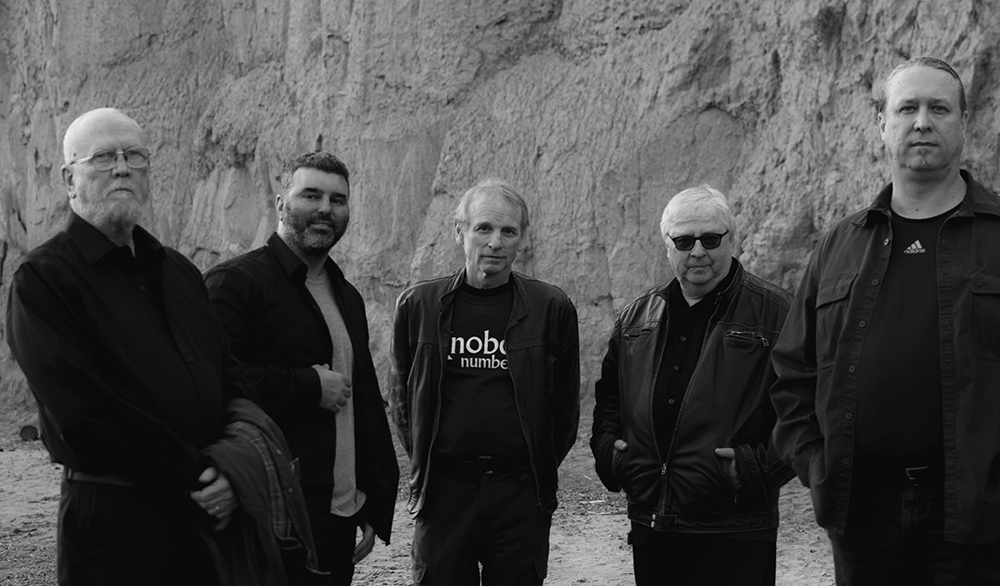 You are close to celebrating 50 years of existence, would you please trace the history of the Ensemble?
JM: OK. 50 years in 5 minutes. The original 4, Grimes, Jaeger, Lake and Montgomery, were all grad students at the university of Toronto, working at UTEMS under Gus Ciamaga. After graduation, our first gigs were for high school and college students, who were either amazed, puzzled or disgruntled. We got funding from the Ontario provincial government to set up an annual series of concerts that allowed us to invite other electronic musicians to Toronto and do exchanges. The series ran for 22 years.
In the late '70's and '80's we did a lot of touring. As the '80's became the '90's and we acquired day jobs, families and new members, organizing tours became more difficult; so except for residencies and recording projects, we've stayed pretty much in Toronto.
DJ: Tracing the history barely does it justice, especially when a full volume of CEE history is about to appear, written by Alexa Woloshyn. However, my tracing would include:
-first experiments and rehearsals at UTEMS, playing with rack-mounted analogue gear (Modular, if you will…) – for its time, a satisfying musical experience.
-determining that there actually was some "portable gear" which we relocated to the outside world, and continued our trials and rehearsals.
-deciding that we four (David, David, Larry and James) were driven to perform live and by-God we were going to do it!
-doing the legwork that brought in arts council funding, which happily, provided options, both practical and artistic.
-composing, commissioning new works, finding all manner of places (High Schools, colleges, concert halls, touring, etc.) where we could perform, and becoming experienced at concert production and promotion.
-recording our first LPs, and then CDs, getting air-play on radio and TV.
-writing for and persuading some great Canadian virtuoso musicians to let us write for them, and then taking the resulting works out on the "road."
-gaining respect in the musical community, which led to significant (although never enough) financial support from arts councils.
-opening our various studios in Toronto over the years, and operating like an established entity.
-maturing both as an ensemble and as individual artists, enabling us to gain more ambitious aspirations – playing with symphony orchestras, and touring North America and Europe.
-touring and collaborating with external organizations, including foreign broadcasts and residencies.
-fragmenting and then re-configuring as personnel changed, and taking residencies in places like the Banff Centre of the Arts with our French alter-ego: Trio Collectif. Recording and then touring with that whacked-out French trio.
-Dropping the permanent studio and decamping into our various private studios. And continuing to perform.
-Producing a two-hour online album
-loosing a member through his passing
-moving onward with fresh partners, finding new ways to work together, even when some were rarely available in Toronto.
-residency at Carnegie Mellon University
-creating and producing remotely during the pandemic.
-just hangin' out and making music.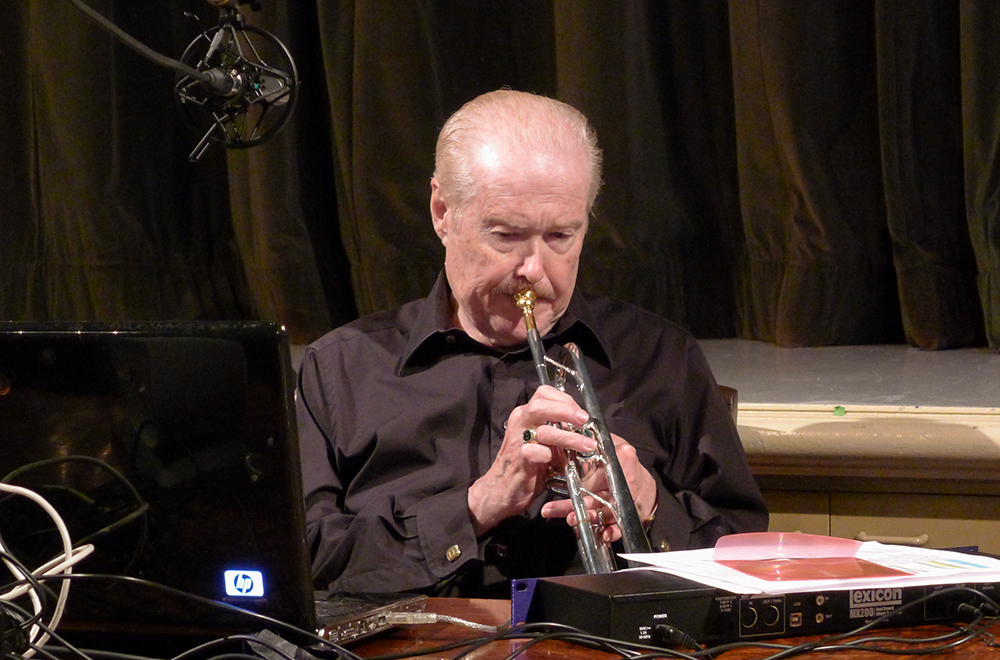 What have you been working on lately, and do you have any upcoming releases or performances?
JM: We're ramping up for the 50th year. There's a new recording project underway, and we'll be releasing an extensive retrospective set of albums. In going through the archives we found a ton of really good stuff that was never released.
RB: I just released an EP, called The Lost Clock, in late June. Right now I am working on a string ensemble piece for a Montreal ensemble; Collectif9, and a piece for hurdy gurdy and electronics. I just finished an ambient electronic soundtrack for the new hour long CBC television documentary: Born Bad, directed by my partner Marc de Guerre.
DJ: Personally, I've completed a work for concert accordion (Joseph Petric) and electronics, and am working on a piece for vibraphone (Beverley Johnston) and electronics. I have also updated some older scores, such as Quivi Sospiri and Sarabande, as there are soloists out there who would like to add these earlier pieces to their repertoire. And the Pass-the-Track process is continuing. 

I know that when you produce your music you do not use exclusively Modular systems but how were you first acquainted to Modular Synthesis?
When did that happen and what did you think of it at the time?

JM: I think we've always been modular. UTEMS, where the original 4 received our training, was a classic studio that benefitted enormously from the instruments and modules Hugh Le Caine developed at the National Research Council. The patch bay was central.

DS: Expo 67 introduced the world to a dazzling array of bleeding end multi media and the music accompaniment to this was often some sort of electronic score. I was 14 when it happened. I became intrigued, fell in love with the sounds and wanted to learn how to make it.  At the time the focus was on the music and modular synths were just a more convenient way to make it. Next came Wendy Carlos's Switched on Bach and Glenn Gould did a 1 hour radio documentary on the music which further intrigued me plus there was a picture of a Moog on the album cover so I knew what I was looking for.  As I wrote in my Synthi piece it was a gradual process of getting closer over the years until I got to university in 1972 and got connected. First to the Synthi and later through my involvement with MetaMusic I got into the Electronic Music Studio at McGill University. Where I met the Moog modular.

DJ: The earliest work at UTEMS was essentially modular, so it represents the foundation of my training in electronic music. And of course, with the Synthi A touring activity, it was also the foundation of the early years on the road. But as soon as keyboard instruments, and especially polyphonic keyboards, became available, I was ready to make the switch. Mind you, even the YAMAHA CS-60 contains a certain amount of modular design…just not as much as earlier instruments.

How does it marry with your other « compositional tricks »?

JM: Actually, it doesn't. I'll compose with sticks and rocks if that's what's needed.

DS: My compositional interest from an early time has been more about sound  than melody or harmony.

DJ: It all blends together – the output signal is what matters.

When did you buy your first system?

 

JM: 1971. Two Synthi A. An Ensemble Investment.

DS: Bought the Synthi in 1976. Went through a couple of decades not doing music. I sold my Synthi to a friend who sold it back to me when they no longer were interested in it. I bought my first eurorack system in 2010 

RB: I have always had a computer and made/recorded sounds that way. My first computer that had an acceptable amount of power was purchased in 2006.

DJ: As soon as the CEE could get them (Synthis) out of Otto Joachim.

What was your first module or system?

DS: My idea was to recreate the basic capabilities of the EMS at McGill so I bought a Doefper prepackaged 6u system.

RB: Roland SE-02 purchased in 2018.

DJ: Dynasoar (a DIY gadget) followed by the Synthi A

PS: My first hardware synthesizer system was a euro rack system.  However the story goes back further than that.  I had become tired of working on the computer all-the-time.  I was looking to get a more tactile feel and perspective on the music I was creating and I love the sound of guitar.  However, being from more of a keyboard background there are a number of aspects of actually playing guitar that bewilder me.  So I opted for an electric stringed instrument that can be played more like a keyboard – The Chapman Stick.  Pardon the pun but I stuck with it for a couple of years but that really wasn't doing it for me either so I sold that and begun the journey into Eurorack modular synthesizers.  My first set of modules consisted of an Intelligel Rubicon VCO (Voltage Controlled Oscillator), Linux VCA's (Voltage Controlled Amplifier), Dual ADSR (voltage controlled Attack-Decay-Sustain-Release Envelope Generator), and a Synthesis Technology E440 VCF (Voltage Controlled Filter).  Soon after that I added the Synthrotech Chaos Nand, MakeNoise WobbleBug, and MakeNoise Maths.  The term Eurocrack definitely applied for me as I rapidly became addicted to this very hands on technique for designing sound and making music.

How long did it take for you to become accustomed to patching your own synthesizer together out of its component parts?

DS: I started learning how to plug things together by helping MetaMusic unplug the gear after their concerts. It was how I got invited to the band. Since my access was through the university, the professor, Kevin Austin, was very thorough in training so it didn't take very long. Plus Alan Strange's book was very helpful. Wish I still had my copy.

DJ: It was there in the beginning – the only way I knew of, at least for a time, and it seemed second nature almost immediately.

What was the effect of that discovery on your compositional process?

DS: It is how I became a composer.

RB: It is very different from the work I do as a composer. I use hardware synths in the same way that I use the violin, more to play than part of the compositional workflow.

DJ: It just made me think clearly and practically.

On your existence?

DS: It is how I wasted precious years of my 20's when I didn't understand how to succeed in the music business nor how to succeed in academia. I would be richer now and be able to afford the house big enough to hold a bigger synth collection.

DJ: The technology of electronic music in 1972 was very close to the technology of broadcasting. So, when I arrived at CBC Radio I was already a thoroughly trained tape editor. This bode very well for me in the early days of my broadcast career. The CBC engineers respected my training and, even though it was in their jurisdiction to do all the editing of our broadcasts, they would just say to me, "You'll have it done in half the time, so you just take it on and do it." I had a good 40-year career in Public Radio.

I know that each of you tried various synthesizers and it seems that the AKS was the only constant one. Would you explain why it became your favourite?

JM: It was the A for me. It still is. It's an almost perfect analog performance and teaching tool, and with those crappy little speakers and the 'scope it's completely self-sufficient, given an AC outlet. I never "got" the KS part until I heard Sutherland do wonderful things with it around 2015. Old dogs…

DS: The VCS-3 was the first synthesizer I ever saw.  It was part of Stockhausen's tour in 1970/71 so it had street cred in spite of the terrible review the Wendy Carlos gave it in the Whole Earth Catalogue. When I arrived at Concordia University in 72 Kevin Austin had his own Synthi AKS that we could play with and the school bought a Synthi AKS that we could borrow and take home. I spent many hours in my parent's basement with Synthi plugged into an old Vox Pathfinder tube amp. In 76 I bought my own Synthi.  At the time it didn't seem that there was really much choice in the matter. I wasn't a keyboard player in a rock band so the Arp 2600 or MiniMoog didn't appeal to me even though I had used the 2600 that was in the McGill EMS. Modulars like the Moog's or Arp 2500 were priced way beyond my budget. Buchla didn't really have much of a presence in Montreal at the time. DIY systems like the Aries or Serge or roll your own with ElectroNotes seem beyond my capabilities. The Canadian distributor for EMS, Otto Joachim, was in Montreal so it was the easiest choice to make. Plus, the Synthi had a Ring Mod. The big Moog at McGill didn't have Ring Mod. Besides I had 4 years experience playing one and it felt really comfortable to play and was portable. Many years later while playing with Eurorack systems and getting frustrated by the diving between the cables when playing I realized one feature, physically separating the patching from the knobs was a brilliant piece of user interface design. Repatching the Synthi mid-performance is a standard way to play. Particularly when improvising. It is so easy to take the Synthi in a different direction  and not lose the flow of the moment. To summarize the advantages of the Synthi in the 1970's; Price, Playability, Portability. 

DJ: The AKS was not my favourite at all. It was good, and it did a lot of cool stuff, but once the polyphonic keyboards started arriving, I preferred those.

Quite often modularists are in need for more, their hunger for new modules is never satisfied? How do you explain that?

JM: It's a disease.

DS: Not much different than looking for a new guitar. When our musical practice is mostly external we seek external input for inspiration. When our practice is internal GAS (gear acquisition syndrome) is less of a factor.

RB: I can certainly relate to having GAS, but as a freelance musician and composer, I am held back by budgetary restraints. But I think that is a good thing. Buying more gear/software out of desire (as opposed to actual need) does not improve my music. It is also important for me to keep my studio pared down to the minimum. If I have too much equipment around me, my brain starts to suffocate.

DJ: You always want more toys – modular or otherwise. And as new gadgets became available it always brought added dimensions to the music, so we would often go with the direction suggested by the technology.

Instrument building may actually be quite compositional, defining your sonic palette, each new module enriching your vocabulary. Would you say that your choices and the way you build your systems can be an integral part of your compositional process? Or is this the other way round and you go after a new module because you want to be able to sound-design some of your ideas?

DS: I'm more of a new module that fits into my existing framework sort of a guy.

RB: If I was to get into the modular world, I would probably start with something pre-made. The Erica Synths Dada Noise System for example, or various Moog setups look amazing and the DIY part would be with the pedal effects– but I don't want to ignite those feelings of longing.

DJ: I would say it was a bit of each process, but for me, more the latter than the former.

Do you tend to use pure modular systems, or do you bring in outside effect and devices when playing or recording?

DS: Not at all interested in musical purity. It's about the user interface and the sounds for me. Right now for playing live everything comes into Ableton Live for processing and mixing. One technique I like is recording a loop from either the Synthi or Easel and processing the loop. So many modules or pedals are basically computers with tiny screens. If I'm going to have a computer I want it to be a useful one.

DJ: Inside or outside – I don't have a policy – just get me the groovy voices and let me go crazy with them.

PS: As you can see from the answer to the previous question I have gone down the hardware path hard.  I also have a number of hardware synthesizers now and I tend to use software only for mixing and mastering.  For me hardware isn't about analogue vs. digital.  It is about being hands on and tactile with performance and sound creation.  
The Yamaha CS-40M which has been with the CEE since it was released in 1979 has had a 1979 Korg MS-20, Korg ARP Odyssey re-issue, Dave Smith Prophet Rev2, and Elektron Analogue Keys added to the studio.  
All amazing in their own ways.  
Several hardware effects and pedals have been added as well.

How has your system been evolving?

DS: I am much more interested in playing a synth than programming a synth. Interested in playing live in public spaces so portability is important. Also interested in standardized power requirements so one can play off grid using batteries. This suggests that controllers and notebook computers are the way to go using software like VCVrack or Adulus. The patchability is there while the weight and power requirements are reduced.

DJ: I mostly use Reaktor and my DAW – Wavelab. This is sufficient to my needs for the moment.

PS: Down the Rabbit hole I went!  A small system became a large system with the addition of more utilities, sound generators and effects.  Then came pedal based effects, and then I discovered Ciat-Lonbarde instruments which opened a whole other world for experimentation and chaos.  From there I added a 5U MU (Moog Unit) modular system as well as some Soma instruments (amazing hand-built Russian electronic instruments).

RB: I have been playing violin with the CEE since 1999. I started out with an acoustic violin with a Fishman pickup, going through an Ensoniq Dp4. Then around 2016, a student of mine had an electric violin she no longer wanted because it was too heavy to hold up, and she gave it to me. I did some simple modifications and it worked great. From then on, I preferred the electric instrument with the CEE. Better than having the acoustic sound in your ear, which is not going through the system. The electric fiddle goes though the effects in Ableton, or the Boss ME-70, and a Boss Loop Station.

Would you please describe the system you used to create the music for us?

Track notes by the collective :

Surge
Recorded on August 19, 1976. Live performance. Musicians: David Grimes, David Jaeger, Larry Lake, Jim Montgomery.
The recording was part of a concert presented by Alternate Galaxies at St. Lawrence Hall in Toronto. The instrumentation included four EMS Synth As, two EMS DK2 keyboards and a Roland monophonic synthesizer.
Over the years from 1978 to 2002, the Ensemble contracted to a trio and then expanded to a sextet. There were no directives about instrumentation: members played whatever they found interesting. As a group we investigated (and invested in) the Roland Music Composer (driving a Jupiter 8, which was a cv/g system) and Yamaha YCAM, a midi system based on the MSX operating system and CX5M mk II music computer. Paul Stillwell, who joined the Ensemble in 1998, developed editors for the Roland Sound Canvas (a very flexible sample-based system) and several members took advantage of that work. Jim Montgomery pursued the YRM 504 FM Music Macro II which enabled programming in MSX Basic. Several members thought he was nuts.

Ambient Pinging
Recorded on February 2, 2002. Live performance. Musicians: Rose Bolton, Mike Dobinson, David Jaeger, Larry Lake, Jim Montgomery, Paul Stillwell.
The recording was part of a concert presented by the Ambient Ping series at C'est What in Toronto. The instrumentation included two EMS Synth As, two Roland Sound Canvas, Yamaha DX7 and laptops.

Back in the Day
Recorded on February 2, 2002. Live performance. Musicians: Rose Bolton, Mike Dobinson, David Jaeger, Larry Lake, Jim Montgomery, Paul Stillwell.
The recording was part of the same concert presented by the Ambient Ping series at C'est What Bistro in Toronto. The instrumentation is also the same.
From 2002 to 2021, the Ensemble had a few personnel changes. Mike Dobinson left and John Kameel Farah became a frequent guest. Larry Lake died in 2013. David Sutherland helped fill that gap in 2016. In terms of instrumentation, by the early 2000's, laptop computers began to dominate – but the Synthi A's never went away. Over the next 10 years, Native Instruments received a lot of attention from members (in particular the Reaktor app which has a very nice emulation of a Synthi AKS) and Abelton Live was adopted by several members. For the last seven years or so, modular systems have proven attractive, as well as hybrid instruments like the Behringer Neutron.

Cavatina Redux (for Ace)
Recorded August 23, 2018. Live Studio session. Musicians: David Jaeger, Jim Montgomery, Paul Stillwell, David Sutherland.
The recording took place at the 7Below studio in Toronto. It is a response to Cavatina, a work composed by Larry Lake (aka Ace) in 1973, that was based on Shepard Tones.

Wind it Up
Recorded September 6, 2018. Live studio session. Musicians: Rose Bolton, David Jaeger, Jim Montgomery, Paul Stillwell, David Sutherland.
The recording took place at the 7 Below studio in Toronto. It was the last take in the session

Hồ Đạt
Recorded September 6, 2018. Live studio session. Musicians: Rose Bolton, David Jaeger, Jim Montgomery, Paul Stillwell, David Sutherland.
The recording took place at the 7 Below studio in Toronto. The Title is Vietnamese. The meaning is known only to the Mudfish.

What do you think that can only be achieved by modular synthesis that other forms of electronic music cannot or makes harder to do?

JM: IMHO, the distinction is entirely in the hands of the music-maker; a painter will paint, a sculptor will sculpt…

DS: Self inflicted musical joy without physical dexterity.

What would be the system you are dreaming of?

JM: EMS Synthi 100

DS: EMS Synthi 100

RB: Current setup but with way more effects pedals, and maybe another semi modular synth or two to compliment the Roland SE-02.

PS: The one I have built 🙂  My GAS (gear acquisition syndrome) seems to have passed for the time being and I am very happy in my studio.

Are you feeling close to some other contemporary Modularists? 
Which ones?

JM: A Toronto community has grown up around Frequency Freaks and the Toronto Sound Festival, amazing and inspiring people.

DS: There are a lot of women doing really cool work these days, Caterina Barbieri, Julia Bondar, Sarah Davici, Kaitlyn Aurelia Smith and Sarah Belle Reid to name a few who show up in my YouTube feed. There music seems to me to have a more human or sensitive feel to it.

PS: David Sutherland and I have a side project called Not Your Average Worker Bees, Michael Palumbo (thispatcher), Heidi Chan (Bachelard), and Rob Kruikshank to name a few. My addiction to hardware synthesizers prompted me to start a "support" group called Frequency Freaks. There are monthly workshops (sometimes we take a month off) which are very kindly supported by ArrayMusic. The workshops are designed to give people who enjoy these instruments a regular outlet for performance, socialization, and learning. We encourage people who are brand-new to hardware synthesis be it modular, or other types of hardware to join us. We have hosted presentations from many manufacturers and members of the community often provide tutorials and technique demonstrations. We have had many leverage the supportive community that has grown around Frequency Freaks to do their first live performance or first live synthesizer performance (if they are coming from other instruments).

The Canadian Electronic Ensemble dates back to the Seventies, how was the scene back then?

JM: Functionally, pretty much like the scene today with better ergonomics and electronic components; VCO's stay where you tune them.

DS: The simplest things were amazing.

DJ: The scene was pretty open-ended, especially in the electronic music sphere. (As far as the placing of notes on the page, there was still a lot of dogmatic B.S. in the air, but being mostly electronic guys, we pretty much cut through that quite easily and effectively.) Once I started working with computer systems, it got more diversified, and options for sound generation began to multiply. So the scene just kept getting richer for a pretty long period of time. Of course, my work was heavily influenced by my day job in broadcasting, but this was positive, as it gave me an international outlook. I also ran a national competition for young composers, so I had no shortage of "input" (intellectual or otherwise) from emerging talented artists. It was a positive, mostly healthy but really crazy time!

Which pioneers in Modularism influenced you and why?

 

JM: Cage and Stockhausen, for obvious reasons. And Thomas Lehn. Cage told me he thought the Synthi A was "lovely", Stockhausen et son Gruppe's performance in Montreal in 1971 changed my life and Lehn's performance in Toronto in 1998 blew away some cobwebs.

DS: Cage for the introduction to Zen. Steve Reich for the looping and samples. Wendy Carlos for the beauty.

RB: Eliane Radigue using the ARP 2500. Her hypnotic long form slow moving music is a massive inspiration to me. The slowly evolving timbres are fantastic.

Any advice you could share for those willing to start or develop their "Modulisme" ?

 

JM: play with it. It's supposed to be fun.

PS: For someone who is just beginning their journey it is often difficult to answer the first question anyone asks them at the beginning when trying to help them choose their first modules – what kind of music do you want to make?  For me that question was very difficult as I enjoy making all kinds of music.  Instead focus on the basics first.  Get a small system, learn it, and expand on it S-L-O-W-L-Y.  None of these things are inexpensive and you will always end up trying some modules that you just don't get along with for one reason or another.  You can save some money by purchasing used.  There are many active buy and sell forums on Facebook and in other places to help facilitate your GAS!

https://www.canadianelectronicensemble.com