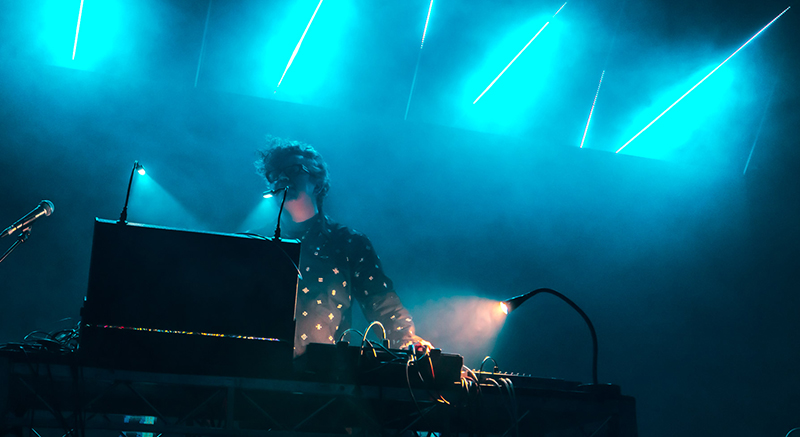 Mat Watson is an Australian multi-instrumentalist working primarily with synthesisers and drums spanning experimental, improvisational and traditional forms. He is widely recognised for his involvement in large-scale unconventional orchestras and collaborations. He has played with Japanese underground legends Boredoms, conducted an orchestra for 40 synthesisers at the Sidney Myer Music Bowl, and worked with Bronx heavyweights E.S.G and Australian music icon Ollie Olsen among countless others. He runs Eternal Music Projects and spends available downtime at Imaginary Sound Fields disappearing into the matrix of his Synthi Aks and thinking about inner space and compression ratios.
What have you been working on lately, and do you have any upcoming releases or performances?
I have several recording projects underway including an album focussed on a 9U Frap Tools system. That record is sounding weird and wild. Brenso oscillators are the best! I just finished a 3 day session for a friend playing AKS all over his Jazz record. I am working on some arranged works for Synthi and there's a new Other Places record half complete. ETA TBC! I also have new live collaborative projects in development with shows planned to take place later this year..
How were you first acquainted to Modular Synthesis? When did that happen and what did you think of it at the time?
This is a tough question to answer definitely. I first became acquainted with free form electronic sounds via film and TV. I loved Dr. Who, and science fiction films in general as a kid. The sound design and sound tracks were a huge reason why I tuned in.
I purchased a Korg Mini700 in the mid 90's while studying jazz drums & mallet percussion at Box Hill Institute. I remember seeing the Mini 700 at the Music Swap Shop and feeling inspired by the colours and clicky switches. I purchased it for $230 and went on to spend my time recording drum and synth jams with a 4 track minidisc recorder. That period of development helped to shape future interests.
I spent the rest of the 90's playing in bands and pursuing a career as a session musician. It didn't take long before I started to get a sense there was something more.
In early 2000 I began working in a second hand record store which is where my personal explorations took hold. Years of band hopping and session work left me feeling empty. The record store suddenly became a perfect resource and offered endless inspiration. I filled each day digging into the past and exploring new sounds. My curiosity was insatiable so I embraced everything and naturally gravitated to any LP that mentioned synthesisers or suggested any form of experimental sound. As a result, I ended up amassing a healthy collection of early electronic music LPs alongside a tonne of other music spanning the history of recorded sound.
As my taste and knowledge grew, modular synthesisers started to make more sense as some type of end point. Like an extension of listening and hearing. Despite exploring many styles of music as a drummer, I'd never found a home and electronic sound offered a chance to escape and create my own world. I had fallen in love with the sounds and freedom that modular synthesisers promised and it seemed, if I could get my hands on one, it would be the ticket to a rebirth of sorts.
A creative space filled with the freedom to explore my own personal sound world in my own way.
Everything came together as a firm reality when I purchased my Synthi AKS in 2007.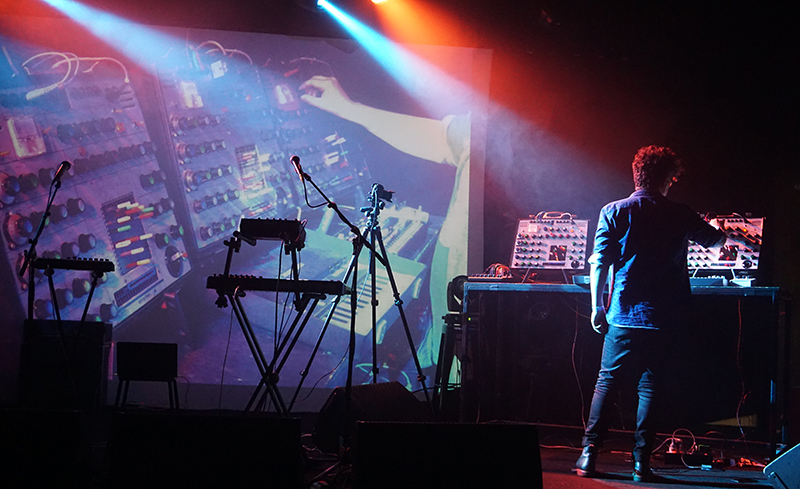 How does it marry with your other « compositional tricks »?
That is a good question. I am not sure that it really does. Adapting modular gear to existing compositional templates or workflows doesn't really make sense to me. Each modular system offers an endless stream of ideas and inspiration, and entices me into long hours of experimentation, so I tend to allow the system to guide me in order to discover new ways to work with, and in response to the output of the system. I don't like to bend the system to my will. I am here to input ideas, listen and learn in response to the output. I am just an energy conduit.
When did you buy your first system?
2007
What was your first module or system?
The Synthi AKS from EMS !
How long did it take for you to become accustomed to patching your own synthesizer together out of its component parts?
It didn't take long to become acquainted with the Synthi. It is such a basic machine in many respects but inspires a lifetime of curiosity. There are secrets hidden in its nuanced behaviour which make that machine endlessly inspiring and that behaviour is only revealed over time.
Like any modular system it reflects whatever your creative or conceptual input is but will always yield surprising results.
In regards to my other modular system? I would say that the arc of development is infinite. I am a forever student.
What was the effect of that discovery on your compositional process?
Freedom, focus and patience, simultaneously.
On your existence?
I stopped looking outwards in response to my creative pursuits, and married my creative pursuits directly to a personal, inward journey.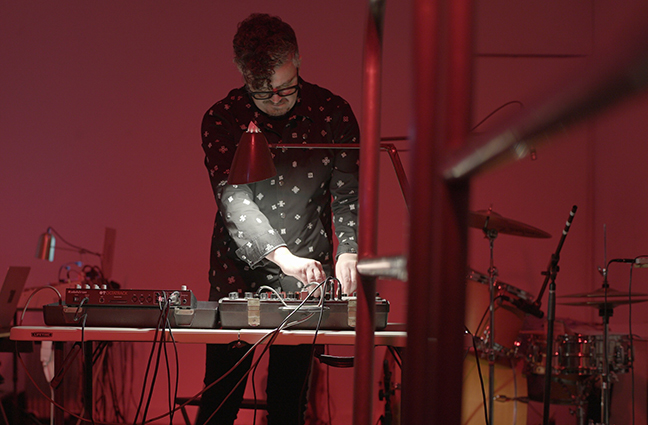 Do you tend to use pure modular systems, or do you bring in outside effect and devices when playing or recording?
I don't like to discriminate or deal with absolutes. I use whatever is needed and available to find the sound I am chasing. That said, I dearly love working with hardware modular systems so it is rare that I bring much more than a mixer and some effects into any setup. I also like using my computer to cut stuff up.
Interested in adding some other instruments, some acoustics ?
For sure! Electronics are beautiful with everything. I created a live work called HEAVY SPECTRA for Synthi Aks, eurorack, vibraphone and saxophone late last year which featured the amazing talents of Nat Grant, Cayn Borthwick and stunning visuals by Carla Zimbler. That combination was sublime. I am currently working on more music to expand on this concept.
For instance I know that you have composed for several Synthesizers, MESS Ensemble ( project name is the MESS Synthesiser Orchestra) , can you tell us about that? How did you approach such a task? Do you relate to Symphonic composers, draw some parallels?
I was commissioned by MESS (Melbourne Electronic Sound Studio) to write a piece for the very first realisation of the MESS Synthesiser Orchestra in early 2021. The brief from MESS was to feature instruments from the world famous MESS Collection and include people from the MESS Community in the group.
I composed a work for 40 synthesisers to be played by 16 people. The work was titled Magnitudes and featured a large selection of modular and keyboard synthesisers plus a bunch of old analogue rhythm boxes.
When the opportunity to work on this project was offered to me, I immediately knew what I wanted to create and had a clear idea of the machines I wanted to use. I chose systems like the Buchla 200/e, Moog System 55, Arp 2600, EMS VCS3, EMS Synthi AKS along with keyboard synths like the Korg PS 3200, EDP WASP, Yamaha CS-30 and Fairlight CMI among many, many other rarities from the MESS collection.
The work itself was conceived as a shape, colour and energy in my mind before I tested the ideas using my eurorack system, Synthi Aks, Poly Evolver and a piano. Once I knew the ideas worked, I created a graphic score to map the shape and energy over time along with a general arrangement, then everything else fell into place.
The important thing for me with this work was energy, not dexterity. I wanted everyone to be learning and thinking as the piece came together with the end result inspiring a sense of euphoria for each person in the group as we collectively heard everything lock into place and take off together. Nothing was clocked or externally controlled. Everything was played, patched and performed in real time. For many members of the group it was the first time they had performed with their specific synthesiser so it meant each person had to make critical decisions about their patch/part during the performance in response to what was happening in real time. It led to many surprises and an intensely inspiring experience for everyone involved.
I feel incredibly lucky to have realised that work with a beautiful group of people and with the very generous support of the amazing team at MESS.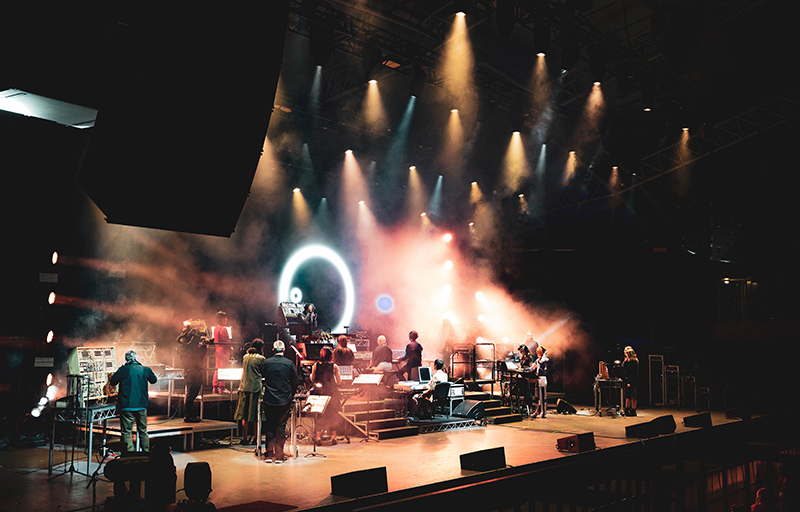 Quite often modularists are in need for more, their hunger for new modules is never satisfied? How do you explain that?
The hunger for more could be explained as a distraction from the real creative work, or it could actually just be that developers keep making inspiring modules. I am not sure there is an absolute here. I do think that people tend to move on and pass judgement way too quickly, particularly in the world of eurorack. There is a learning curve to each module and then a life long learning curve to the system each person creates. I try to read a book or go for a walk each time I get the urge for more modules but I am not always successful. The urge for more is strong.
Instrument building may actually be quite compositional, defining your sonic palette, each new module enriching your vocabulary. Would you say that their choice and the way you build your systems can be an integral part of your compositional process?
Yes. A system can often inform the way you compose or create but it is different for everyone. I find a great deal of inspiration conjuring up new systems. I imagine new connections and movements and in a way see it mimicking the development of new neural pathways. It seems like a natural part of the process to be building and reconfiguring new systems to inspire new ideas.
Or is this the other way round and you go after a new module because you want to be able to sound-design some of your ideas?
Sometimes…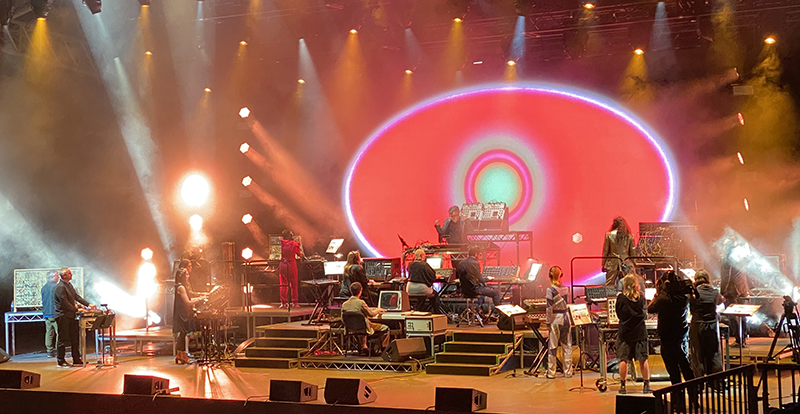 Do you prefer single-maker systems (for example, Buchla, Make Noise, Erica Synths, Roland, etc) or making your own modular synthesizer out of individual components form whatever manufacturer that match your needs?
I don't have a preference and I like to switch things up. Sometimes a single-maker system is super fun and sometimes a personal system design is fun. Each system revision reveals a logic for the person who put the system together. Whether it be a single manufacturer or individual artist. I love the challenge of getting inside the logic of the person who created the system. It is really satisfying when you start to tune into what makes each system tick.
Most recently I have been focussing my attention on a 9U Frap Tools system and love that. I do miss the cross pollination of other manufacturers though!
How has your system been evolving?
I have been slowly reducing the amount of aesthetic noise in my current eurorack system by using multiples of each module. The rest of my system has been sidelined for the time being but I plan on putting them into a new rack at some point so the different systems of logic can play together again.
Would you please describe the system you used to create the music for us?
Can you outline how you patched and performed your Modulisme session?
I used my Synthi Aks and eurorack system side by side and responded to the first sounds/patch I created. I bounced between each system and let it all unfold quite organically. I recorded the material over a few sessions and pieced it all together with a few overdubs where I felt it was needed. I like to keep things open. Sometimes a live work will exist as a single take and other times I stitch things together. I don't get caught up with the 'how' so much, more with 'how does it feel'.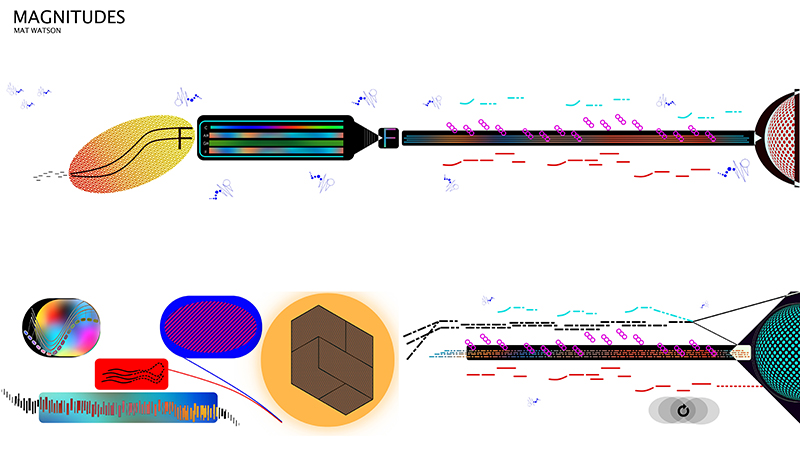 What do you think that can only be achieved by modular synthesis that other forms of electronic music cannot or makes harder to do?
For me, modular systems represent creative freedom. I only feel limited by my own artistic awareness and motivation on any given day. I love modular systems because of the immediate relationship between human and machine and the connectedness between body and sound. I'm also not always preoccupied with an outcome, end result or completed work. I love the daily ritual of exploring these systems. The experience can be very self revelationary. Some artists are more head, ears and project focussed in which case I imagine this question could be flipped on its head!
What would be the system you are dreaming of?
One which would allow me to create sounds using a form of telepathic control while floating in a saltwater wave pool surrounded by speakers.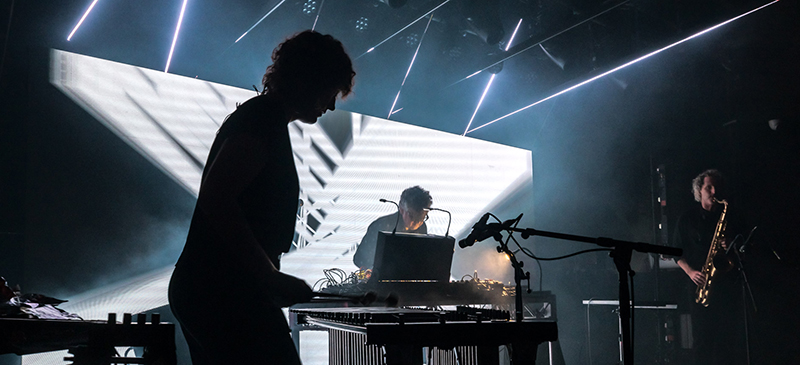 Are you feeling close to some other contemporary Modularists?
So many! My immediate friends and the many amazing artists creating work locally. I feel close to anyone delving into the world of modular and often it is the people new to it which bring the best energy and offer unique insights.
Which ones?
Which pioneers in Modularism influenced you and why?
This is a big question. Morton Subotnick is probably my main influence in regards to modular synth vocabulary, and along with Bernard Parmegiani, I would say both inspired me to decouple my focus from a traditional musical approach.
Broadly speaking, modular systems can inspire openness and freedom, empathy and patience. So whilst I could cite many artists who have been influential, my work is influenced just as much by my immediate environment, the speech patterns of other people, machine sounds and cycles, listening to music from afar and responding to the energy of people and environment around me. I absorb everything so everything influences the sounds and shapes I create.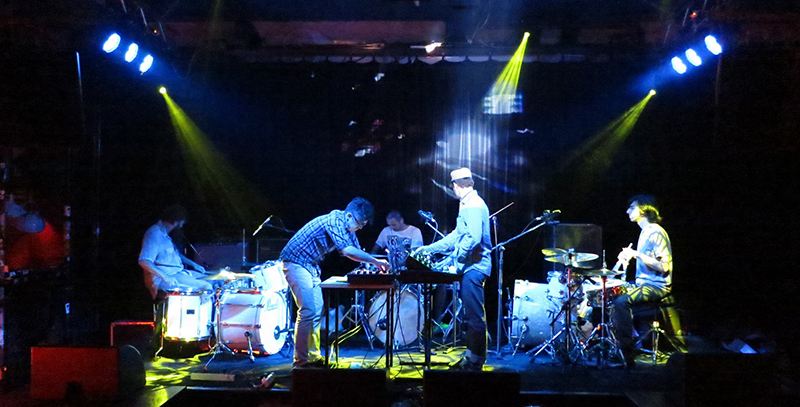 Any advice you could share for those willing to start or develop their "Modulisme" ?
Go slow, read books, listen to the world, buy a module, tune in and trust your own senses. The best advice anyone ever gave me was, "Remember Watto, we are all just chucking darts.