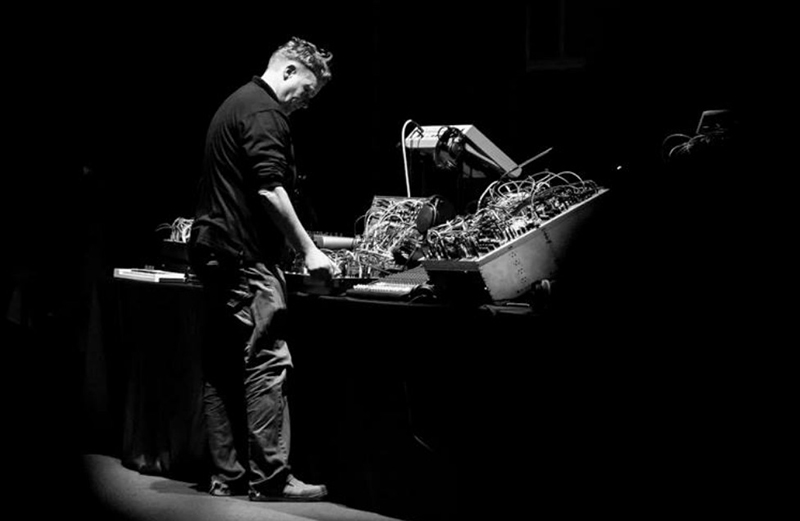 As Cray I create aural novels. This is not music but moments in time.
Erroneous Hallucinations has been recorded with synthesizers and shortwave radio, at Amnesia International in 2020.
All you hear has been written by Ross Healy
CRAY is Ross Healy and this is his second Modulisme Session, please feel free to also listen to #26 :
https://modulisme.info/session/26
Ross has been heavily involved with electronic music since the mid 90's. Releasing recordings for labels in Australia, Germany, France, United Kingdom, Ireland and the U.S under many different names (This Digital Ocean, Amnesia,Siko Spunji, Roland Oberheim, Ryou Oonishi, 56k, Oskar T Oram and Cray) covering many styles of electronic music, Avant improv electronics, Experimental computer music, Noise, Industrial, Techno, Ambient, IDM and Drum n Bass.
As well as his lust for electronic music making , Ross has also co-run Global Warming (nightclub), written for Digital magazine, remixed (demixed) artists work, designed web page sounds, had his music used in TV shows and commercials and has performed live around the globe.
Ross is also the founding member of VICMOD, co-owner of VICMOD Records and a member of the VICMOD Ensemble.
What have you been working on lately, and do you have any upcoming releases or performances?
I record every few days, so there is always a creation to listen back to and compile at a later date.
No gigs planned.
I know that the first system you had bought was a Serge, do you still play it?
No, I sold the Serge to pay for the Buchla system. Truth is that I did buy another Serge system later on but also ended up selling it.
How long did it take for you to become accustomed to patching your own synthesizer together out of its component parts?
A good few years, I have probably had 4 euro systems and got bored with them so I sold them and started again. Saying that I am happy with the euro system I have now. Its been the same for the last 4 years.
Its more aimed at creating ambience/abstract electronics, sample manipulation etc I really dont need to add to it.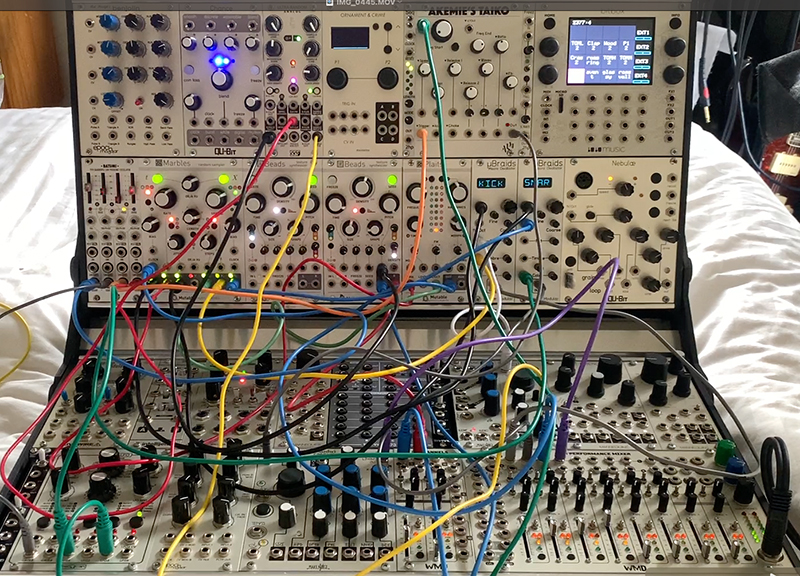 At home you favor the Buchla, VCS3, which are your favourite ones? Why?
The VCS3 is the closest thing to the sound of electricity and I love that !
It really is best suited for more abstract electronics. While I know you can make bass sounds, melodies, etc… I do prefer to make abstract sounds with it and because of the joystick it is interactive.
The Buchla is just like a trippy spaceship so I love it because it takes me to other places.
But I enjoy all my synths. They all do slightly different things.
Instrument building may actually be quite compositional, defining your sonic palette, each new module enriching your vocabulary. Would you say that their choice and the way you build your systems can be an integral part of your compositional process? Or is this the other way round and you go after a new module because you want to be able to sound-design some of your ideas?
Yes totally, I knew 16 years ago what I wanted in my modular system but the modules were not available. You go through trial and error to get the end result. You get impressed with new modules and want to test them out until you may find those which suit you best.
I havent really bought any new modular gear for a while and am pretty much out of the loop with what is new.
Do you prefer single-maker systems (for example, Buchla, Make Noise, Erica Synths, Roland, etc) or making your own modular synthesizer out of individual components from whatever manufacturer that matches your needs.
I do like the fact that my modular system is mine only. I am fairly sure no one else has the same set up and that is the best thing about modular.
I was Tony's (Make Noise) very first customer, he made a Wogglebug for me prior to becoming Make Noise so I will always look at the Make Noise stuff. I do have a mini 0 Coast system which I enjoy. The Buchla is also amazing as are all synths in their own right.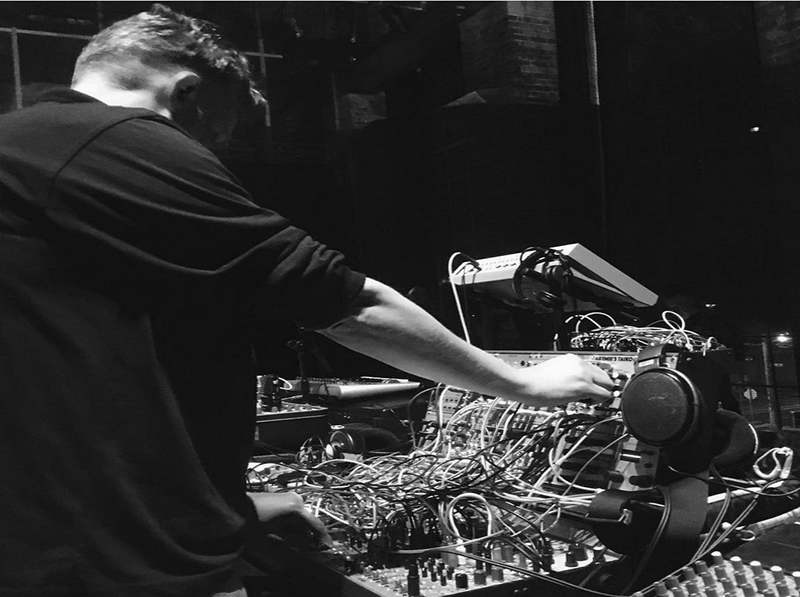 Do you tend to use pure modular systems, or do you bring in outside effects and devices when playing or recording?
I use all my synthesizers and external effects like the Poly Beebo and I create all my own sounds and effects. Same with the Empress Effects Zoia and Eventide H9. I love to program my synths and effects to push them to their limits.
I bought a Hydrasynth last year and created 200 sounds for it. I am selling a Hydrasynth sound bank as I got so many requests to sell my sounds. I felt funny about it at first but know no one can be Cray so they can be their own artists and will use my sounds for different ends.
Would you please describe the system you used to create Erroneous Hallucinations? What is your compositional process?
Erroneous Hallucinations is just the fact I really enjoy alternate worlds.
I enjoy tripping out, entering new realities. So all my albums are really alternate worlds, portals away from the boring world we live in of cheap entertainment where so much entertainment does not interest me at all. The all singing all dancing, blockbuster world is not for me.
My interests are more esoteric. I get joy out of looking at shadows, nature, learning about consciousness, A.I. etc…
The reason I love synthesizers is that they are like LSD trips, you can create alternate worlds sonically.
You have decided to no longer call what you do music. " Its a snapshot of a moment, another world, a novel.", could you please develop such aesthetics? Concept? Experience?
I am not composing songs, verse/chorus like and feel I am not creating music either, unless I am in the mood to do so i.e my Ryou Oonishi albums that are more music like.
When I listen to my creations they are like alternate worlds, multiverses, memories in rooms/ spaces or worlds that exist elsewhere, moments in time. I prefer to mix all the moments into a greater journey so a person can immerse themselves in that world, just like how you read a novel, it tells a story and places you in its world. That is what I want my albums to do. I am really looking forward to the day where I can sit on an virtual alien planet and just slowly explore with no desire to kill people, solve puzzles, get credits et all…
Just to sit and enjoy that world.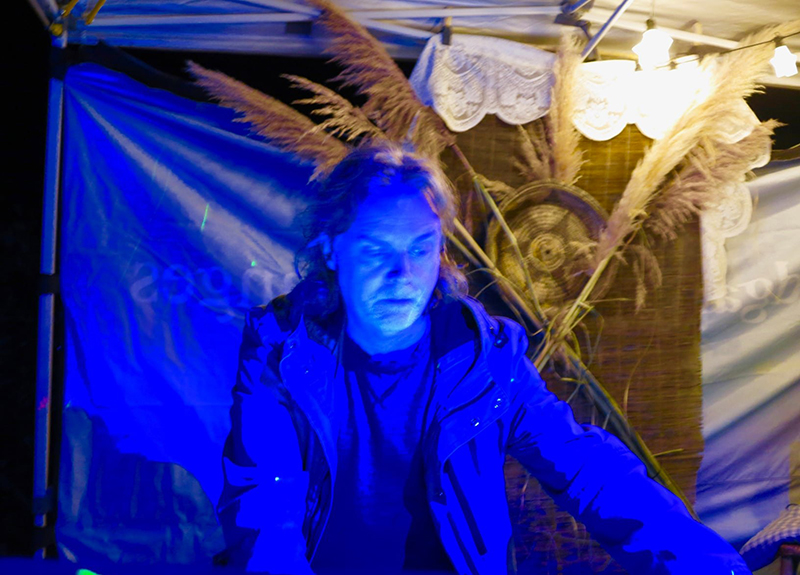 What do you think that can only be achieved by modular synthesis that other forms of electronic music cannot or makes it harder to do?
It allows you to create the tools specific to your needs.
My systems need to be exact to meet my needs. I dont need traditional drum kit sounds, leads etc. I need total sound manipulation and a modular system allows that.
Can you tell us about your collective label VicMOD Records?
I set up Vicmod Records a few years after of running VICMOD (the monthly modular synth meet in Melbourne, Australia which has been running for about 16 years). I wasnt hearing what I wanted to listen too and talking to many of the original Muff Wiggler Forum members and VICMOD members I decided to get their records out to the world.
Within the past few years have you been feeling close to some other contemporary Modularists?
Not really. I am over caring about what instruments a person uses. I care about where their composition takes me visually and makes me feel emotionally.
Any advice you could share for those willing to start or develop their "Modulisme" ?
It takes a while and research is a must to find what you want to create and how to create it.
Just like in life there will be trial and error. You must never stop until you reach your perfection.