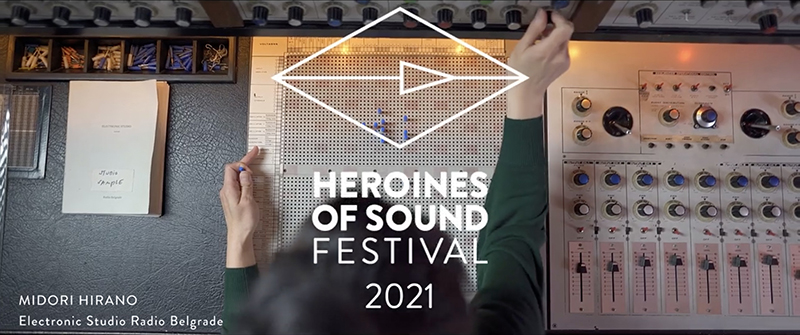 Midori Hirano comes from Kyoto and lives in Berlin.
She studied classical piano and thus her productions are based on the use of acoustic instruments while experimenting with subtle electronic processing and field recordings.
Under the moniker MimiCof she explores the realm of more experimental music and detailed rhythmic patterns, combined with an idea of drawing melodic shapes and harmonies.
She has performed live throughout Europe and Japan + has composed music for dance performances, video installations and films.
Her recent albums have been released by labels such as Sonic Pieces, Alien Transistor, Longform Editions, or Karl Records…
What have you been working on lately, and do you have any upcoming releases or performances?
My new release – "Distant Symphony" under my MimiCof moniker – came out on Karl records this June. This album consists of three long pieces I composed with the Synthi 100 during my residency at the electronic music studio at Radio Belgrade last year. I'm quite happy with the result and willing to play the similar set more often, as long as my gear is small enough to carry. I did that set in June for my "release concert", and will be playing it again in Berlin this coming December.
Besides my primary project, under my own name, playing piano with electronics has been getting more opportunities to play shows lately, and this set will be given at Festiwal Ambientalny in Poland in November with a visual artist Kaliber16.
Other than that, I had been working on a score for a new film called "Brakfesten / La Grand Bouffe" by artists Anne Duk Hee Jordan and Pauline Doutreluingne. It was premiered at the Gotlands Art Museum in Sweden in the end of August. This is a satirical film about consumerism and gluttony, revealing the fascinating intricate relations between plants, trees, funghi, insects, birds and other living forms. This required me to do a lot of work, since I had to do the whole sound design alongside composing music for 30-minutes-long, same as like scoring a silent film. But it was – and it's always – quite inspiring to watch how the music / sound I created intertwine with the visual images.
Otherwise I've been working on my next album and I'd like to take some time for this, since I had relatively many releases in the last few years and I need time to refresh my ideas.
Your compositional process is based upon the use of acoustic instruments such as the piano, strings or guitars, that you process or combine with Electronic. How do you work to marry that Electronic with your acoustic matiere?
Dealing with both acoustic and electronic instuments requires continuous trial and error. But in these days, thanks to the expanded possibilities of what software and hardware can do, I can experiment with various mixing methods. And the only thing that matters in the end is that different types of instruments sound tight-together.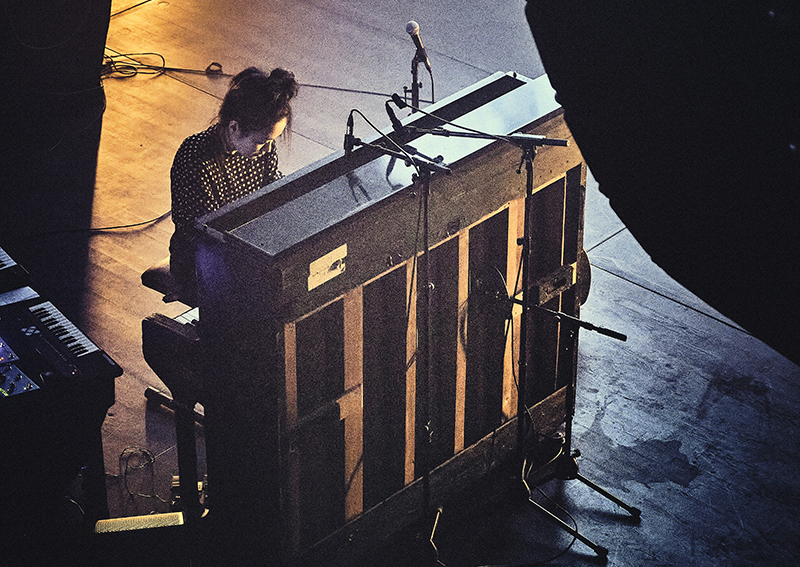 I know 2 albums from you using the Buchla 200 from EMS and the Synthi 100 from Belgrade electronic Center. Are those your favorite systems?
The idea to use Buchla 200 and Synthi 100 happened rather incidentally in 2015, when I got to learn about the residency opportunity at the EMS studio in Stockholm. Around that time I got kind of stuck in making new music after releasing my rather lo-fi piano and field recordings album called "And I Am Here".
Before then I was a heavy user of software synthesizers and just spending lots of time to produce music on computer. After a few years I got sick of working this way. That's why I made the "And I Am Here" in hope to create music purely by instinct, improvising with a piano, without any particular concept and not caring about sound quality. It was very much an experience of getting away from the computer and back to my pure self, making music physically.
Then I started thinking about making another new album, and although I wanted to incorporate electronic elements into acoustic music again, I didn't want to go back to working only on computer or didn't want to keep using only acoustic piano either. And just when I was running out of ideas, I found out that EMS had that Buchla system in their studio and allowing guest artists to use them. I still didn't really have any concrete ideas of what I wanted to make with this synthesizer when I got there, because I had never used any analogue synthesizers before. This was very new to me, but I was very curious to learn how it worked. Of course Buchla is not an easy instrument to play with, but I tried to understand how it functions and just followed my instinct and enjoyed its wide range of sound possibilities. Then as I made more and more recordings with this instrument, ideas naturally came up to me and my "Moon Synch" album shaped up.
Regarding the Synthi 100, Berlin's Heroines of Sound Festival commissioned me to make a piece and I was offered a one week residency at Radio Belgrade that owns this synthesizer. Thanks to Svetlana Maraš who was then a resident artist of that studio and showed me how the instrument works, I managed to record many different types of sounds within a couple of days. Unlike the "Moon Synch" album, which incorporated other sound sources besides the Buchla synthesizer, "Distant Symphony" only comprizes sound materials from the Synthi 100. Which doesn't mean that I found the Synthi 100 more inspiring. I'm convinced both synthesizers have their own beauties of sounds, except that the Buchla system might have more complexities compared to the Synthi. At least I had more days to explore and try to find them, being 6 days only with the Synthi has rather stimulated my ideas on how to make music straight to the point if I may say, and also probably my skill set had improved over the past few years.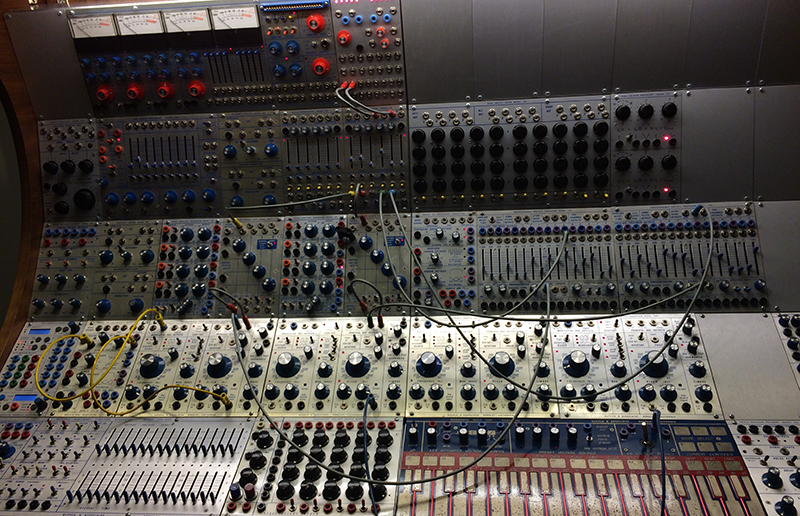 How were you first acquainted to Modular Synthesis? When did that happen and what did you think of it at the time?
How does it marry with your other « compositional tricks »?
As I mentioned in the previous answer, it wasn't that long ago (2015) when I first got introduced to Modular Synthesis in a practical way. Since I'm classically trained, it's still quite challenging but inspiring to use Modular Synthesizers, because unlike the piano or the other keyboard instruments, where you can just hit a key and get the sound you expect, the modular allows you to enjoy those unexpected sounds you may get by accident. Of course, the longer you use Modular Synthesis, the more you will learn about the functions of the system you have, your own instrument, and you will surely be able to control it to some extent and get the sound you expect. But still, I think one of the attractions of using Modular Synthesis is that it enables you to explore between the sound you have in mind and the sound that deviates from it, and it's also great to be free from any timeline…
When did you buy your first system?
I bought my first module around 2016, but I didn't actively use it for producing music until 2021. So now I have just reached the stage where I have a little bit of an idea of the sound I want to create with my current system.
What was your first module or system?
My first module was Roland's delay module DEMORA. I had been using this module as stand-alone and in conjunction with AIRA, an iPad app that was available to use in order to customize the internal signal paths, but I can't use this app anymore after updating my iPad and Roland doesn't seem to support it anymore.
Then I started thinking about making my own system, and during the lockdown time I finally began to.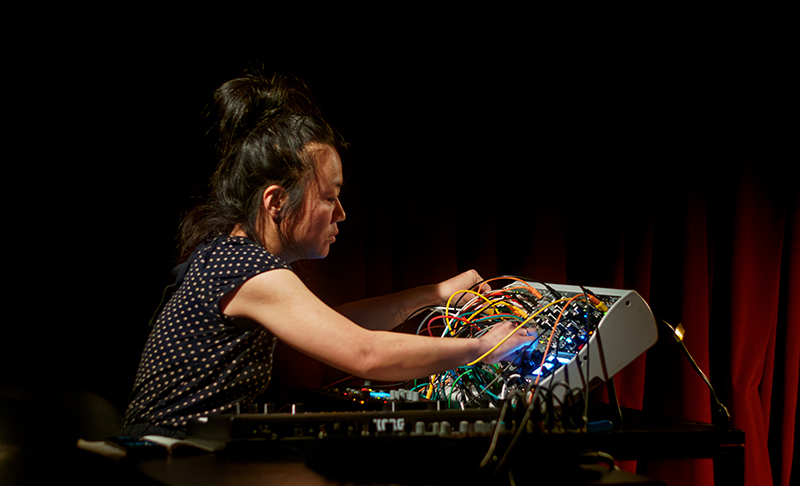 How long did it take for you to become accustomed to patching your own synthesizer together out of its component parts?
I'm still in my second year, and this June I finally made my debut to perform live with my modular system. I feel there's still a lot to learn, since my system is not yet completed.
What was the effect of that discovery on your compositional process?
On your existence?
I always like to have some different kinds of methods or tools to make my music.
Sometimes playing only piano or keyboard synthesizers, sometimes experimenting with effect pedals while playing other instruments. Using software synthesizer and Plug-ins are still big options. Tape machine and Octatrack work also great for me. So the Modular Synthesis is working just as one of the tools I use for composing and playing, and at the moment all systems are limited to fit in my 2 x 104TE rack. But who knows, I might change my mind in the future.
Quite often modularists are in need for more, their hunger for new modules is never satisfied? How do you explain that?
I may probably buy new modules from time to time too, but each time I would, I'd try to sell or give away other things so that the size of the rack does not grow too large. I'm lucky enough to be able to play keyboard which is still my main instrument, so just going back and forth between my keyboard instruments and my modular system is enough for me. Well, at least at the moment…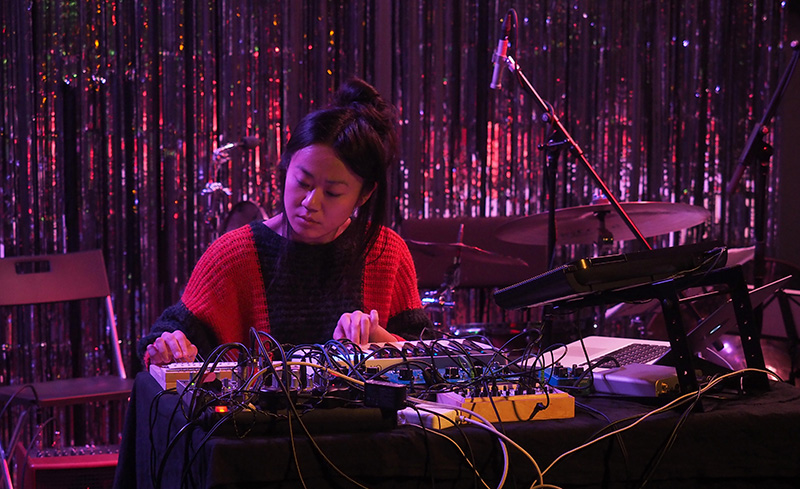 Instrument building may actually be quite compositional, defining your sonic palette, each new module enriching your vocabulary. Would you say that their choice and the way you build your systems can be an integral part of your compositional process? Or is this the other way round and you go after a new module because you want to be able to sound-design some of your ideas?
Do you prefer single-maker systems or making your own modular synthesizer out of individual components form whatever manufacturer that match your needs.
I prefer assembling my own modular synthesizer and this is the way I've been doing so far, because that is how I can customize the system in order to obtain the sound I want. And this is also financially more realistic for me to buy modules one by one and learn what they can do, and then decide which one I need next.
But, to be honest, most of the modules I have right now are pretty much "meeting standards" – for example Maths, Morphagene, Wogglebug from Make Noise ; Plaits and Marbles from Mutable Instruments, and also some LFOs, VC mixer, Clock dividers from Doepfer. So I can't say that my current system is original at all, but still I find it functional, especially when being used in conjunction with outboard gears.
Do you tend to use pure modular systems, or do you bring in outside effect and devices when playing or recording?
When I'm working in the studio, I sometimes use pure modular systems, just because there are always lots of experiment possibilities I want to try with them. But when playing live or recording, I prefer to use other devices like a sampler or keyboard synthesizers. I often use Octatrack as a sampler but also as a sequencer.
Would you please describe the system you used to create the music for us?
Can you outline how you patched and performed your Modulisme session?
For all the seven tracks, I mostly used Mutable Instruments Plaits, Make Noise Morphagene and microKORG XL as sound sources. Using Octatack to trigger MIDI clock + also as a drum sampler, and sometimes the signals from the two clock dividers are combined in a CV mixer to trigger the Plaits and Morphagene to create percussion-like phrases in sync, while modulating them with LFOs, Math and Wobblebug. The sounds from Plaits are going through SOMA's Lyra8 FX for a little added delay effects. KOMA Elektronik's Field Kit was not much used this time except its LFO.
MicroKORG was also pretty much played through the effect pedals of BigSky, Microcosm and Particle, while my modular system keeps running. Of course I like the experimentalism of what you can enjoy with the modular synthesizers, but I still like to add some "musical" structure in a classical way, since this has been a big part of my music style.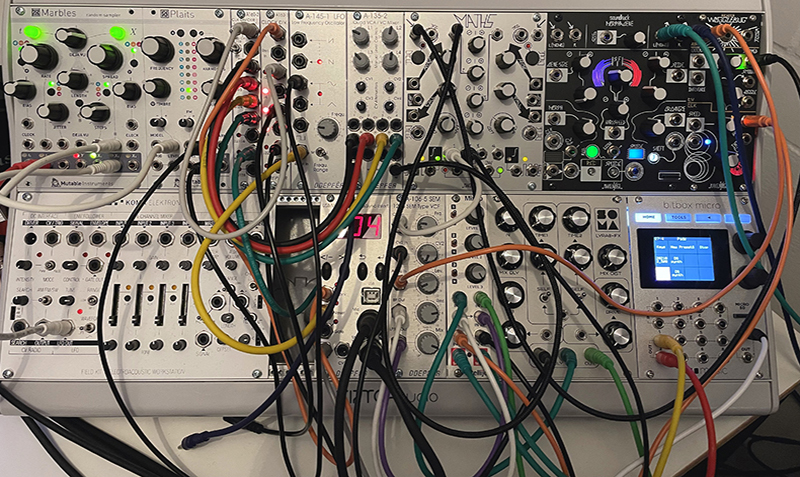 What would be the system you are dreaming of?
Maybe a Synthi AKS? – because despite its very compact size, it still offers a wide sound spectrum.
Are you feeling close to some other contemporary Modularists?
Which ones?
It's a hard question, since there are lots of great Modularists out there. But if I have to pick up a few, then Jan Jelinek and Frank Bretschneider could be the ones I have been respecting for a long time – not only because I know them in person, but also – despite the fact that they seem to keep updating their system during their long music careers – their strong music characters always stand out, whatever instrument they chose to use.
Which pioneers in Modularism influenced you and why?
Having discovered it thru the Synthi 100, obviously Paul Pignon and Peter Zinovief would be the ones because of their huge dedication to build the instrument. It was great to hear Paul Pignon's Session for Modulisme.
I absolutely adore Suzanne Ciani and all she has done. Her album "Buchla Concerts 1975" is one of my favorites, not only because of her skill on playing Buchla, but also the great beauty of her music.
Any advice you could share for those willing to start or develop their "Modulisme" ?
Like many others do, take your time to learn the functions of each module you get, before moving on. I often use the modular grid website to find out which modules I would like to get next and also for the calculation of all costs. Thanks to the internet, there are already tons of useful YouTube videos.