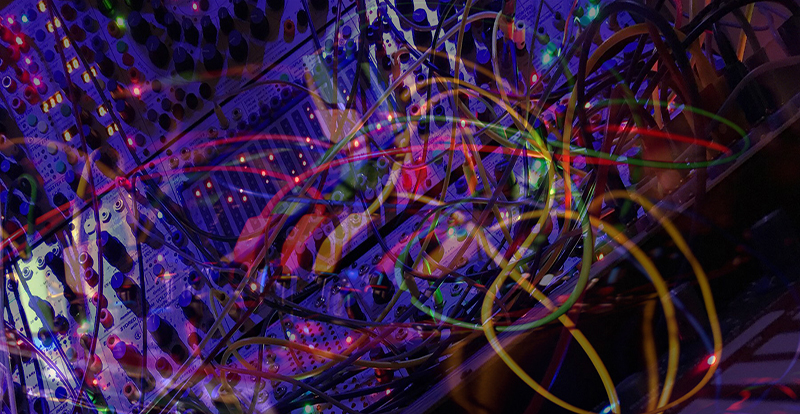 3 Year Itch Birthday Session v.2
I am Philippe Petit and I would like to invite you to celebrate the third anniversary of this platform I had initiated in September 2019 because back then I couldn't find any place gathering and offering music made using analog modular instruments as well as providing some valuable informations. Most alleys were showing tutorials, demos, showing systems off without worrying too much about composing…
My priority being the music itself I craved for a change and it proved a great idea since my labor of love has exceeded all my expectations offering already almost 200 hours of free listening.
Staying generous seemed important to celebrate a birthday and so this gathering is broken down into six volumes, each being about 2 hours long, and an opportunity to invite back some familiar faces but also to introduce some who wouldn't make a full session but whose approach I like.
Allow me to insist that Modulisme deals with analog Modular and those synths need be present but could be married with any other instrument/sources: voice, acoustic, sampling, and other field-recordings… I aim at developing a platform supporting leftfield Electronic music and draw attention upon the composers who make it strong, championing the use of electricity to sustain a sound produced with a musical intent, BUT what matters is the composition itself, the research/creation process, its interpretation/result and not the tools to achieve what composers may have in mind.
For me it is crucial to transmit and share my passions so I chose to combine the informative aspect of a magazine with the sharing spirit of a sound library where the listener comes to discover musical surprises for free. Having run the Pandemonium Rdz. and BiP_HOp Musique labels for 25 years, I no longer wanted to have to make a business out of it while still offering music unreleased elsewhere and many of you have supported this idea as we have passed 700 000 listens so please keep visiting U R MOST welcome !!!
01. Suzanne Ciani – Paris Awaits (08:42)
Speaking Buchla obviously comes to mind the pioneering lady Queen gracing us with a boucy and tingling gem:
« From time to time I experiment with expanding the vocabulary of my performance technique. This is a recording that I made experimentally in my studio. »
Suzanne Ciani is a graduate of Wellesley College and holds a Masters in Music Composition from the University of California, Berkeley.
Pioneer of the Buchla World she worked alongside Don Buchla back in the early days and since then her work has been featured in countless commercials, video games, and feature films. Suzanne has provided the voice and sounds for Bally's groundbreaking "Xenon" pinball machine, created Coca-Cola's pop-and-pour sound, designed logos for Fortune 500 companies, and carved out a niche as one of the most creatively successful female composers in the world.
Over the course of her 40+ year career, she's released 16 solo albums, including "Seven Waves," "The Velocity of Love," and most recently, her comeback quadraphonic Buchla modular synth performance recording "LIVE Quadraphonic."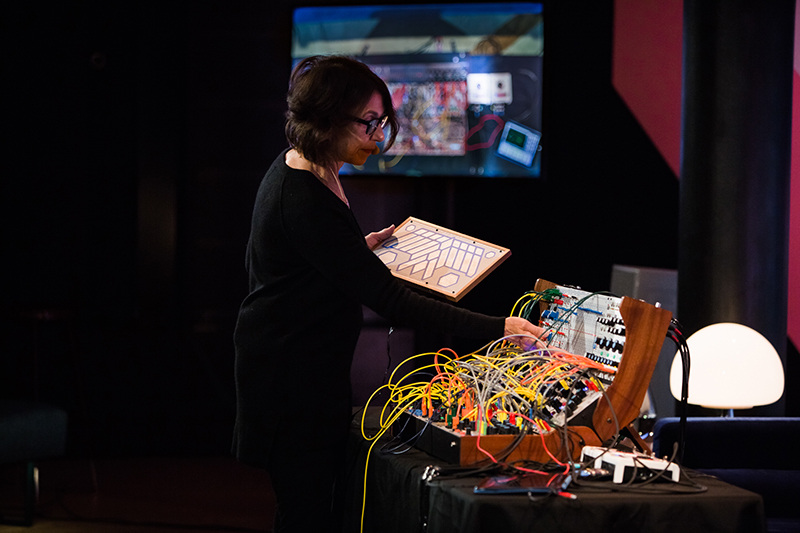 02. Lau Nau – Decapoda (02:30)
Often I am thinking that I'd be extremely happy if more ladies may contribute their music to the platform so here we go, listening to Laura Naukkarinen who stays in Buchla territory with a music composed on the glorious vintage system 200 at ElektronMusikStudio in Stockholm.
A Finnish composer and performer who works with analogue synthesizers, acoustic sounds, voice and field recordings. Her compositions comprise a range of solo albums, multi channel sound installations and scores for films and performing arts.
Decapoda was recorded in 2018 at EMS in Stockholm with the Buchla 200. It's part of a larger collection of compositions that are inspired by the variation of the plankton biomass in the Baltic Sea depending, for example, on the entering saline pulses from the North Sea, the oxygen levels and the temperature of the water. The rest of these recordings will be released on the upcoming Lau Nau album "5 x 4" in the first half of 2023.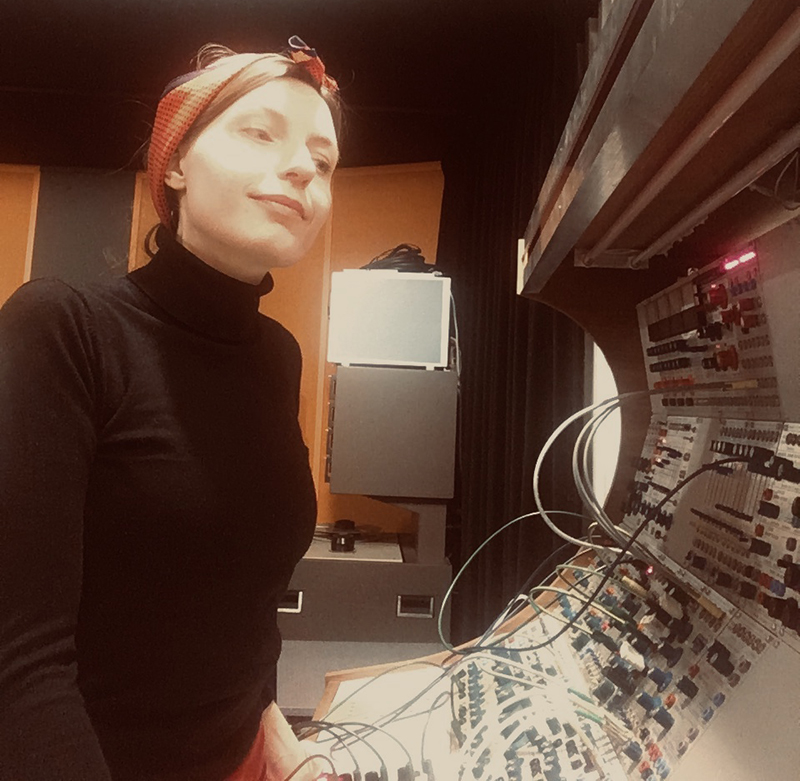 03. The Sonny Downs Quartet – Dawn Breakfast (05:22)
The Sonny Downs Quartet writes microtonal music for Buchla modular synthesizer.
The quartet is guided by luminaries that have come before such as Raymond Scott, Jean-Jacques Perrey and Gershon Kingsley, who showed us that electronic explorations can be infused with a sense of wonder and humour.
« Dawn Breakfast » employs the just intonation scale 7/6, 5/4, 4/3, 3/2, 5/3, 11/6. The preset manager is used to update the note values, stepping through a number of pleasant modes that this scale offers.
https://modulisme.info/session/22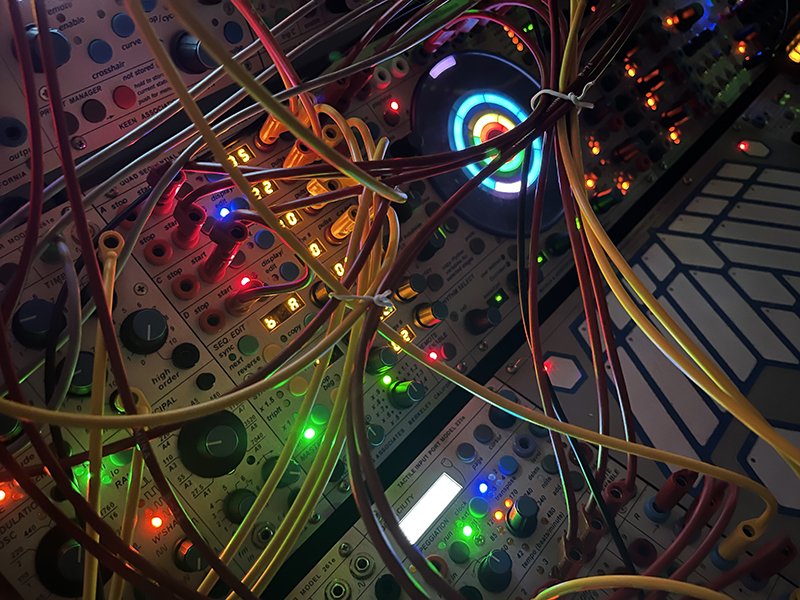 04. Rafael Timoner – Buch-La-La-Loop (05:08)
Since 1985 Rafael Timoner has been showing his works regularly in solo and group exhibitions in different cities, also participating in numerous International Art Fairs around the world. He has different sculptures in public spaces, and his art works are shown in numerous public and private collections in Spain, Europe and the U.S. The concepts of "space and time" have been the main source of inspiration throughout his career, having spent years to study anything related to it. When it comes to painting or sculpture these concepts can only be depicted visually, whereas with video (in motion) and sound, space and time acquire a more physical and real presence, becoming the center of the action. After a period of learning and selecting the tools to develop his creative processes, he has focused on exploring modular synthesis techniques, having built different Eurorack systems for this purpose (Sputnik Modular, Serge R*S and Euro Buchla 100).
I recently redesigned my eurorack system based on the Buchla 100 system, currently composed mostly of modules from "Tokyo Tape Music Center" and a few others. My recent interest is the exploration of sounds produced by "Cross Modulation" between oscillators. 144 and 156 experimenting with the creation of "loops" with the modules 140 and 123. Even though they are sounds that we can consider classics, I find that the possibilities are almost infinite and, from a personal perspective, there is still a lot to explore.
The track for the third anniversary of "Modulisme" responds to these concerns.
Without a doubt for me the CM/FM is exciting and always surprising, a challenge when you escape from the established rules and go into the exploration of new unknown territories that are impossible to imagine previously, this is the purely experimental, the most pleasant… with wild and amazing tones, nuances, textures and sounds that are revealed along the way, and it is through those places where I have been traveling lately, fully enjoying the trip.
https://modulisme.info/session/49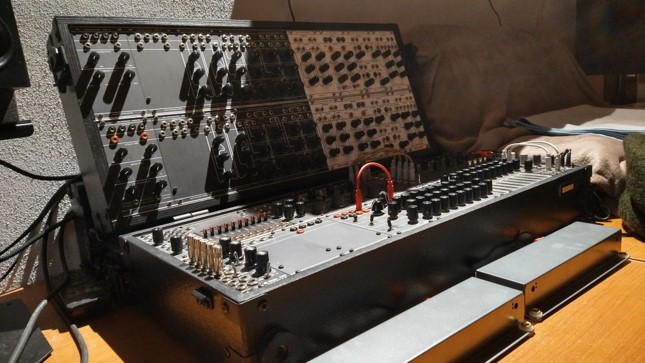 05. Philippe Petit – Strange Tingling Sensations… Can U Take Percepto ? (05:36)
BUCHLA 200 / SERGE (73/75 Homebuilt panels + TKB + Siegfried) / EMS Synthi A
Mastered to Tape on Revox A77
In hommage to The Tingler by William Castle, who in his time was the king of the gimmick, and the movie remains most well known for a gimmick called "Percepto!" : a vibrating device, in some of the theater chairs, which the onscreen action activated.
I am hoping to provoke strange tingling sensations in you.
This composition took place in several steps, firstly I chose to play my Buchla system and the Synthi A.
A couple of months later I was listening to 2 great LPs: Fall Mountain « Early Fall » and « Voice Of America » from Fred Frith / Bob Ostertag / Phil Minton ; two great examples of the madness with which Bob could make his Serge synth sound… So happy to return and get inspired I added some different flavors from the Serge Resonant EQ filtered feedbacks and Buchla 296 Spectral Processor and worked to make them coexist for many more tingling sensations !
https://www.philippepetit.info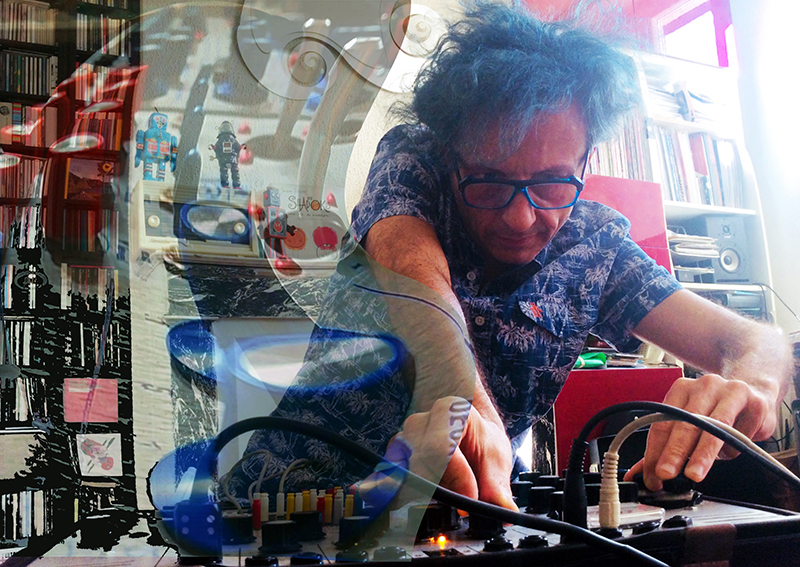 06. Cray – 4 Mari (09:20)
Ross Healy has been heavily involved with electronic music since the mid 90's. Releasing recordings for labels in Australia, Germany, France, United Kingdom, Ireland and the U.S under many different names (This Digital Ocean, Amnesia,Siko Spunji, Roland Oberheim, Ryou Oonishi, 56k, Oskar T Oram and Cray) covering many styles of electronic music.
Ross is also the founding member of VICMOD, co-owner of VICMOD Records and a member of the VICMOD Ensemble.
« 4Mari » was recorded with various synthesizers.
https://modulisme.info/session/68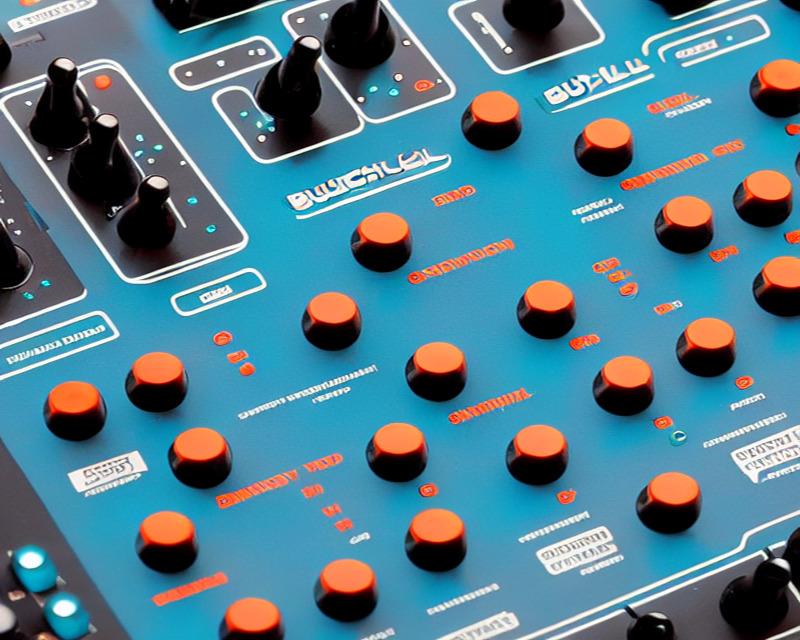 07. Juhani Silvola – Datacombs (07:16)
Juhani Silvola is a versatile Finnish/Norwegian composer, musician and producer with a masters degree in electroacoustic composition from the Norwegian Academy of Music, where he studied with Natasha Barrett.
In addition to being an uncompromising contemporary-music composer creating works where the traditional performer is irrelevant, he is also a highly regarded instrumentalist playing folk music & experimental jazz/rock/improv on acoustic & electric guitars. He has released five critically acclaimed solo albums, three successful and forward-thinking folk music albums with the violinist Sarah-Jane Summers, toured with Nils Petter Molvær, Susanna Wallumrød and Frode Haltli, and produced/mixed albums for bands such as Highasakite and Mokri.
This piece marks a departure of sorts in my creative output.
Previously my electronic work has been in electroacoustic contemporary music, indebted to both French and English traditions, as well as to acoustic chamber music from the 20th century. Datacombs, however, traces its lineage to dark minimal techno (although I'm no genre purist, and this is by no means "correct Techno").
I remember watching an interview with Ritchie Hawtin, where he talked about really getting all the machines humming or singing together. So I hooked up a rig of drum machines, Eurorack and other synths (no computer involved), and spent a long time creating the sounds and getting every machine to sing together. When I felt I had arrived at a palette and patterns that worked, the track was performed live in one take and subsequently shortened/mixed in the studio (but nothing was added to the original recording).
The title is borrowed from Nick Land.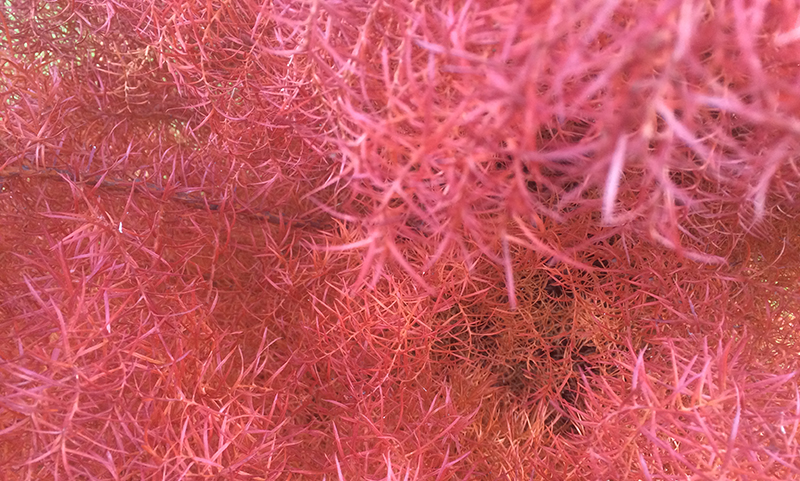 08. Kevin Rix – Color Out Of Space (20:08)
Kevin Rix studied orchestral composition and decided to move to Los Angeles to pursue a music career and started working for Audiomachine, which is a production company that places music in film and tv trailers. Within six months he was a full-time composer of Library music. In parallele he drives a powerful Buchla 200 analog synthesizer and released 3 wonderful albums under his own name…
Over the summer I was obsessed with cosmic horror sci-fi movies like The Thing, Color Out of Space, Annihilation, and Invasion of the Body Snatchers. I used them as inspiration to capture the complex emotions of what it might feel like to witness a more evolved alien species envelope all life on earth. The Buchla is great at evoking a kind of beautiful terror, as the sound of the 200e can be cold, aggressive, and distant. To me, the West Coast cross modulation and the natural aliasing from the digital oscillators overdriving the input and output circuits create a sense of DNA being ripped apart and reformed into something completely different. All thoughts, memory, and trace of our existence on this planet absorbed into a new life form.
For this session, I came up with a patch using a modified Buchla Skylab. It's pretty stock except for a 250e in place of the 251e and iconic 223e. I also allowed three extra cables to create spontaneous additional patching and used a Strymon Nightsky for reverb effects. The patch stayed the same all summer as I recorded different sessions. I was intrigued with how much variation could be achieved within one patch.
https://modulisme.info/session/4/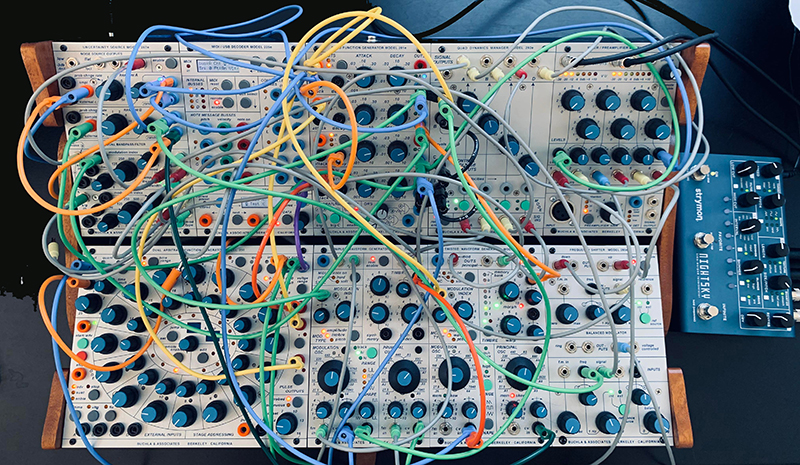 09. Orugôru (Rémy Tran) – Uncertain walk in the dark forest (05:04)
At a very young age, Rémy Tran became passionate about electronic music, which he considered more spiritual.
From digital to analog machines and synthesizers invaded his life for more than 20 years… An appearance on the last album of Clearlight (« Impressionist Symphony », with Cyrille Verdeaux, Steve Hillage, Tim Blake, Didier Malherbe) gave him the desire to produce more music and he kept practicing his Buchla 200 system.
A few years later, a great discussion with Philippe Petit about production, pushed me to launch the compilation "Bioluminescence" gathering several artists playing Buchla instruments and composing for the occasion. In parallel Philippe had launched Modulisme, giving an additional impulse to the production of Bioluminescence. Then came the second volume of "Bioluminescence", exposing this time various modular systems, exceptional pieces of synthesizer history such as the Emu Modular, Serge, Buchla, Synthi A, etc…
This present track for Modulisme is a continuation of this need to experiment and reach some new sound horizons…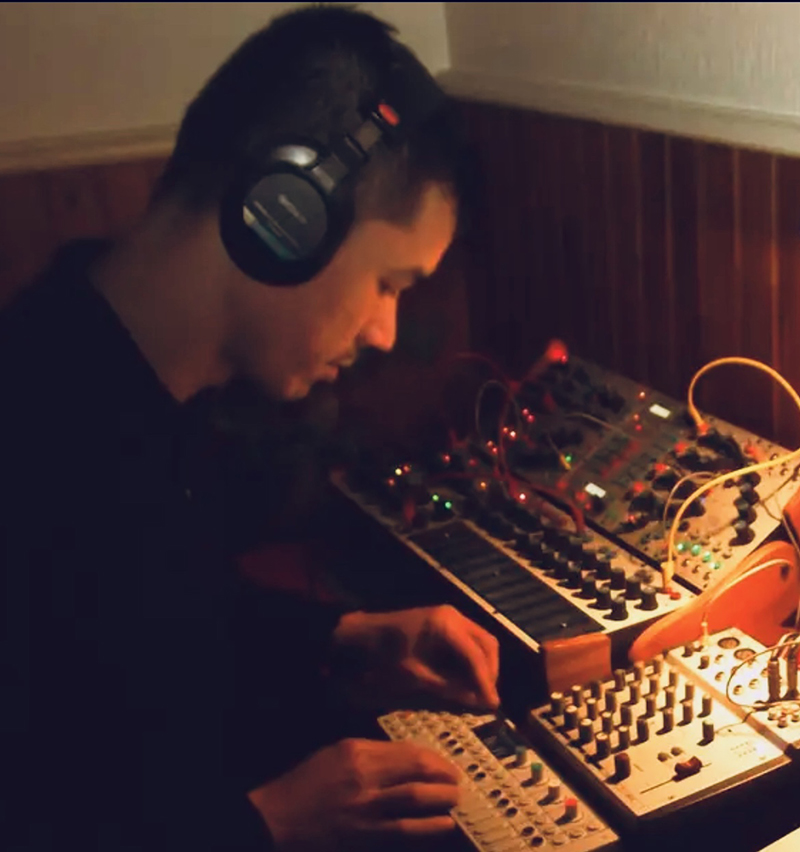 10. Benge – Micro Mountain (07:46)
Ben Edwards is a composer, producer and collaborator, writing, recording, mixing and created his own studio: Memetune. I started working with him when he was doing Tennis (a duo with Douglas Benford from Sprawl Imprint) and released 2 albums on BiP_HOp.
Later on I had pleasure following/supporting his Expanding label and his playing more and more beautiful Vintage synths…
I have been fascinated by modular synths for a very long time. To me they represent the apex of electronic musical expression !
I have never been a 'keyboard player' type musician. I prefer music that has been put together in a more mechanical way – I like listening to the machines more than the humans. I never bothered to practice my scales or even think about constructing music from a "keyboard" point of view. Not that I don't like some music produced by great keyboardists, and great humans, its just that my direction of travel has been away from that and more towards listening to the machines.
Obviously computers can now recreate anything that can be done with a modular system, but the difference is for me they can never replace the experience of being in the presence of a physical object like a modular synthesiser. We live in the physical realm, but too much of life now seems to be experienced in the virtual realm, its not somewhere I want to be spending my creative time. So that is why I am so obsessed with modular synths, and I think I am just stuck in my ways and am still living in the physical world – I can't seem to break away from it!
https://modulisme.info/session/15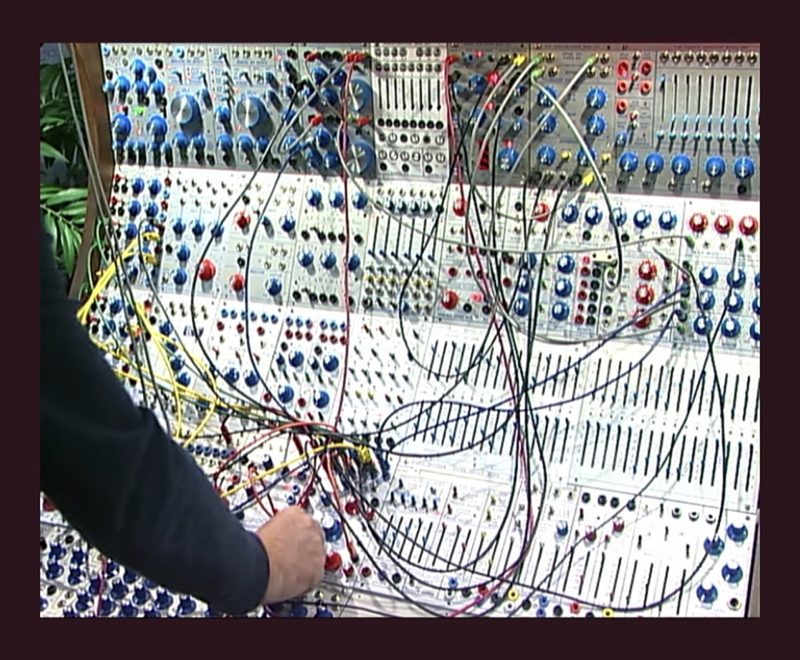 11. Palle Dahlstedt – Iron Gait (03:33)
Palle Dahlstedt (b.1971) is an artist, composer, improviser and researcher from Stockholm, currently living on an island on the west coast of Sweden. He has studied piano, composition and electronic music (MFA, MA), and has a PhD in evolutionary computation for artistic creativity.
This piece is part of a series of recordings made in my mountain cabin in Swedish Lapland (65°N) during the late autumn days of 2021. There, in my great grandfather's fishing hut, with no electricity nor running water, I cook over open fire and get water from a small creek. For my modular, here a three-frame Bugbrand system, I rely on a small solar cell and a car battery, and record to a portable 4-track recorder. During a hike with my son along the wild river rapids, in a place nowadays rarely visited by people, we found the remains of old log driving appliances – decaying timber and rusty iron bolts and rebars used to keep the logs in the rapids. With these, I recorded a set of sounds. The samples drive the piece and the synthesis in a feedback system, where impulses within the sounds make it move forward.
https://modulisme.info/session/45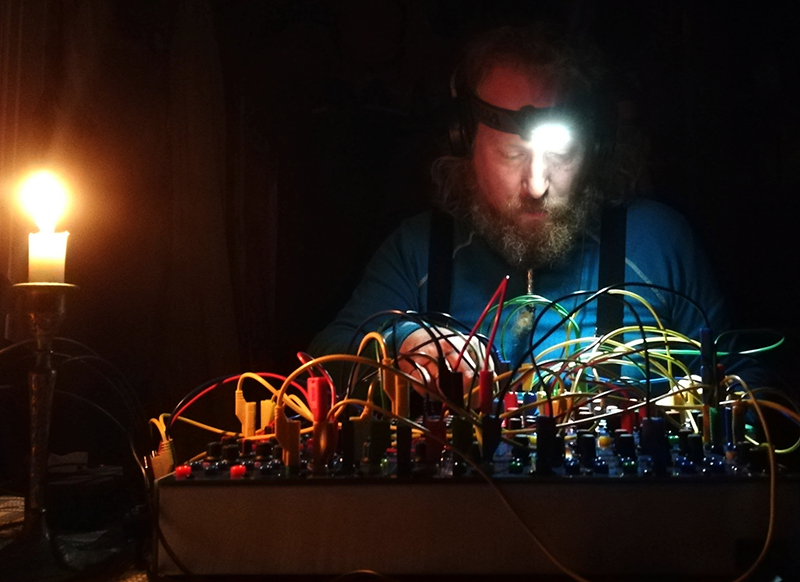 12. Ben Carey – Some Energy Is Always Lost (4:17)
5-panel "Kameruka" Serge system (TKB, Mantra, La Bestia II, 73-75 Homebuilt panels)
12U Eurorack system (featuring the Koszalin Frequency Shifter)
DIY Plate Reverb, Franklin Audio Stereo SPR20 Spring Reverb / Mastered to Tape
Ben Carey is a Sydney-based composer, improviser and educator. He makes electronic music using the modular synthesiser, develops interactive music software and creates audio-visual works. Ben's research and practice is concerned with musical interactivity, generativity and the delicate dance between human and machine agencies in composition and performance.
This piece was constructed from various recordings made on my "Kameruka" Serge system throughout 2022, with some additional layers of Eurorack modular added. Listening back to the work, there was something about the chaotic interplay between the materials that suggested friction to me, a process in which some energy is always lost.
https://modulisme.info/session/20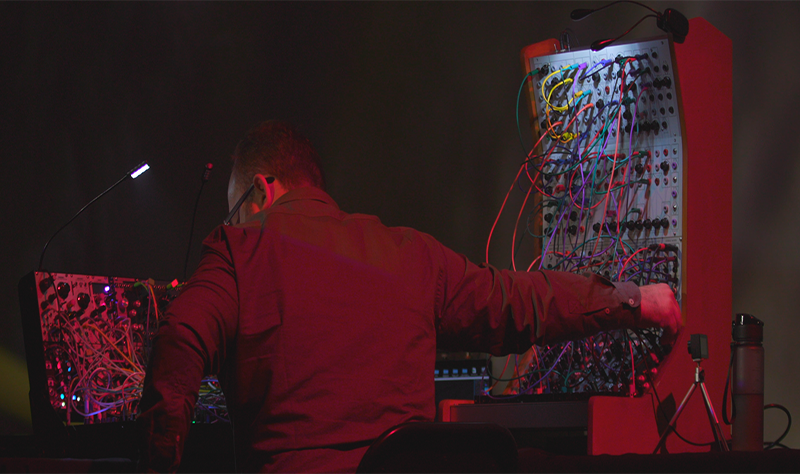 13. Thomas Dupouy – 294 (03:15)
Thomas Dupouy studied graphic design and sound art in France.
He left to work in Canada and rediscovered the "petanque" game and his Frenchness.
In Montreal he worked for Montreal Assembly (guitar effects) and Analogix a synthesizer repair shop. On his return to France he opened Synththomas in Reims, a workshop for the design and repair of analogue synthesizers and joined the Sonopopée collective, which is a group of artist-musicians thinking about interactivity and new lutheries.
This is a recording of a Buchla 194 clone (Bandpass filter) that I modified for a client who wanted to be able to drive his frequency bands with a sequencer.
For this patch the Buchla 294 module processes a Buchla 208 and then passes into a mini "L/R" module which distributes the stereo randomly.
Since the creation of Synththomas I see my recordings as technical documents allowing to listen to my research, they have no musical or aesthetic pretensions, I record the machine playing.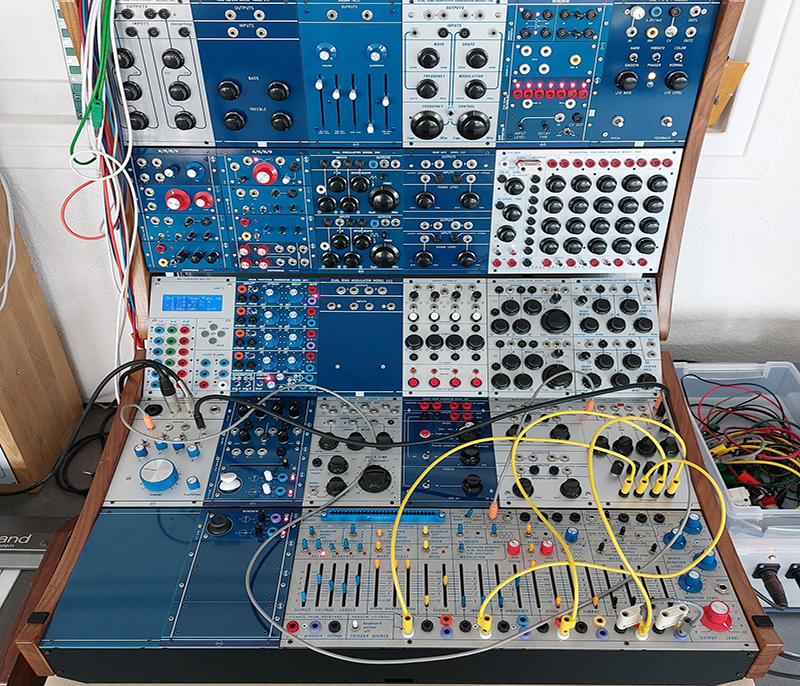 14. Batchas – The jungle in my brain [Part 1] (03:10)
15. Batchas – The jungle in my brain [Part 2] (03:04)
Recorded Aug. 26, 2018 on Buchla Modular System.
Batchas started to play electronics and experimental, industrial music in 1983 using analog machines. The way our world vibrates always fascinated him and today he enjoys very much every ephemeral moment spent improvising on his modular systems.
Part 1 begins with a 258v being filtered by a 291.
The threatening drone sound comes from the wavetables present on the 259e.
I wanted the atmosphere to be a bit dark
In Part 2 one can hear pretty well the strong character of the 291 filter, applied to a 258v oscillator being modulated.
In the second half, a 259e is added to the mix, scanning through it's wavetables via CV.
I wanted the atmosphere to grow darker, like if you were venturing into uncharted hostile territory, going through the jungle inside my brain.
https://modulisme.info/session/19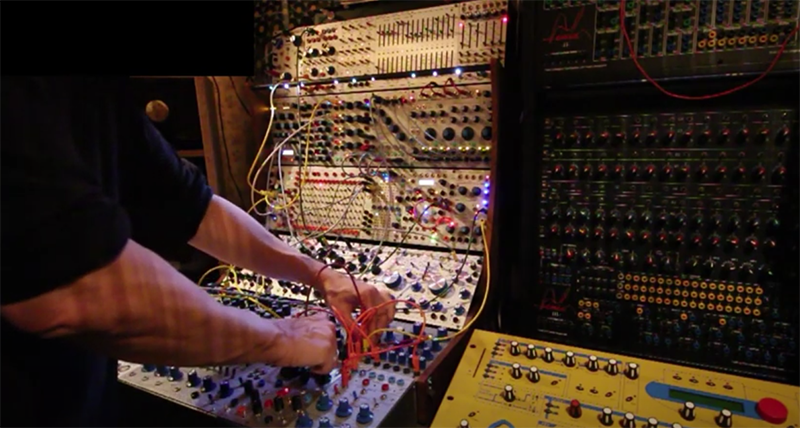 16. Genshi – Untitled 19072022 (10:08)
Originally from Southern California and currently in Portland Oregon, Film & TV Composer, Sound Designer, Multi-instrumentalist, and Modular Synth Artist Craig Anthony Perkins began as a Drummer at the age of 4 (his Father was a Drummer and started him young) a Guitarist by the age of 8, and learned Bass, Synths and several other instruments by age 13.
With his own independent record label, Craig releases music in a variety of genres under different project names, including genshi, jido-genshi, Science Patrol, cell:burn, and StarDotStar among others… Craig also regularly performs around town with his Eurorack Modular system in his "Experimental Cinematic Ambient" style under the name genshi, as well as with his retro Electro Synthpop project Science Patrol.
He is also known for his synth demos on his YouTube Channel "Genshi Media Group".
As a Film and TV Composer, he has scored a variety of indie short films, including a few he Directed himself (one of which won the 2012 iPhone Film Festival for best Animation and Grand Prize Best Overall Film) and more recently scored his first three feature films, including the cult hit "Zombie Tidal Wave" for the SyFy Channel, starring and Executive Produced by Ian Ziering (who personally hired Craig for the job) and Written and Directed by the team who brought you all of those Sharknado movies!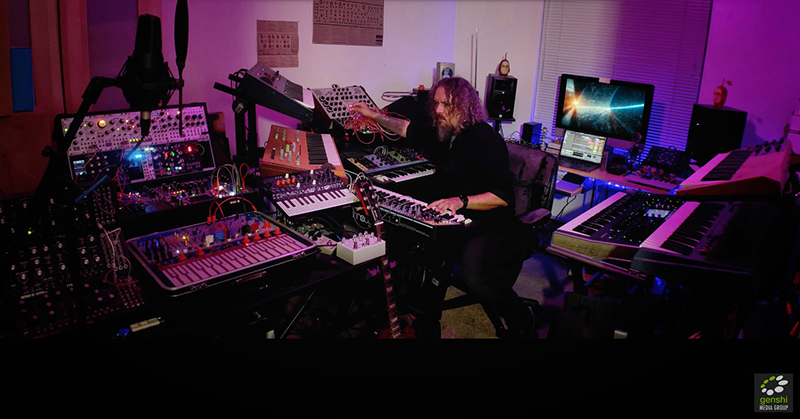 17. Fax – Diorama (05:10)
Rubén Alonso Tamayo has been a prolific electronic musician for more than 20 years.
From minimal techno to contemplative landscapes, the work of FAX is distinguished by its rich sound design and detailed musicianship. His music has been released all around the globe on labels such as Traum, Level (DE), SEM (FR), Static Discos (MX) among many others.
As an art director has designed music sleeves for The Leaf Label (UK) and Khoi Khoi (FR).
Diorama it's an aquatic piece performed mainly using my small desktop modular system (Cell 90 case) as the percusive skeleton.
The texture and grittiness of the main base was complemented with some harmonic pads, a simple bassline and some processed field recordings here and there. When mixing I realized it was turning on a weird waltz of some sort, that cadence is complemented with some random notes that pops throughout the mix.
Diorama may seem like an static piece of music but when listen on detail you'll find movement, nuances and sonic details shaping up all over.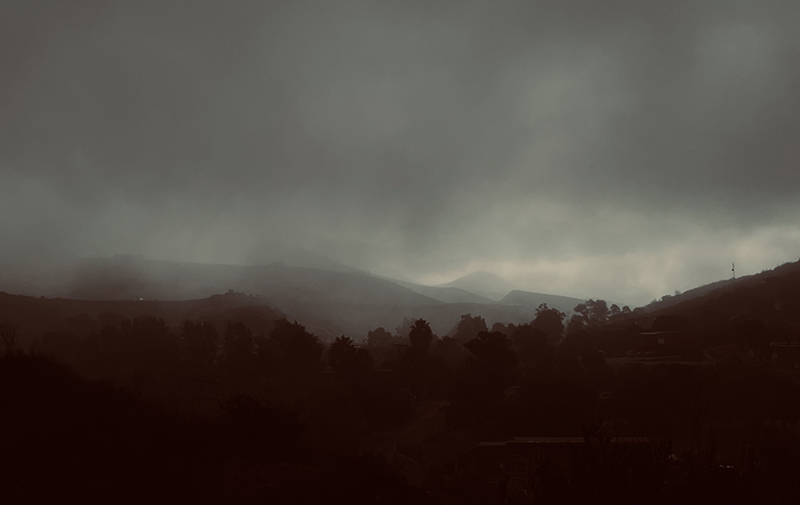 18. James Collins – Cries of Synthetic Despair (06:15)
James Collins creates electronic music for his own enjoyment and perhaps others' who stumble across his work.
He has been fascinated by electronic music since the late 1960s when he discovered Switched on Bach, Silver Apples of the Moon and earlier works such as Poème Électronique.
James remains rooted in the early analog world of the late 60s and early 70s where the sounds were raw, electric, and amazing. He approaches the music improvisationally, working with the instrument to find the sound and recording in one live, single track take, attempting to capture the ephemeral.
My studio currently consists of a large Serge paperface system from THC/73-75 and Random*Source augmented by three custom 4U panels built by Loudest Warning, an 18HP Buchla 100 clone system from La67, a Buchla Music Easel, a Stroh modular system, and a few other bits. "Cries of Synthetic Despair" is an exploration of a complex, self-evolving patch using slowly shifting intertwined sequences, asynchronous clocks, and chaotic LFOs. Multiple contrasting voices emerge from the drones, and slowly find their way around the sound field. A dark place is evoked.
The piece calls for headphones or good speakers for the full range of sound.