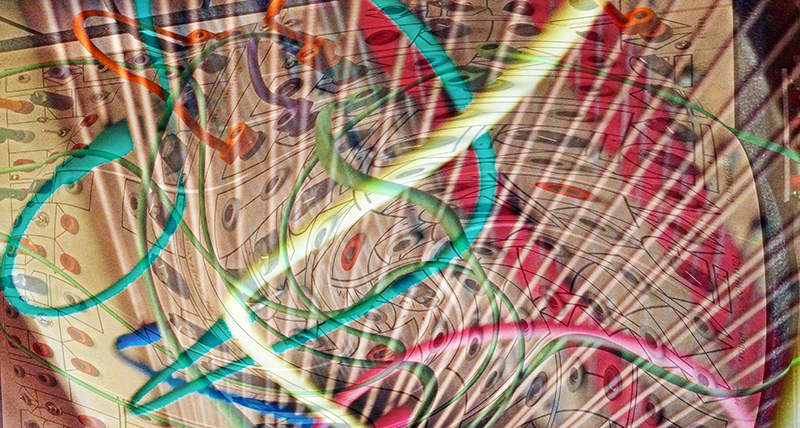 3 Year Itch Birthday Session v.5
I am Philippe Petit and I would like to invite you to celebrate the third anniversary of this platform I had initiated in September 2019. My labor of love has exceeded all my expectations offering already almost 200 hours of free listening.
Staying generous seemed important to celebrate a birthday and so this gathering is broken down into six volumes, each being about 2 hours long, and an opportunity to invite back some familiar faces but also to introduce some who wouldn't make a full session but whose approach I like.
Allow me to insist that Modulisme deals with analog Modular and those instruments need be present but could be married with any other instrument/sources: voice, acoustic, sampling, and other field-recordings… I aim at developing a platform supporting leftfield Electronic music and draw attention upon the composers who make it strong, championing the use of electricity to sustain a sound produced with a musical intent, BUT what matters is the composition itself, the research/creation process, its interpretation/result and not the tools to achieve what composers may have in mind.
For me it is crucial to transmit and share my passions so I chose to combine the informative aspect of a magazine with the sharing spirit of a sound library where the listener comes to discover musical surprises and can listen online for free.
This is our 5th celebration volume and I am awfully pleased to open it with the great music from a good friend: Gabriel Prokofiev, whose work I have been following for so long already. Having supported his Nonclassical label since its early days, for a few years – in hommage – I even had a radio program named Non_Classical, showcasing the works of composers pushing further the limits of Contemporary music. Gabriel realised early on that electronic technology would push the boundaries of acoustics and that the two would complement each other perfectly. Obviously the purity of the analogue sound and the modular synthesis won him over, so he also started the Oscillations label focused on releasing "electronic music that is expressive, communicative, and has a strong sense of development and structure. Oscillations does focus on electronic music with a human touch, and on compositions that have a deeper sense of journey, or narrative".
Which is exactly what Modulisme is willing to support and achieve.
MOD ON !!!
01. Gabriel Prokofiev – A Cultured Robot (02:57)
Gabriel Prokofiev is composer & producer of electronic & classical music. He is the founder of Nonclassical label & events, and in 2022 Oscillations. Through Nonclassical, he has been one of the leading proponents of presenting classical music in non-traditional venues, & created remixes of classical which are the central focus of his DJ sets.
He cut his musical teeth in the 00s producing electronic music & Grime, before returning to his classical roots with a new urban-influenced vocabulary. He has composed electronic scores for Rambert Dance & Stuttgarter Ballet, His Concerto for Turntables has been performed by over 30 orchestras word-wide.
A Cultured Robot is from a series of compositions for a duo of Moffenzeef Modular System (plus ARP 2600) and Marimba (plus Crotales), all inspired by a re-reading of Asimov's brilliant 'Robot' short-stories.
Most of the stories are set on isolated space stations, and focus on discussions between different robots and the robot psychologist Dr.Susan Calvin. As the stories progress, Robots become more and more sophisticated, and autonomous, to the point where their intelligence takes them beyond that of their human creators, and they become what could be called 'cultured robots'.
My main tool in creating this piece was the Moffenzeef System, which is a self contained percussion modular system with a really unique sound. Most of the modules use old digital chips, and my favourite module: 'Dial-up' generates sound using a chip from an old dial-up modem, when I control it with the 'MITØ' sequencer and the 'DEVIANT' Random Modulator it really takes on a life of it's own and start to chatter like a robot – almost like it has a mind of it's own!
https://oscillations-music.bandcamp.com/music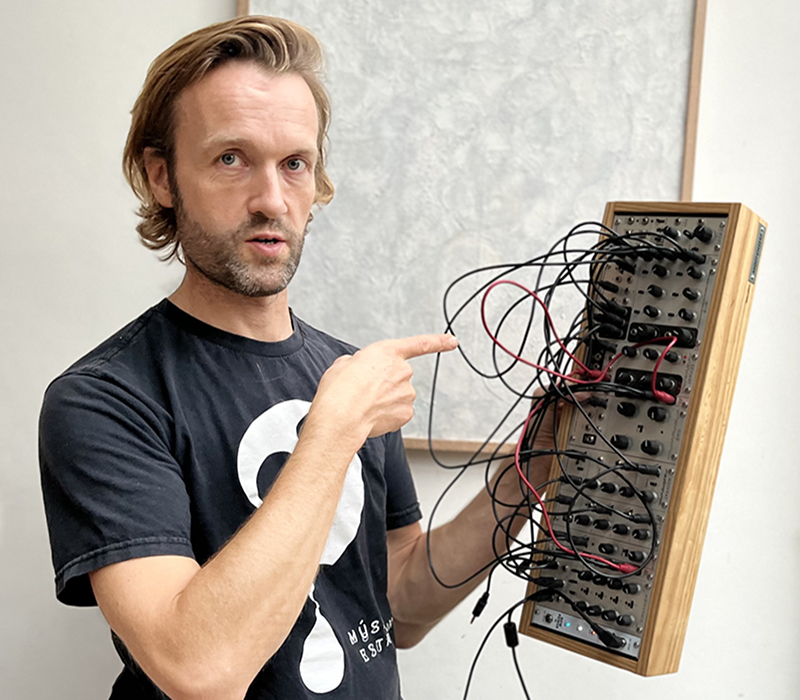 02. Philippe Petit – The dust of ELECTRICITY which lives in each one (11:21)
Prepared Piano Soundboard + Aluphone + Kalimba + Buchla 200 & 73/75 Serge Synthesizers + Voices
In the depths of the fleeing galaxies
Where the young turbulent nebulae shine
The white dwarfs in infinite expansion
Creep all up at the hair of the Blue Giant
Let us measure the weight, the step, the pulse, the shiver
Of the dust of ELECTRICITY which lives in each one
I have been drawn in without end by the sound of unstable electricity under attempted control. I love those moments where I thought I might actually be getting electrocuted, that is how organic things can sound in beautifully unstable analog synths.
Playing and manipulating a piano soundboard brings an extreme pleasure because its possibilities are so infinite.
Clothes pegs or other objects on and between the strings + the use of cotton or kleenex on the resonant structure or on some of the sticks to create surprising tones. Rubbing paper, wood, aluminium and used plastic on/between/against the strings. Scratched, banged with rubber, metal, cotton, straws, ping-pong balls, an eraser and other tools to develop unexpected percussive sounds.
Each preparation, each object slipped between the strings or rubbed against them changes the situation, it's a bit like having a concrete symphony orchestra in your hands…
http://www.philippepetit.info/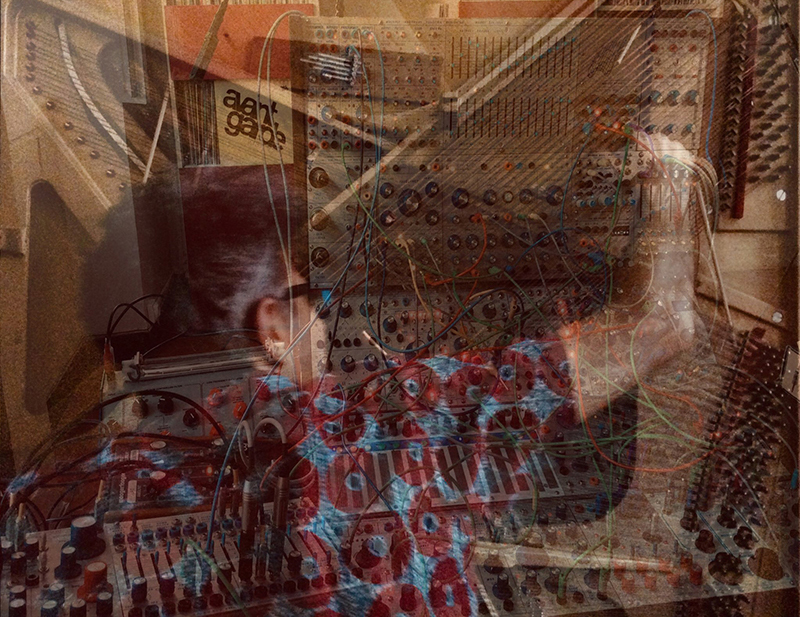 03. Scanner – Studio Experiment 2 (03:25)
British artist Robin Rimbaud aka Scanner traverses the experimental terrain between sound, space, image and form, creating absorbing, multi-layered sound pieces that twist technology in unconventional ways. From his early controversial work using found mobile phone conversations, through to his focus on trawling the hidden noise of the modern metropolis as the symbol of the place where hidden meanings and missed contacts emerge, his restless explorations have won him international admiration from amongst others, Bjork, Aphex Twin and Stockhausen.
Since 1991 he has been intensely active in sonic art, producing concerts, installations and recordings. His work connects the points between a bewilderingly diverse array of genres — a partial list would include sound design, film scores, computer music, digital avant garde, contemporary composition, large-scale multimedia performances, product design, architecture, fashion design, rock music and jazz.
The joy of modular remains the unexpected moments. Here I took a random recording of piano explorations from my hard drive, ran it through the Make Noise Morphagene, a reverb and was left with this drifting ambience. Patterns, structures and shapes are formed in ways in which I can never anticipate.
It's a minor sketch but one I'm still happy with.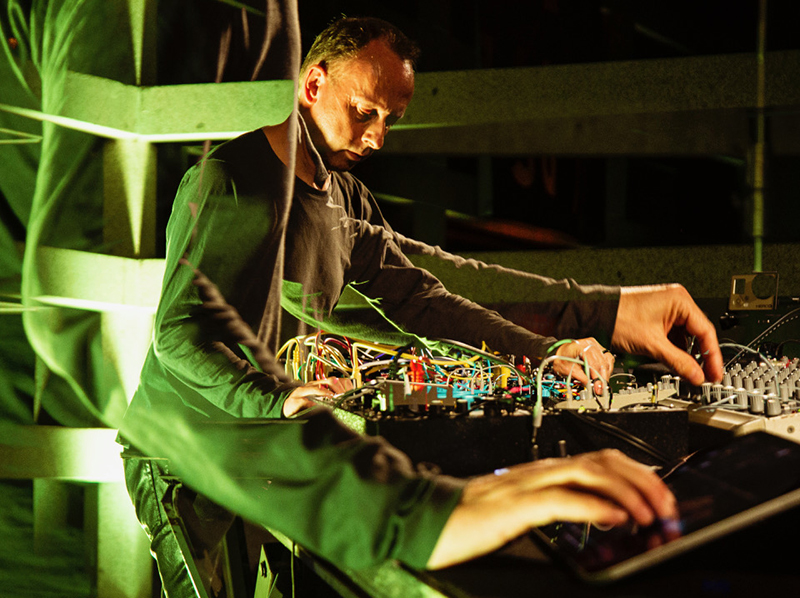 04. Teitreph! – Verhangenes Vergangenes (09:58)
The stylistic spectrum of hamburg-born pianist, organist and synthesist Henning Pertiet ranges from pseudo-classical borrowings to contemporary music, jazz, minimal music, rock and pop, and indian classical music. He says that the compositional […] is not in the foreground, but "released energy, tones, sound surfaces and experimental sounds with and without (compelling) coherence".
In 2001 he started to deal with free improvisation and came into contact with grooveboxes, synthesizers and other electronic sound generators and modifiers. His main instrument for live improvising on the synthesizer is the buchla 200e, though he also uses eurorack, various moogs and several other synths and sound morphers…
Often or mostly the titles of my music pieces are not logically explainable or have an immediately comprehensible background. Rather, they are puns or vague allusions that buzz through my cerebral convolutions (or my emotional center the belly) during the process of creating the music. In this case (Verhangenes Vergangenes), it is the allusion to the past, which in my life has very likely lasted longer than my future will be; and in this past, many memories are no longer concretely graspable or have clear contours, but are only discernible in a whole shrouded by mists of thought and images with blurred outlines. A mass that is veiled as if by a curtain.
Why the past is almost omnipresent for me in this piece, I can hardly explain. I suspect that it is like most music, namely that certain frequencies trigger certain memories. Human beings store experiences, certain smells, sounds or feelings. These come out again from tim to time, same in music when certain frequencies reach us…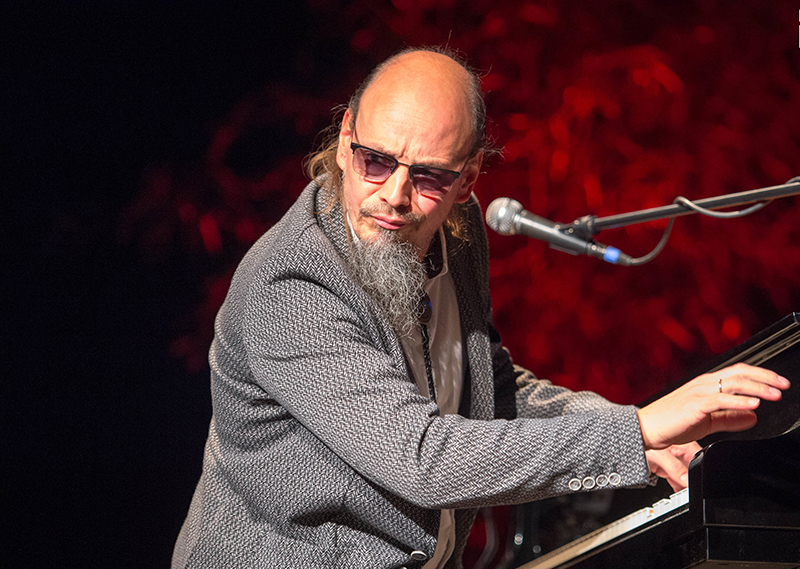 05. Josue Arias – The Electronic Language of bugs and Gongs (04:19)
Josue Arias is an eclectic and experimental artist and musician born in Madrid, Spain in 1971. At an early age he studied solfeggio, piano, and began to create his own sounds using analog synthesizers when he was only 9 years old.
During his adolescence he participated in various music groups and at the beginning of the 90s he formed the Pop-rock group "Terapia Nacional" with which he released 4 albums, toured Spain and Mexico, obtained several top 10 and received various awards such as revelation group, Smash Hits awards and Gold Records.
After the dissolution of the group in the mid-90s, he set up a recording studio for recording and producing his music but also for other artists.
From the end of the 90's he has focused his musical aspect on the audiovisual, devoting himself to the composition of music for documentaries, advertising and TV series.
At the same time, he works as a sound engineer mixing and mastering music groups and audiovisual projects, also working as a sound designer for TV series and movies.
In 2011 I moved to the forests of Patagonia Argentina, where I currently live in nature, and from my "Kymátika" studio, built with wood, straw and mud, I explore the most experimental part of music and sound using modular synthesizers, gongs, hangs, bowls… Fusing genres related to ambient, drone, electroacoustic and neoclassical; creating minimalist soundscapes, and collaborating with musicians of all kinds of styles.
It also occupies other relative facets such as sound therapy, sound engineering, music production, architecture, natural construction, permaculture and photography.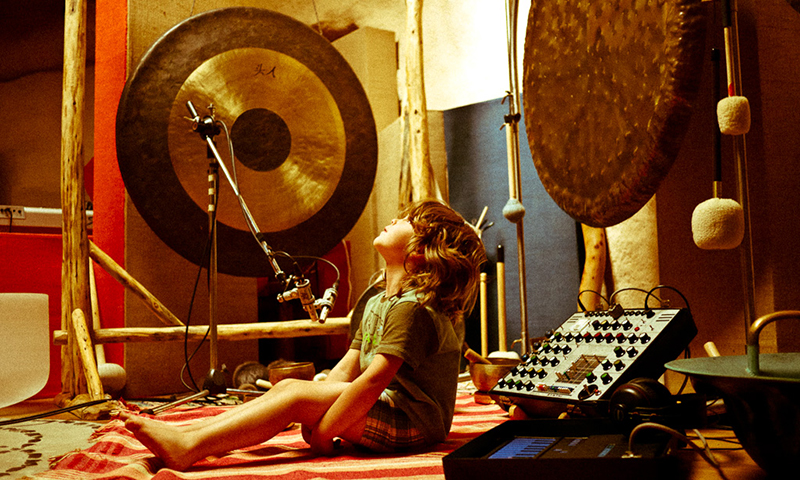 06. Vincent Eoppolo – Rituels de Transformation (10:33)
Vincent Eoppolo is an American composer from Wilmington, Delaware. Eoppolo's compositions are a mix of various sound art traditions such as musique concrete, acousmatic music, electro-acoustic music and radio art. Eoppolo began composing and recording his compositions in the early 1980's shortly after the development of MIDI and the introduction of affordable home computers. During the 1980's, Eoppolo's compositions were regularly featured on local college radio stations and his works were reviewed in Keyboard Magazine and Computer Music Journal in the 1990's. Recently his works have been presented at the New York City Electro-Acoustic Music Festival, the Bushwick Open Studio Festival in Brooklyn, Utopie Sonore in Nantes, France and De Natura Sonorum in Rome, Italy. In addition to the live presentations, his compositions are regularly featured on new music radio programs in France, Italy, Canada, Ireland, Scotland and the USA.
Rituals de Transformation is cinema in the form of organized sound. The work is a meditation on the impact of technology on humanity. As the work begins, the listener is placed in the midst of a mysterious primal transformative ritual. As the ritual unfolds, the listener is presented with an array of sonic imagery that is both recognizable and other worldly. The ritual reaches it's climax with the sound of a church bell and a thunderous tone cluster on piano. The work concludes with an ethereal soundscape that slowly morphs into the sound of an unintelligible digital voice emanating from a new hyper-being.
Rituals de Transformation (2022) is a 2 channel stereo work created by Eoppolo in his home studio Galerie Sonore. Synthesizers such as the Buchla Music Easel, Moog Grandmother, Yamaha S90, TG77 and TX802 were used along with a modular system that features modules such as Mutable Instrument's Elements, the Serge NTO oscillator and Waveshaper and the Verbos Complex and Harmonic Oscillators. In addition to hardware synthesis, Eoppolo uses software such as ApeSoft's Idensity Granular Synthesis IOS app and GRM Tools Complete music creation software along with Logic Pro X.
https://modulisme.info/session/22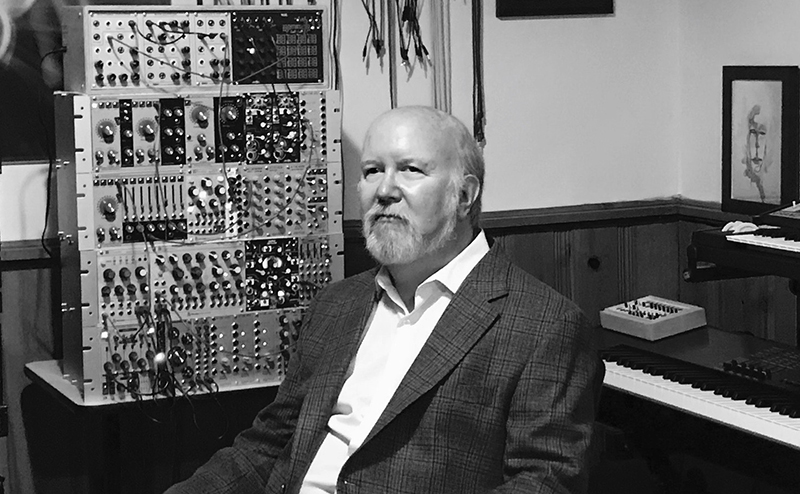 07. Richard Youngs – Fearann Anna (13:50)
Richard Youngs is a British musician with a prolific and diverse output, including many collaborations. Based in Glasgow since the early 1990s, his extensive back catalogue of solo and collaborative work formally begins with Advent, first issued in 1990.
He plays many instruments, most commonly choosing the guitar, but he has been known to use a wide variety of other instruments including the shakuhachi, accordion, theremin, dulcimer, a home-made synthesizer (common on early recordings) and even a motorway bridge.
I had a 15 minute arpeggio jam made with my new Moog Grandmother. I improvised some snare hits and vocal exclamations. Wherever it felt empty, I added a drum machine kick from the Yamaha RY9. Left and right panned egg shakers blur the hit. All sounded very well, but elsewhere I had a generative passage from messing around with the patching on the Moog. What if I replaced the hacked up arpeggios with this? Great, but a bit thin…so I add a held bass note on the Moog. The mystery (miracle?) of these elements working together made me excited. I had to mix, and just as I did, I got invited to contribute here. Perfect timing.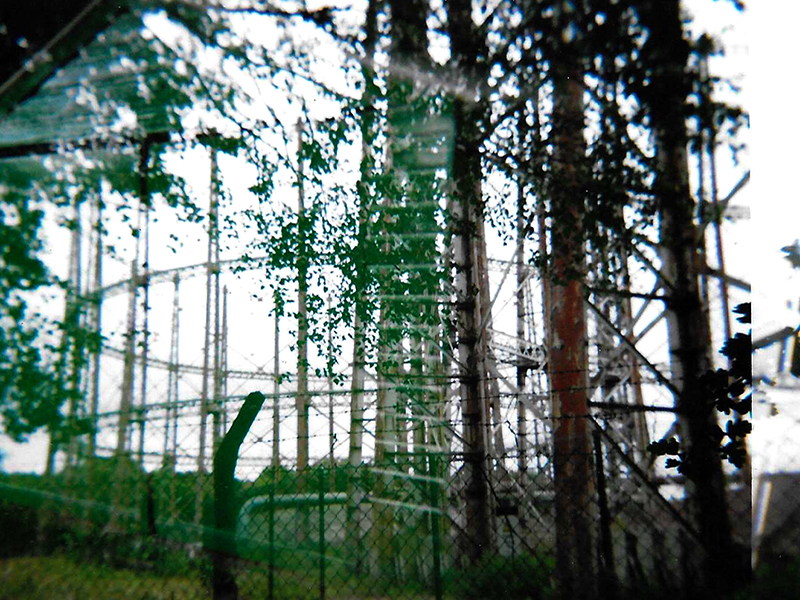 08. Willy Van Buggenhout – StockKnorr (12:19)
Willy Van Buggenhout (16/04/1954) studied electronic music in Brussels with André Stordeur (studio synthèse) and Peter Beyls (Luca). He's been playing EMS Synthi AKS for nearly half a century and been a member of several group-improvisations, working with many fine musicians and orchestras from all over the World !
Knorr is what my mom used in the soup, seems to taste really good!
An EMS (Electronic Music Studios) Aks (England 1969) & a Robin Wood (Cornwall barn) custom built VCS3 "The Putney" were used for the sounds. Excerpts from the Karlheinz Stockhausen Lecture on May 6, 1972 in Allied artists (London) Lecture 5 – [Part 1/3] Karlheinz Stockhausen – Four Criteria of Electronic Music (1972) Oxford Union.
https://modulisme.info/session/57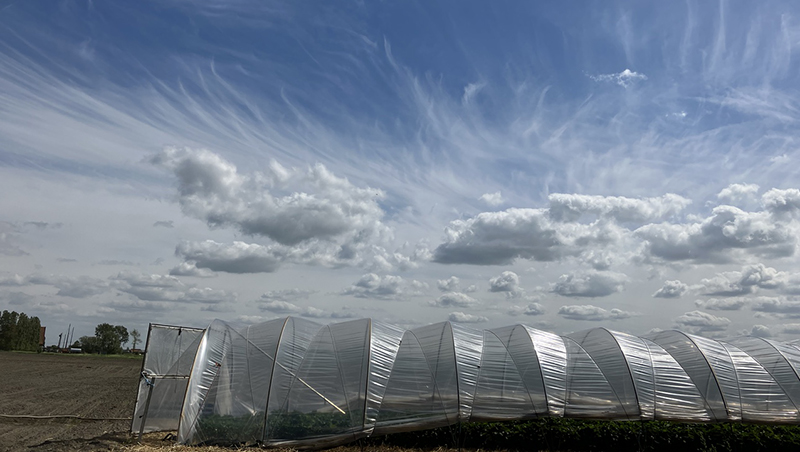 09. Chad Mossholder – Spirit box (02:48)
Chad Mossholder is an award winning Sound Designer and Composer working in Music, Video Games, and Art Installations.
With Spirit Box I wanted to explore a mixture of static sounds and melody. The melody is generated randomly and quantized. The melodc tones are produced by the Rings, one of my favorite Eurorack modules. The static elements are made from different colors of noise. Everything is sequenced with the Eloquencer.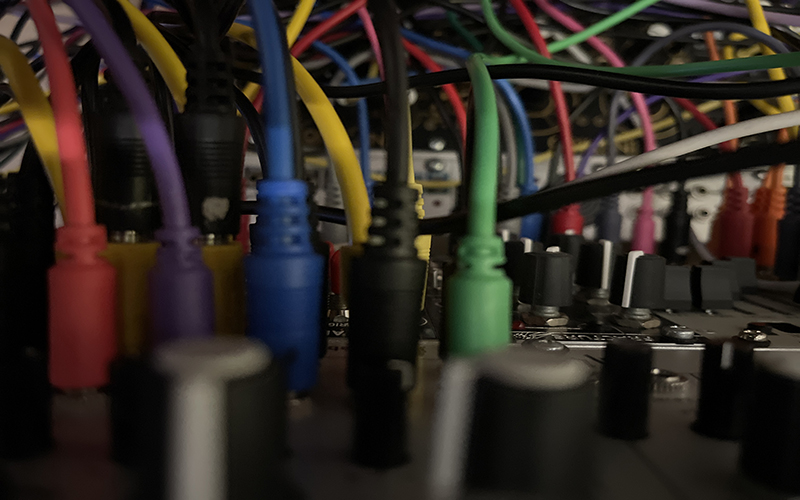 10. Miguel Frasconi – Traces (09:47)
Miguel Frasconi is a composer and improviser who has created through-composed operas, ensemble music, scores for modern dance, and also performs concerts of improvised music, both solo and ensemble.
Miguel specializes in 20th and 21st century repertoire music, and has been playing experimental glass instruments for over 45 years. He also plays keyboards, but these days in addition to composing, likes to improvise on modular analog electronics, most often controlled in other ways than using a keyboard.
Traces began as an exploration of melodic ideas for use in a short opera I was asked to compose for the NYC collective, Experiments in Opera. None of the ideas in this study ended up in the final vocal work but I later found the incorporation of the breath-controlled acoustic melodica to be quite refreshing and a good balance to the machine-controlled melodies generated by my BugBrand/Buchla hybrid setup. The piece begins with a low frequency rhythmic interplay between sound and silence, then adds pitch intervals as the low pass filter opens up. The piece then evolves into an exploration of different scales, ending with gamelan degung inspired melodies.
https://modulisme.info/session/40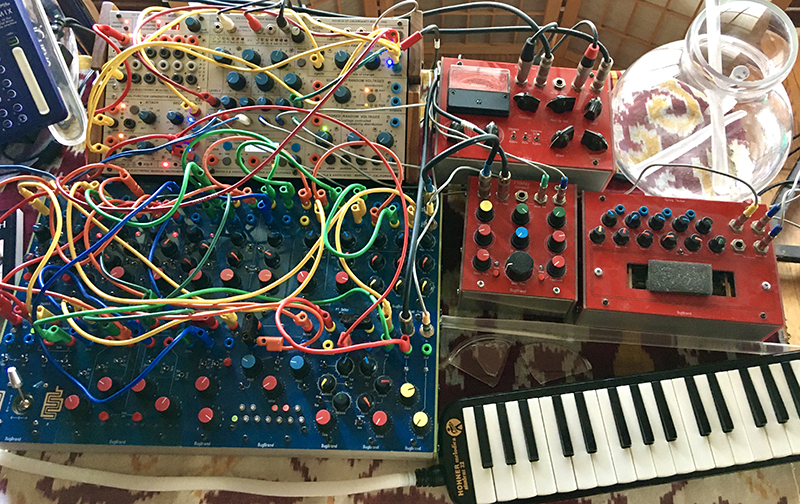 11. Joe Paradiso – An Element of Razmatazz (04:18)
Joe Paradiso has been designing, building, and using his own music synthesizers and systems since 1975. He built the bulk of his large modular system between 1975 and 1988, although continues to augment it when he gets rare bits of spare time. Joe did his PhD in Physics at MIT working at CERN in Geneva in 1981, and developed spacecraft control algorithms at Draper Lab, then joined the MIT Media Lab in 1994, where he is now professor and associate academic head. His current research broadly explores how ubiquitous networked sensor systems and the Internet of Things augment and mediates human experience, interaction and perception. With the students in his Responsive Environments Group, Joe has, for example, designed and fielded many novel Computer-Human Interfaces (including musical controllers), developed 'digital twin' avatar landscapes that generate real-time music and visuals from large custom environmental sensor installations, and fielded a musical framework that allowed artists to drive compositions from real-time data produced by particle detector systems at CERN's Large Hadron Collider. His team has recently deployed several sensor and robotic systems in space, including a novel sensate fabric for micrometeorite detection now flying on the Space Station, and a micro-rover slated to land on the moon in 2023. During the course of his 30 years at the Media Lab, he and his students have designed many kinds of electronic musical instruments and controllers that have been used in performance worldwide.
My modular system encompasses over 125 custom synthesizer modules of various sorts that I built and designed, some of which, like embedded speech engines and voltage-controlled Chaos generators, were unique in the pre-Eurorack era. My synth system has absorbed many other commercial synthesizers, such as a MiniMoog (tethered to the to the modular via 28 extracted patchpoints), a Moog Satellite, a Radio-Shack/Moog MG1, and Casio keyboards such as the VL-Tone, SK1, and CS101, all similarly modified and multi-point tethered to the modular. This rig also interfaces to a wide variety of commercial effects boxes (most of which were modified to allow for external voltage control), a Triadex Muse (also modified with several interconnect points), and the Patchwork Unit, designed by my students to allow the synth to stream over the Web and enable people online to control the patches generating the sounds. All of my instruments, modules, and effects can be cross-connected and controlled, which enables very complex patches effectively programmed by a massive nest of patch cords.
The piece that I contributed to this collection is comprised from two autonomous patches, presented one after the other, both recorded directly from my mixer without any additional performance, overdubs, splices, etc. The first half (Razzmatazz) is a simple patch leveraging my recently-completed 'Vowel' module, which is based around a 'Speech Synthesizer' kit distributed by Bell Labs in the 1960s (I had one when I was a kid). This cross-fades into Specularity, which is a short excerpt from a very complex patch involving multiple sequencers and sound-modifiers controlled and triggered by improvised logic and networked through many hundreds of patch cables.
Although Joe has made keyboard-based and digitally sequenced music (and plans to do more), most of his musical work over the past few decades has centered on huge autonomous patches running in the modular system that generate continuously evolving soundscapes – the full modular system has been installed in performance doing this at many public venues over the past decades, including Ars Electronica 2004 in Linz Austria. When he's not making music, building synthesizers, or working with his MIT students on projects, Joe enjoys seeking out edgy and unusual music while traveling the world.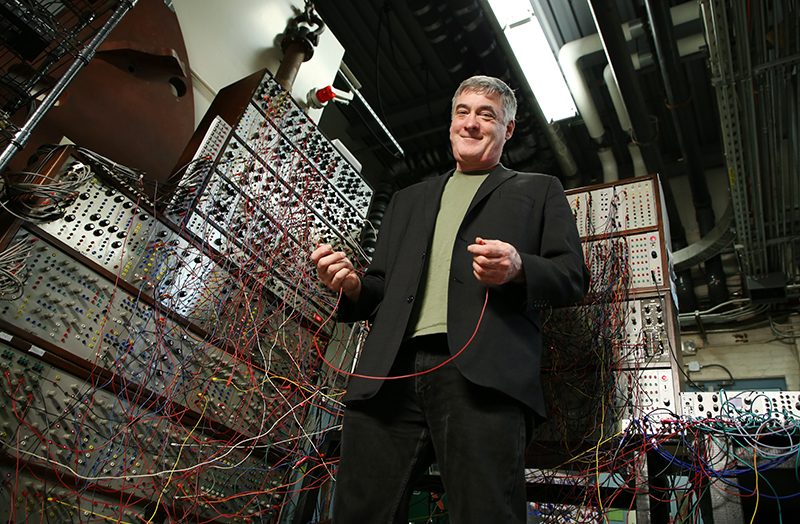 12. Illusion Of Safety – persistent duality (08:03)
Since 1983 Illusion of Safety has been the ongoing project of Daniel Burke working alone and with many collaborators. Releasing over 30 full length records, performing over 300 live concerts throughout Europe and the U.S ; the work has been called ambient, post-industrial, noise, electro-acoustic, sound collage, improvisation, and power electronics, but they have been unwilling to limit their work to any given style or method. The sonic character and affective substance of the music will often shift abruptly within each recording and live performance.
This Eurorack track is the result of random patching and tweaking until the results were satisfying enough to hit the record button. Primary modules used include Macbeth dual oscillator, Piston Honda, Frames, Erbverb, & As290.
https://modulisme.info/session/31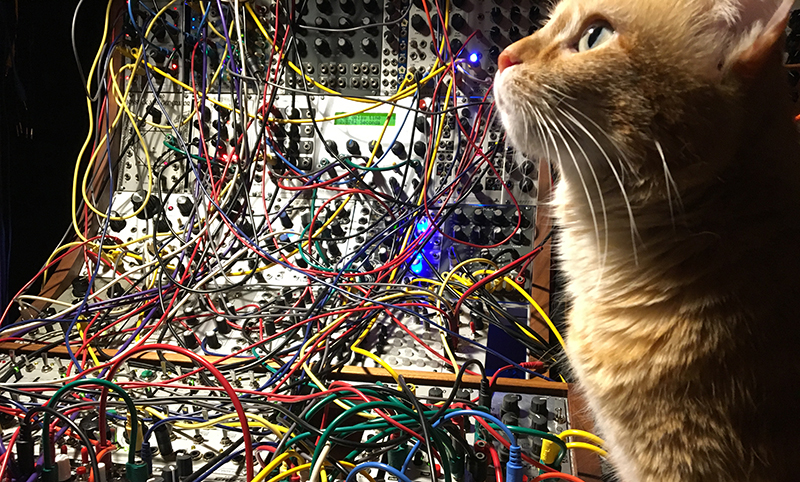 13. Thomas Dimuzio – Telstar (21:22)
Buchla SkyLab : 207e, 258B, 259e, 267e, 272e, 281e, 288v, 292e, hTM, hTT
Chase Bliss : Mood, Blooper, Habit, MIDI Box
Thomas Dimuzio is a musician, composer, improviser, sound designer, mastering engineer, and music technologist residing in San Francisco, CA. Dimuzio's music is like a sonic excursion that transports the listener into other worldly aural realms.
His recordings have been released internationally by ReR Megacorp, Asphodel, RRRecords, No Fun Productions, Sonoris, Drone Records, Odd Size, Seeland, Monotype Records and other independent labels. Among his collaborators are Chris Cutler, Dan Burke, Alan Courtis, Nick Didkovsky, Fred Frith, David Lee Myers, ISIS, Matmos, Wobbly and Negativland.
Telstar channels three CV-controlled FM radios through a variety of processing and effects. The combination of the 281e and 292e brings envelope control of the pulses generated from Trommelmaschine and Time & Triggers. Pulses are synchronized via MIDI clock with outboard looping via Blooper and Habit by Chase Bliss. Spawned in real-time from wild sources out of mid-air and in homage to early satellite communications systems.
https://modulisme.info/session/11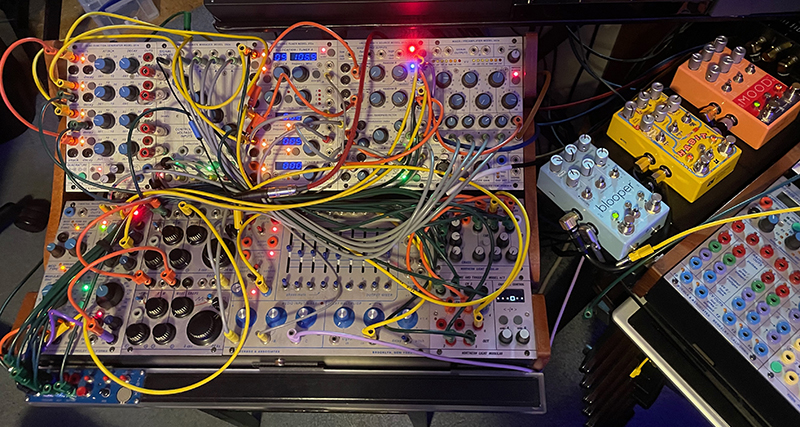 14. Batchas – Scan (03:07)
Recorded Sept. 6, 2012 on Buchla Modular System.
Batchas started to play electronics and experimental, industrial music in 1983 using analog machines. The way our world vibrates always fascinated him and today he enjoys very much every ephemeral moment spent improvising on his modular systems.
I'm focusing on LFOs and randomness, inspired by a patch by Todd Barton called "Krell Muzak".
Main sound sources: 262v, 261e, 258v.
Main modulation source: self-modulated 281e.
https://modulisme.info/session/19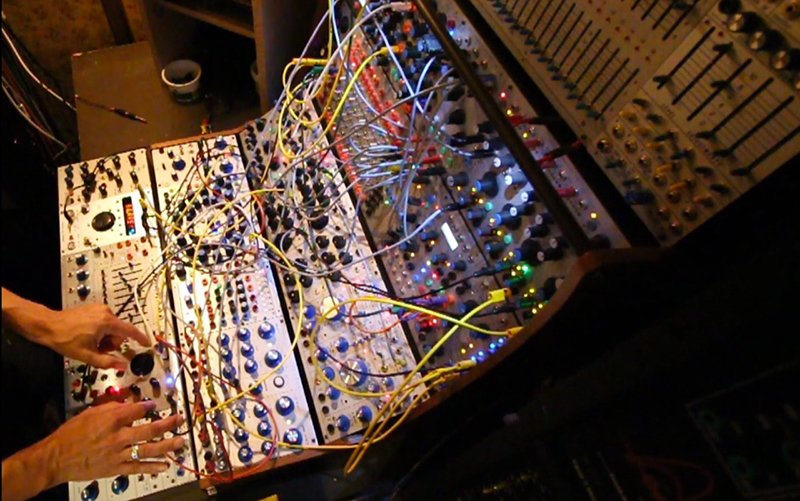 15. Apacitron – Hysteresis (10:00)
Eric Dode started experimenting Electronic live music in the early 2000s, in Free parties. Spending a month in an empty school in Kastanienallee with the Salon Bruit Berliner collective, he discovered new tools and more experimental aesthetics, free of any dance floor expectation.
Co-founder of the association Reso-nance.org with Fenshu & Jerome Abel, he is full-time involved in the design and dissemination of free tools and collective creations. For his pleasure he keeps exploring music and electroacoustic composition.
« Hysteresis » is conceived as a path, a linear form around which elements dialogue, clashing, superimposing or counter-pointing one another like many disturbing and opposing events in different magnetic materials would. The result is an assembly of different regimes more or less stable, more or less in friction, in reaction, repelling or attracting each other, being able to switch from one to the other under the effect of a disturbance, moving away from us, taking another path, perhaps a period, a reversible variation, or not…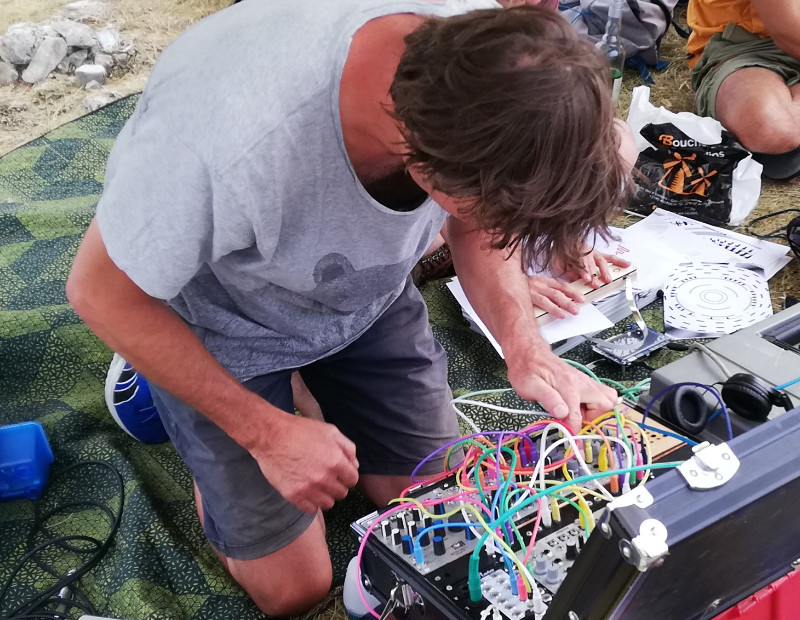 16. Thresholds – Apparition IV (03:59)
Thresholds is the latest project from New York City-based composer, mixer, and producer Chris Moore.
Moore first began exploring electronic and experimental music in 1992, inspired by Throbbing Gristle and other early industrial luminaries. After releasing several records as While on Skam and Chocolate Industries in the late 1990s, Moore moved into record production and mixing, collaborating with TV On The Radio, Yeah Yeah Yeahs, and even David Bowie. Today, in addition to Thresholds, Moore makes instrumental electronic music as Light Vortex and Polysilicon and is also a member of experimental pop outfit A.M. Boys.
"Apparition IV" is an excerpt of a larger exploration into the interplay of drones and pulses and allowing one form to morph into another. This multitrack composition was recorded in the summer of 2020 mostly using an ARP Avatar that has been modified to add modular patch-points. Layers were built up one track at a time, starting with a drone created by cross-modulating one oscillator's pulse width with the raw output of the other oscillator. Looping envelopes were used to create pulses of varying shapes, and a final layer was added with a Chroma Polaris, using free-running LFOs to create an ever-changing counterrhythm.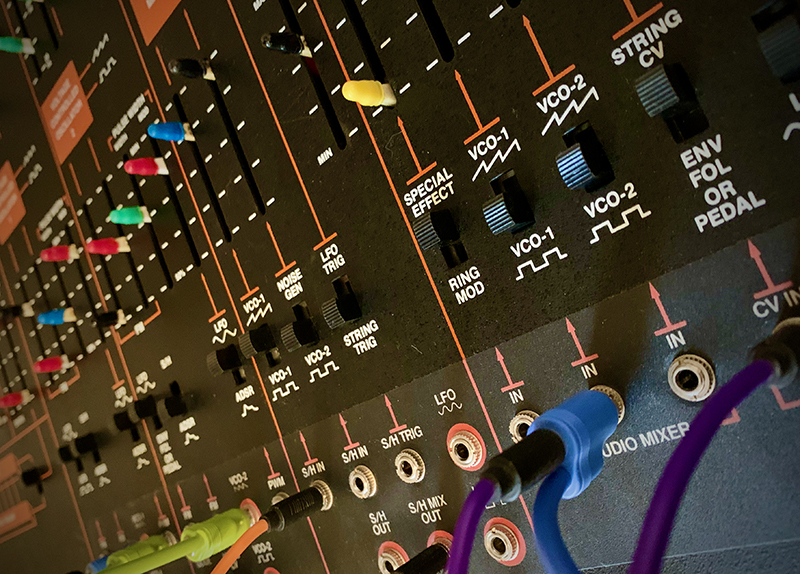 17. Solar Return – Aldebaran Magnitude 0,95 (10:18)
Recorded on Serge Synthesizer (July 2017) at EMS in Stockholm, mixed and mastered at BruitBrut Studio in Nantes (October 2022).
Solar Return is a duo composed of Jenny Pickett & Julien Ottavi.
The body of their music is based on frequency generation and interpolation of multiple digital oscillators and analogue modular synthesizers.
Electromagnetic phenomena are the starting point for their audio creations. They have produced various scores for two audio synthesizers, oscillators and DIY electronics that reflect electromagnetic patterns and events such as solar flares and cosmic electric saturation as well as the unfathomable audio world of everyday devices.
We spent one week residency at EMS in Stockholm, one of the oldest electronic music studios in Europe. We researched data from the cosmos, especially from the brightest stars in the cosmos. We collected information from satellites and resource websites on the size of the biggest stars in our galaxy, their distance from the earth and also their rotation speed. We translated this information into data that could be manipulated with electronic musical instruments. We then wrote graphic scores using these parameters to play them live on the modular synthesizers (Serge and Buchla) available in the EMS studios. "Aldebaran Magnitude 0,95" was composed from materials collected during our residency at EMS in 2017, we then operated in October 2022 a mixing of the collected materials, hours of recordings, specifically those made with the Serge, a quasi-living modular instrument with wild and unstable granular and electric sounds, which we condensed into a 10min composition, creating a musical moment close to the phenomenon of solar emissions coming from the different stars of the cosmos.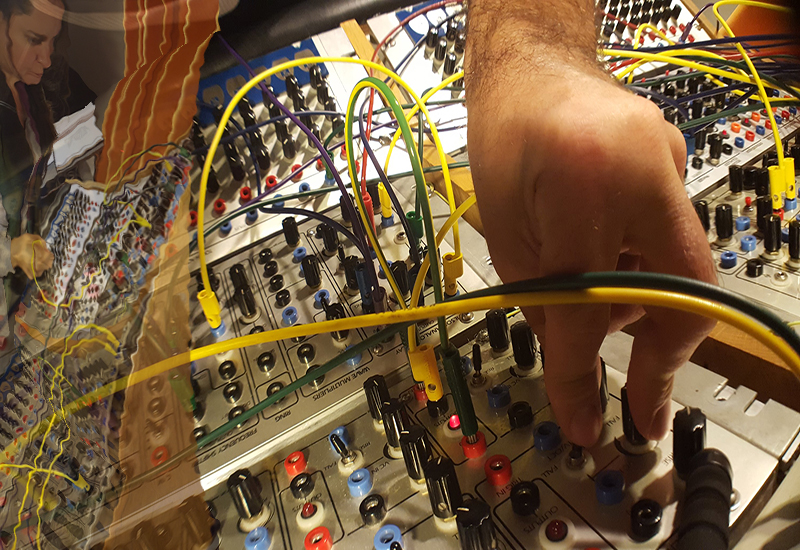 18. David First – Chatterbox Transmission (20:40)
2 General Electric SuperRadio II transistor radios
Silvertone SR2400 transistor radio
GE Model 7-2927A Portable Radio
3 Superior Instruments 650-A signal generators
Heathkit IG-102 signal generator
Knight KG-650 signal generators
2 Wavetek 180 function generators
Moog Etherwave AM controller
David First's musical life is filled with opposites and extremes. At the age of twenty he played guitar with renowned avant-jazz pianist Cecil Taylor and then in 1976/77 he was creating electronic music at Princeton University on their original Buchla 100 modular synthesizer while leading a Mummer's String Band in Philadelphia parades. He formed rock n' roll outfit The Notekillers, and has put out releases steadily from the 1990's onwards on labels such as OODiscs, Analysand, Ants, XI Records, Fabrica, Dais, Ecstatic Peace…
As a composer First has created everything from finely crafted pop songs to long, severely minimalist drone-works. His performances often find him sitting trance-like without seeming to move a muscle.
First's music has been performed all over the World, in such places as The Kitchen, Bang On A Can, Central Park Summerstage, the CMJ Music Marathon, SXSW, The Stone, The Knitting Factory, Tonic, Issue Project Room, Podewil, the USArts Festival, the Heidelberger Festival for Experimental Music and Literature, The Impakt Festival (Utrecht), Het Apollohuis (Eindhoven), and the Brugge Concertgebeouw (Brugge), Kunstforeningen (Copenhagen), the UppsalaKonstmuseum (Uppsala), Sonambiente Festival of Sound Art in Berlin…
High frequency signal generators and function generators sending signals in the lower regions of the AM radio frequency range are broadcast to an open channel on AM/transistor radios allowing them to modulate the internal resonator oscillators of the radios. In some sections of the piece, radios are further modulated by the performative use of the amplitude control antennae on a theremin.