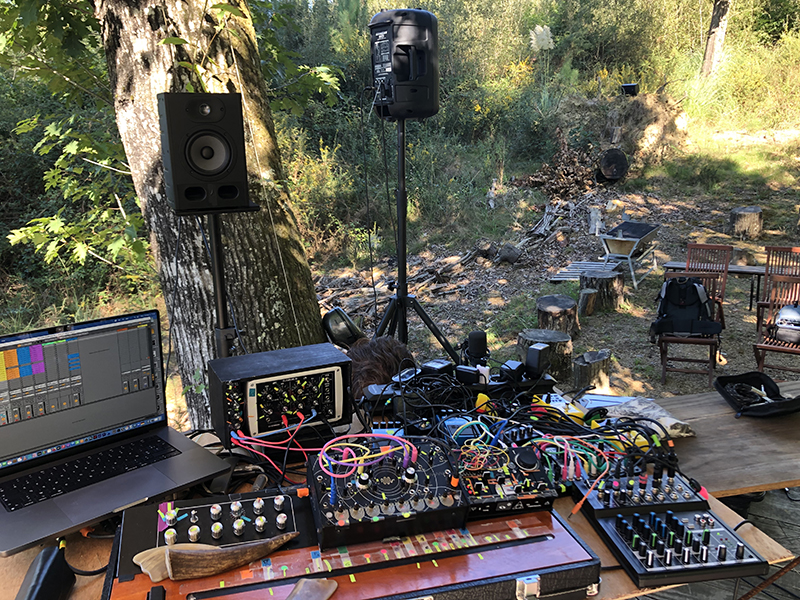 After attending the class of electroacoustic composition of Christine Groult at the Conservatory of Pantin (DEM) she realizes electroacoustic and radio pieces (ARTE Radio), sound creations for live performance (Un qui veut Traverser, 2022). Since 2016 she creates – with the trio Vierge Noire – the music for the choreographer Anna Gaïotti, (Les antécédentes, 2020, A kiss without lips, 2021-22).
In her compositions she makes Persephone and modular synthesizers converse to create a rough and ramified music.
In her improvisations, she looks for frictions, tensions and energies.
She practices a non-idiomatic music that relies on organic drones.
She is interested in wild lutheries and explores experimental improvised music with Vierge Noire, Elek Ember, Seuil Optique, Sauges, Mesce Basse, and Lucus Furrina.
Rodorayda
Immersed in a milky form of solitude, I was obsessed with flowers.
I approached them and probed the best path for my sensory being and musical acuity. I felt irresistible pulsations when I saw sheets of lustrous flowers, I tasted the flavor of their lips, the voltage of their pistils, the condensed tremors of their stems, the strange light of their faces when the night came.
I overheard conversations between their corollas that were singularly similar to ours, and the experience of these frequencies became a strange, pulsating, sonorous creature.
Rodorayda transcribes that feeling, thru the liberated force of my synths.
They play their partitions at the same time matte and satiny, strident and low. Their frequencies transpose the appearances of reality. They invite me to get back in touch with the very close presence of the supernatural to dry my sweat in the fire of their electronics. Soon a simple pressure of the fingers on Persephone reveals fleshy drones and I open the song of the modulars where virtual chirps are exasperated.
Possessed by the intoxication of oscillos and the heresy of the perfumes of the scrubland, these bushy areas have opened an untamed dance.
A supplement of soul stirs up my hearing.
May the musical space give body to stigmas?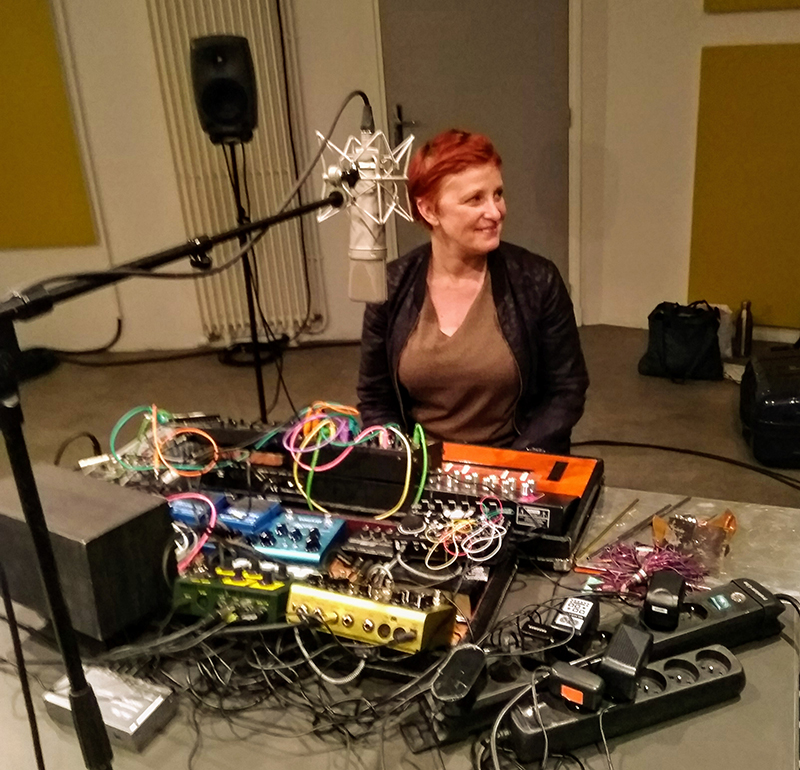 What have you been working on recently and do you have any upcoming releases or performances?
I just made a track to support the Woman Life Freedom movement in Iran, released on the Lotus Parable label.
And I'm currently composing music for a film about women witches, psychiatry and the healing resources provided by the reproductive power of women.
How did you first learn about modular synthesis?
The film « Forbidden Planet » with the music of Louis and Bebe Barron put me in a trance-like state, I was captivated by their compositions.
A new perceptive field opened up for me. I felt like I was hearing something that had already manifested itself in my dreams. It was an unlikely, hypnotic and incredible encounter.
When did it happen and what did you think at the time?
I was a teenager when it happened. These sounds were unheard of and full of unusual frequencies. They had a very strong impact and opened up an unexpected psycho-acoustic dimension for me. I was crossed, pierced by these hitherto unknown waves, I felt an energy of transcendence and the deep imprint of sound in my body.
Later on I discovered Edgard Varèse's « Ionisation » , Johanna M. Beyer's « Musique des sphères » , Laurie Spiegel's « Sédiment » , Pauline Oliveros's « Ghostdance », and Electroacoustic music…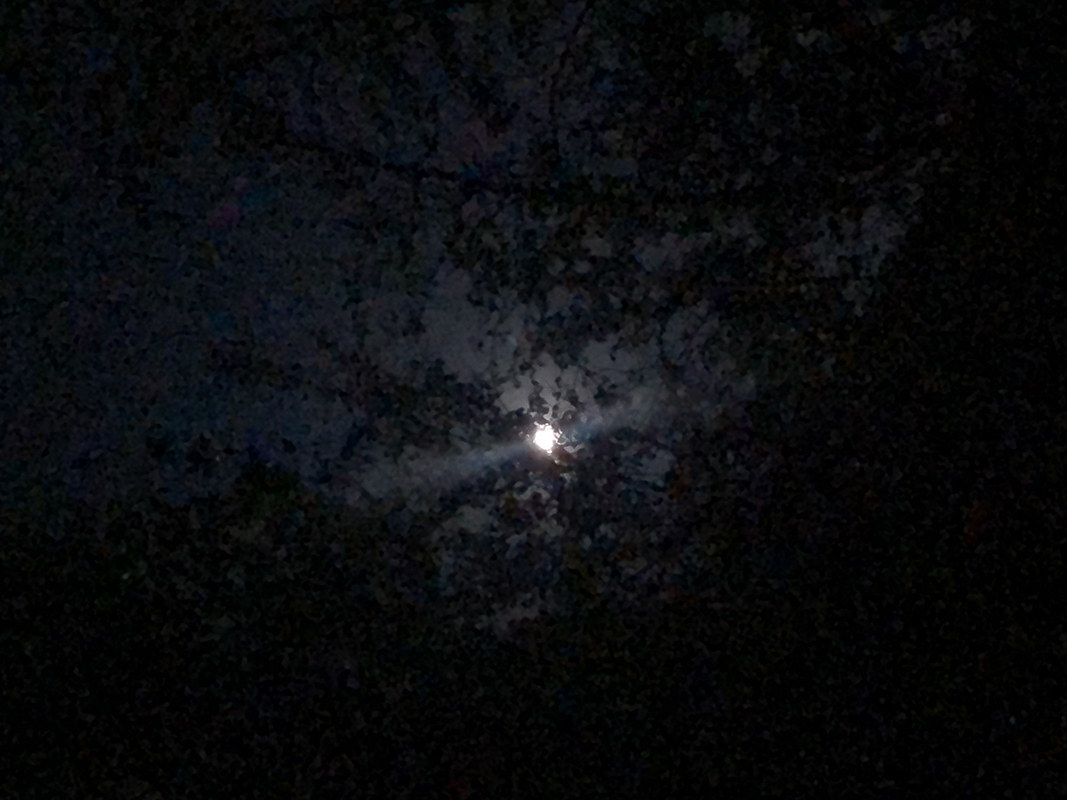 Having studied Electroacoustics with Christine Groult and being interested in different "lutheries", I think you are capable to use acoustic instruments + concrete elements or field recordings, aren't you?!
In doing so, how do you deal or combine these sources with Electronic.
I like to work with analogue synths first and foremost.
The sound samples I make come from sound events that have tapped into my ears, I sift them, incise them, then create sound objects that resonate or clash in musical jousts. Sometimes I scramble the voices and let them amplify like memory echoes.
I like to use the acoustic instruments that I make. Their DIY appearance, the feedback sounds and the noisy environment they generate allow me to obtain very rich material. I try to be economical with the means, to use the transformation plugins in a frugal way.
The sounds that interest me also arise outside of a controlled intention.
How do you work to marry this electronics with your acoustic material?
The acoustic materials I use are rather noisy. I choose them according to their capacity to marry with the extracts that I played beforehand with my synths and home-made oscillators. I try to move forward by creating events in clusters and collisions to blur the boundaries between modules, instruments and acoustic materials.
Sound events that take side paths spontaneously catch my attention.
I like the raw and bare aspect of sounds.
There are many amnesiac events in the processes I use to create a universe within which sonic structures are articulated. When I set up rules for certain patterns to recur, repeat and modulate in an ecosystemic way, I quickly forget the initial manipulations. Fortunately the random events compiled in a scale harmonise and create frequencies that correspond to the musical chords I wanted.
When did you buy your first system?
In 2010, visiting the Modular Square shop in Paris, I met Marc Sirguy and Bernard Magnaval and I was able to buy the Persephone + an MS20 clone.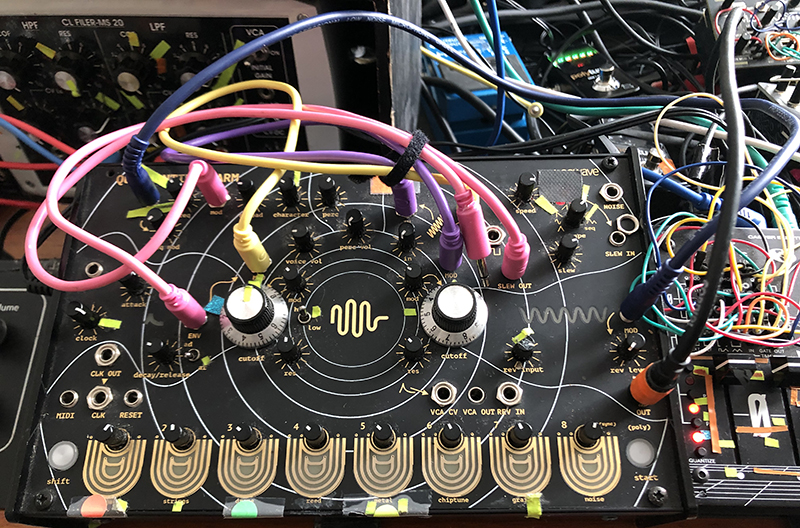 What was your first module or system?
When I discovered the Persephone, I felt that I could travel in the depths of electronics thanks to it.
It had a tremendous transformative power on me !
It irrigated my imagination both on a tactile level and for its poetic, creative and electrifying qualities. I particularly love its overdrive and roar possibilities, its hybrid sounds with ethereal harmonics, its low beats, its dynamic reliefs.
The MS20 cloned by Bernard Magnaval has allowed me, for a reasonable sum, to enter into modular synthesis and to search for rhythmic and incisive sound entities.
How long did it take you to get used to patching your own synthesizer from its components
I first started intuitively by experimenting, trying to reproduce the sound materials that interested me, then I started to enter the logic of patches by also using the midi interfaces to induce a score played by the instruments. I replayed certain sequences by noting the memorable elements.
Finally, by refining my dexterity and gestures, I was able to access a more eccentric sound palette.
What effect did this discovery have on your compositional process?
What affected me was that these analogue devices have a real tactility-reactivity. They can be expanded. They have an intrinsic life, they can rear up or constantly expand.
It was more the range of sounds emerging under my fingers than the logic of the patches that magnetised me.
With analogue instruments and modular synthesizers, I understood that there were links between sounds, their different attributes, intensity, pitch, timbre, location and the human organism in both its physical and psychic aspects.
Without a keyboard, I was dazzled by the aerial reign of the hands through the analogue instruments and the amazing innards of their electronic circuits.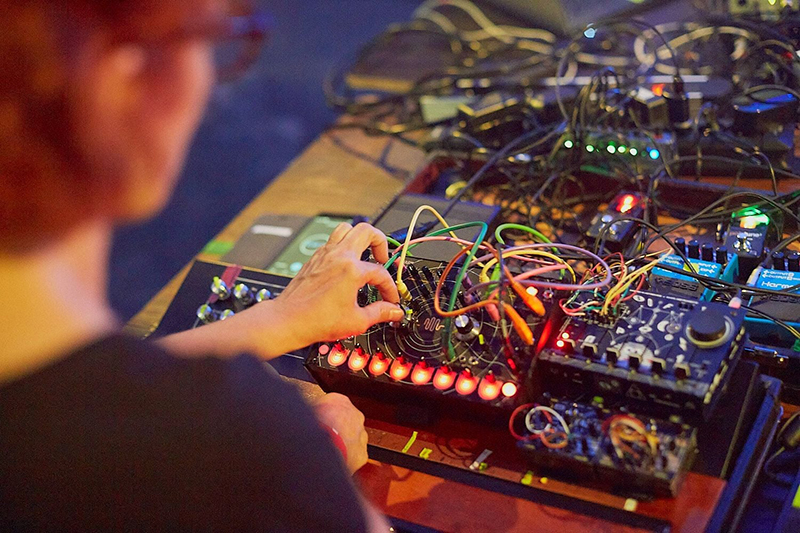 Would you say that their choice and the way you build your systems can be an integral part of your compositional process?
It's more a question of encounter.
If a module strikes my perception, arouses my attention, I may include it and drift with it on the sea of sounds.
I try my best to experience how I can push it to the extreme, how its presence destabilises the other instruments and then how they can start to dialogue, sometimes going beyond their sound range, managing unstable, fragile, saturated, percussive, abrasive and harmonic sounds….
Or is it the other way round and you go into a new module because you want to be able to design some of your ideas?
As far as musical composition is concerned, I let myself go through it.
I like to take up Pauline Oliveros' concept from her famous "Sonic Meditations" where she aims to develop states of modified consciousness and heal the body. I don't always try to tame a module to produce something mentally predefined. I welcome the potentialities of the module, I try to immerse myself in an active listening or "Deep listening" to quote P. Oliveros.
Together we dance with its musicality.
Sometimes something that I have not been aware of comes into play and I keep this resource as a synchronicity that brings its complexity and its musical alliance. I think that in creation there are data that come from other dimensions, other informed planes or sources of information and I appreciate when an exploratory dramaturgy is triggered beyond the mind.
Do you prefer systems from a single manufacturer (e.g. Buchla, Make Noise, Erica Synths, Roland, etc.) or create your own modular synthesizer from individual components from any manufacturer that suits your needs.
I compose and pan with different builders and manufacturers, but I love the solitude of the synth, the way my fingers will warm it up, highlight its soundscapes, its brilliance, its scathing, convulsive language, no matter what its brand is.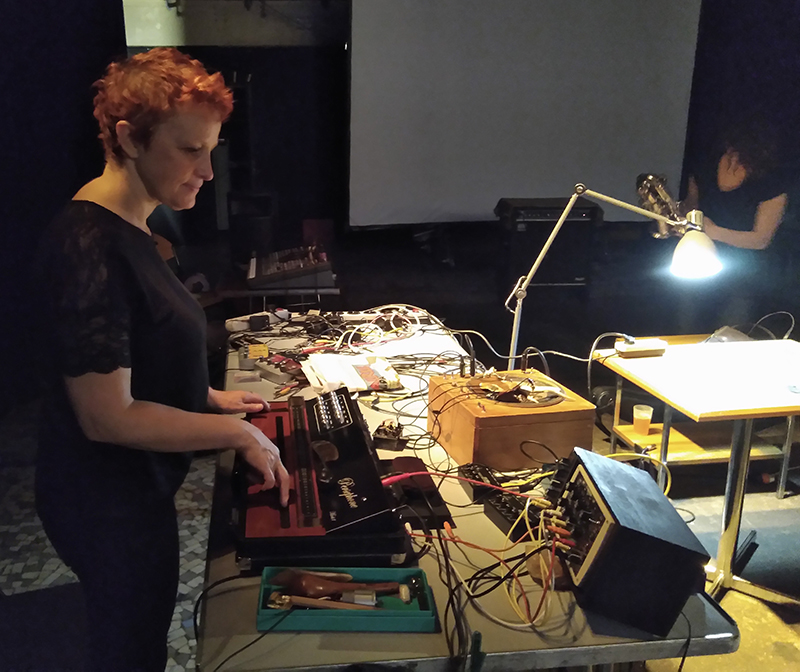 How has your system evolved?
The Persephone and MS20 were there from the beginning. A few trips to Berlin introduced me to Bastle Instruments, Make Noise.
I've added stomping waves, organic and sensitive keys to my setup thanks to these synth designers.
Do you tend to use purely modular systems, or do you bring in external effects and devices when playing or recording?
I tend to mix multiple sound sources in Live and Studio.
Concrete elements and modular sources can meet simultaneously. Sometimes I find some tricks to trigger signal, intensities that call out and respond to each other.
I have a palette of effects but generally I keep the sound raw.
My recordings are mixed memories, hybrids with an orientation that is defined according to a "deep listening" for each track.
Could you describe the system you used to create the music for us?
These recordings are linked to a place of experimentation, the night in the middle of nature in the Gorges du Tarn.
The gear I had chosens was: Persephone, Quadranted, Soft-pop, 0-Coast, MS20, Hyve.
I tried to generate an aesthetic guided by a system of tension-relaxation while keeping in mind that this musical framework will create clusters of resonances and juxtapositions.
I tried to produce in a sensitive way relationships of balance inhabited by sounds controlled or not by modulations.
In this machine-like agglomeration, the attacks of the note are sometimes recognizable or are passed over in silence.
I immersed myself in an undulating bath in the middle of nature to juggle the coherence of a composition with the radiant power of spontaneous responses between synths.
Can you describe how you patched and produced your Modulisme session?
I used a prism, a trance that placed me in the position of a simple intermediary.
Oscillations declined into fragmentary constellations on the bodies of my memory.
In these nocturnal experiments, I let a non-idiomatic, unexpected, timeless music pass through, to feel the irresistible race of vibrant fragilities linked to flowers and the maquis.
This is how the affordance of the place populated my session.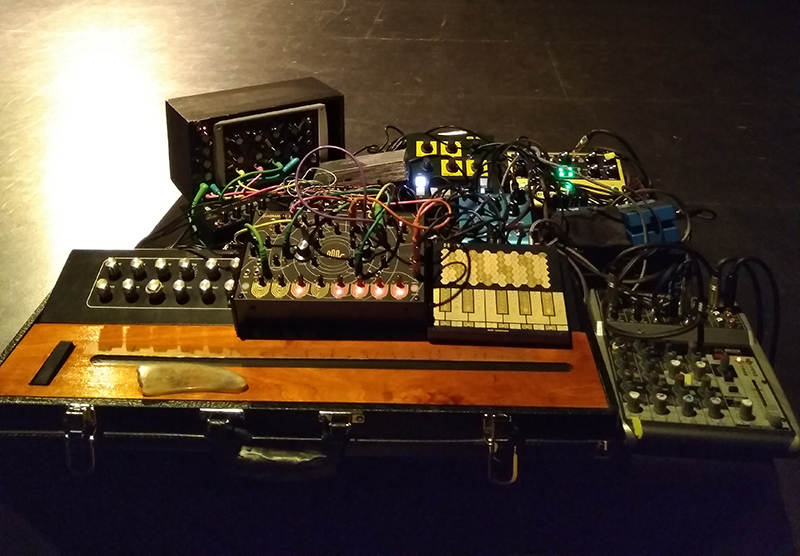 What do you think can only be achieved by modular synthesis that other forms of electronic music cannot or make more difficult to do?
Modular synthesizers offer figures, rhythmic systems, musical frequencies interwoven with each other… It could be compared to an ecosystem capable of generating frequencies and impacting our senses with great precision.
They create paradoxical physical and psychic states where the musician likes to lose himself in the systemic of the modules while the listener listens with his body to the variations and vibratory expanses of the sounds.
These frequencies impact different regions of our being to the point of generating a form of perceptive spell.
What would be your dream system?
I would be very happy to explore the possibilities of the Serge synthesizer for its intrinsic consistency, which is very powerful and sometimes mysterious. The visionary thinking of its creator has given birth to an extraordinary instrument that is raw, whole and intense, and that can be deployed infinitely.
Do you feel close to other contemporary modularists? Which ones? Which pioneers of modularism have influenced you and why?
I have enjoyed the musical creations of Laurie Spiegel, pioneer of modular synthesizers, even if her very mathematical and algorithmic approach is quite far from my more intuitive playing. I feel closer to the free improvisation group, for instance Voice Crack and their idea of playing with everyday objects by manipulating the sounds of electronic machines. They initiated the technique of Circuit Bending and the wild lutheries. I like the way they use electronic, magnetic and FM waves to create concrete sounds, very noisy, inspiring and crazy textured music.
Amongst the contemporary modularists, Christine Webster's work on virtual worlds and new logics of writing and spatialization of sound bring fundamental reflections for the future, they contribute to making environments where the immersive sound of modular synthesizers turns out to be fascinating. I also had the opportunity to attend Jean Philippe Gross' performances, his concerts are rooted in the physicality of sound with a radical and emblematic position. His sound materials impact the body and mind while amplifying moments of great intensity. The percussive aspect of the modular synthesizers acts on our eardrums and provides a liberating intensity: each frequency stimulates our organs and our imagination in a different way with a subtly incisive language. The quality of the sounds is very demanding and you can hear it.
Any advice for those who wish to start or develop their "Modulisme"?
Music refers to sometimes elusive impressions, it has a magical ability to travel through time and modular synthesis manifests these powers of sound. To play with modular synthesizers is to go and probe unknown universes: to create one's sound panel it is inspiring at the beginning to have no precise expectations, to settle down in front of the machines and to experiment with the sound materials, to sculpt the textures, to be attentive to the timbre, to the quality of the grain when it is scintillating, rough, granular or abstract.
It is a starting point for building one's own sound vocabulary.