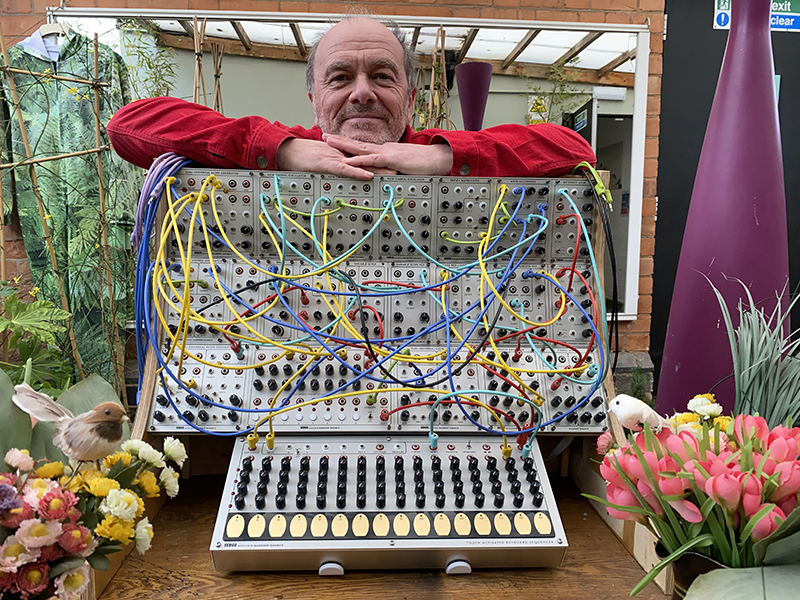 Trained as a youth, untrained as an adult, here we are enjoying some of Timothy Ellis's abstract modular synthesiser works. Favouring the addictive spirit of Raymond Scott's melodic structures his mini dramas are performed and recorded live in stereo with no overdubbing.
Ever since he first tasted the flavours and multiple possibilities offered by his new SERGE instrument, he has never stopped extolling its virtues, and was keen to celebrate the anniversary of its creation 50 years ago in style.
50 YEARS in 50 pieces, bon appetit!
What have you been working on lately, and do you have any upcoming releases or performances?
Well, I've been working on this collection as my surprise unofficial celebration of 50 years of the Serge synthesiser. 50 tracks in 50 minutes to mark 50 years!
Apart from that I have a few hundred hours of stereo recordings from the last few years that will provide enough content for several albums. I'm just not sure whether to continue with self releasing through my own Bandcamp, Tactical Stroke or to try and get someone else involved. My main issue is that every time I sit down to work through and edit the material I end up starting something new.
I will have a few shows with my band Jackdaw with Crowbar this year – I use a blue Korg Electribe and Make Noise 0-Coast for this, it's a surprisingly versatile setup and very capable for making contemporary electronic fakepop.
I'm working up towards performing with a modular system, designing the contents of a case that I feel comfortable with. Because I work in melody a lot I want to be able to recall a few sequences in a live show so I'll probably use a case that contains a Make Noise Rene.
I'm planning a 'modular day' in a local art gallery later this year. I will have four different systems running, including my Serge console. Visual artists will paint or draw what they hear. The visual art will later form an exhibition where the modular systems will this time accompany the work in a gallery setting.
I founded a small Art School in the UK for young people with autism – some of my students will be performing with modular and I'll support them in that! In fact one of my modular students created the artwork for this session. It's her interpretation of my earlier Serge instrument.
I am booked for a few DJ sessions – sometimes I'll take a couple of desktop banana modulars (Lorre Mill / Herbs & Stones) with me to spice up the event.
This summer we'll also be installing modular systems to be played by plants and mushrooms at the local arts festival. This has proved immensely popular in recent years.
I just finished some dub mixes for The Selecter, a ska band from Coventry. Over the years I made a lot of dub under the name General Theory of Dub – "This ain't no white guy from Warwick" said Jah Shaka on Kiss FM. I always had an interest in patching mixers with effects to make dub 'the old way' with all analogue gear.
Here's something I wasn't expecting… I went to an exhibition at Whitechapel Gallery in London. Action, Gesture, Paint! Women in the abstract painting movement from 1940 to the 1970's. I was so inspired by the show that I have now taken up abstract painting. I think it really goes well with my music.
I'm close to finishing an edit of a short film of contemporary dancer Courtney Reading dancing to my composition 'Ideal World'. It's a light dance! Courtney wears LED's and the film is shot in a blackout. The lights trail with the music.
With my good friend and artist Elena Cecchinato we make sound paintings. Elena paints on treated water then I disrupt the water with sound from the Serge via a large sub bass speaker. Printing to paper happens at the moment of disruption. I like where art and science crossover.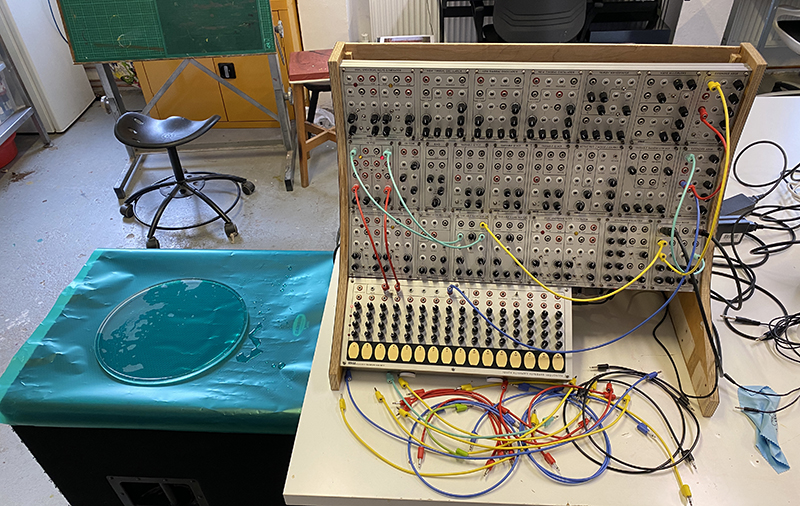 You want to shout loud and clear that the synthesis set up by Serge Tcherepnin was a revolution. How did it affect you?
I love how you can experiment then gradually or suddenly reach a state of very happy listening satisfaction. Sometimes other people stand nearby, unsure of what is actually happening. If I can only take one synthesiser to the retirement home it will be the Serge for sure.
I assume that is your favorite instrument? Why?
Haha like a kid in science class, it was the first experiment that switched me on – pinging the VCFQ. I know that a ping is such a basic thing to seasoned modularists but as a newcomer it really opened the whole thing up for me. Hitting something with voltage and making a beautiful sound! 
I missed out on science at school. they didn't do the kind of science i was interested in like making fireworks for example. With the Serge it's just so risky, you make something wonderful and then it's gone forever – only the recording remains. All my modular recordings are live, in the moment, I never really ever considered overdubbing or layering. I don't use blank patch sheets, just the occasional photo.
It's hard to nail it down but there is obviously the sound that is unique and the continuity in design – both beautiful!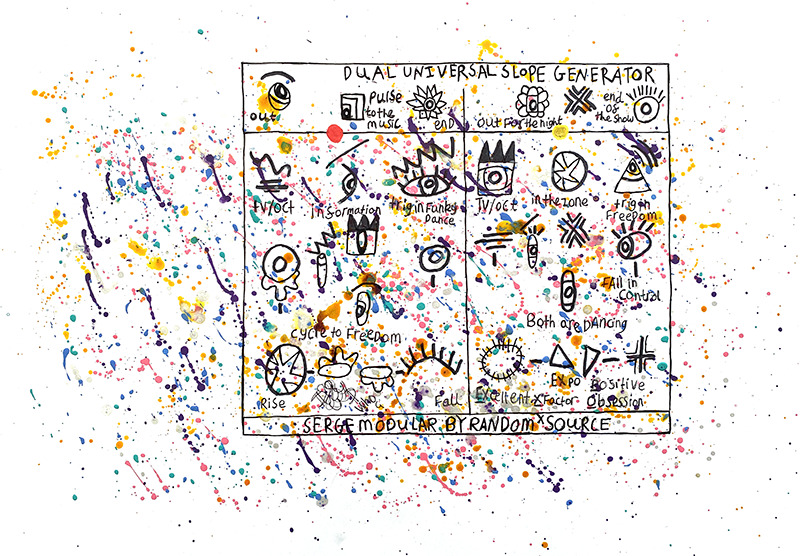 I reckon the Serge wasn't your first synthesizer so how were you first acquainted to Modular Synthesis? When did that happen and what did you think of it at the time?
From the 80's I've been looking after a pre midi Juno 6 and in the 90's someone gave me an EDP Wasp! They're both fabulous and feature on various recordings over the years. I think I was patching sound all along but in an audio system – using an analogue mixer, tape machines and outboard effects etc.
In the 90's I bought an Ensoniq ASR 10 and at least it got me away from the computer. Yes, it's a sampler really but with a basic synth engine – filters, envelopes etc The ASR has a tremendous work flow for composing, and great full sound. The thing that lets it down is storage and limited RAM at 16mb. I have the modern day equivalent Korg Kronos which is also a great machine for quickly sketching out a composition with a wide range of sounds right there. It's a different world musically though – no risk! Just hit save and come back later.
The first synthesiser that really got me busy playing live was the Blue Korg Electribe. A small digital machine with 16 synth engines and numerous oscillator types ported from the King Korg.
All this time spent with workstations and software and there was something lacking – it was the hands on element! Clicking a mouse or looking at menus and screens got frustrating. You're much less likely to make a happy accident using a digital workstation. So I started searching for small hardware synths and found the 0-Coast by Make Noise. I sequenced it with the Analogue Four by Elektron. Patching the 0-Coast was what got me started. After that I bought a bus case and several Make Noise modules.
Starting out with Make Noise stuff explains why my Serge system is eurorack. The Serge collection started with a filter ping (VCFQ) and it had to be compatible with the other modules. The VCFQ features a lot in my music, I have 3 of them.
By the time I had about six of the Serge euro modules I realised I should build a Serge only system – they were looking so good together, like a little family. This started out as 3 rows of 86HP in a homemade plywood console. And amazingly of course 86HP is pretty much the same width as the TKB – all smiles!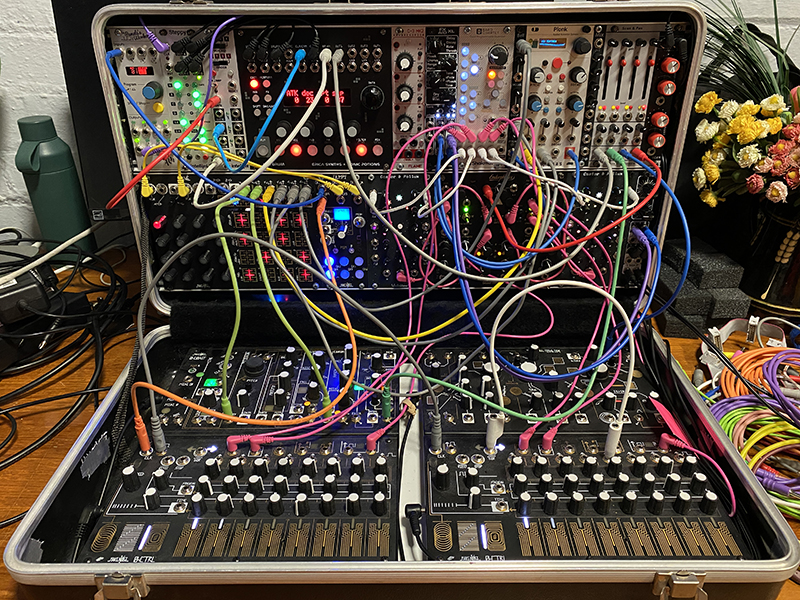 How does it marry with your other « compositional tricks »?
It doesn't really marry at the moment. I keep modular separate from my other music – no particular reason, just that I'm enjoying using the Serge on its own. My stuff isn't particularly organised but I'm looking forward to setting the studio up again…I'm between homes at the moment, hoping to be settled this summer.
Aside playing a Serge system you play the Bass guitar. Do you process the instrument or combine with Electronic. If so how do you work to marry that Electronic with your acoustic matiere?
I saw a video (Perfect Circuit) of someone using the Serge Divide by N Comparator (÷NCOM eurorack) with a microphone – the module was tracking the singing voice and outputting a square wave. I think I'll try that.
At the moment I'm not thinking about using the bass guitar with the Serge. But, I am working on creating a self generating piece that will accompany my accordion in a performance. It's a next step for my side project 'HiTek Busilacchio' – music for electronics and classical accordion.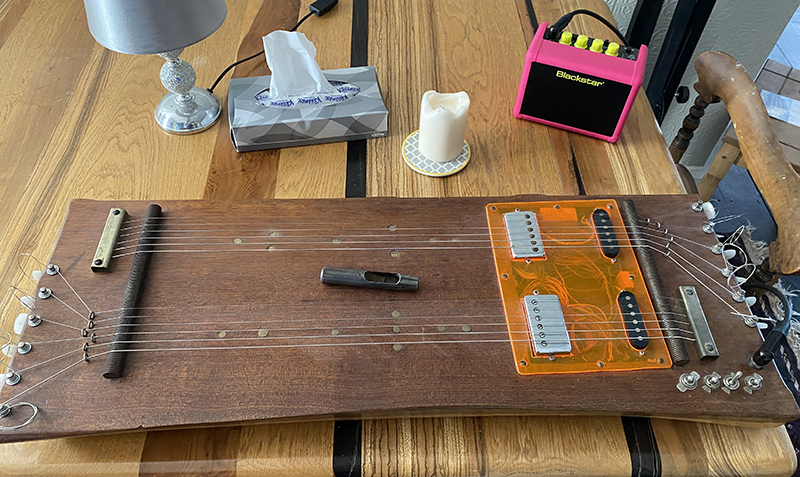 When did you buy your first system?
I think I bought my first Serge module in about 2019 and I'm building it up ever since. Most recently the new GTO in April 2023.
What was your first module or system?
After the 0-Coast I got more Make Noise – Rene, Tempi, Maths, QPAS, Wogglebug. My first enclosure was the Make Noise bus case. I started looking outside of Make Noise and got the Pittsburgh Modular Lifeforms Voltage Lab and basically just carried on one or two modules a month.
At this time I was also getting stand alone semi-modular instruments from Pittsburgh Modular and Moog. Fast forward to now and there's all sorts of stuff, I'm very lucky.
How long did it take for you to become accustomed to patching your own synthesizer together out of its component parts?
I thought it was going to be a steep learning curve but was pleasantly surprised. My enthusiasm and thirst for a new adventure in sound made it quite easy to get along. Plus, by adding modules each month meant I was always focused on the new, getting comfortable before adding modules. Also this meant I started to know what I needed next.
I have to say I'm really a beginner with the Serge though – just about scratching the surface. Ha, there's an album name! Only recently I had the chance to talk to Todd Barton about feedback in the Serge system, he has helped me understand some of the possibilities.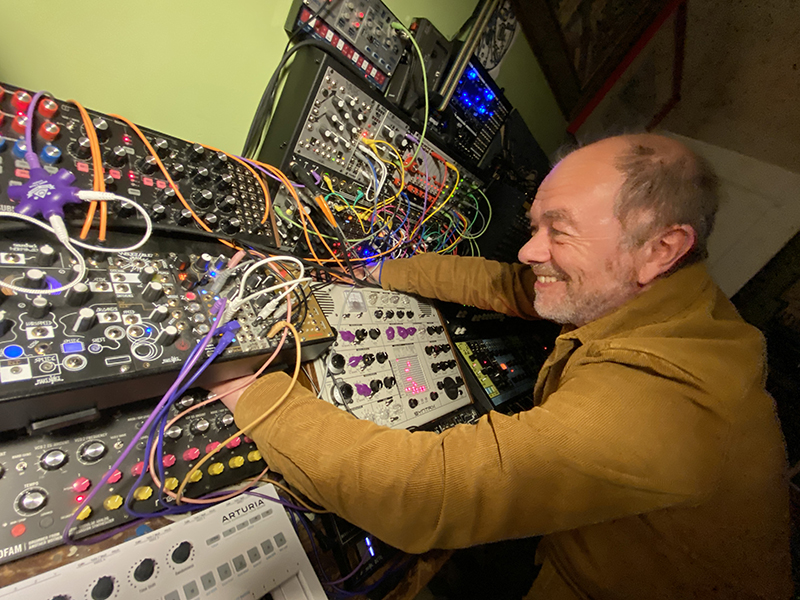 What was the effect of that discovery on your compositional process?
On your existence?
Everything changed, my entire musical output. I felt liberated! No more 'save for later' approach. All my available time was now spent patching my various growing systems searching for the 'unheard'.
I decided to create a pseudonym and came up with 'Plucking the Spectrum'. My art school is a place where talented young autistic people come for their day education. The word spectrum came from this experience. I play guitar and bass a lot so plucking is a thing too. Using voltage to ping, gate, sequence etc is also a little like the act of plucking.
Currently my main musical output is in the format of 'mini drama' – 3 to 5 minute edits of longer modular performances. I only ever record live in stereo with no overdubbing or repeating.
Quite often modularists are in need for more, their hunger for new modules is never satisfied? How do you explain that?
Because the enthusiastic modularist will continue to learn and in doing so will probably continue to desire. It's an ongoing cycle – learn, desire, fulfill, learn and so on. We're also building incredible sound worlds for ourselves that can be shared – like the film title 'The Never Ending (Serge) Story'.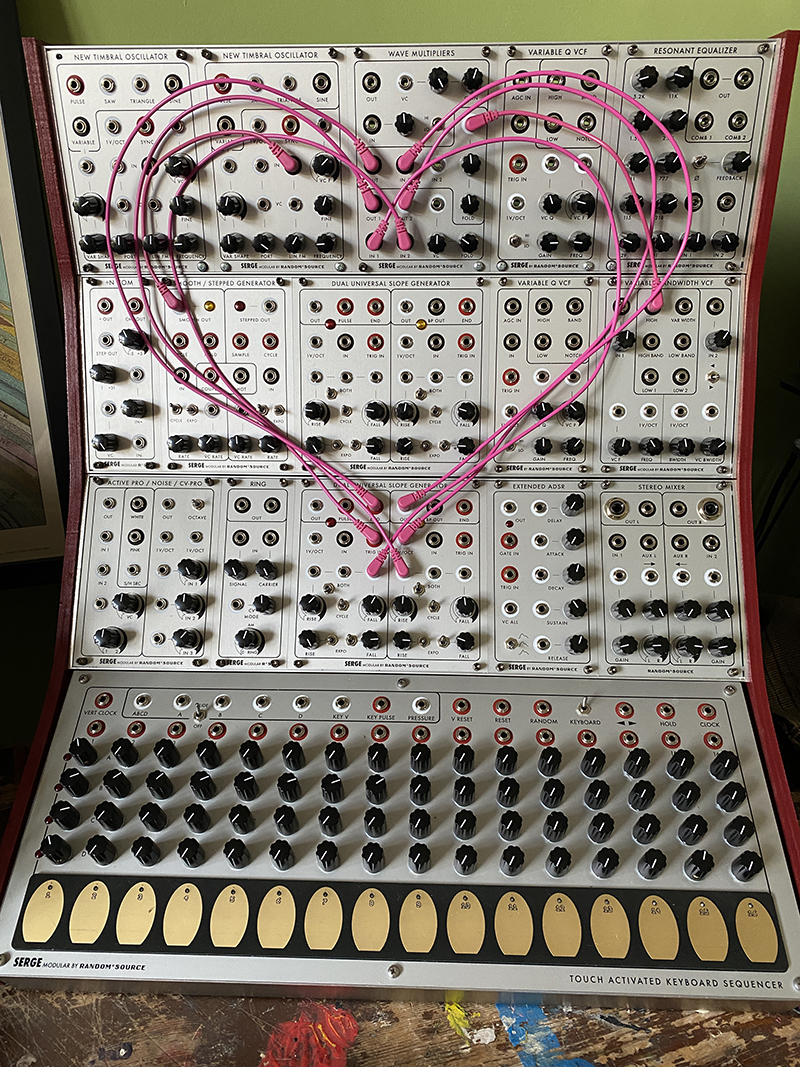 Instrument building may actually be quite compositional, defining your sonic palette, each new module enriching your vocabulary. Would you say that their choice and the way you build your systems can be an integral part of your compositional process? Or is this the other way round and you go after a new module because you want to be able to sound-design some of your ideas?
Yes both, I do sometimes pick a module because I know exactly what I want to achieve. A simple example could be picking a mixer with aux send and return because you want that additional control. You know why you want the control and that a mixer without these features won't do what you need.
If I could go back in time I would have concentrated harder in maths class at school, taken electronic engineering and be designing electronic instruments right now. There's a few modules in my head that I want, but can't find.
In the past I built instruments to satisfy a need for something that wasn't available to me – like the Bass Banjo that I created in about 1986. There was no internet so as far as I know, it was the first one! Around then I also started building my own slide guitars which feature on the Radio 1 John Peel sessions with my band in 1987.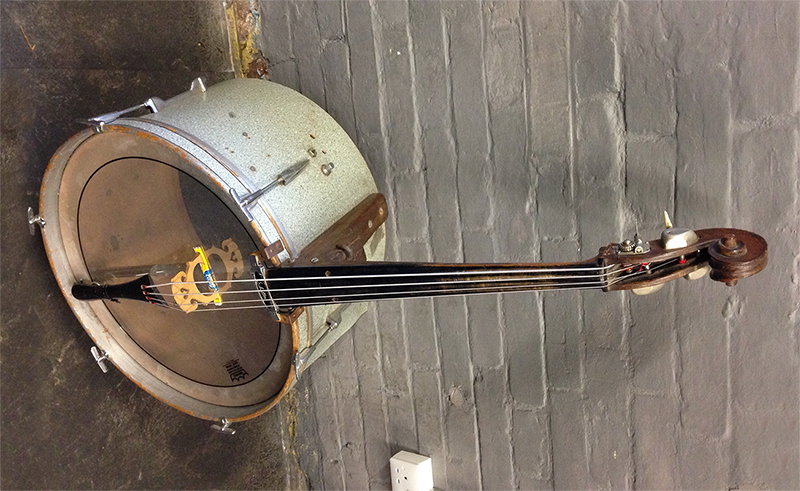 How has your Serge system been evolving?
Like counting from 1
From one module in a mixed case to the dedicated 3 row 86HP console. At this stage I added a TKB in euro format – by now there was no going back but luckily Random Noise (now Serge Modular) continue to make everything available in this format whilst keeping a good aesthetic 🙂
The thirst for more rhythmic possibilities and more voices led to the purchase of two more DUSG's and more oscillators and I upped it to 4 rows of 130HP in a new homemade console. And ofcourse the additional 8 stage sequencer just perfectly complementing the TKB.
I thought it was complete but then they came up with the new GTO module – a reworking of the SSG with new features. I love that it confirms R*S and Serge's commitment to the eurorack format. Of course I had to have it immediately (it features on two pieces in this session e.g 29). As my console is full I have to decide where to put it. For now it's taken the place of the SSG. I'm waiting for a new Random Source mixer to go before the Stereo Mixer – I'm told there will be a new one coming sometime. I'm sticking with the R*S modules now as the design aesthetic is also a winner for me! I wonder sometimes if this one will have to expand to 5 rows?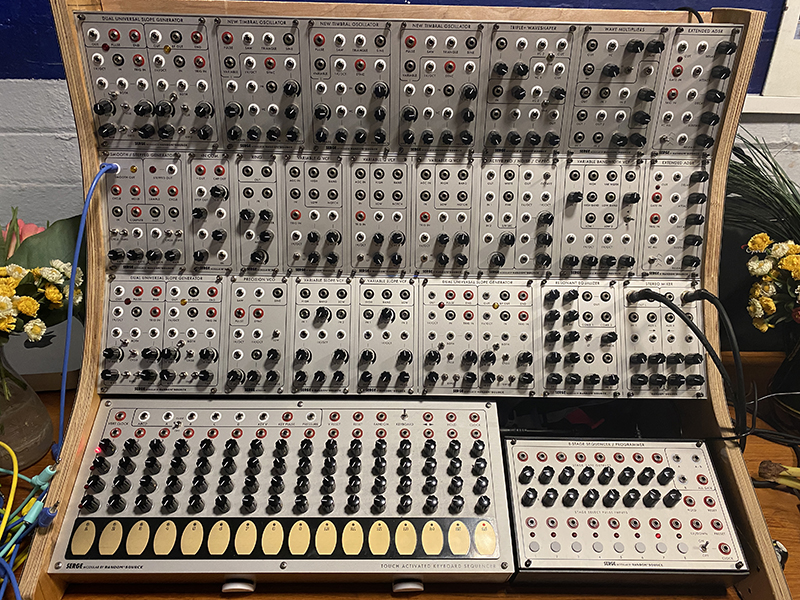 Do you tend to use pure modular systems, or do you bring in outside effect and devices when playing or recording?
I am evolving a banana machine too with Buchla Easel Command and the Model 416 Meta Expander V2. Other banana gear I have is Lorre Mill Double Knot and Liquid Foam by Herbs & Stones – also the Meng Qi Wing Pinger.
My other cases are quite settled, made up of mixed eurorack, Make Noise, Pittsburgh, Frap Tools, Endorphin.es etc One case is specifically for live experimental ambient sequenced by Usta and another is housed in a converted trumpet case. It's my go to case for modular bossa nova dance parties 🙂 but then again, anything is possible. Then there's all the Moog stuff.
I have several separate systems and quite a few stand alone instruments. Yes it's fun to make music patching them all together. I don't really bring acoustic instruments in with the Serge (yet) though, but that's fine, I can still have fake saxophone in a free jazz session like in track 36. These oscillators are really very versatile. I should say that I didn't set about intentionally to recreate a saxophone sound!
I have a lovely reverb that I like to use sometimes. The Great British Spring. It's stereo, and I've had it since about 1982. I keep a Lexicon rack reverb going and a Mutron Bi Phase reissue. If I need a delay there's a fabulous analogue one in the Moog Matriarch. It's semi modular and has patch points for delay in/out.
When my studio is set up again (after I move house) I'd like to try patching in some effect pedals. E.g. I just bought a limited edition Fender distortion unit designed by Kevin Shields (My Bloody Valentine)
I'm considering installing a stereo spring inside the Serge console – there's just a little space over the 8 stage sequencer bottom right for a custom send / return panel…
What do you think that can only be achieved by modular synthesis that other forms of electronic music cannot or makes harder to do?
The immediacy of rewiring the whole system with two actual hands. And of course making a sound that (hopefully) hasn't been heard before.
Danger and risk! The fact that you won't be clicking a 'save' button. Something beautiful will start happening but there's a danger it will be lost in an instant.
What would be the system you are dreaming of?
I wake up each morning hoping the next 3U mixer will be up on Random Source website. That's all I need for now please.
I've gone too far with the eurorack Serge to go back now but would one day like a banana version.
One day I'll get a MARF and start building up the Buchla.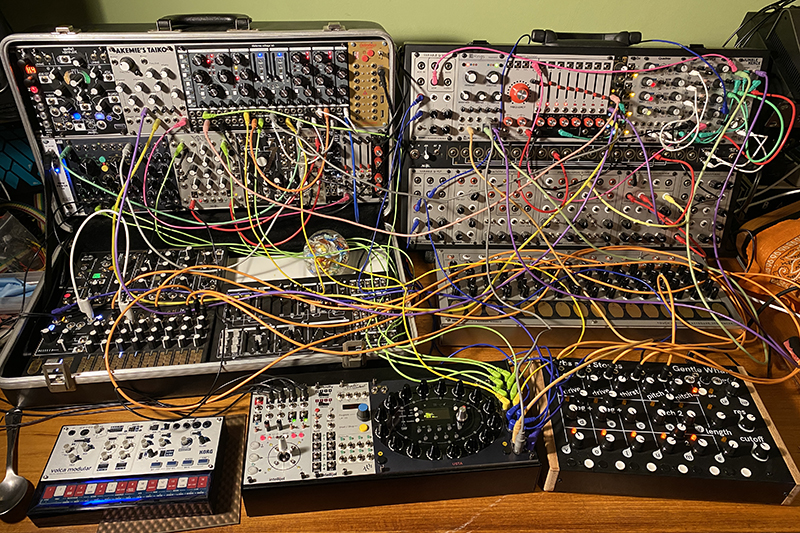 Would you please describe the Serge system you used to create the music for us?
Well, the music in this session is taken from the last few years. So some of the pieces date back to when I had just started the basic instrument with a few modules. Back then I only had the one DUSG but I was learning all the time, planning the expansion. Now I have all the Serge Random*Source 3U modules. Some I have more than one e.g. 3 x DUSG, 3 x VCFQ, and 2 x sequencers – The TKB and the 8 stage.
It's all built in a homemade plywood console – the ply is vintage, from an old primary school painting table.
Can you outline how you patched and performed your Modulisme session?
First, every cable is out. Then I'm in the laboratory ready to undertake another experiment. That's it! What happens next is like another film title reference 'Tales of the Unexpected'! I sometimes build a band, you know, rhythm section, chords, melody etc Then sometimes it just descends into chaos.
I'm a fan of Raymond Scott's early synthesiser music. He embeds his sense of humour into compositions. I like to do this too sometimes. 
Sometimes I know what I want to achieve – the sound is there, in my head. On a good day I will achieve it and of course some days it goes in a different direction.
These recordings are like little snapshots of my Serge life! When I heard about the 50th anniversary I knew I should make something as a unique offering of gratitude and celebration.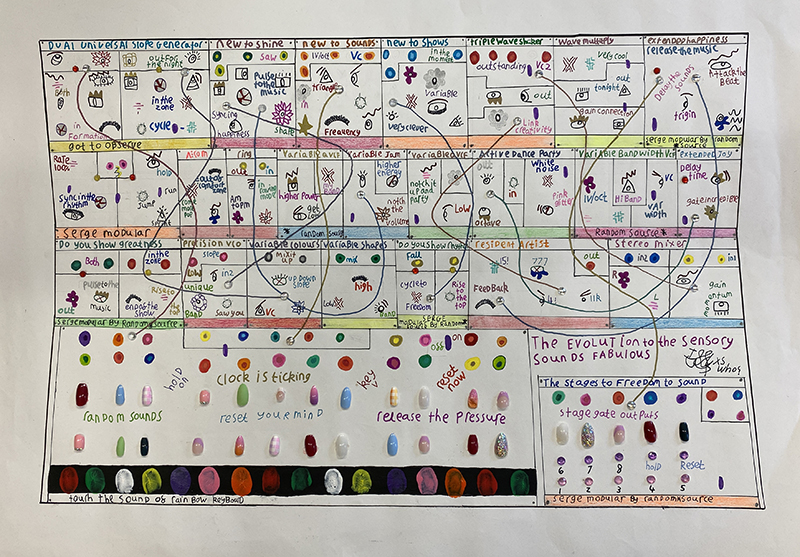 Are you feeling close to some other contemporary Modularists? 
Which ones?
I confess I need to spend more time listening – but all my time is spent composing. I have pledged to listen more – Modulisme sessions is where I'll start!
Which pioneers in Modularism influenced you and why?
I love the story of Serge – learning a system that was out of reach for many and deciding to implement a new design and concept 'for the people'.
I already mentioned Raymond Scott. I like that he designed his own instruments and sound design techniques and this shows in his music.
Not so much a pioneer but Benge Twenty Systems was a big hit for me. I like the concept of the album and the music is fabulous. That album moved my interest in synths in the right direction – thanks man!
I'm late to modular and many of my influences came before e.g. The Residents, Captain Beefheart, Lee Perry, a lot of jazz… big long list.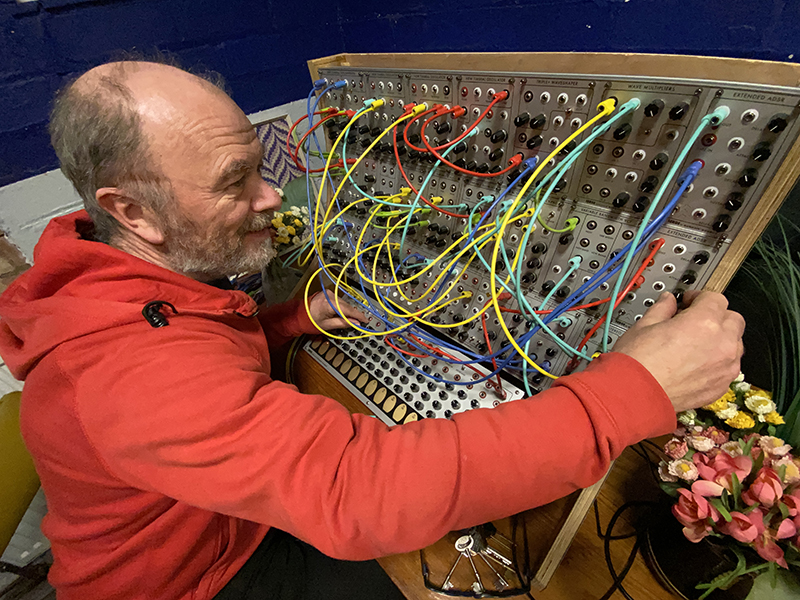 Any advice you could share for those willing to start or develop their "Modulisme"?
Don't be shy, just jump right in!
Video of Sonic Liquid Abstraction in action –
Our film to accompany the exhibition at Fulham Town Hall in 2021 – this is a collaboration with artist Elena Cecchinato