Born in Moscow on December 7, 1960, Alexeï Borisov started his controversial performing career (as a guitarist) in Center the first new-wave group in Russia, in 1980. Next year, he formed the Prospekt mod-band (with Dmitry Matsenov), and re-modeled it in 1985 as the shifting Notchnoi Prospekt with then-partner Ivan Sokolovsky. He started to pay attention to experimental improvised electronic music of different types, working with synthesizers and not only. Since 1992 he performs solo as well as in some projects, bands, international collaborations (F.R.U.I.T.S., Gosplan Trio, Astma, Fake Cats Project, Anton Nikkila, Radical Muzak Septet and many more…). Since 2003 Borisov curates international festival of experimental music "Noise and Fury" at the DOM Cultural Centre in Moscow (www.dom.com.ru).

Among his other collaborations are the joint projects with KK Null (Japan), Jandek (USA), Jeffrey Surak (USA), Ilpo Vaisanen (Finland), Kurt Liedwart (Russia), Olga Nosova (as Astma duo) (Russia/Germany), Katya Rekk (Russia), Sergey Letov (Russia), Vlad Makarov (Russia), Sergei Kostyrko (Russia), Ilia Belorukov (Russia), Dave Phillips (Switzerland), Joke Lanz and Jonas Kocher (as Radical Muzak Septet) (Switzerland), Franz Pomassl (Austria), Mia Zabelka (Austria), Thomas Buckner (USA), Benjamin Skepper (Australia), Anton Mobin (France), Jelena Glazova (Latvia), Igor Levshin (Fake Cats Project) and many more.
How were you first acquainted to Modular Synthesis?
My first experience in modular synthesis was Korg MS-20 in the 80s. This powerful semi-modular device I used not only as a synthesizer, but as well as an effect processor for my guitar
When did that happen? When did you buy your first system?
The only one modular system I have now is Kastle Micro Modular produced by Bastl Instruments from Brno, Czech Republic.
Unfortunately I don't have enough money to buy and compile real big modular system. At the same time I work a lot with different musicians, specializing in modular system music.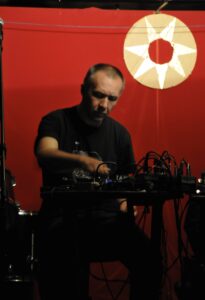 What was the effect of that discovery on your compositional process?
On your existence?
I like in general the idea or concept of producing music with modular synthesizers – it gives you an opportunity to improvise a lot, to play something abstract or rhythmical, or to create music compositions, which could be reproduced in the studio or on stage. At the same time modulars are good (flexible) in combination with different electronic devises and music instruments in general.
Quite often modularists are in need for more, their hunger for new modules is never satisfied? How do you explain that?
I think that every electronic musician is looking for new instruments, devices, programs and, of course, modules or patches. I guess that the idea of creating new sound or music never heard before, could stimulate the constant process of searching for new devices or sound sources.
Would you please describe the system you used to create the music for us?
Mostly I use DIY devices (in general I have 10 different sound objects) produced by some Russian engineers: Moscow based Dmitry Morozov (VTOL), for example, or Eduard Srapionov (Papa Srapa) from Rostov on Don. Plus Bastl Kastle and Dude (micro mixer), Poket operators by Teenage Engineering (sub, rhythm, factory). And I use a lot of micro dictaphones and cassette players. Also I have in my collection Roland TB 303, SH1, TR 626, Korg Super Percussion, some guitar pedals etc…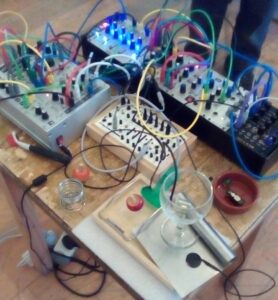 What would be the system you are dreaming of?
I don't know yet. May be I prefer to have something compact and very effective at the same time.
Are you feeling close to some other contemporary Modularists?
I am in touch (worked with or collaborating from time to time) with such people as Stephan Tcherepnin, Anthony Pateras, Eliad Wagner, Sergey Kostyrko, Kurt Liedwart, Brinstaar, Nikita Oleinik, Ilya Belorukov.
I heard music of many contemporary Modularists, among them I could mention such people as Keith Fullerton Whitman, Pita, Maria Teriaeva, Phillipe Petit and many others.
Which pioneers in Modularism influenced you and why?
My first impression of modular system was the legendary photo of Klaus Schulze in front of huge modular synthesizer. As I remember it was Roland, but I could be mistaken… (he could use different modular systems, I guess. Moog as well…) Some time later I managed to listen to some o his works. In the Soviet Union we did not know much about experimental electronics or any sound research taken place at some Western studios or institutions. Only in the second half of the 80s we started to get more information about electronic music or experimental music in general. I discovered music of some pioneers of electronic or modular music/sound art such as Eliane Radigue or Pauline Oliveros.
Any advice you could share for those willing to start or develop their "Modulisme" ?
I think, that first of all it's better to understand what kind of music (or sound) you would like to produce – noise, melodic, ambient or may be techno? Or something in between? And after that it would be reasonable to talk to any specialist….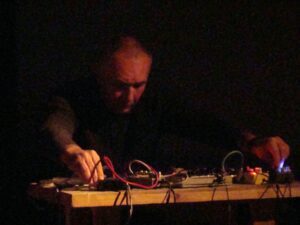 For this contribution to Modulisme, Borisov generously assembled several collaborations with other very talented modularists:
Sergei Kostyrko – sound artist, scientist and specialist in modular systems.
He often plays solo, as well as taking part at different international collaborations. He is co-founder of the Spina cassette label.
F5BA66 was recorded during one of three studio sessions, arranged by Sergey in Petersburg during 2015-2016.
Phil Durrant is London based electronic musician/multi-instrumentalist, active participant of local electronic/experimental/improvised scene as well as participant of many international projects, concerts and festivals. The track was recorded live at his home studio in London.
Katya Rekk represents new generation of Moscow electronic/experimental/improv scene. She performs in a duo with Alexei Borisov and also is a member of techno/experimental duo REKK/KUTOBOY. This track was recorded in 2017 during Scandinavian tour of Berisov/Rekk duo. Anders Enge is Stockholm based electronic producer/modular synth player and event organizer at DKTUS studio/art space.
Misha "Mox" Salnikov originally from Moscow, but now lives in London and is an active participant of local experimental electronic scene. The track was recorded live in 2018 at his home studio in collaboration with his son Alexander.
Irakli Sanadiradze – Georgian drummer/percussionist, currently lives in Tbilisi. During his frequent visits to Moscow he has actively performed with different free jazz/improvised/experimental projects, taking part at different events and recording sessions. The joint track was recorded live at the rehearsal studio in Moscow to multi track recorder and mixed by well known sound producer Andrey Prokofyev.
Alberto Novello – sound artist/electronic musician/professor from Trieste, Italy. Member of JesterN project. The track is a result of sound exchange process. The basic sounds produced by original sound objects and electronic devices.
Live in Ljubljana (Ment festival 2018/Kapelica Gallery) in collaboration with cellF: an artificial brain modular system from Australia, invented by Guy Ban-Ary. My signal was coming to the system, and the brain reacted to my sounds via modulars. But the modulars itself could be tuned by operator as well…