Antonio Raúl Russek Martínez is a Mexican composer of electroacoustic music and considered a pioneer of sound art in Mexico.
Russek began his studies in Torreón where he belonged to a children's orchestra, playing the saxophone, while studying the piano with private teachers between 1969 and 1972. He composed his first pieces for theatre and dance.
In 1973, he moved to Mexico City and started to compose music for plays + began the construction of 'musical objects', motivated by the desire to unite the sound and the visual. In 1974 Russek set up his personal electroacoustic music studio in the Condesa neighbourhood, becoming the first of its kind in Mexico. He founded the Centro Independiente de Investigación Musical y Multimedia (CIIMM) in 1978 and there he carried out musical production, recording, as well as publications, editorial and academic work. Concerts, conferences and events related to electronic music and alternative media were held at CIIMM throughout the decades.
From 1981 onwards he worked on interdisciplinary works and has created sound settings for exhibitions. He also specializes in installation pieces, video art, radio art, sound sculpture, ephemeral pieces and music for dance and theatre.
In the compositional field, his work focuses on Electroacoustic and the use of electronic resources and his catalogue comprises more than 100 works, including sound art pieces and collaborations with other artists and composers.
"Territorios Inestables" offers three pieces and is a collection of works of a different nature, origin and purpose than my multichannel electroacoustic works for concert; sound meditations for deep listening, music for installations in museums, galleries or public spaces, interventions in unconventional venues, one-day events, performances, sound sculptures or any other material not published in my catalog of compositions.
Antonio Russek / June 2023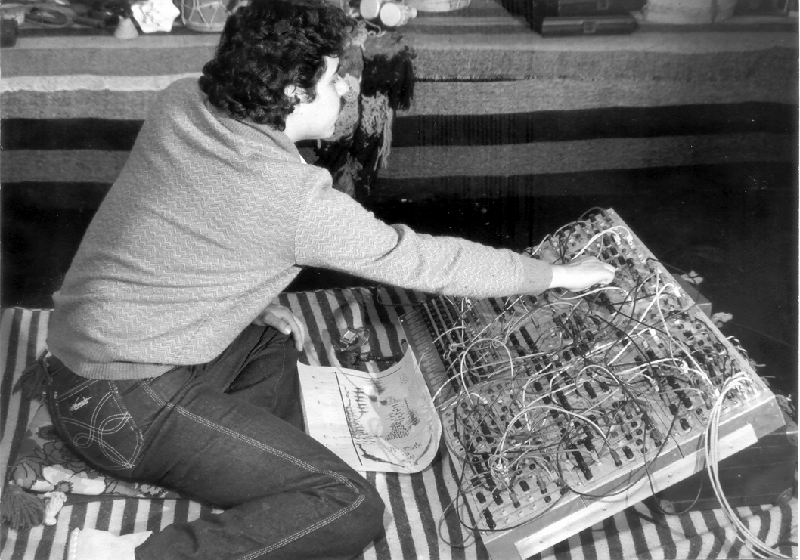 You are a pioneer in Soundart, in Mexico. Do you work on installations, site-specific soundtracks?
Can you tell us about the experimental scenes in Mexico? You originated El Centro Independiente de Investigación Musical y Multimedia (CIIMM), would you tell us about that venture?
I have designed installations using many different elements such as sculptures and sound objects, interactive or programmed operation devices, immersive environments with multichannel audio and in combination with visual elements, several of these pieces have been site specific works.
The "Centro Independiente de Investigación Musical y Multimedia" (CIIMM) resulted from activities that I regularly carried out in collaboration with some colleagues that required an orderly, organized participation that allowed us to move on a number of projects that sometimes had to be solved at the same time.
We offered classes in synthesis and programming, instrumental recording sessions, design and production of records, published articles in books and magazines, coordinated the organization, curatorship and technical assistance of concerts and all kinds of events related to sound art and other disciplines for museums, festivals, cultural institutions, etc.
Not only my personal studio, my whole house became the headquarters of CIIMM as a meeting place for artists and professionals of the performing arts, composing for dance and theater became a regular activity and constitutes a very important part of my production.
What have you been working on lately, and do you have any upcoming releases or performances?
I am currently composing music for a ballet that will premiere next July at the 'Palacio de Bellas Artes', the most important forum in Mexico.
On the other hand I am busy building a new synthesizer with eurorack modules and some others made by me using Arduino boards…for years I thought that my incursion into modular synthesizers had ended with the Aries system in 1979 and the Serge in 1980, but this matter of returning to the manual by connecting cables, moving knobs and patiently experimenting to obtain each sound continues to seduce me, in the tactile control there is a certain physicality that facilitates the relationship with the instrument determining its result.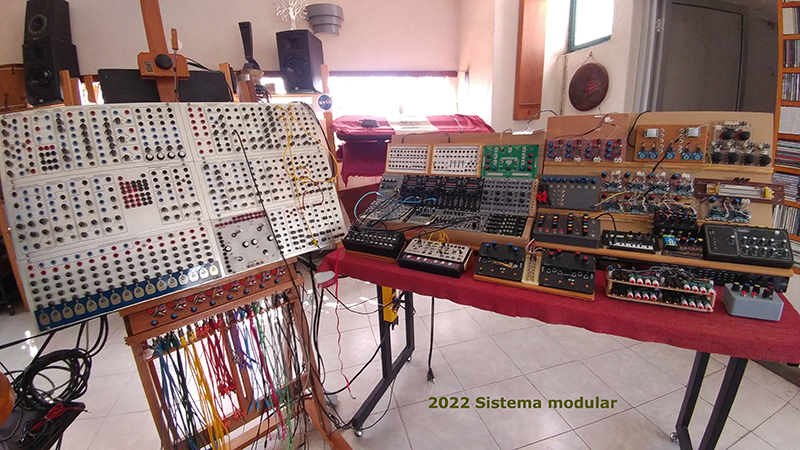 How were you first acquainted to Modular Synthesis? When did that happen and what did you think of it at the time?
How does it marry with your other compositional tricks ?
The first electronic music laboratory in Mexico was installed at the National Conservatory of Music in 1970 with a Buchla 200 series and a Moog 55.
Although computers were used since the early 50's for sound synthesis, they were at the service of researchers in specialized centers, were the 'voltage controlled modular synthesizers' which offered for 25 years an accessible technology adopted by both musicians and conservatories and music schools acquiring systems from Buchla, Moog, ARP, EMS to equip their studios.
My first modular project was in 1979 with parts from Aries Music, a company in Massachusetts that went bankrupt, I lost money and the possibility to grow the system. I found out about Serge instruments in 1980; The brand was offering an interesting collection of modules, some based on Buchla designs so I went for a package to assemble six panels, it took a couple of months soldering, assembling and customizing the synthesizer. At that time I used it in a number of gigs and today it continues to occupy a special place.
I know that you had played a Serge system in the 80s and been doing your modules yourself. Instrument building may actually be quite compositional, defining your sonic palette, each new module enriching your vocabulary. Would you say that their choice and the way you build your systems can be an integral part of your compositional process? Or is this the other way round and you go after a new module because you want to be able to sound-design some of your ideas?
Every sound source offers a number of digital processing possibilities with hundreds of applications, I have built acoustic, electromechanical and electronic handmade devices for use as instruments.
By creating a sound object you get a particular acoustic fingerprint to experiment with. Each project involves exploratory sessions where I shape a 'palette' of materials that are articulated to elaborate a particular narrative.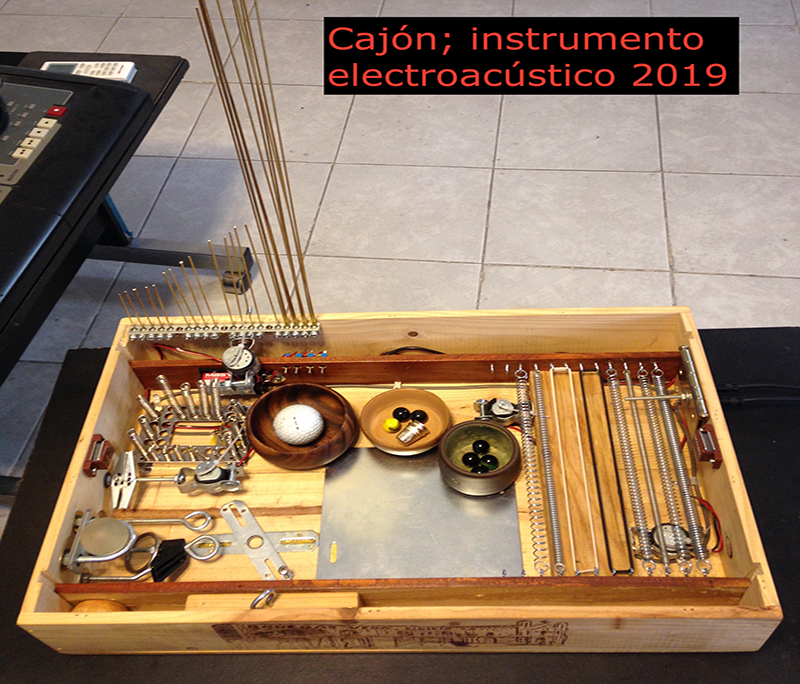 Do you consider that the Serge sounds better + the functionality of each module more appropriate?
Aren't you interested in keyboard controlled synthesizers ?
Serge was a good choice for the design and size of the modules, I haven't used keyboards for years but I keep a Yamaha CS-5, Kurzweil K1000, Kurzweil K2000S and a Yamaha SY99 which is the culmination of the FM synthesis technology developed by John Chowning at Stanford University's CCRMA, I turn on my SY99 eventually for the pure pleasure of listening to its magnificent architecture.
Precise what you are after when you compose? How do you compose?
Your compositional process is based upon the use of acoustic instruments such as the piano, strings or guitars, that you process or combine with Electronic. How do you work to marry that Electronic with your acoustic matiere?
The time it takes to elaborate the general outline of a project depends on the objective and the scale, whether it is a concert work in a closed venue or the sound intervention in a public space with a multichannel system, or installation for a gallery or site work, projects for dance and theater, video art pieces or film documentaries, each one has its own dynamic that complies with a process.
I am an electroacoustic composer and I work with original and unpublished organized sounds produced in my studio for each case, what follows after the premiere depends on its nature; whether it is an installation to maintain, live participation with public performances or music for a museum, each one implies a calendar with responsibilities to attend to.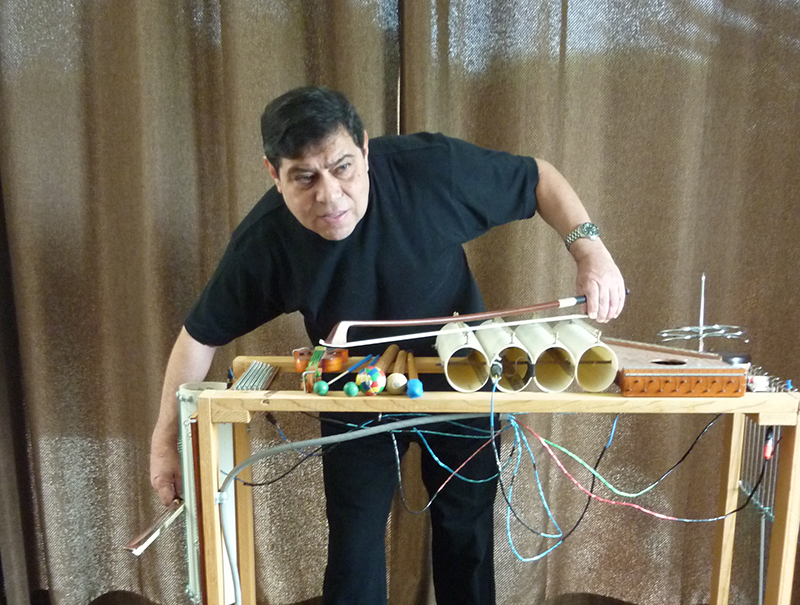 You are an electroacoustic composer. Are you following « the traditional Western music traditions », staying true to the Institution and rules of the genre?
You organize sounds instead of melodies?
Do you tend to use pure modular systems, or do you bring in outside effects and devices when playing or recording?
I have pieces produced with purely electronic resources, others where I use acoustic or mechanical instruments then digitally processed and mixed.
I am not a follower of any school, neither a modular purist but I feel comfortable with the freedom to design my own sound sources without discrimination of materials or procedures. Obviously I have influences and references from classical composers such as Berio, Stockhausen, Ligeti, Xenakis, Dhomont, Subotnick and many others. Below some memorable encounters.
I identified myself with the aesthetics of the GRM listening to works published in its extensive and well produced collection of records. Many years ago François Bayle, its director back then, visited Mexico invited to the 'Festival Internacional Cervantino', and I was appointed to attend him. Kind and cordial, he came to visit the studio and to listen to a couple of my pieces, and during his stay in the country, the coexistence turned out to be fluid and very friendly. Then, I traveled to Paris one summer with my colleague and dear friend Viente Rojo, although it was vacation and the GRM was closed, François came personally to show the studios to us. My surprise did not end there because days later he invited us to dinner at his home in the company of his wife, and a few weeks after my return to Mexico I received an official invitation from the GRM, unfortunately I could not get any funds or scholarship to pay for a stay in France.
I remember my meeting with Françoise Barrière and Christian Clozier for the premiere of a composition commissioned for the bicentennial of the French revolution, in the courtyard of a palace in the beautiful medieval city of Bourges. They were founders of the GMBE and organizers of the "Festival international Synthèse" for 38 years, where they programmed my work on several occasions.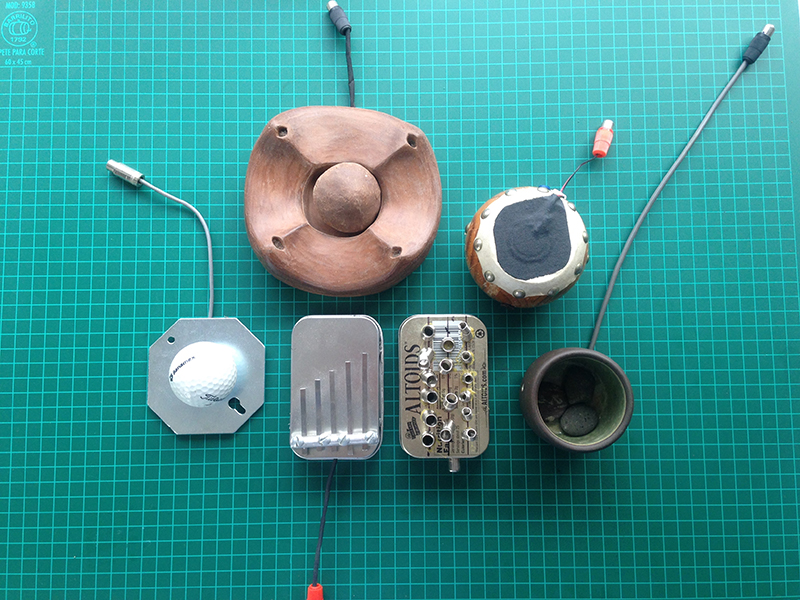 It was also memorable to meet Iannis Xenakis, finished the second prototype of the UPIC computer that he was developing, Xenakis promoted the realization of a workshop with a select international group of young composers to work with it. Serious and of sparing expression, he was attentive to our experience with the machine, dedicating a time every third day to talk with us and to know in detail the results obtained.
It was not easy, it was summer and to carry out the workshop the UPIC computer was installed in temporary offices in the area of La Villette without air conditioning, where the excavations for the construction of the new conservatory began, so between the heat of the environment plus the heat generated by the machine with us locked in there we had free sauna for weeks!

I met John Chowning at the kickoff lunch for a summer course at CCRMA that he was then leading, grilling the bbq himself for the participants and chatting with each of us in a casual mood, I hadn't imagined that my first conversation with Chowning could take place while he cooked a hamburger for me. During the courses we had sessions with Perry Cook who contributed the concept of physical models and the technology for a new generation of synthesizers (Yamaha VL1) resulting today in a diversity of products such as the now legendary Mutable Instruments modules.
There I also met Chris Chafe, researcher and cellist who would succeed Chowning in the direction of CCRMA, they had been developing an electronic cello which they named 'Celletto'. Simple and very gentle I was always grateful that Chafe gladly agreed to carry in his international tour repertoire a work of mine composed a few years earlier for cello and quadraphonic track, but now performed with his Celletto.

On another occasion I was contacted by the French embassy asking me to receive two composers to give a course in the studio. Jean-Étienne Marie, microtonalist pioneer and master of generations, brought with him two beautiful portable EMS VSC3 'Putney' synthesizers that made me terribly envious. Always correct, sober and pragmatic, their conversations were priceless, his stay culminated with a shared concert at the beautiful historic venue 'Casa del Lago' in Mexico City's Chapultepec Forest.
The second man was Jean-Claude Eloy whose course went very well + he felt at home when he saw my Serge system because he had one in his studio, the conversations were lively and in an informal tone. I was familiar with his work 'Shanti' which was for me quite a propositional and revealing aural journey.
There were many other approaches with composers who came to the "International Forum of New Music" during the ten years that I was the technical advisor and responsible for the electronic music concerts, which undoubtedly influenced my learning.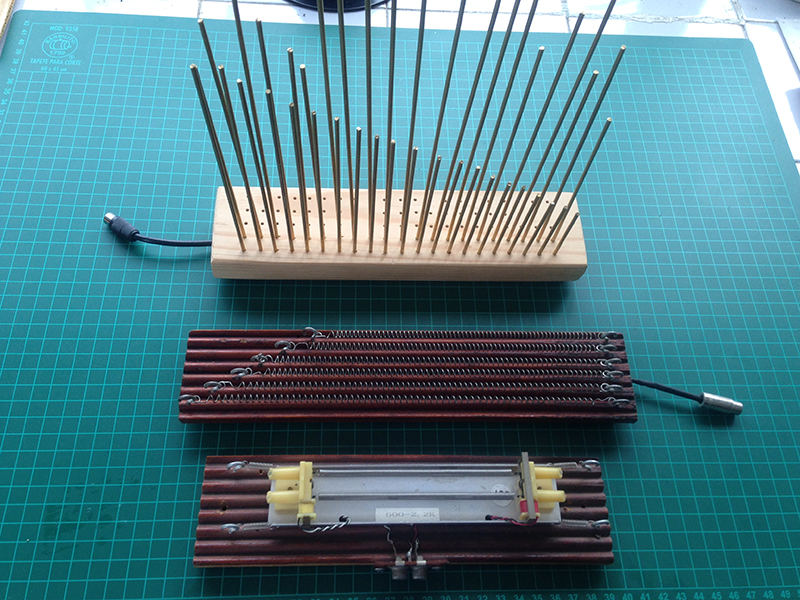 Your compositional process is based upon the use of acoustic instruments such as the piano, strings or guitars, that you process or combine with Electronic. How do you work to marry that Electronic with your acoustic matiere?
I know that you have been working with a computer early in the 80s so what do you think that can only be achieved by modular synthesis that other forms of electronic music cannot or makes it harder to do?
I have decades working with digital applications on the computer with satisfactory results difficult to have with a modular synthesizer and vice versa because the physicality of operating a modular is not easy to emulate in a digital environment with a screen, keyboard and mouse, but beyond the capabilities of each environment what is relevant here is the interface, the way in which the operation between the user and the instrument is established.
My return to the modular was circumstantial, I accumulated portable devices that I was building during the pandemic, assuming the ease of working with them inside and outside home but it was not so functional, I ended up making a temporary wooden stand to have them at hand, I have been adapting it to contain eurorack modules unwittingly starting a new modular system that is growing and has me back infected by this new epidemic of 'compulsive modularitis'.
My studio is a sound laboratory that does not have a permanent configuration and depending on each activity are the equipment, instruments or devices that I use, trying to keep the space adaptable. I do not have all the instruments on display or connected all the time, it is the task at hand that determines the logistics of actions such as the use of the estudio.
In more than 45 years of experience I have gone through technological changes that have modified the configuration of the equipment in the studio as well as my daily practice with them, with each new tool I find new ways to achieve some objective.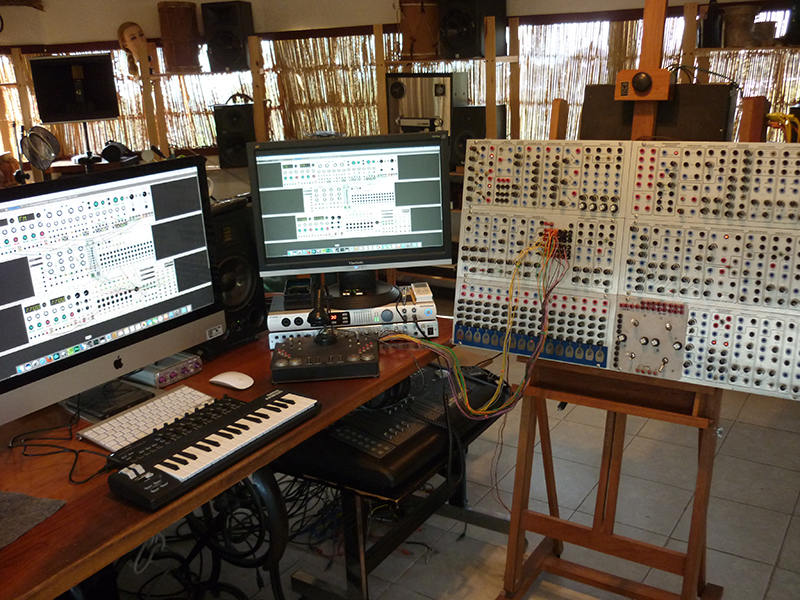 Could you please describe the system, instruments, objects you used to create the music for us?
01. "Introspecciones" (1981)
Commissioned composition for the 3rd International Forum of New Music organized by the National Institute of Fine Arts and premiered in the main building of the Museum of Modern Art in Mexico City.
Live electronic piece with two analog modular synthesizers assembled in my studio using for its performance a twelve channels sound system, the speakers were installed according to the unique acoustic characteristics in the museum circular shape with a highly reflective ceiling dome, in order to obtain an immersive sound environment.
02. "Ofrenda" (2022)
Sound meditation for deep listening, performed mostly with sounds of acoustic origin; field recordings, Tibetan bowls, voices as various objects and sound sculptures of my own manufacture.
The piece is a tribute, an offering addressed not only to my loved ones but also to all those who have brought wisdom, example and love to my life.
03. "Escenarios Efímeros" (2021)
Piece produced with sound materials obtained live by manipulating low-resolution electronic devices, some custom built in my laboratory, whose results are unpredictable and difficult to repeat due to the ephemeral nature of the different states and the slightest physical change in the controls, so they are improvisations recorded and assembled with simple editing without additional processes.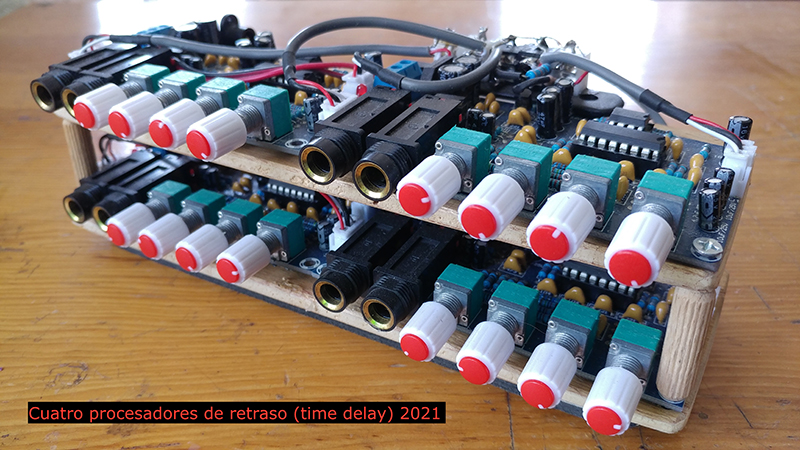 It would take hours and hours to talk about the long list of instruments and equipment that I have had and those that I still have though, of importance, in 1993 I moved the studio to Cuernavaca (80km from CDMX) to a house with more space for the family, also making possible the design of a new laboratory in the upper part of the building, on a terrace with a panoramic view in a city with an extraordinary climate. The objective was to create an acoustically functional facility with a reliable 16-speaker monitoring system for multichannel work, complemented by a second system for stereo listening.
I mention it first because the multichannel system becomes my main tool in the design of sound fields for immersive projects or electroacoustic works, apart from the way in which the materials were obtained and treated, it is in the distribution of sound in a given space where the aural stimulus materializes, obtaining the characteristics that define it in that particular universe, i.e. its position and trajectory around the audience, its amplitude and coverage as well as its interaction with other sounds.
I am not only talking about a technical issue, it is an aesthetic, structural option, present from the conceptualization of each project.
There are 16 active speakers with 8″ woofer (Mackie and JBL) plus 8 passive speakers that add up to 24 channels if necessary. Two 8-channel Focusrite interfaces for the main system and a third 8-channel MOTU interface to send direct voltage (control voltages) from computer applications to the modular synthesizers. Genelec 4050 midfield and Adam A7X + sub7 nearfield monitors.
Two PC computers that I rarely use, an iMac and a MacBookPro loaded with virtual synthesizers and plugins, the keyboards I already mentioned, the Serge modular, the new eurorack modular plus a collection of flutes and traditional instruments as well as sound objects that I have been building.
My passion is sound experimentation, as an electroacoustic composer of multichannel works, I am really more focused on research in my laboratory than on performances for the electronic music scene.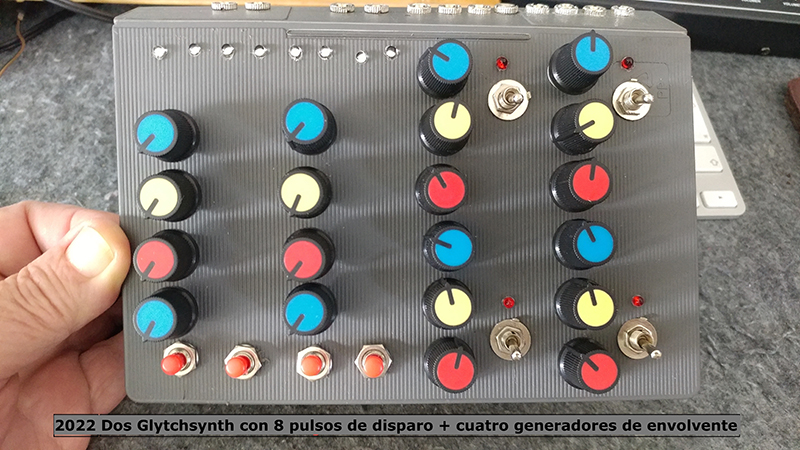 You talked about GRM and some other pioneers of influence but are you feeling close to some other contemporary Modularists?
I am not aware of the trends that today occupy all electronic sound artists but I must thank you, Philippe, for your musical anthropology and activism, feeling happy that we know each other now.
Any advice you could share for those willing to start or develop their "Modulisme" ?
My recommendation for new modularists is to know well the characteristics that the system must have to fulfill the assigned tasks to make good decisions.