Three concert evenings at La Muse en Circuit celebrate the 50th anniversary of the SERGE Modular synthesizer with Thomas Ankersmit, Marion Camy-Palou, Alex January, Philippe Petit and Yan Proefrock.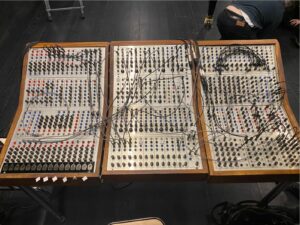 La Muse en Circuit has many treasures and in particular modular analog synthesizers. Among these sonic wonders, the SERGE Modular, created by Serge Tcherepnin for Jean-Claude Éloy, is a unique model in the world requested by many musicians. The programmed musicians, chosen in discussion with Serge Tcherepnin, will celebrate in their own way the thousand and one riches of SERGE with a totally unique set of synthesizers, in particular thanks to the collaboration with INA-GRM.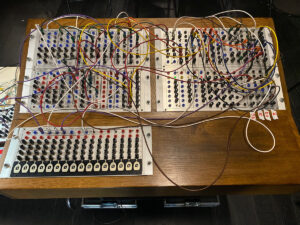 An orchestra of loudspeakers will deploy the infinite possibilities for an immersion in a sound totality.
Jeudi 20.04 – 20h
Philippe Petit, DJing spatialisé | live Youtube
Marion Camy-Palou, solo | live Youtube
Vendredi 21.04 – 20h
Yan Proefrock, solo | live Youtube
Alex January, solo | live Youtube
Samedi 22.04 – 19h
Thomas Ankersmit | live Youtube
Alex January + Philippe Petit + Yan Proefrock | live Youtube
Trio Serge avec piano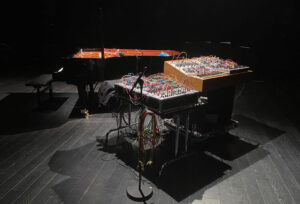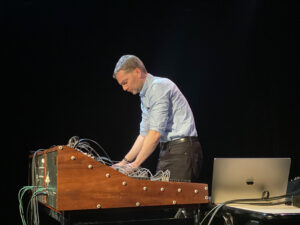 Schedule
| | | | |
| --- | --- | --- | --- |
| Monday | 12:00 | | 13:00 |
| | 20:00 | | 21:00 |
| Tuesday | 12:00 | | 13:00 |
| | 20:00 | | 21:00 |
| Wednesday | 12:00 | | 13:00 |
| | 20:00 | | 21:00 |
| Thursday | 12:00 | | 13:00 |
| | 20:00 | | 21:00 |
| Friday | 12:00 | | 13:00 |
| | 20:00 | | 21:00 |
| Saturday | 12:00 | | 13:00 |
| | 20:00 | | 21:00 |
| Sunday | 12:00 | | 13:00 |
| | 20:00 | | 21:00 |
All times are CET