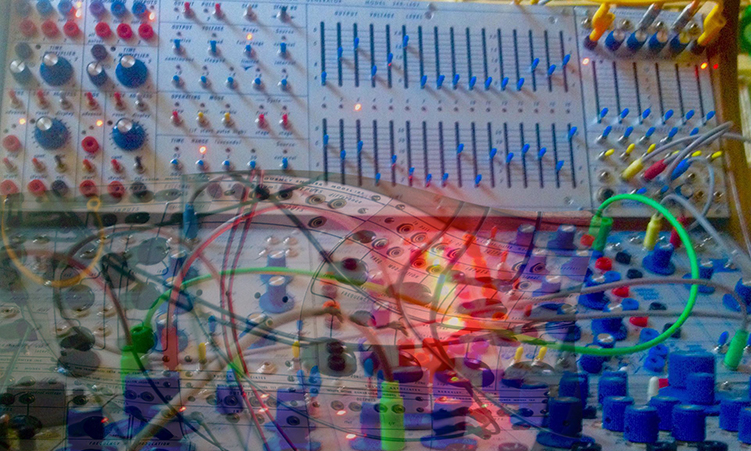 3 Year Itch Birthday Session v.1
I am Philippe Petit and I would like to invite you to celebrate the third anniversary of this platform I had initiated in September 2019 because back then I couldn't find any place gathering and offering music made using analog modular instruments as well as providing some valuable informations. Most alleys were showing tutorials, demos, showing systems off without worrying too much about composition.
My priority being the music itself I craved for a change and it proved a great idea since my labor of love has exceeded all my expectations offering already almost 200 hours of free listening. Staying generous seemed important to celebrate a birthday and so this gathering is broken down into six volumes, each being close to 2 hours long, and an opportunity to invite back some familiar faces but also to introduce some who wouldn't make a full session but whose approach I like.
Allow me to insist that Modulisme deals with analog Modular and those instruments need be present but could be married with any other instrument/sources: voice, acoustic, sampling, and other field-recordings… I aim at developing a platform supporting leftfield Electronic music and draw attention upon the composers who make it strong, championing the use of electricity to sustain a sound produced with a musical intent, BUT what matters is the composition itself, the research/creation process, its interpretation/result and not the tools to achieve what composers may have in mind.
It is crucial to transmit, share so I chose to combine the informative aspect of a magazine with the sharing spirit of a sound library where the listener comes to discover musical surprises for free. Having run the Pandemonium Rdz. and BiP_HOp Musique labels for 25 years, I no longer wanted to have to make a business out of it while still offering music unreleased elsewhere and many of you have supported this idea as we have exceeded 700 000 listens so please keep visiting U R MOST welcome !!!
First things first, allow me to thank YOU who is listening and hopefully returning.
Bless to all our talented friends who have contributed their music and are essential to our community, YOU make it all possible.
Discreet helpers but without their design talent we wouldn't look so good : KUDOS to Laurent Houdard, Guillaume Amen, Cédric Languin !!!

Furthermore I would like to thank Ben Edwards (Benge), for his help in moderating our English-spoken radio transmissions and our partners relaying the Modulisme radio show:
Richard@FREQ mag + Peter & Ed @ Resonance FM + Charles @ CAMP / UK ; Pierre @ Radio Panik / Brussels ; Ale & Rachel @ DubLab / L. A. ; Lynn & Tom @ Wavefarm antenna / N.Y. ; Heinrich @ Campus & City Radio St. Pölten / Vienna ; Ash & Lukas @ Worm / Rotterdam ; Don @ KOWS FM / California ; Shak @ Tesla FM / Barcelona ; Jeroen @ Icarus-Urgent FM / Gent ; French radios JET FM Nantes + L'Eko des Garrigues Montpellier + Station Essence Bordeaux + Campus Grenoble + LYL Marseille AND LAST BUT NOT LEAST Yan @ Modular-Station our partner in crime.
Now that everyone has been thanked, I would like to emphasize that our Modulisme platform came about after I discovered Buchla's inventive genius and his unique way of allowing Morton Subotnick (and many others after him) to revolutionize the "making" of experimental music.
https://modular-station.com/modulisme/itatiom/buchla/
01. Philippe Petit – A Smile in Space May Cause an Avalanche pt.1 (07:06)
Buchla 200 Synthesizer
As an hommage to start these collection of favorites I am only using my Buchla system which brings so much pleasure every time I put my hands on it. I imagine that as I play it a smile comes over my face while the avalanche in my space start to move.
After all, it's really about pleasure, CARPE DIEM !
https://modulisme.info/session/1/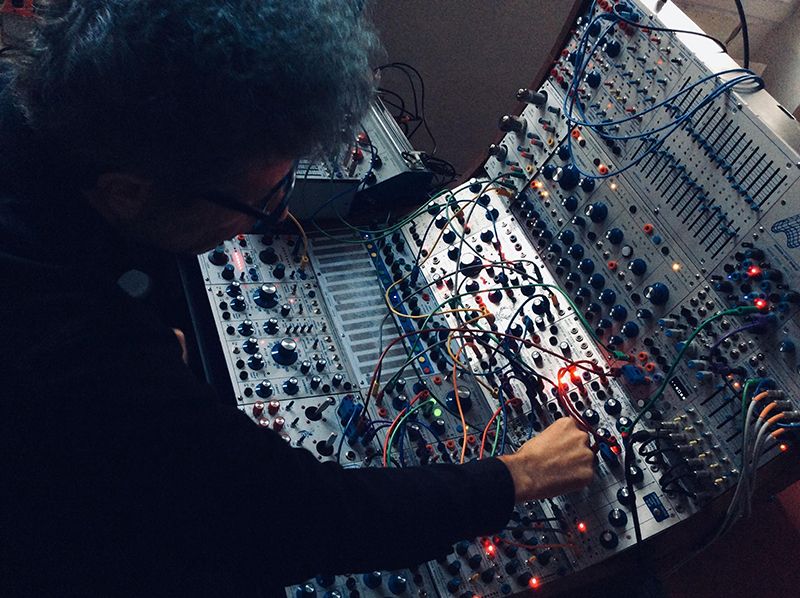 02. Todd Barton – Surfing the Krell (09:05)
Ever since the early days of the platform Todd Barton has been with us contributing a marvelous Session, appearing on our Buchlaïsms + Serge -o- Voxes hommages ; as well as Control Voltage Therapy (his duo with Bruce Bayard) initiating our « Reciprocess series ». Learning to play my Buchla gear I watched most of his tutorials/demo videos thus he was my teacher at a distance and when I completed my very first « modular recordings playing my Easel K » I sent to him and Morton Subotnick and both reacted quite positively and encouraged me to go on.
Since 1979 Todd has been exploring analog and computer-based music. He currently is a Consulting Artist for Buchla Electronic Musical Instruments who, after four decades of exploration, is still delving deeply into the ever-expanding frontiers of musical expression.
All sounds, textures and timbres are created in realtime using the THC Nested Vector Oscillator which is 4 joystick-controlled oscillators in Buchla format. I am only using sine waves. These 4 oscillators go into individual Buchla Lo Pass Gates which are controlled by the Buchla Quad Function Generator. This is the control center. The audio out of the Lo Pass Gates goes to a larger system for processing and mangling via the Spectral Processor and Time Domain Processor and a nexus of control voltage processors.
Oh, and the Nested Vector oscillators are at times cross modulated depending on the joystick position.
The first half of the piece is quite percussive and rhythmic. The Krell patch is always present in some parameters but somewhat masked until about half way through when it becomes quite apparent.
https://modulisme.info/session/6/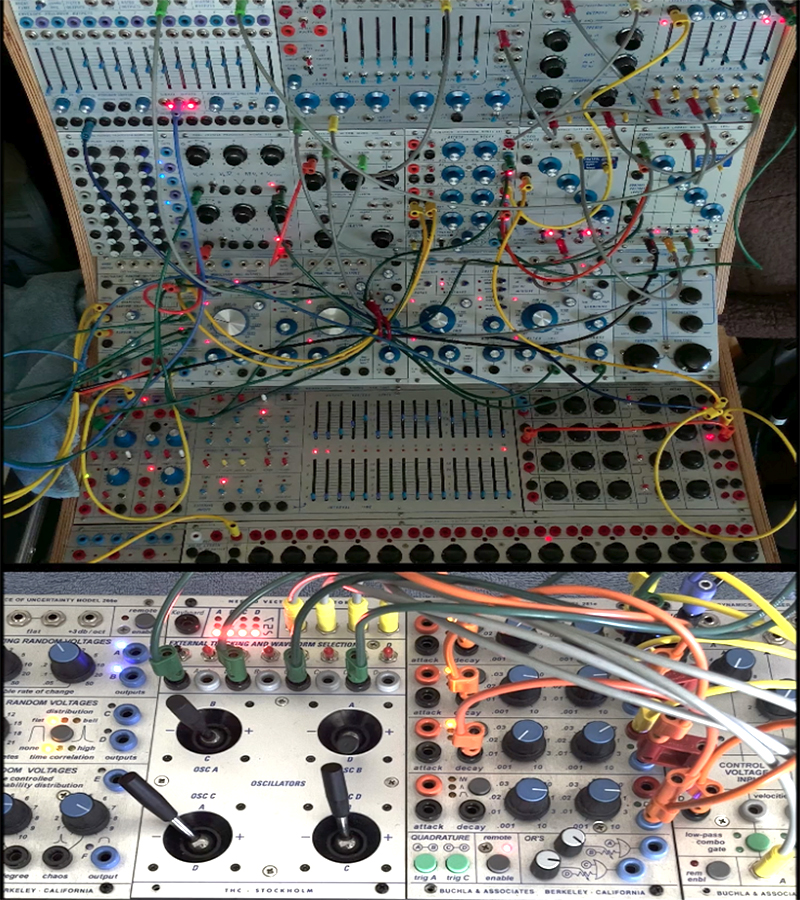 03. The Canadian Electronic Ensemble – Live 02. 02. 2002 (07:52)
Rose Bolton, Mike Dobbinson, David Jaeger, Larry Lake, Jim Montgomery and Paul Stillwell
The Canadian Electronic Ensemble was founded in 1971. It is the oldest continuous live-electronic group in the world.
Celebrating fifty years of activism, the CEE is still at the forefront of live electronic music. Using old (and new) analog instruments, laptop computers, standard instruments, found sound, field recordings, and in fact anything electronic, they continue to cut a sonic swath through the ears of the world.
The Ambient Ping is a series of performances in unusual spaces which has been running in Toronto since the early 2000's; this recording took place during one of the first editions. The space in question was "C'est what?" a resto-bar in Toronto's waterfront area. These were several performances in this venue, and the house sound tech was very good – hence the quality of the recording. By this time the new configuration of the ensemble had become very comfortable with each other, and the free flow of ideas is reflected in this recording.
https://modulisme.info/session/53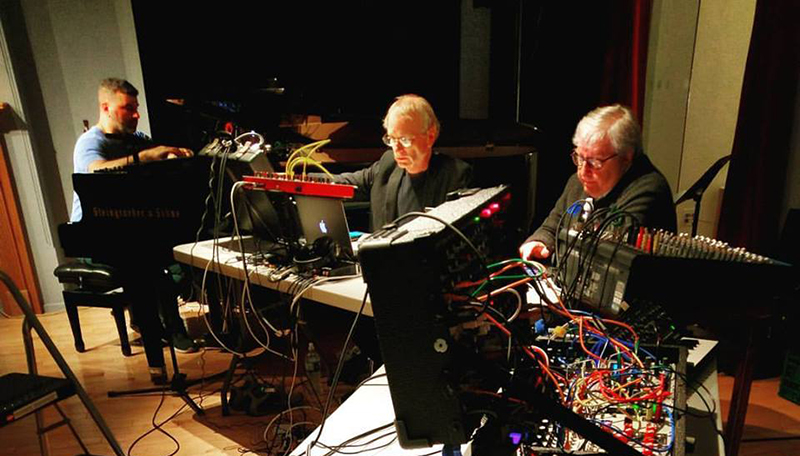 04. Felix Kubin – Deviation One (22:38)
More than 20 years ago I had organized a BiP_HOp Generation live event with Felix Kubin and we instantly became friends. Onstage he was a thrilling sensation and I even felt that I had the Residents gigging in front of me… The man was worth a full-band irresistibly tentacular, jumping around, singing and coating us with synthetico-futiristical melodies.
Since the 1980s, Felix has been a synthesizer enthusiast.
"Deviation One" is a soundtrack for the video installation by Hamburg-based artist Josephin Böttger which experiments with the geometry of the building surfaces of the Galerie der Gegenwart and addresses inner and outer structures of the contemporary and historical building in relation to spatial perception: rapid camera movements through rooms and corridors draw the eye into the interior. The façade seems to open up, is restructured by horizontal and vertical lines. Changing perspectives transform the pictorial space; inside and outside are reversed. The framing of the image is temporarily dissolved.
The additional sound installation by Felix Kubin reinforces the spatial perception of the projections and at the same time works on an independent level. The sound of the room acoustics inside the building and the sounds of the surrounding city were digitally distorted and integrated into the composition. The result is a hybrid sound structure that resonates against and with the images.
http://felixkubin.com/
https://josephinboettger.com/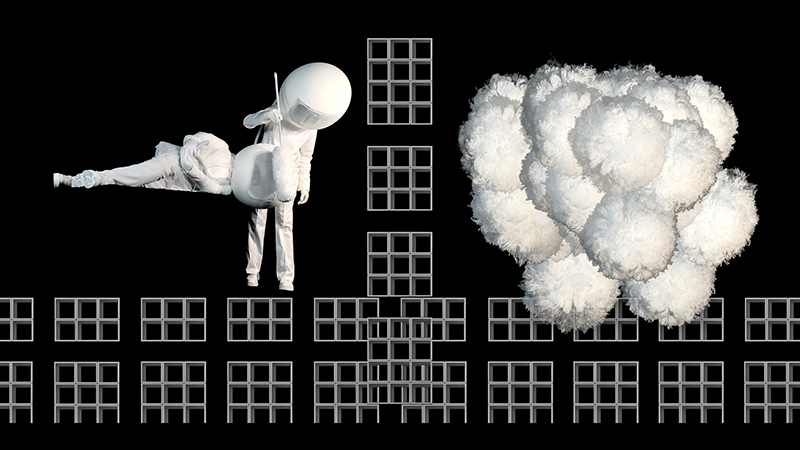 05. Jack Dangers – Astatic (05:35)
It's now been 30+ years that Jack Dangers is an essential figure in modern Electronic music. At the end of the 80s, he originated Meat Beat Manifesto and started to create a universe and a new sound, made up of breaks, psychedelia strewn with samples, in an industrial, dub and hip hop fusion…
Inhabiting San Francisco, Jack has played a central role in the explosion of genres such as big beat, trip hop, breakbeat and dubstep thru his solo works and playing his vintage synths…
'Astatic' was composed in one take with no overdubs, start to end with no edits, using a Korg PS 3300 going through a Strymon El Capistan delay pedal. I wanted to make a song with a minimal approach using a simple technical set up and free of all the usual recording studio constraints. Additionally, creating a cohesive synthesis between the different polyphonic modules to produce a hybrid amalgam of tonal sound colours with the feel of compliant design.
I think I achieved this and I'm happy with the result….i hope you are too!
https://modulisme.info/session/50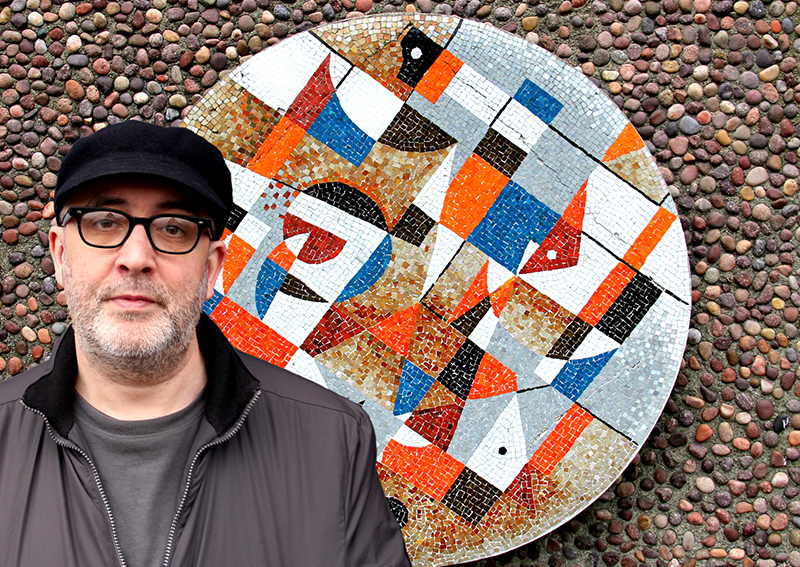 06. Alexei Borisov & Katya Rekk – baza 06 (04:11)
Alexei and Katya performing on the roof of "high tower" near Kursky railway terminal.
Katya Rekk is an electronic musician, sound artist, designer based in Moscow.
She uses different custom staff, produced by Vtol, Soma etc.
Ever since the 80s Alex has been a key figure within the Russian Electronic scenes.
Katya and Alexei started work together in 2010. Since that time they played numerous concerts in Russia and abroad as a duo, as well as participating at many local and international projects. For some time they've been meeting at private studio space in Moscow to test new instruments and devices. As a result they managed to record in an improvised way a bunch of audio tracks for different compilations and joint albums.
https://modulisme.info/session/9/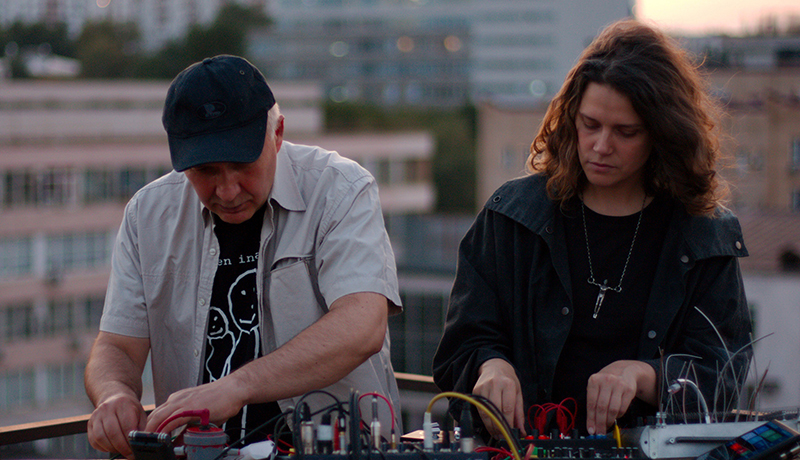 07. Thierry holweck – Chandeliers (08:02)
Thierry Holweck is a multi-instrumentalist and electronic musician whose universe consists of sound explorations realized with his modular synthesizer.
His recordings are performances based on the exploration of rhythms, polyrhythms and sequences altered by randomisation or euclidean parameters. His creation is a conversation with the Mad Hatter, a mixture of tension and release over minimal melodies. Field recordings such as a wooden floor, animals and any natural sound-element introduced into the sampler add depth and serve to humanise the soundscape.
What I really like when I am travelling is to go to a place I haven't visited yet, and experience the feeling of being lost. In a way It makes me feel comfortable, and helps to concentrate and develop my interest. That's what my modular synth does to me, unveiling the unknown. I start putting a few notes in the sequencer, and the journey begins, I build my patch, listen to the sounds, the texture, the rhythm I like, which I then chose to build or deconstruct.
Here, the word « Chandeliers » popped up in my mind, as it used to be a frequent way to enlighten a castle, a large medieval space… Which is where I am once such stage is set, I can play and enjoy the surprise. The recording serves to document my sound-journey.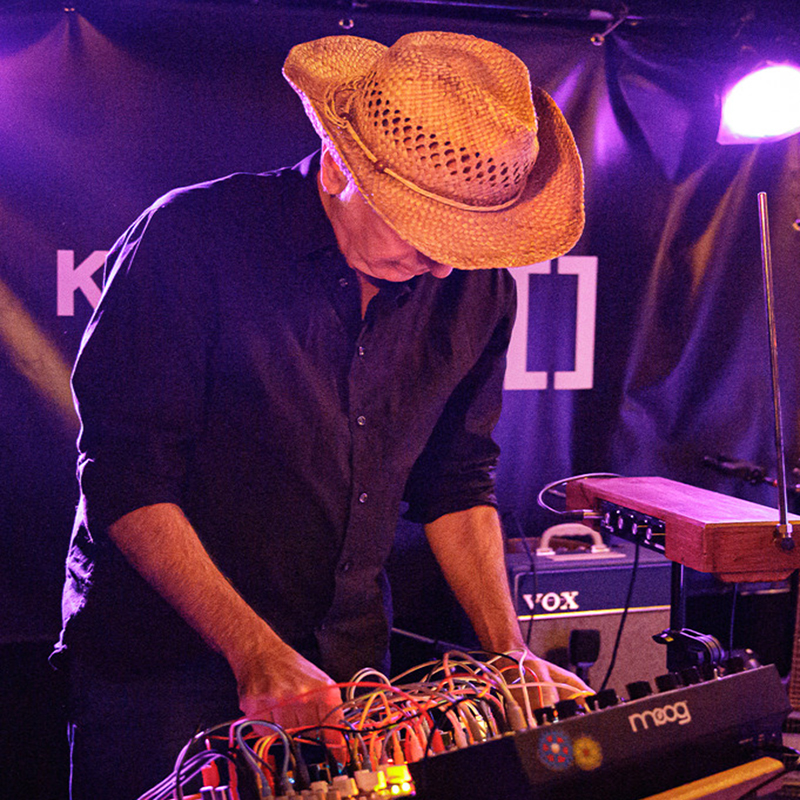 08. Maciek Polak – AKS Exercise 46 (03:35)
Maciek Polak's professional life has been revolving around analogue synths for the best part of last 25 years but EMS have always remained his most cherished (or even default, "go to") instruments. He released a few records as a member of a duo called Pin Park and a handful of Synthi solo albums, too, using either his own AKS or Synthi 100 at KSYME in Athens.
This may be the craziest of all "Exercises" that were rescued. Now that I listen to it, I think I used a different trick. Albeit very simple, the RC-1 Looper has decent interfacing and I remember hooking a few on/off pedals to it. One of them worked as undo/redo of last overdub. So I would first record two mono track (a split stereo), and then two more (in practice, an overdub). By using the pedal, I could switch to two additional lines in an out with my foot while playing the keyboard. As I can tell one hand was playing the melody and the other was banging on the Synthi case to shake the reverb spring. Drums are from the Synthi, too. I have a soft spot for that cheesy snare. It's funny but I'm not scared to use it every now and then.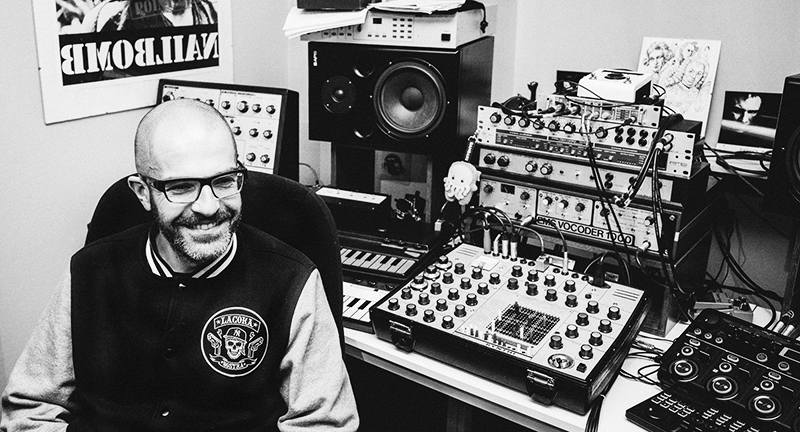 09. Michael White – Temporal Agitation (08:20)
Born in Vancouver Canada, MW's teenage years were spent playing trumpet, synthesizers and hockey. Moving to Toronto at 19 to study music at the University of Toronto, he took a deep dive into classical music, avant-garde jazz and contemporary concert music. These diverse interests and influences have shaped his unique and eclectic approach to performance and composition throughout his career. MW is known for a distinctive style, creating hybrid musical structures by chaining together modular synthesizers and outboard processing with live performance on acoustic instruments. As a composer, MW has scored radio drama, television series, and feature films, always looking for projects that have allowed a high degree of creativity and collaboration. Improvisation on cellular fragments combined with editing of the material extracting themes, textures and anchor points that connect to the flow of the storytelling are the mainstay of his style and method.
In addition to composing, MW is known for being a session musician. His detailed approach to performance, composition and sound design has led him to work with film composers including: Andrew Lockington, David Buckley, Jon Goldsmith, Joseph Trapanese, Christophe Beck and Harry Gregson-Williams.
This piece is about obscuring time, dividing it to create streams and relationships between the voices and events that may not at first seem connected. As the piece unfolds pulses emerge, they only last a short time and then disappear or become obscured by the next one that seems to take precedence. The unheard underlying pulse stream holds the piece together despite being obscured by the many layers of division.
Technically the patch uses multiple divisions of a fast clock almost at audio rate for its' overall micro and macro timing source. The harmonic content is produced and controlled by a changing mix of oscillators shaped by the TWS (triple wave shaper). The TWS was modulated in various ways while the index was being manually controlled in realtime. Mixing the levels of the oscillator bank and its' routing was also manually controlled via a matrix mixer. The audio stream was divided and processed in parallel with the WAD, FS and a filter set and dynamically controlled, allowing a secondary dimension of timbre and space to the various sound objects. The piece was recorded in 3 passes: the bed tremolo and sustains, the rhythmic agitations and then finally the brief melodic gestures.
https://modulisme.info/session/44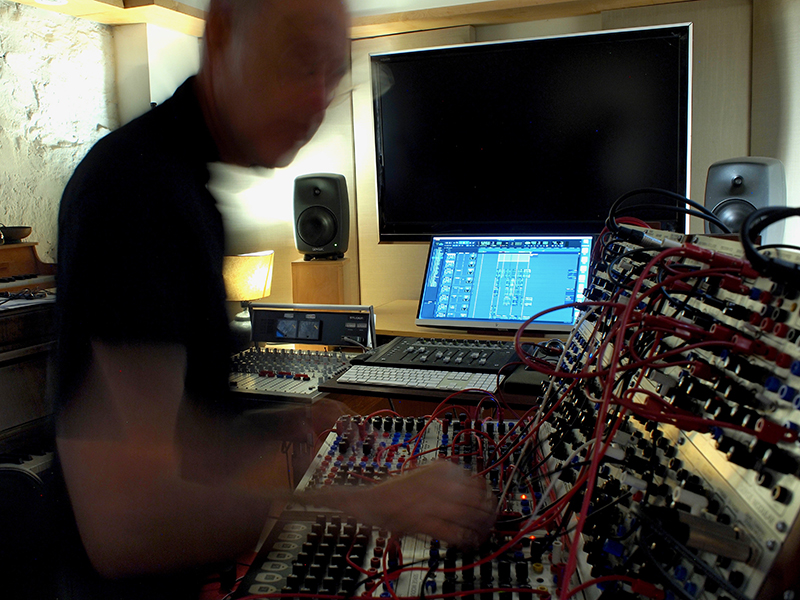 10. Martin Eriksson – this shell instead (03:22)
Martin Eriksson plays modular in musical group ÖVERKLASSEN (the upper class) with Håkan Strandhag, (trumpet, bass), GRISEN (The pig) with Håkan Strandhag (bass) and Claes Carlsson (drums) and MONEY IN THE BAG, with Hansi Gucluer (vocals, synthesizers).
This Shell Instead is a snapshot of work based on tempo rubato/semi-random-clocked notes. Regarding the modulars as fellow musicians rather than passive instruments. The sound sources as well as the clock are Serge slope generators. They steal the time. They are sitting, eating by the ocean. Sometimes forced to move because of tide but returns. Looking for something in this shell, no this shell instead.
https://modulisme.info/session/21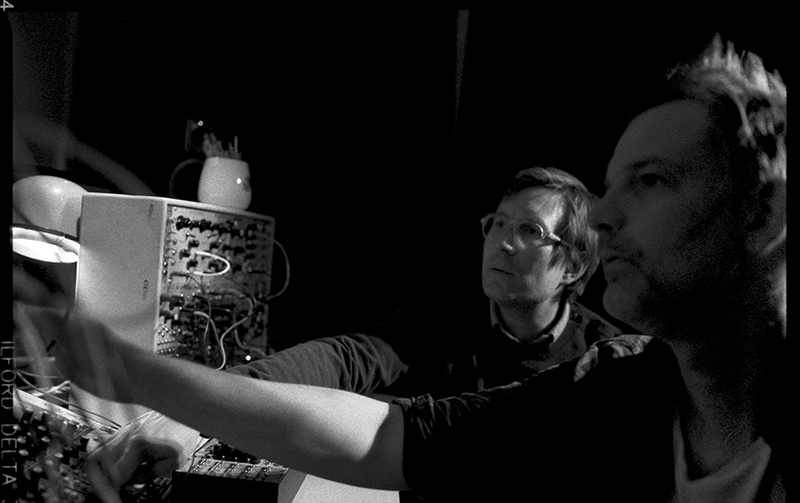 11. UnicaZürn – The Innermost Chamber Leads to the Sky (10:40)
UnicaZürn emerged in 2009 from the belly of a live-improv' beast called The Amal Gamal Ensemble. Knight and Thrower have worked with the Ensemble since its inception in 2001.
Knight got his first VCS3 in 1978, and recorded his first single at the legendary Electrophon Studio shortly after. During the 1980s Knight was guitarist and co-songwriter with highly influential art-pop maverick Danielle Dax, and contributed wall-of-rock guitars to the malign poetry of Karl Blake in Shock Headed Peters. He also works as Arkkon, a solo project concentrating on brooding electro-minimalist music.
Thrower's credits include eight years in Coil, with whom he recorded the seminal albums Scatology, Horse Rotorvator and Love's Secret Domain. He is currently one half of electro-psychedelic duo Cyclobe, with Ossian Brown. His solo credits include original electronic movie scores for Hell's Ground (2007) and Down Terrace (2009).
On this recording UnicaZürn used: EMS Synthi AKS, Korg MS20, Roland System 100, ARP Solina String Ensemble, Mellotron, Yamaha SK20 and Nord Lead.
UnicaZürn combine the talents of Stephen Thrower on keyboards and reeds, and David Knight on guitar and keyboards. Together, they have released five critically acclaimed albums, featuring expansive instrumental pieces that can clock in at anything between eight and thirty minutes. Their sound is birthed in improvisation, then edited, reconfigured and polished to an obsidian gleam. 'The Innermost Chamber Leads To The Sky' is taken from an improvisation originally recorded by the duo in Knight's home in Battersea, London in 2012. UnicaZürn have a large archive of recordings which are remade/remodelled and embellished (sometimes decades) later. Much of the synth work on the second half of this track was added by Thrower at his studio on the South Coast of England in August 2022. An audio equivalent of a Schwitters Merzbau, much of this work process is a slow-burn spanning decades, but in doing so, creates a unique timelessness.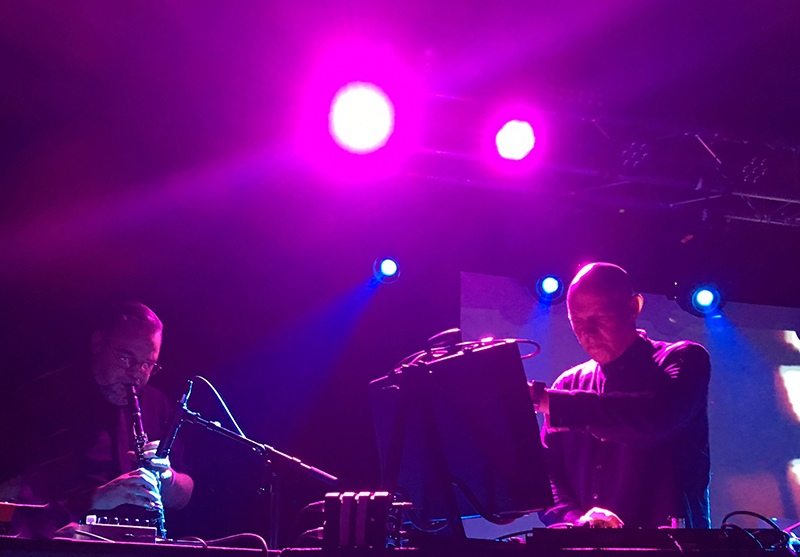 12. Wilfried Thierry: Le Grand Dehors (06:22)
Sound and visual artist, Wilfried Thierry composes for theater and cinema, creates art performances and installations, and is used to play music in a more usual way.
Le Grand dehors (Outward Bound) is a concept by the philosopher Quentin Meillassoux that defines the objects beyond human access. It was defined in an essay, Après la finitude (After Finitude), that I read a few years ago while I was listening a lot to Eliane Radigue's music. All of that made sense to me, there was something in her music that plays with barely noticeable variations and felt like a window to a thing-in-itself.
This piece is a step in my research for electronic contingency. It was composed on a Buchla 200 system, with the help of a ContinuuMini for a discrete drone, but I don't consider the Buchla as an instrument (something meant to do something). My goal is to become the instrument, the hands that can activate the secret and discrete magic hidden behind the human fascination for a fancy and mythical instrument.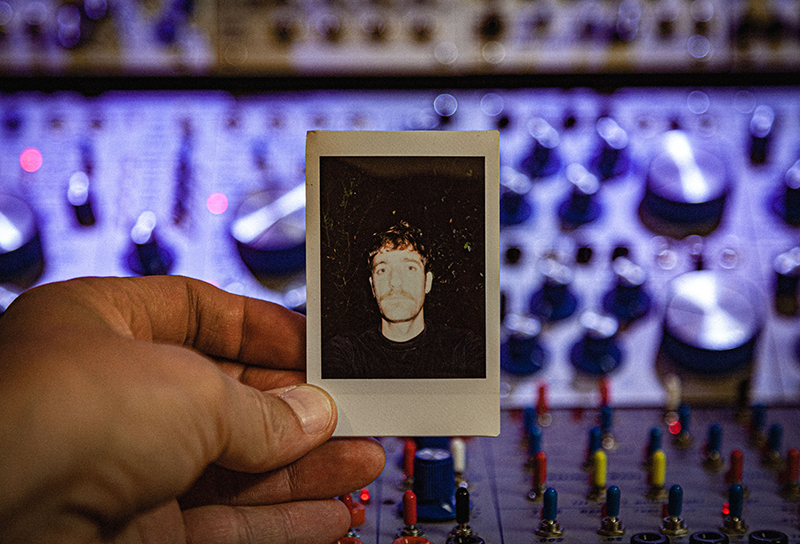 13. Olsen / Friberg Duo – Eardrum (Edit) (09:32)
Espen Friberg is an artist based in Hvitsten, Norway. Working primarily with Serge modular, field recordings and other electronics, he has just released an album on the notorious Hubro label.
Oïvind Olsen started playing bass (1976) and synths from 78/79. He stopped playing around 1982/83 and started again in 2000 with Hammond and modular synthesis. Serge and Buchla modular feed his Chaotic Morphs or his duo with Espen Friberg.
Olsen/Friberg Duo is a collaboration of electronic experimentations, both friends are located in Oslo, Norway. 'Eardrum' is a live recording documenting various paths of the human body – meditated through the use of Serge modular. The recording and video was made originally for the concert series Make It Up Club, Melbourne back in June – 2020.