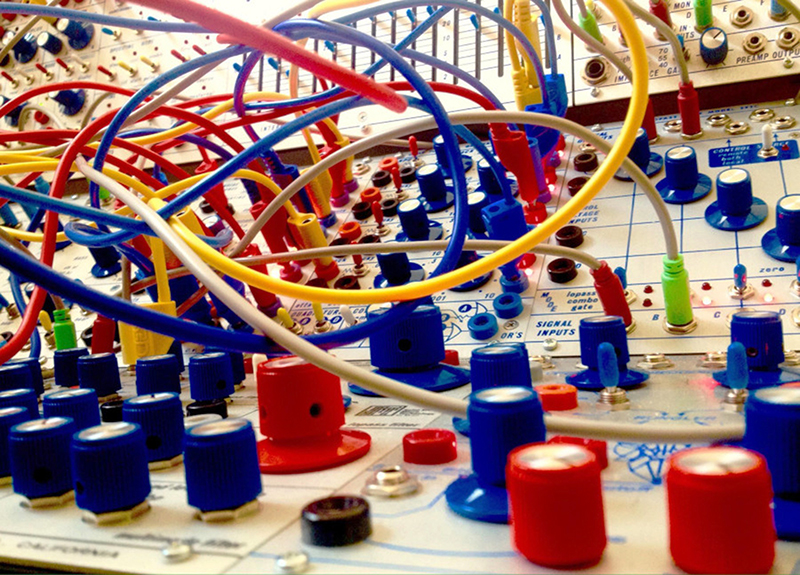 3 years ago I started to gather some music from composers playing Buchla instruments and 2 volumes of BUCHLAÏSMS appeared as a companion to my first choice in our I.T.A.T.I.O.M. chapters dealing with Inventors Talking About Their Instruments Or Modules.
https://modular-station.com/modulisme/itatiom/buchla/
Those 2 volumes, offering about 7 hours of music were already a mammoth of a collection but I had a feeling that many players were missing. My purpose was to respect the historical side while showing today's creation.
Thus the last few months have been very studious, spending a lot of time pulling strings, trying to find new users of the instrument, re-launching or convincing some of the best-known to participate to an hommage to Buchla. Of course I haven't managed to get everyone on board and no worries as I'm happy to rest assured that some do not need our support…
Nevertheless 5 new volumes filled with creations made on purpose are now ready.
BUCHLA – often labelled as the Stradivarius of Synthesizers – is one of the most innovative « musical vessel » ever designed, whose extent of the sound spectrum does not seem to belong to this world and the logic lies apart from everything that may have existed before its creation. The Buchla synthesizer is named after the electronics pioneer Donald "Don" Buchla, who manufactured his first modular synthesizer with the avant-garde musicians Ramon Sender and Morton Subotnick, the founders of the San Francisco Tape Music Centers (SFTMC). Both were looking for an engineer who could implement their ideas and requirements and found this person in Donald Buchla, with his extensive musical and technical expertise. In 1963, they eventually managed to achieve together what they had been working toward for years: an analog, modular synthesizer. The Buchla Series 100.
As you know Modulisme has paid a lot of tribute to SERGE, celebrating its 50 years of existence with dignity. So I thought that since Buchla is the one that started it all for me + my favourite system, it was high time to add some entries to our « Buchlaïsms » series.
Those were chapter I and II, 5 more will appear until December.

https://modular-station.com/modulisme/session/21/

+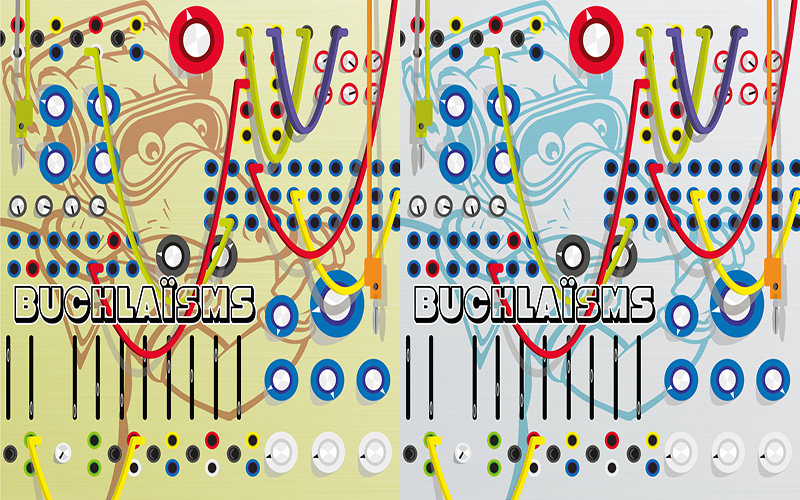 Don Buchla initiated the 100 series Modular Electronic Music System in 1963 + the Easel in 1973 so let's celebrate in a grand way…
01. Suzanne Ciani – Concert Practice 1 (04:00)
© ℗ Ciani-Musica Inc / Musica International.
Pioneer of the Buchla World Suzanne Ciani worked alongside Don Buchla back in the early days and since then her work has been featured in countless commercials, video games, and feature films.
Created while I was practicing for a live Buchla concert. The concerts are called "Improvisation on Four Sequences" and the raw material I use are four tone rows that were documented in my 1976 paper called "report to National Endowment."
I discovered Buchla instruments in the late 60's. It was, as they say, love at first sight. There was a Buchla 100, the first one, at the San Francisco Tape Music Center, housed at Mills College. I met Don Buchla through a neighbor of his while I was still a student at U C Berkeley in music composition and went to work for him in 1970. I got to play a huge array of modules in his studio.
I like to use the system for live performance and I believe it was designed for that, in the tradition of all musical instruments.
I love so many of the modules, but I guess my two favorites are the 248 Multiple Arbitrary Function Generator and the 227 System Interface that allows voltage-controlled spatial movement of the sound, integrated with the music.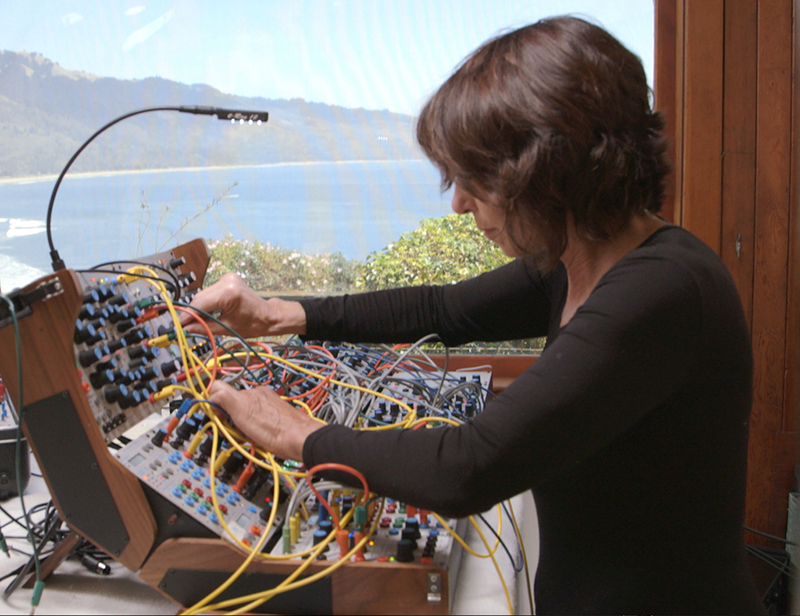 02. Layne (Rachel Aiello) – Cyclone (04:00)
Layne composes field recordings, abstract auditory textures, and rhythmic concrète churns into a hypnotic aural terrain playing her Buchla Music Easel with the Aux Expander.
Created during a stormy summer in Berlin, in 2023, using the sequencer in the 208e, I was inspired by the quick, cyclical nature from the limitations of 5-steps.
After hearing about Buchla synthesizers for years, the first time I heard a Buchla in real life was during two concerts on the same weekend. One was Anthony Child (Surgeon) performing in LA at the Hollywood Forever Cemetery, and the next evening Suzanne Ciani performed her first solo Buchla performance in 40 years, which is also the day that I met her.
I usually find myself using my Music Easel on its own, using it to perform short sketches in one take. Because I see the Buchla as a collaborator, I feel that I tend to be more artistically free.
I always have fun exploring the 208e. Through its limitations, I find that it forces me to be more creative and think in different ways. Sometimes with a full-modular system, the possibilities are so endless that I feel I can spend more of my time creating new patches than actually playing the instrument.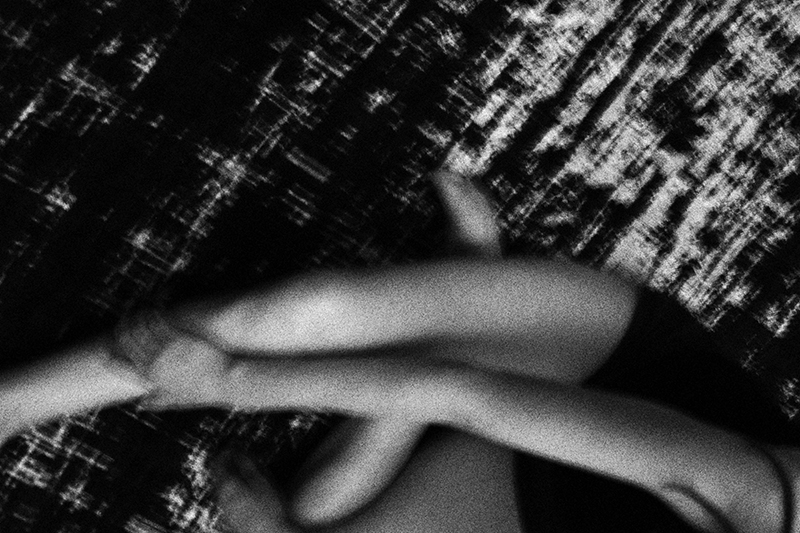 03. Illusion of Safety – Fleeting Effects of Light and Movement (06:46)
Since 1983, Daniel Burke and his many conspirators under the Illusion Of Safety banner have over the course of 40+ full length releases traversed most every facet of the avant sound plane, from early industrial pop deconstruction to blindingly minimal sound art to densely surreal found-sound collage, each unique approach bending and reconstituting the expectations and possibilities of each realm, creating uneasy music that is dense and dystopian and yet also beautiful. Outside of IOS Burke has collaborated with Jim O'Rourke, Jon Mueller, Randy Greif, Darin Gray, Z'EV, Cheer-Accident, Thomas Dimuzio, Kevin Drumm, Bill Horist, and others.
This track is more of the leftover material from our first Modulisme session Focused Systems Approach #1: [Buchla/Euro] >Margins Of Error.
The material was days of recording many many hours my first iteration of the Buchla in 2012 a system that incorporated a Buchla Euroblade adapter w/ the Chronoblob and Mungo D0 delays which provided the biggest part of the sound of these recordings processing the Buchla 259 clone with the Lassence/Vedicscapes (brilliant modules!) Soundscape Processor Generator & Multi-mode Feedback Model 13700 filters. As I said its always a process of fun and improvising the patch and manipulation until something is hitting the right nerve then its time to run with it for a while. Later I like to edit these things to make them as coherent and enjoyable to listen to as possible. I like to create a good ride for myself and anyone else who may want to take the time to listen.
The history of the development of synthesizers and electronics used in music is always of interest to me, and Don's inventions were unique and singular. The sound of them is interesting, the circuit and patching designs are cool, but also the visual aesthetic is awesome, the large size is inviting and it just looks killer, lots of pretty colors and lights.
The first time I heard a Buchla instrument in person was probably in the mid 90's Grant Richter had a few interesting pieces and we did a bit of live actions together one of which in the chill out area at a Drop Bass Network rave in Wisconsin. Then probably at an Alessandro Cortini performance in Chicago where he played an original Easel from the Seventies, killer low end drone piece. Next and the closest experience I had was at Thomas Dimuzio's. I had brought a small Eurorack to his place a year before (2012?) and he got the bug, but went Buchla. I didn't even know at the time Don was still producing them, but Tom went with a 200-e system first. It had a unique sound, very insect-like, nature sounds from another planet vibe. Though the coolest thing was all those amazing blinky lights!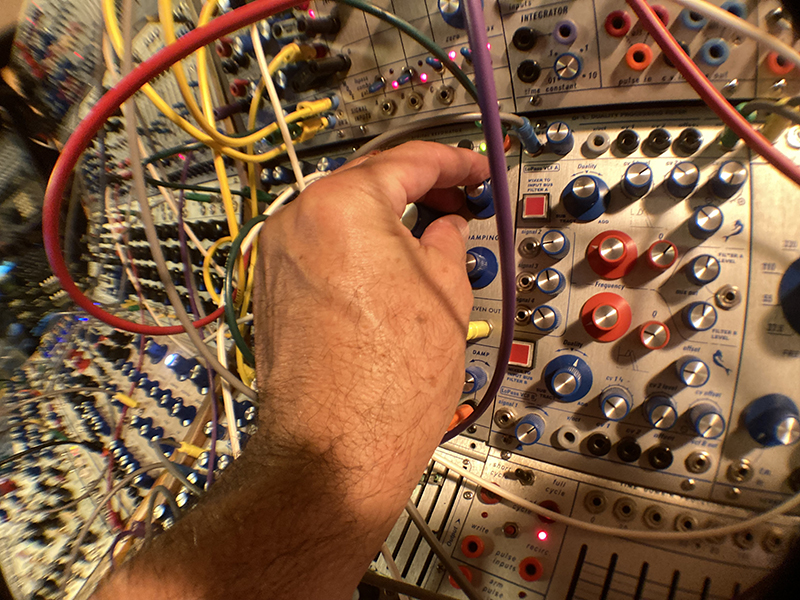 04. Thomas Dimuzio – Foldings VII: Headhunters (4:47)
Thomas Dimuzio is a musician, composer, improviser, sound designer, mastering engineer, and music technologist residing in San Francisco, CA. His music is like a sonic excursion that transports the listener into other worldly aural realms.
His recordings have been released internationally by ReR Megacorp, Asphodel, RRRecords, No Fun Productions, Sonoris, Drone Records, Odd Size, Seeland, Monotype Records and other independent labels. Among his collaborators are Chris Cutler, Dan Burke, Alan Courtis, Nick Didkovsky, Fred Frith, David Lee Myers, ISIS, Matmos, Wobbly and Negativland.
I have an ongoing project called Sculpting Electric where I'll spend days building complex patches between Buchla 200e and 200 systems with the intention to facilitate live in-studio compositions.
This particular Sculpting Electric patch is themed and titled "Foldings" and eighteen variations were recorded; four of which were hand-picked for Modulisme.
Clocks, pulses, and subdivisions form the heartbeat of FOLDINGS. A central clock seamlessly integrates various systems, delivering pulses to sequencers, randomizers, clock dividers, envelopes, and effects. Inspired by Suzanne Ciani's pioneering technique of vertical sequencing, FOLDINGS crafts infinite variations of basslines and motifs with minimal programming. Through touch plates and voltage processors, multiple systems are harmoniously united, functioning as a singular instrument—powerful in its might, yet refined in its guidance.

A subtle adjustment can lead to profound transformations. Each track in FOLDINGS showcases variations by tweaking parameter values within the same patch, all captured live without any overdubbing. Originally recorded in rich dual quadraphonic sound, these tracks have been distilled into stereo versions.Recorded on Buchla 200e and 200 systems with modules from Buchla, Eardrill, Keen Association, Northernlights Modular, Studio.h, Vedicscapes, Metasonix, Sputnik, Verbos, Peake, and Bocock.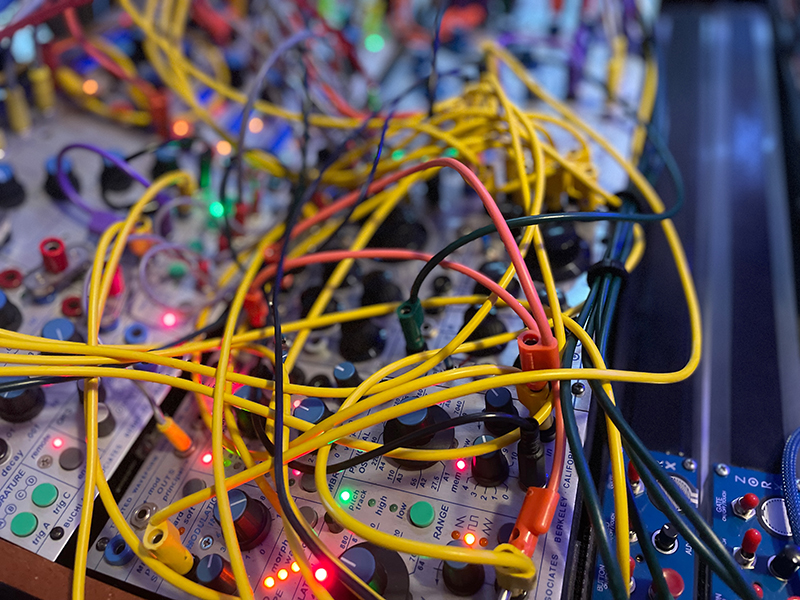 05. Philippe Petit – Elephant Seals breeding on the beach at Punta Ninfas… (04:27)
French musical-activist who signs his records on multiple international labels, has played hundreds of dates around the world + has recorded with an amazing dream-team of personalities and solo…
The beaches at the foot of the cliffs at Punta Ninfas are the natural habitat of a colony of elephant seals that are present all year round in small groups. Males fight with threats, vocalizations, and lunging to establish their territory. A threat is when a male raises up on his front flippers. This is followed by vocalizing into the proboscis. After a period of approximately a month the alpha males are spaced across the beach according to their ability to maintain their territory. The females begin to arrive as the territories are establishing. Once an alpha male has his territory defined and females start arriving he will not leave the beach even to feed (it may be several months). At the height of the breeding season a strong alpha male may have a harem of a dozen or more females surrounding him. After giving birth, the females will remain on the beach with their pup for three to five weeks.
From the lighthouse, you can go down to the beach on foot to observe the animals up close, it is essential to approach the animals slowly in a crouched position without disturbing them so that they do not feel threatened.
To try and recreate such ambience I pinged-played my rare Solid State Music Filter Model 2040 into the Programmable Spectral Processor Model 296 which, when it comes to transforming or sculpting sound, is my favourite tool. It has a truly unique character, and as much as I detest the synthetic transformation of the 296e version, the purity of the original never fails to seduce me… That woody sound – but not just that, of course – is what makes it so special. A super Comb Filter with CV control, Envelope Following, so many Inputs and Outputs + It can even become a Vocoder…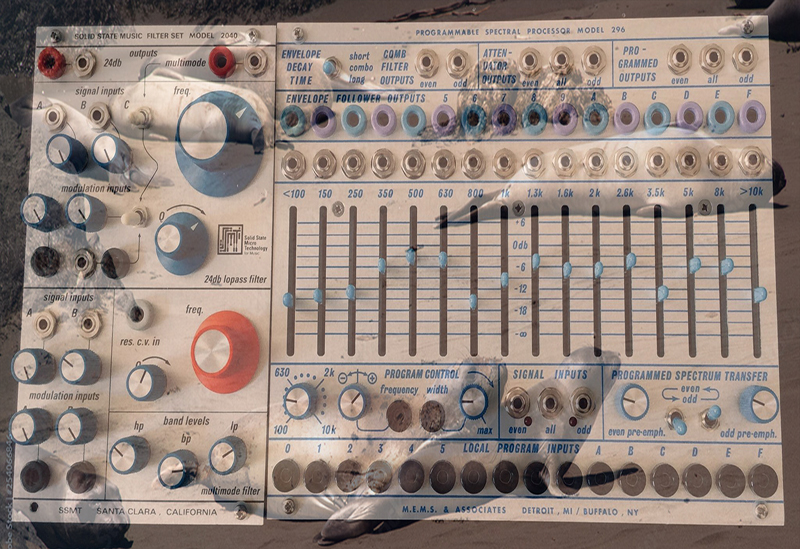 06. Encoder (Gàbor Kakuk) – The Uninvented Spores (04:14)
Back in the '90s, when electronic music was hardly accessible in Hungary, Gàbor Kakuk developed his initial taste for it and progressively learned everything there is to know about it by spontaneous trial and error.
I always try to "transfer" feelings through my tracks instead of telling a story.
I often experiment with monotonicity, with minor parameter changes and asymmetrical arranging.
IMHO, in terms of interaction, there are three main categories in the modular synth field :
where you can patch everything with everything (pretty much every system, except Buchla)
where you can't patch everything to everything (Buchla)
where you MUST patch everything to everything (Serge).
For me, Buchla and Serge are kinda' outsiders and that appeals to me – I like to use "different" stuff in my studio.
I usually sequence and clock it from my DAW and record the results as raw audio material for later use, n most cases I simply experiment and let the instrument guide me somewhere.
I don't really have a favorite module, instead, I have a favorite "path": 259 goes to a 292, controlled by a 281.
If I really have to choose 1 module, that'd be the 258.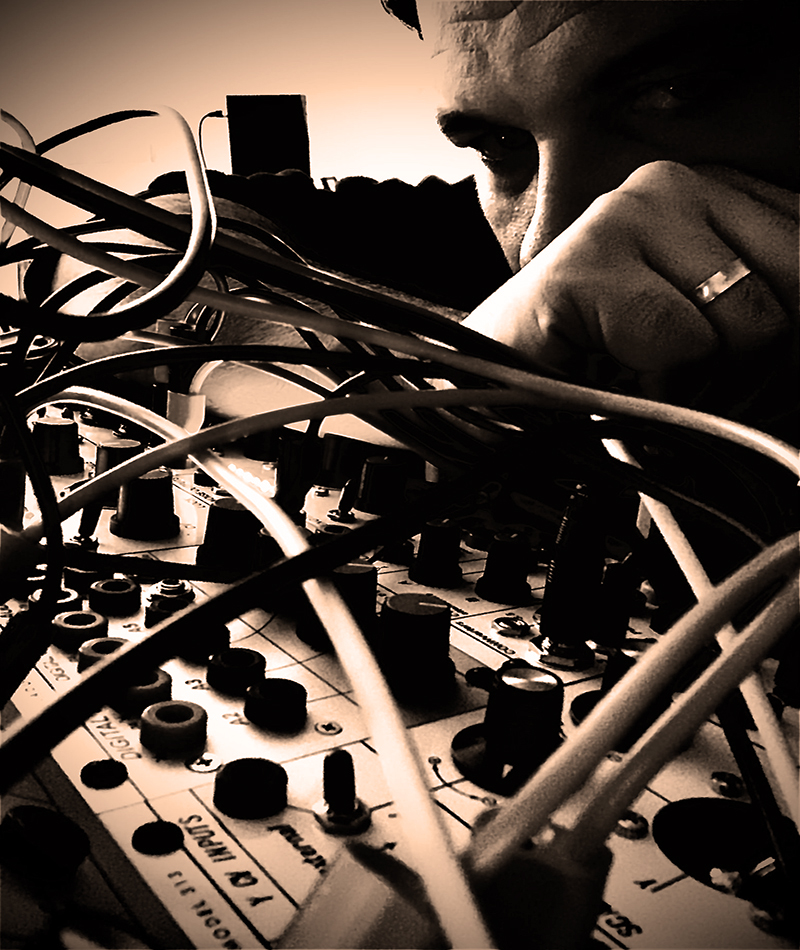 07. Untermensch (Geir Opdal) – The Tree by the Rock (04:43)
Geir Opdal loves to draw and let his fantasy run wild to see what weird creature or alien landscape he will end up with. Much the same as in his music using the same way of thinking and composing as in painting and drawing. Painting with sound.
I wanted this piece to be very simple and frail. Envisioning a little tree standing besides a rock, and the conversations they might have together. I rarely have a clear intention behind the music I make. I simply start twisting knobs, patching cables and pushing sliders and see what happens. It's the process that is the most important thing for me. That is also why, from the start, I decided not to fully learn these instruments. I wanted to let the happy accidents happen. The stories could just be written after the music has been made. Sometimes they are written simultaneously.
I felt attracted to Buchla synthesizers after listening to the album "Grey" by Christian Westergaard. And I had started to see something in FM synthesis, which is a large part of the Buchla sound. Now, I can only talk about the Easel, since that is the only Buchla I have tried. But what attracts me is its harshness, its edged and raw sound. But this sound, this harshness lends itself so immensely to a good reverb. Even if I use the longest reverb, details can still come through. Another thing I really enjoy with the Easel is that it's so contained. It is what it is, a simple small synthesizer with a simple patch bay. But beneath this surface is a vast world of landscapes, figures and life….
One of the first things I felt drawn to was its keyboard. It felt really expressive. Now, the funny thing is that my 218e was actually set to what felt like a semi exponential pressure curve in the start, so it took some time to get used to it. It actually felt wrong from the start. But at the same time, I really saw the potential with the timbre and fm/am modulation via the pressure. Even though it was really hard to control it. After using it for a long while, I talked to a friend of mine who had built his own 208, and he told me there was a trimmer inside the 218e that could fix the curve issue. He explained where it was, and I opened and trimmed it to see if I could fix the issue. Mind you, this was done with a huge amount of anxiety. But I got the curve set to a shape that suited me well. And as soon as I started playing, I knew my initial thought was correct. I have never felt more at one with an instrument, ever in my life. From that on I used the keyboard for almost everything I made on the Easel. TBH, I have a hard time letting go of the keys, and not using them.
What does this bring to my artistic vision? I have to go back in time first. When I started making electronic music, I started in Ableton with loads of VSTs as already mentioned. Amongst them was Native Instruments FM8. I soon found something in the FM synthesis I liked, and started to delve into that. But it was when I got my first modules in the Eurorack land that I really found my use of FM. I got the Make Noise DPO, and fell in love with its raw FM sound. So when I got the Easel, I was already far into the soundscapes of FM synthesis. But the Easel made it possible for me to be even more detailed, and paint even more vast soundscapes with that synthesis method. The Easel sound is extremely harsh and ugly without any filtering and reverb. But that is its strength. The amount of detail that lies within its frequency modulation, is so great and so sharp, that even the tiniest tuning of the modulator to the carrier, can make huge differences in both sound and its movement. And because it's so sharp, all the details still shine through even with the longest of shimmering reverbs. And by using the lowpass gate carefully, I am able to make even a single note drone interesting for a long time. You just have to listen for the details, there are endless possibilities of sonic explorations, an insanely raw FM and AM sound that lends itself extremely well to reverb; that is what I love about this instrument. My little ugly duckling.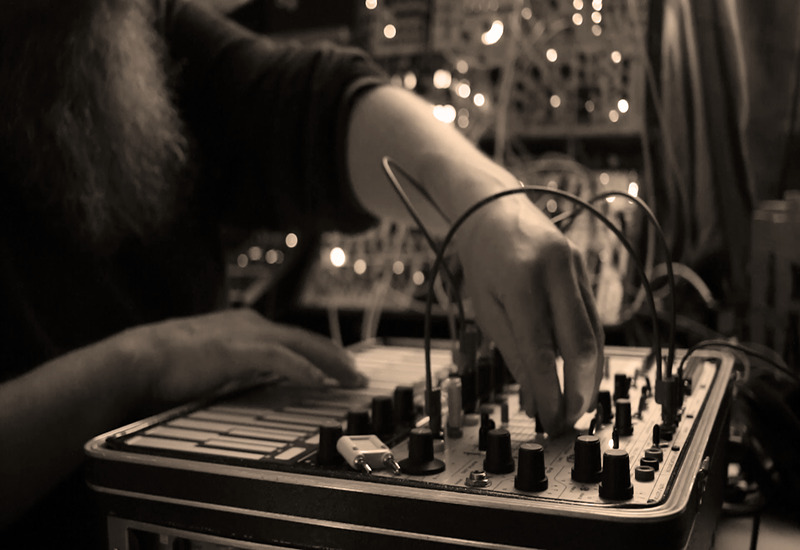 08. Ernie Morgan – Mono Melodies (23:54)
Ernie Morgan died in 2016.
Back in the 70s, he was in the Psych Pop group The Strawberry Alarm Clock and – in parallel – came to work on his Ph.D. at the UCSD (University of California San Diego), after he had received his M.A. from Mills College and studied with Robert
Ashley. In 1971 he worked with the Buchla synthesizer there…
This was made on the UCSD Buchla in 1973 or 1974. Following the WEB collaboration, Ernie made a series of solo pieces on the Buchla. One collection of pieces was called "Monomelodies." There were at least 5 pieces in the series. I have a vague recollection of Ernie talking about a process that governed all the pieces in this series. I think it involved taking earlier recordings (starting with the WEB recordings) and tracing them (using an amplitude tracing module) to derived control voltages which were then used to control other sounds. That all the sounds in a particular piece would come from a single source might be the origin of the "Monomelodies" title. In the un-numbered Monomelodies piece, there seem to be 3 or 4 kinds of motives alternating, with silences in between. Often 2 or 3 of the motives would be playing at once, and all sorts of combinations of the motives would occur. Since the UCSD Buchla had 4 touch sensitive keyboards, I can conceive that Ernie had a patch with 4 kinds of material, each one controlled by a separate keyboard, and he would have a four keyboards in front of him, and would improvise different combinations of the material. That's the impression I get from this recording, 50 years later. (Warren Burt / SEPT 2023)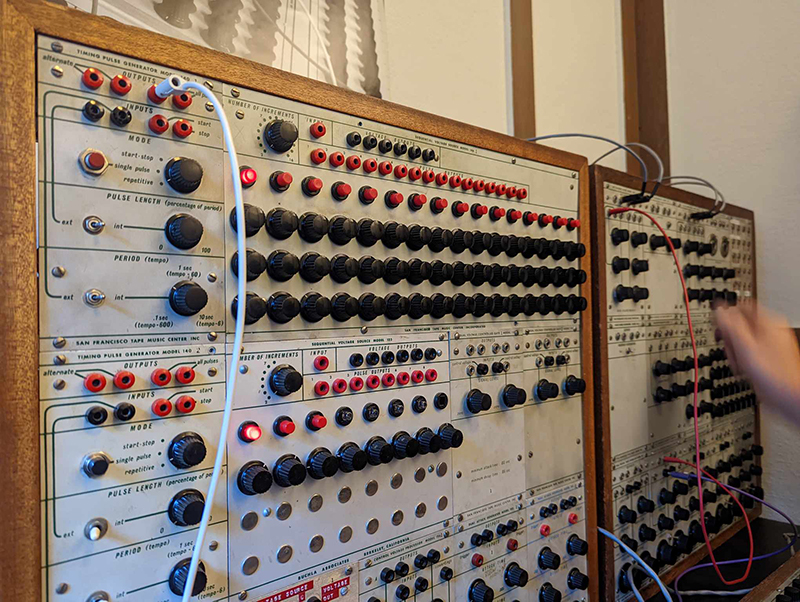 09. Øivind Olsen – Momentum (08:03)
Either as Chaotic Morphs or with his friend Espen Friberg, Oïvind Olsen is obsessed with Serge and Buchla modular instruments.
In this track I tried to express the sorrow I felt when one of my best friends in life and music died a couple of weeks ago.
My synth history brings me back to the late 70s in cover bands. And later with conventional synths and euro-rack modular.
First time I heard and tried a Buchla 208, I thought and felt: This is the way to go for me. Unfortunately or maybe fortunately my path first went into Serge.
After a couple of years I built my own 208.
Usually I'm using it with my D.I.Y. breakout box and a couple of effect boxes, and sometimes with the Serge system. I see and hear that with the Buchla I tend to do more calm pieces, in contradiction to the Serge where I do more noisy stuff.
My favorite Buchla modules? I really don't know. If I should expand my 208, my choice would have been the 100 series.
That's because of the limitations and simplicity of it.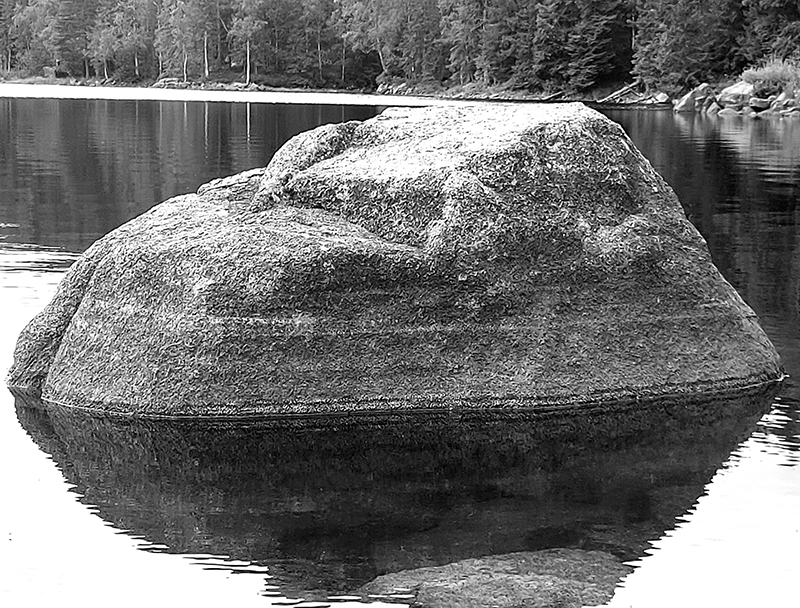 10. Wilfried Thierry – Circulaire (04:41)
Sound and visual artist, Wilfried Thierry composes for theater and cinema, creates art performances and installations.
This piece is the result of two separate compositions.
I began by working on a soundscape based on the complexity of timbres made possible by the combined use of the 259, 258 and 285. Then, playing the 245 and 259, I recorded nervous percussive elements that give a sense of urgency based on the use of FM. I cut up and put together elements of these two recordings and a kind of narrative emerged from the result. I had in mind the image of a sinking spiral, as if a creature chasing us were forcing us to land on a desolate plain. I swear, no Red Panel modules were used in this composition!
I started using electronic instruments in the late 1990s, when I bought an Akai S2000. I read the manual many times in order to understand the basics of synthesis (I was essentially using this sampler as a wavetable synthesiser). In 2001, I started to learn how to use Max/MSP and then used it intensively. 10 years later, I came across two videos of Oxix52 on YouTube, using the Buchla Skylab, and it was a revelation. The sound, the articulation, the organic feel… I fell in love with the instrument. But I couldn't afford it. I sold a few instruments to buy some Make Noise modules (at the time, there were far fewer brands than there are today) and then I started to find out more about these 'West Coast' approaches. I ended up putting together a complete Make Noise system, which I loved for its timbre and approach to composition. I often dreamt of the Skylab (and still do), but couldn't find the money to put it together. A few years ago, I heard about the 200 series clones which, for a smaller investment, allowed me to have a complete system, provided I assembled it myself. So I set about building my own instrument and about a year later I had a complete 18U.
I was very worried about being disappointed after such a long wait, but the sound was deeper, more powerful and full of subtle harmonics that I wasn't getting with such quality when I was playing on my Make Noise system. But what really impressed me was the ergonomics of the instrument. Everything became pleasant, with a kind of obviousness despite the complexity of the possibilities.
I like to be used by the instrument. I try to let it guide me. When I have very specific compositional ideas, I usually try to use another instrument. Sometimes it's to learn a technical point and other times I just want to rediscover a simple childish pleasure. And all this may or may not end in music. My perception alone allows me to sort out what can be transformed into music and what can be forgotten.
This relationship with music is very new to me, because usually I like to control every step, to think things through, to be sure of my intentions before turning to my instruments. Whereas with the Buchla, I see this activity as a conversation, I listen to the sounds it produces while it listens to my movements.
Chosing a favorite module is a difficult task though three come to mind and seem essential to my practice.
The 292 because it can transform any sound source into something organic.
The 285 because it surprises me every time with its ability to produce subtle harmonic content.
The MARF because it's an incredible instrument in its own right, capable of adapting to any situation.
But in the end, I'm going to choose a fourth, less flashy instrument, the 245. Simply because I can't remember a single patch where I haven't used it and I always have fun with it. It's a very simple module but one that always surprises me. In just a few seconds, it lets me programme a whole host of modulated tempo variations that are such a pleasure to use.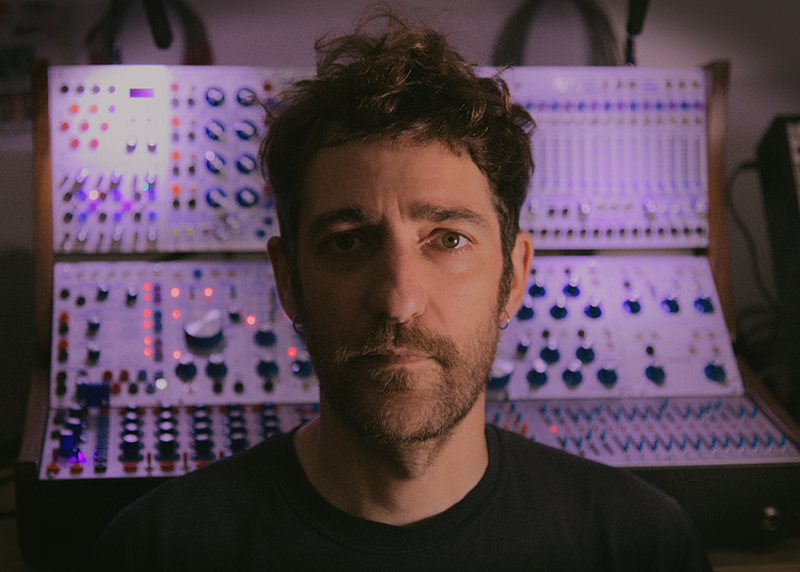 11. Lyonel Bauchet – Géologie (05:27)
Film and media composer Lyonel Bauchet is best known in the electronic music world for his mastery of the Buchla modular synthesiser.
The idea of this little piece is to highlight the very particular sound of the two 296 recorded multiple times, and each time on four tracks (Programmed Outs odd/even x2). Very wide sound, with this saturation specific to the 296. Rough multi-layers with an almost geological character.
I had never heard of Buchla before Donald Buchla's return with the 200e in the early 2000s and I was immediately captivated by the sound, the aesthetics and the engineering so different from anything I had ever heard of.
I like to integrate it with more acoustic, orchestral sounds, with which it blends particularly well, its side sometimes fragile and particularly so organic.
I really like the 259e, so particular and so criticised at its release.
The possible modulations between the two oscillators reinforced by the multiple banks of the main oscillator is almost infinite.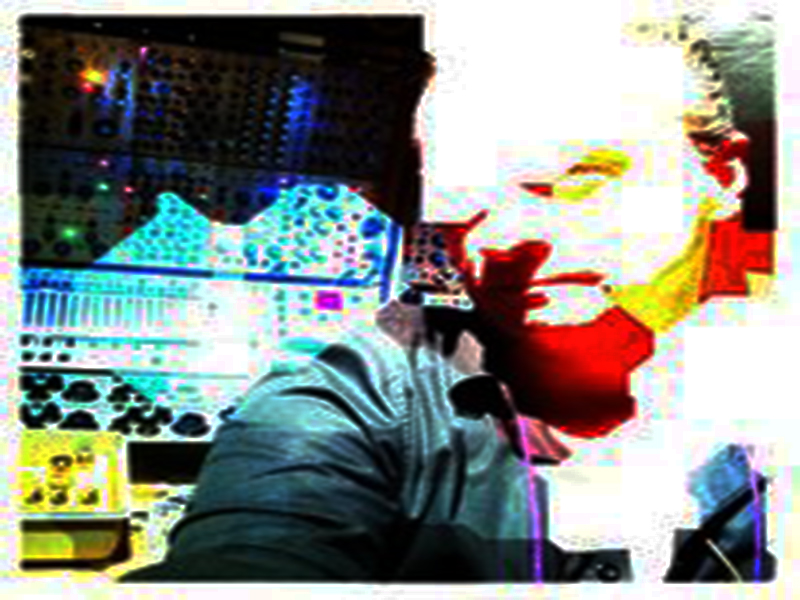 12. GM.XE – Neon Shanghaï (05:11)
Shawn Wu comes from Shangaï and is trying his best to restore the charm of analog buchla synthesizer.
I came into contact with Buchla in 2017. Before that, it was mainly Eurorack and some early Japanese synthesizers. I was deeply attracted by its sound, and I knew that this was exactly what I wanted.
My first Buchla synthesizer was the 208c.
After using it for a short time, I decided to collect as many Buchla modules as possible. During the use and exploration of each one, I was deeply attracted by their intuitive patching mode as well as the complex plasticity and changes after simplicity. Buchla has enabled me to have a deep learning and understanding of synthesizer knowledge and a broader imagination in creation. The quality of its sound is so excellent that it does not need to be overlaid much, and my entire creation workflow has changed dramatically. I like to start with a sound, maybe a vibrator or a noise, and then try to form a melody or a rhythm, and then maybe try to add different variations to get unexpected results
I love all the 200 series modules (each one is very unique) and the 200e + 296e + 250e.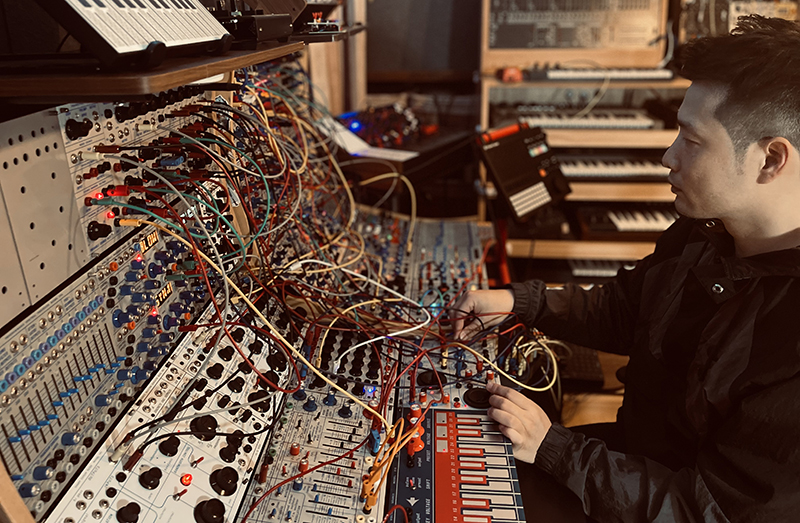 13. Cray (Ross Healy) – unVoid Widow (05:31)
Recorded at Amnesia International 2023, Kyneton, VIC, Australia.
Ross Healy creates aural novels. This is not music but moments in time.
I love the visual feedback you get when using the Buchla. Also the Willy Wonka vibes from the original Rogan knobs and lights combination. Its like an Alien made it.
First time I got exposed to Buchla was when it arrived at my studio back in 2005. I just fell in love with it.
The first recording was Morton Subotnick's "Silver Apples Of The Moon".
I create sonic paintings and the Buchla system I have allows me to zone in and zone out.
I love the 258 oscillator. Its HUGE! The 227e is great fun also. Never used it in quad but like to be able to throw the sounds around.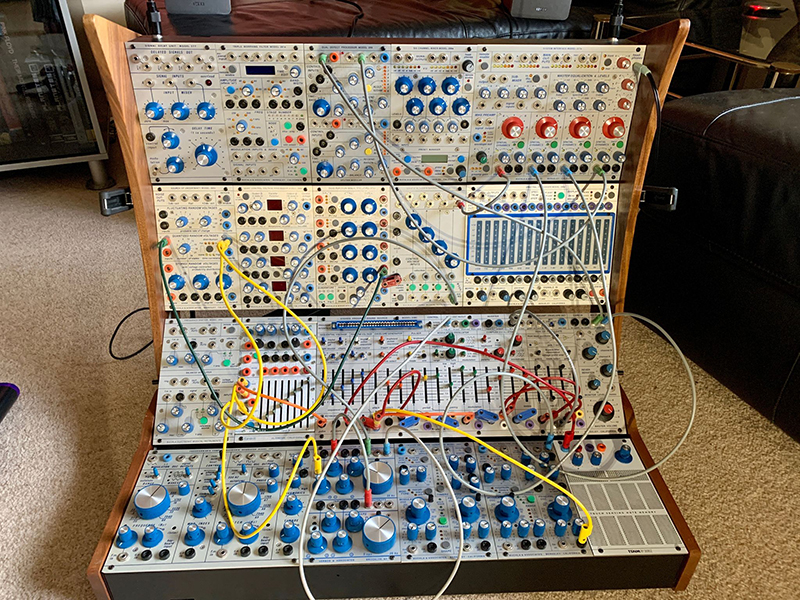 14. Wang inc. – Necrocene (07:34)
Bartolomeo Sailer started to make music at the beginning of the 90s and ever since he has managed to bring some rhythmic playfulness to a good dose of experimentations. Pleasure for body and mind !
This track starts from the idea that we are living in a new geological era: the Necrocene, the age of death. Since the sixth mass extinction is happening and it seems we can not renounce to our egotistic privileges to prevent our own extinction. A turmoil of atonal sounds from the Ciat Lombarde Tetrax is the foundation of this track.
Overlays of the Buchla 208C commanded by the 0-Control from Make Noise create more disillusion for the future and a discomforting vision of ourselves. Rhythms are on purpose not alligned adding entropy to the process of mass destruction.

The first time I heard a Buchla synth was a few years ago at the Terraforma festival where I heard Charles Cohen play his Easel. For me it was a mesmerizing experience and I wanted so badly an Easel. But at that time I was poor and could only afford the virtual emulation by Arturia. A few years later I became an orphan and inherited the money to participate to the 208C kickstarter. It took some time to have the synth at my studio because of COVID and components shortage.
But now it's been here for some time and I have great fun whit this incredible instrument.
Mostly I use the 208C as a percussive system, I like that you can do very complex rhythms and create a wide variety of sounds. I think that a 2k euro oscillator brings a new dimension to my setup because of his intensity and grit. Obviously the sound of the LPG is a definite plus. More difficult for me is to use the 208C as a melodic instrument since it is sold without a keyboard and more intended as an atonal instrument.
I own only the 208C so I really cannot compare with other Buchla modules. For sure that one was desired for a long time.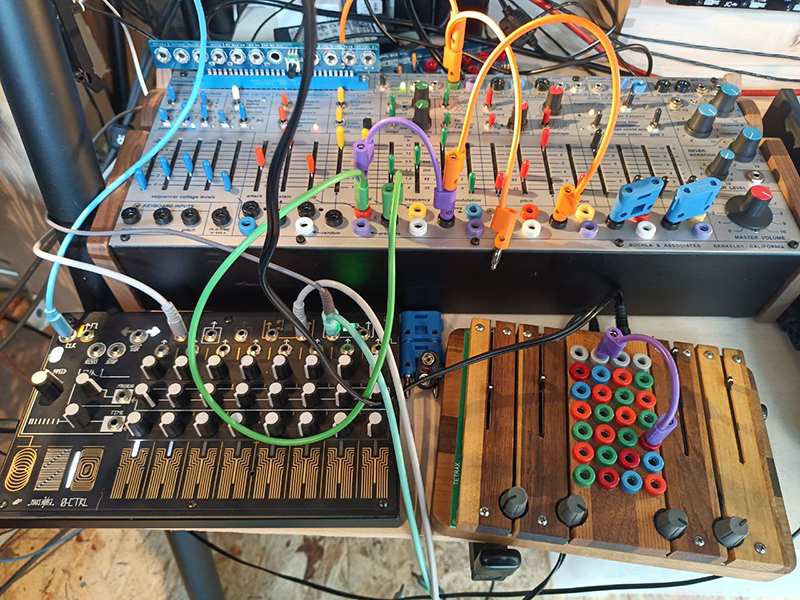 15. Genshi (Craig Anthony Perkins) – Sequence Block #05 (04:37)
Craig Anthony Perkins is composing for Film & TV. Sound designer, multi-instrumentalist, and Modular Synth artist…
For this track, "Sequence Block #05", I knew I wanted to have a slightly "factory assembly- line" feel to it, and to achieve that, I needed to have two sequences play off of each other even though they are technically playing the same notes, so using the Music Easel's inverter was perfect for that to have the Complex Oscillator inverted from the Modulation Oscillator while both were being played by the same 5 Stage Sequence. Additionally, I ran the Music Easel through my newly arrived Hologram Electronics Microcosm effect pedal which has all manner of granular and chopping effects built into it which I played in real time to give movement to the notes and their "ghost" notes.

I've been playing and programing synths for 45 years, from ARPs to Sequentials and Ensoniqs, Korgs and Rolands to Waldorfs… But essentially, even though they were all different from each other, they were all too familiar and fairly the same. The first time I saw and heard a Buchla Music Easel, I was immediately drawn to it because it was so different than anything I ever heard or saw! And when a co-worker at a Eurorack modular company I was working at let me borrow his for a few days, and I actually had the chance to play one for the first time, I immediately fell in love!
At first, it was so alien; the way everything was laid out compared to the traditional East Coast style Subtractive synth, but once I got more familiar with how it worked, I saw the beauty of Don Buchla's design, how logically everything was placed, and the amount of possibilities you have with this seemingly simple electric music box in a suitcase! The Music Easel was way ahead of its time, and today, it is still one of the most fun and convenient electronic instruments around.
The thing I love about the Music Easel, besides it being portable, is that it can be as experimental or as musical as you want it to be; it forces you out of your comfort-zone, and even though I am now very comfortable with playing it, it still teases me to try new things. It really helps me to stretch as an artist; to not get to comfortable with how I approach my musical pieces.
On the Easel, I really like how everything is just integrated together, from the 5 Stage Voltage Source, to the Pulser and Envelope Generator, to the Modulation and Complex Oscillators, and the fact that both Oscillators can be played separately via so many sources (e.g., Touchplate Keyboard, Preset Voltage Source, Arpeggiator, Looping Envelop Generator, Random Voltages!)
I am hoping to move up to a full Buchla 200/200e someday as I want to explore what some of those modules have to offer, like the 259e Twisted Waveform Generator, the 266 Source of Uncertainty, and the 252e Polyphonic Rhythm Generator.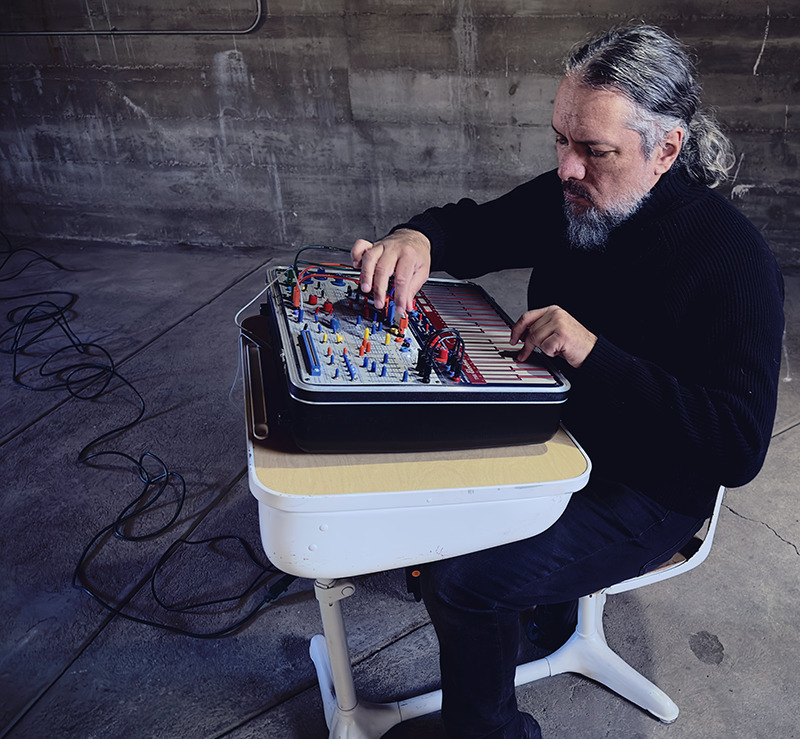 16. Batchas – Conquistador (02:50)
Batchas started to play electronics and experimental, industrial music in 1983 using analog machines.
In this patch the focus is set on the Buchla 291. A clone I bought right after getting the 200e system. I ordered the 200e from Don over the phone in 2011… A very special moment by the way! I had the 291e in the setup, but IMHO the 291 has a very different taste, more bitey and more direct to control. Very different from the 291e that is very special with it's integrated sequencer. Talking about the 291e, I haven't played it in a very long time.
This track is a good example for the variety of sounds and styles you can get out of a Buchla modular system. I like especially the kind of tribal percussions in the back, its repetitive aspect. It reminded me first of a ritual, but then I imagined an army of arrogant soldiers landing centuries ago on a sand beach in south America bringing « the good word » to indigenous people, ready to conquer and bring death to the non-believers in the name of god.
The sound of the Buchla 100 series started to fascinate me in the late 80's, appearing here and there on records I was listening to. But I never saw the 100 in real back then, only on photos. Pretty rare in France if you ask me. The rarity and the beauty of the instrument certainly attracted me too.
I was also aware of the 200 at the IRCAM, as a friend of mine had connections there, but it always seemed so terribly inaccessible. An Electric Music Box, even a Buchla 700, that was quite a thing!
I was more into the Moog bassy sound and I had the Korg MS series, but a Buchla system was totally out of reach and I didn't really know how it did sound in real. Its design looked so inspiring, an invitation to experiment with sound and frequencies.
I got a few analog monophonic synths, though it's not before the end-90's that I got a small Digisound modular rack and then after a Roland 100M. I had to wait until 2011 to get a Buchla modular system! Some videos started to appear on internet around 2010 (by Eric Chasalow, Synthfool, David Morley) and my attraction for Buchla increased. I had the chance to play-approach all kind of synths all over Europe, but never came close to a Buchla, except once an original Easel from the 70's.
I bought a 201e-18 Powered Cabinet in 2011 with a selection of modules according to my budget, after talking to Don over the phone. 206e, 210e, 250e, 256e, 259e, 261e, 266e, 281e, 291e, 292e. TBH first I was disappointed (…). Sound remains IMHO something pretty subjective.
I'm very sensitive and the kind of digital sound produced by the 200e was not my thing. The wobbly pots also disappointed me very much. It took me a couple of months/years to get used to the instrument. I have to say here that I like now these pots. The Buchla 200e is the only system I have without any noisy, crackling pots. Even on the Serge STS they started to crackle after 2 or 3 years, never on the Buchla. Crossing-fingers they'll never will!
Actually it's the interface and the workflow that made me accept its sound. Also adding a 258v soon after made me more tolerant to using the system.
The fact also that I was able to make very unique sounds with the Buchla, compared to all the other synths or systems I had, made it special. And it remains special compared to the other modulars I got.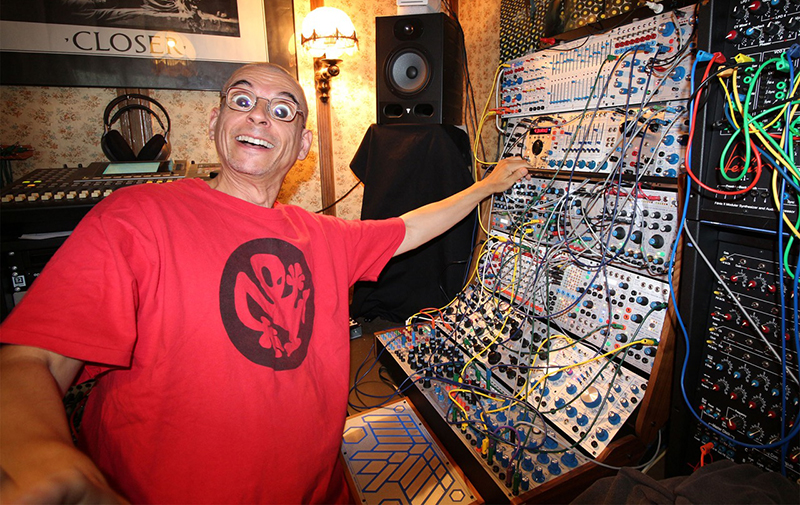 17. Alan Smithee 040 (Antonio Tublén) – Pandemonium (10:40)
Antonio Tublén is a Swedish director and screenwriter who also loves to make music.
I'm never sure if I'm playing the Easel or if it plays me.
There's some kind of mechanical telepathy going on. But my process was to press REC and go on a sonic journey. 100% improvisation. Follow the sound, as Todd Barton says.
The Easel passes through a looper, some FX pedals and is recorded on a SD-card as a stereo file. No overdubs.
First it was the sonic qualities of the Buchla synthesizers that grabbed me. I saw a Charles Cohen video and was gobsmacked. It sounded like nothing else I had heard before.
"What the hell is that? How? Why? I want one!"
When I got the Easel I was almost scared of it. Thankfully we all have Todd Barton's amazing tutorial videos online. If it weren't for those, I would probably still be trying to get a sound out of it. But when I finally heard the lpg/bongo I was in heaven.
I love how the Easel allows improvisation. Switch it on and go on a sonic adventure. No preparation needed, everything is right here in front of you. And I'm flabbergasted how this monophonic beast can turn into a full orchestra with a looper and some FX pedals. And I think the main thing for me is that I see it as an instrument, not just a tool.
It has its own mojo that I can't replace it with nothing else.
The 208 is my favourite module and everlasting love. Now I have two of them. Even had three for a while. A bit overkill. But I do miss the old 15U system that I don't have anymore and I know I must get a 248 MARF again at some point since that module is just pure magic and so much fun to use.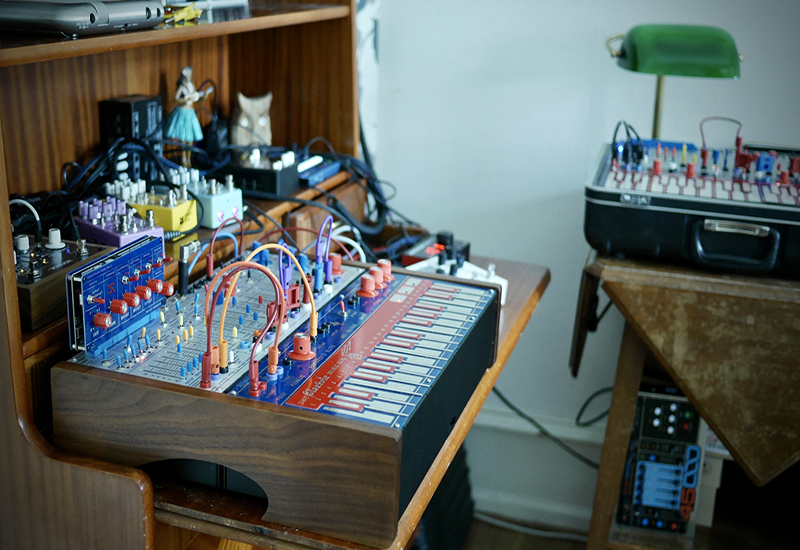 18. Rocco Perciante – Tasmanian (04:18)
For the past 30 years Rocco Perciante has been actively involved on various projects within the synthetic sound designs and sound environments in line with his work as Architect and Sound Technique Teacher.
I have been interested in electronics, experimentation, and sound design for the last 40 years.
I had been experimenting modular synthesizers with a Moog-style structure. Recently, I started exploring the world of Buchla since TipTop Audio released the Eurorack version of the 200 series. I immediately fell in love because this type of synthesis offers to musicians a complete freedom of expression, given that the structure is entirely open, and using CV or audio signals in the same way leads you to discover totally unexplored sonic worlds.
At the core of all my compositions is improvisation, as in the track I shared. My exploration is always aimed at discovering new and unconventional sonic environments. My vision of music ranges from composing fully orchestral tracks to concrete electronic music. This is all due to my hunger for music and my desire to listen to all genres, using them as a way to express my emotions.
I don't have a favorite Buchla module because it is a synthesizer that should be appreciated as a whole, and that's where it finds its maximum expression.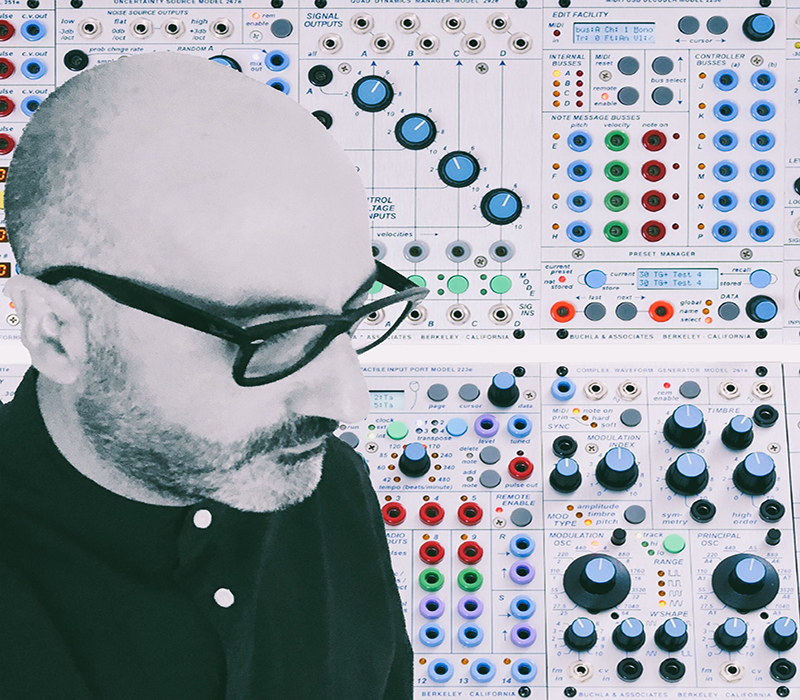 19. René G. Boscio – Qn te dijo (04:07)
René G. Boscio is an LA-based composer who has composed music for a variety of projects ranging from psychological thrillers to dramas, comedies and more.
This track was born the day I "completed" my 30U Buchla 200 system. I wanted to explore several modules that were fairly new so I built a patch around them. I also wanted to explore using my voice through the 207 preamp and into the 285 ring modulator, so I started improvising some scats while the patch was blooping along. One thing led to another and I started free-styling some lyrics that ended up giving the track a deeper meaning that I had initially intended to. "Dime, ¿quién te dijo que así se juega con el fuego? Dime, ¿quién te dijo que eso es tuyo pa' tocar?"
I got into Buchla synthesizers because of the Arturia Easel plug-in. After extensively using it in a project I became very interested in getting my hands on one. Coincidentally Buchla was announcing the Easel Commands at the time, so I didn't have to wait too long for that to happen. Once I had it in front of me it was like a portal to a whole new world of sounds and synthesis had been open. It had such unique timbers and workflow compared to anything else I had in my studio at the time. After a few years of happily noodling with the Easel Command, the itch to expand had started creeping under the surface, and it only took an inspiring visit from Todd Barton to kick off the 200 journey.
My 200 system is designed primarily as a raw, analog, sound-sculpting machine. I rely on it a lot in my scoring work when I'm looking to get unique tones that feel guttural and explosive, yet contained. Like there's an angry creature inside of it but with just enough control to not shred the world to pieces. Other times I use it for classic plucky Buchla bongos; and other times I'll go to it for the crispiest-yet-always-at-the-edge-of-breaking melodies. It truly is a world of endless possibilities, which is why it always finds its way into all of my scoring work.
In it's rawest form, I'd say one of my favorite Buchla modules would be the 258. I have yet to hear an oscillator with such girth and commanding power as those saw or square waves that come out of it. Combined with the fm capabilities, it truly is my favorite oscillator in all modular-land. After that, I'd probably say the combination of a 259 with a 296. The 259 is capable of such rich and varied timbres and tones, and the 296 is the perfect tool to sculpt them even further.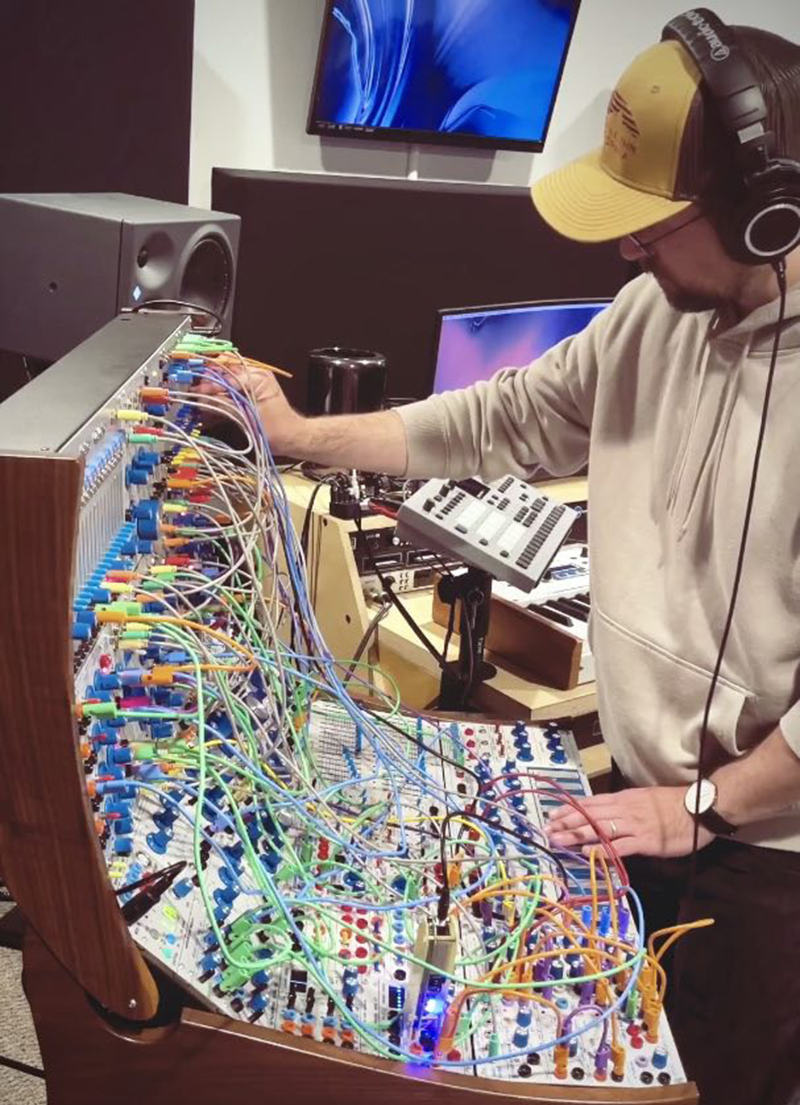 20. Kevin Rix – The Thing part 1 (25:07)
Kevin Rix studied orchestral composition and started to feature music in movies and TV trailers.
"The Thing" was born out of the 2022 summer sessions when I was obsessed with cosmic horror sci-fi movies like The Thing, Color Out of Space, Annihilation, and Invasion of the Body Snatchers. I used them as inspiration to capture the complex emotions of what it might feel like to witness a more evolved alien species envelope all life on earth. The Buchla is great at evoking a kind of beautiful terror, as the sound of the 200e can be cold, aggressive, and distant. To me, the West Coast cross modulation and the natural aliasing from the digital oscillators overdriving the input and output circuits create a sense of DNA being ripped apart and reformed into something completely different. All thoughts, memory, and trace of our existence on this planet absorbed into a new life form.
For this session, I came up with a patch using a modified Buchla Skylab. It's pretty stock except for a 250e in place of the 251e and iconic 223e. I also allowed three extra cables to create spontaneous additional patching and used a Strymon Nightsky for reverb effects. The patch stayed the same all summer as I recorded different sessions. I was intrigued with how much variation could be achieved within one patch.